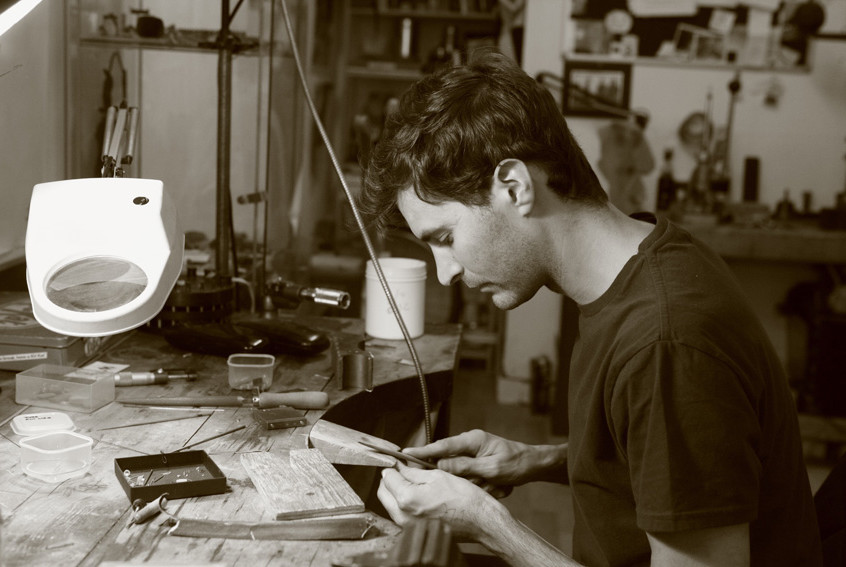 Graham Clark
After graduating from Edinburgh College of Art and the Royal College of Art, Andrew quickly established himself as one of the leading contemporary jewellery designer makers in the UK. 
He currently balances his time between lecturing, designing, making and exhibiting. Recent work has been acquired for prestigious collections including The V&A, The Crafts Council and The Worshipful Company of Goldsmiths' London.
My inspiration and influences range from visual and optical effects to textile pattern and structure, natural textures, repetitive form and details. The techniques I have developed focus primarily on methods of working in wire to make one off pieces. I work in precious metal (multiple alloys of gold, silver, platinum and palladium) and experimentation is key to the way that I develop new ideas.
Themes in my work include creating 'lenticular' changing colour imagery and patterns assembled using thousands of wire 'pixels'. I am fascinated by optics and like to highlight imperfections in the way we see and the way we perceive. As my jewellery tilts and moves the surfaces ripple and reflect, drawing in the viewer and creating a moment of surprise.
Disclaimer:
Please note: directory profiles are paid for and maintained by individual makers or craft places. Craft Scotland is not responsible for incorrect details and we have no contact details other than those provided.