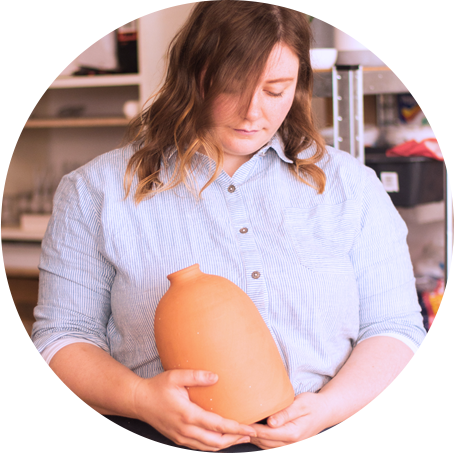 Aglaé Zebrowski
Jen began making professionally in 2015.She has since completed an internship working with renowned ceramic artist Frances Priest and Atlas Arts on 'Patterns of Flora' which is installed at Raasay House, off the East Coast of Skye. Jen has also worked for three years as a ceramics tutor with South Lanarkshire Council delivering classes for children, teen and adult courses. Jen has also had the privilege to run ceramics workshops as an artist facilitator for the Scottish Mental Health Arts Festival, Scottish Refugee Council and Terra Incognita Arts.
In 2017 Jen moved to Wasp's South Block to set up her own studio where she produces functional, contemporary ceramics.
The surface of Jen's pots are decorated using intricate hand painted illustrations, sgraffito and mark making. The layering and texturing of subtle colour and earth-tones is integral to Jen's work. Her illustrations are often botanical, drawing on her upbringing on the Yorkshire coast. This often includes an earthy pallette drawn from open landscapes and coastal seascapes, layered with drawings of gorse, sea thrift, seaweed, and lichen.
Disclaimer:
Please note: directory profiles are paid for and maintained by individual makers or craft places. Craft Scotland is not responsible for incorrect details and we have no contact details other than those provided.