SEC (Previously SECC)
The Scottish Event Campus (previously SECC) is an iconic Glasgow venue attracting prestigious events/conferences and the world's top international artists. It is located just outside Glasgow city centre in the west-end. The campus is accessible by numerous transport options. More information about visiting the show can be found on Scotland's Trade Fair website.
SEC Opening Times
Sunday 21st January: 9.30am - 5.30pm
Monday 22nd January: 9.30am - 5.30pm
Tuesday 23rd January: 9.30am - 5.30pm
Accessibility
The SEC Centre has automatic doors at both the East and West entrances. The main doors in the SEC Armadillo have been widened to provide easier access for wheelchairs. Please contact a steward who will be pleased to open for you. Every hall in the SEC Centre is at ground level, and the upper levels of the SEC Armadillo, Loch Suite and Seminar Suite are accessible by lift.
Cloakroom
There are cloakrooms in the West lobby of the SEC Centre. They are open during many events and visitors can deposit items for the duration of the event for £2 per item, per day.
Transport
As a member of the Green Arts Initiative, Craft Scotland encourages you to use sustainable or less environmentally damaging mode of transport to travel to the show.
Bike
The SEC is accessible via many cycle lanes and paths including one particularly picturesque route that runs alongside the River Clyde. A covered cycle rack is located in the Scottish Event Campus between the SEC Centre and the SEC Armadillo.
Bus
The 100 Riversider service operated by SPT runs between George Square (north) in Glasgow city centre and the Scottish Event Campus and Riverside Museum (south) and back every 30 minutes.
Train
SEC has its own railway station 'Exhibition Centre' which is two stops on the low level from Glasgow Central Station. There is a lift is available to take you to street level. A covered walkway connects the station to the campus.
Air
SEC is a 20-minute taxi ride from Glasgow International Airport. See our Overseas Visitors page for special offers for our international buyers.
Car
There are 1600 car parking spaces available in the multi-storey car park located on the East end of the SEC. For further information and prices for the multi-storey car park visit the SEC website.
Image credit: Paul Ferguson (used under Creative Commons license)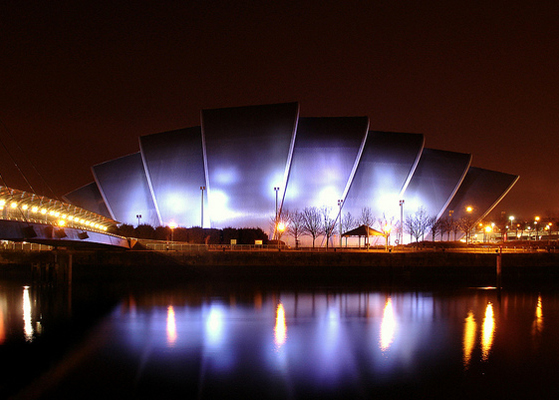 Map
Previous Project
Next Project