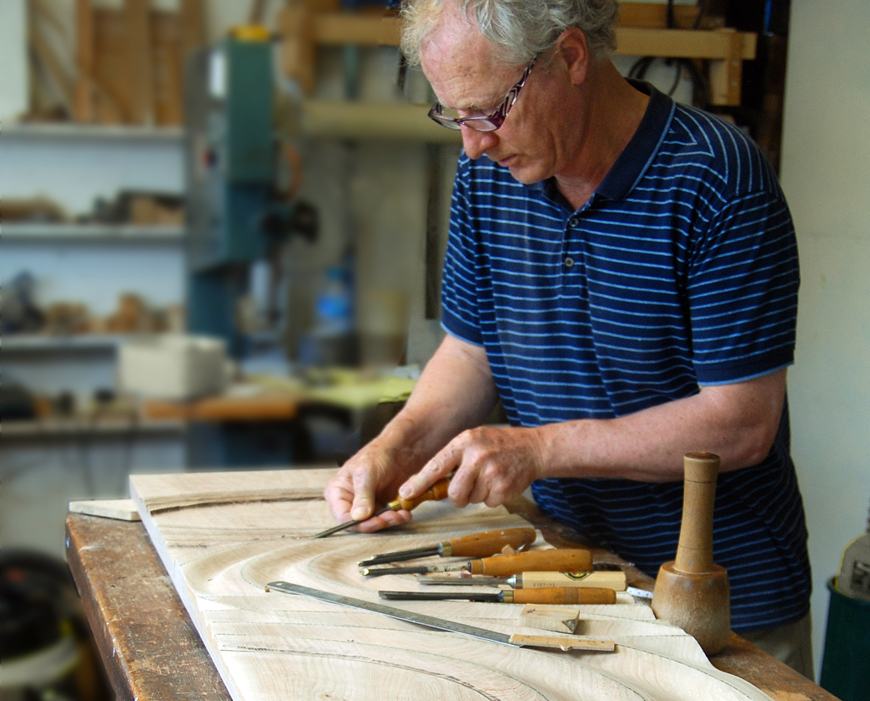 Adrian McCurdy uses local wood from the Scottish Borders. The diversity of work reflects an interest in fundamental craft approaches and creative exploration, working closely with a chosen material. Having both a Fine Art background and experience with structural qualities of timber, Adrian has worked on both carved panels and furniture for some years. What unites the two are wood grain and sculptural qualities.
From a unique stock of riven oak, permutations on simple looking furniture items are limitless. The craft lies mainly in piecing together irregular parts to create a useful and balanced whole. The material in a rough hewn form is inspirational. The gentle meandering heart of a tree is released and put to the outside edge of seats and boxes.
The panels made sometimes in periods of two or three months are meaningful by way of freedom from the functionality of furniture and the conundrums of riven wood. The starting point might be a drawing, landscape subject or metaphorical idea represented in shallow relief. Routers and wood sanding make a comeback for a smooth surface to highlight the grain.
Disclaimer:
Please note: directory profiles are paid for and maintained by individual makers or craft places. Craft Scotland is not responsible for incorrect details and we have no contact details other than those provided.