This post is part of our continuing series, Make It Green series, by Craft Scotland and Creative Carbon Scotland. Hear inspiring maker's stories from across Scotland, as well as useful advice on how you can contribute to a greener craft sector.
Created for the Green Crafts Initiative that champions and promotes environmentally sustainable craft practices, this series features makers who use innovative techniques and eco-friendly materials as part of their creative practice.
Stefanie Ying Lin Cheong works predominantly in Fairtrade and recycled metals paired with rock which is currently fueling her interest in geology and the history of our Earth. She sources rocks throughout Scotland and transforms them into jewellery and art objects sharing the connections to place and time. Each piece of jewellery or object is completely unique in its composition and form.

---
Hello, Stefanie, can you tell us about your sustainable craft practice?
I am artist jeweller and object maker based in The Briggait Studios in Glasgow. I studied at Glasgow School of Art and graduated in 2013.
I work predominantly with recycled and Fairtrade metals paired with found Scottish rock. Using traditional lapidary techniques (such as sawing, sanding, polishing), I cut and grind the rock into contemporary pieces that often have interchangeable parts and encourage ideas of sustainable design.
Recently I have designed and made bespoke collections for Aberdeen Art Gallery using reclaimed marble form their old staircase pre renovation and for V&A Dundee using the beautiful fossilised limestone used to clad their floors.
My practice also spans education, development and curation within the craft sector through various partnership works, a part-time Artist Development Officer post at Fife Contemporary and being a board member at Applied Arts Scotland. In addition, I also facilitate sustainable themed craft sessions that work with natural materials and look at the circular economy, reusing and recycling with community groups at Kinning Park Complex. Through these roles I contribute and continue to learn about sustainability, ethical practice and social engagement.
Why did you decide to use recycled and natural materials?
I have been exploring recycled and natural materials since 2008 when I was studying at Cardonald College (now Glasgow Clyde College). I worked in the jewellery industry prior to my studies and this led me to question the ethics of the trade. I discovered exploitation, conflict and environmental damage in the processing of the materials jewellers use, such as gold, diamonds and other precious gemstones and metals. After researching this information, I couldn't dismiss my findings and began to shape the materials, methods and techniques I use to develop an ethical and sustainable practice.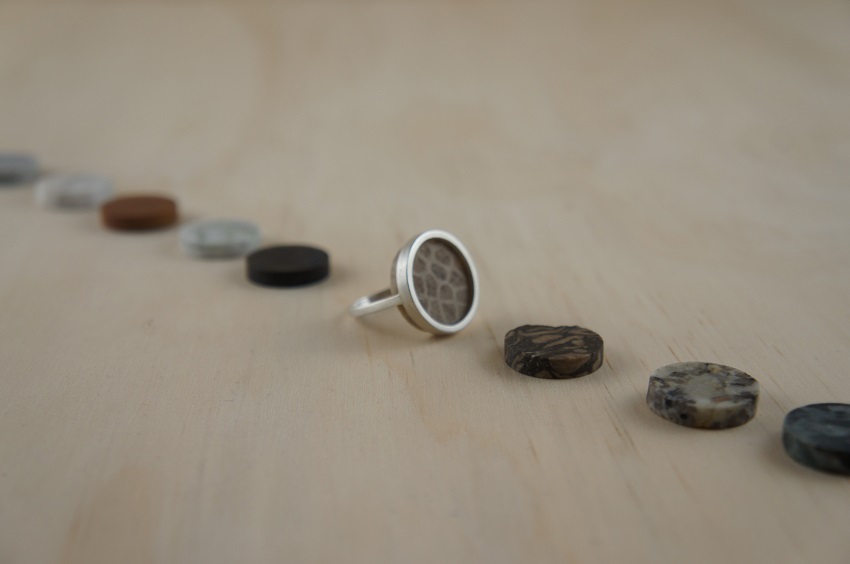 Image: Stefanie Cheong / Photography by the artist
Tell us about your favourite pieces that incorporate sustainable methods?
My Interchangeable ring design makes use of the waste circles drilled out whilst making my Geometric Geology rings. They become stone circles that can be interchanged in a metal frame made from recycled silver or Fairtrade gold. The stones are held in place by the wearers finger and they can decide which stone or collection of stones they would like to wear. I am currently working out the technical challenges to develop a pin and pendent to compliment the range, creating a set of interchangeable stones and jewellery.
"Sourcing and collecting of rocks is an important part [of my practice] which brings a sense of calm and energy. It's a bit like treasure hunting."
You source rocks from across Scotland to include in your work. Could you tell us more about how you go about sourcing them?
My interest in Geology came secondary to deciding upon what material I wanted to use to communicate my interest in ethical materials. During my final year at Art School I decided to use only materials I could source myself, discovering you could find gold in Scotland I set off to pan for the materials for my degree show – after hours in a river and a whirlwind tour of Scotland's gold hotspots I came back with a flake or two of gold and a car full of rocks. I then taught myself how to identify, cut and sculpt the rocks and the obsession grew from there. Quickly I became captivated by the diverse rock types abundantly found in Scotland, the geology of which is rich and varied for a country of our size. Rocks hold great historical importance, they have been used to help us explore the evolution of our environment and living creatures along with giving scientists evidence of the age of our planet. I'm also intrigued by the powers that rocks possess, having been used as talismans, amulets and in rituals for centuries.
As I have a multifaceted practice, for me the sourcing and collecting of rocks is an important part which brings a sense of calm and energy. It's a bit like treasure hunting. Visiting, documenting and collecting from nature is really good for my wellbeing as well as knowing and sharing the provenance of the rocks. Often I research the different types and localities before going to collect but if I'm feeling more spontaneous I allow myself to stumble across specimens I'm drawn to and research what they are after. I collect rocks responsibly that have fallen and do not quarry, mine or excavate.
You also offer the option for your customers to have custom-made pieces from rocks they bring to you. Do you have any stories?
I have cut a range of rocks that people have supplied to me, rocks full of sentiment and meaning, brought back from memorable places often for engagement rings along with others to symbolise and remember loved ones. These are all personal journeys that I will not detail but I can share about a recent project I'm still working on.
I live in a flat in Glasgow city centre and during the first lockdown in March 2020 I was really missing my expeditions to collect new materials. I mentioned this in an Instagram post and had quite a few people get in touch wanting to send me rocks. This inspired me to do a call out and the project began to grow from there. People send a rock and in return I would cut a slice to send them back. The remainder pieces will be made into a collective work titled Connections. This project holds a lot of meaning, generosity and spirit and is keeping me busy during our continued lockdowns. Currently there are over 40 specimens from around Scotland and beyond.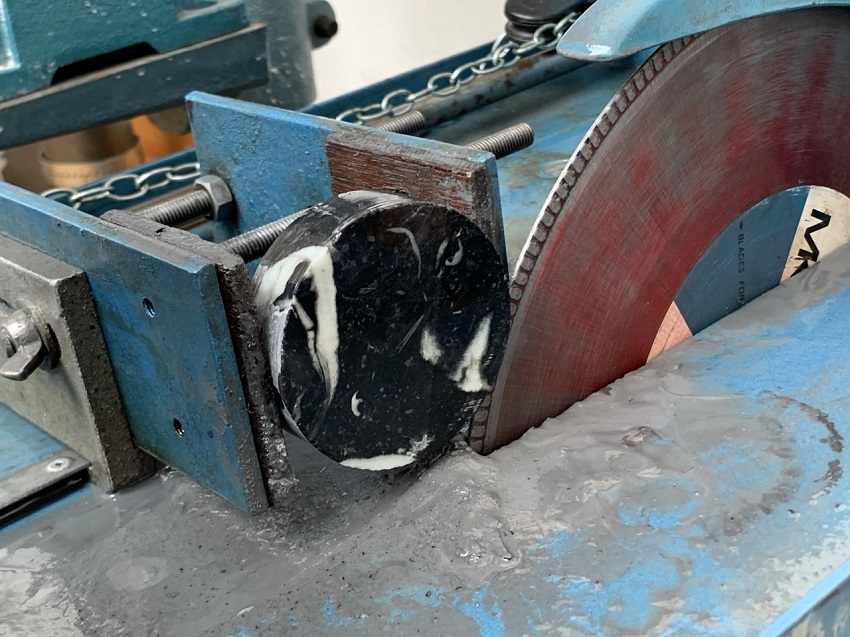 Image: Stefanie Cheong / Photography by the artist
You were involved in our Meet Your Maker project with Historic Environment Scotland, where you worked with students from Forth Valley College. Could you tell us how you encourage sustainable making in schools?
During the Meet Your Maker project I designed a range of workshops and lessons for HNC Students that drew from some of the environmentally conscious techniques I used in my practice. I gave taster sessions in wax carving for casting into recycled metals, electroforming with scrap copper and using the environmentally friendly stone composite jesmonite. By sharing my knowledge and processes I hope to inspire future makers to continue supporting and promoting ethical making.
Since graduating in 2013 I have been a freelance tutor delivering various projects, exhibitions and workshops collaboratively with arts organisations and schools. I initiated a project called O-PIN and collaboratively, with the jeweller Soizig Carey, began to partner with museums and galleries to work with primary and secondary schools. Each project included elements of environmental consideration throughout. For me they key is ensuring consistency and ethics always underpin what I do, whether it's making jewellery, teaching or working on other projects.
I am currently working on a pilot schools project for part of MAKE | Learn where I am designing activity packs that will encourage primary school children to explore the idea of future fossils and consider what kind of impressions they will leave behind on the planet, all using natural materials for a fun casting activity.
"I feel very positive about the future of sustainable craft and in particular within Scotland."
Do you have any advice for other makers who are considering working in a more environmentally sustainable way?
Now more than ever I would encourage all makers to make steps towards a more sustainable practice. We are in a Climate Emergency and it would be irresponsible not to consider the impact your practice is having on the environment.
Educate yourself by finding out what is relevant to your practice and processes. There are now resources published and accessible online that can help support you to make appropriate and informed decisions.
Question and understand your supply chain, you can request ethical policies from your suppliers. If they do not have one, then this will help encourage them to create one. I refer to the Ethical Making resource from Incorporation of Goldsmiths a lot – this is aimed at jewellers but there are also general suggestions for all types of makers.
The team at Fife Contemporary have been working on an Artists Environmental Tool Kit which aims to bring together existing and relevant resources in one place. Making this information accessible will help cut down the time it takes to research and we all know how limited our time is. This tool kit will be launched in April.
Craft Scotland's series of Make It Green blog posts have also been a great source of inspiration, each makers journey and practice are individual and interesting but there are always elements that are relatable.
In addition to your making, think about the wider areas of your business such as travel, web hosting, printing, packaging and energy suppliers. There are companies that use greener processes to reduce and offset carbon footprints.
Projects such as tool libraries and CAN: Circular Arts Network help share resources and reduce waste materials. Ask you networks to borrow and share, also reach out if you cannot find the answer to what you're looking for, more often there are others that have the knowledge and are willing to help, relevant Facebook Groups are great for this.
Making changes and working towards a sustainable practice can often be overwhelming or difficult but start small, change one thing and keep on changing when you have the capacity. I continue to check, question and assess the impact I'm having and know there will always be more I can do.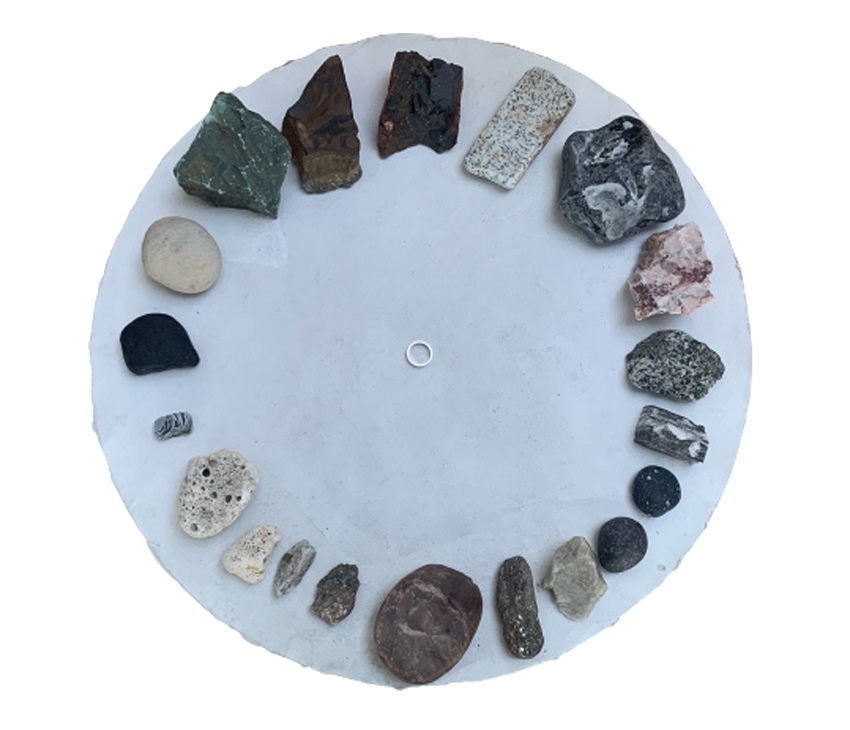 Image: Connections, Stefanie Cheong / Photography by the artist
What do you think the future of sustainable craft making will look like?
At the moment, I feel very positive about the future of sustainable craft and in particular within Scotland. In the last few years I feel there has been a huge shift in attitude towards sustainable making, many opportunities have been centred around this theme including craft based exhibitions from Applied Art Scotland, The Barn Arts, Fife Contemporary and Local Heroes with Incorporation of Goldsmiths to name a few.
If these organisations lead by example I feel that makers will be urged in a proactive way to consider the ethical credentials in what they produce and how they make it. We all need to start thinking forward together.
As mentioned there are now a few resources shared by organisations and individuals around sustainability within the craft sector and beyond, I would like to see this continue to build and evolve with more engagement. If this shift is to be fair there needs to be the support for makers and artists to transition into a more sustainable framework.
It's also worth considering that during the pandemic people have been supporting local and shopping more responsibly, patrons are becoming more informed and there has definitely been a conscious change in spending patterns. So the market for both exhibiting and buying is on the rise which is encouraging.
This interview has been lightly edited for clarity.
Stefanie Ying Lin Cheong: Eco Jewellery with a Slice of Geology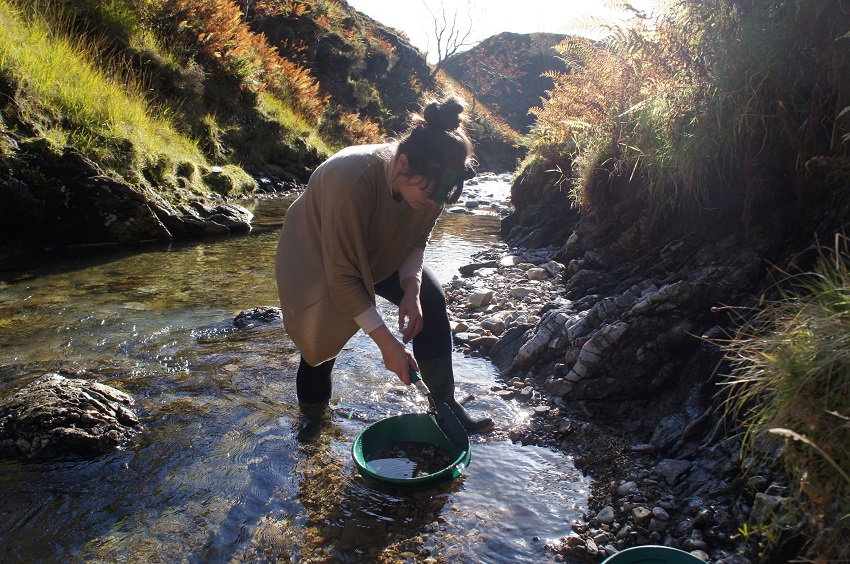 Transparent