Craft Scotland's Director, Fiona Logue, visited Malcolm Appleby in his home studio this month. Read her blog about the trip, and her discoveries about the renowned silversmith:
For a number of years, internationally renowned engraver and silversmith Malcolm Appleby has worked with the Worshipful Company of Goldsmiths in London to offer a residency to silversmiths who have a piece in the Goldsmith's collection. Residents have the chance to experiment and enhance their engraving and silversmithing skills.
I was delighted to be invited, along with Craft Scotland Board member Mary Michel (who is also the Director of the Incorporation of Goldsmiths in Edinburgh), to this year's annual gathering at the home and workshop of Malcolm Appleby. We were invited to meet the makers who had undertaken this year's week-long residency, and view the results of their work with him in beautiful Grandtully in rural Perthshire.
The six makers this year were Miriam Hanid, Angus McFadyen, Nan Nan Liu, Tony Bedford, Shannon O'Neill and Rauni Higson. It was fascinating to see examples of previous work they had brought with them and the experimental pieces they were working on. They all seemed incredibly enthused by the opportunity to work alongside and learn from Malcolm; to have access to his wonderful workshop; his array of tools and facilities.
A range of people were invited to come and celebrate the residencies. There was a large and impressive gathering of around 20 people from galleries, auction houses, curators, writers, makers and friends. It was certainly a significant networking event for those involved in the sector. Malcolm was a delightful host, introducing us to the makers, giving us a tour of the workshops and gardens and providing a splendid lunch. He even managed to organise some sunshine for our al fresco dining.Dining al fresco with Malcolm Appleby
It is heartening to see a master like Malcolm encouraging and supporting makers in the development of their own practice. His initiative is to be applauded.
You can find more information about Malcolm and pieces of his work at the National Museum of Scotland.
A masterclass in inspiration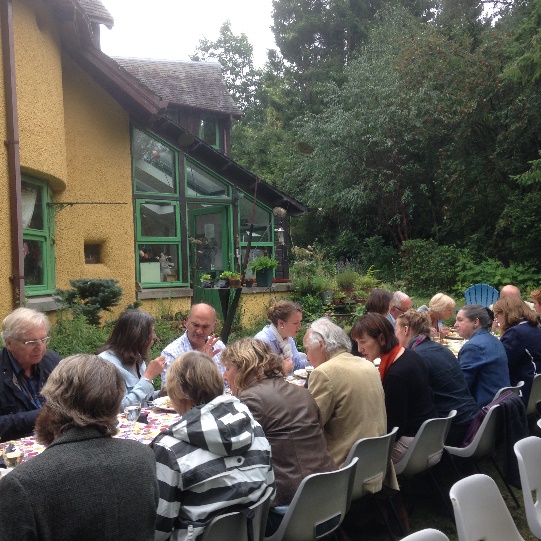 Transparent