Craft Scotland is thrilled to announce the launch of Compass, a brand-new learning and development programme created specifically for Scotland-based makers. Compass is generously supported by the William Grant Foundation and Creative Scotland.
Since our inception, Craft Scotland has run a variety of maker training initiatives, including; mentor and mentee training, lectures, business and marketing workshops and preparation days for makers involved in our exhibitions programme. Additionally, between 2012 – 2017, Craft Scotland supported 23 makers to undertake the Crafts Council's Hothouse and Injection development programme.
Following a review during 2017/18, Craft Scotland undertook research into exisiting maker training and development schemes across Scotland, provided by Craft Scotland and other organisations. Additionally, in 2018, 58% of respondents to Craft Scotland's annual tracking study stated that providing continuous professional development, mentoring and support was the most important thing Craft Scotland could do to better support makers.
As the national development agency for craft, we aim to provide support and training to a wide and diverse range of practitioners. We found that the current training provisions in Scotland typically focused on a small group of makers within the emerging category. Compass, our new learning programme will serve the wider needs of the craft community and aims to be more relevant and supportive of a larger number of makers.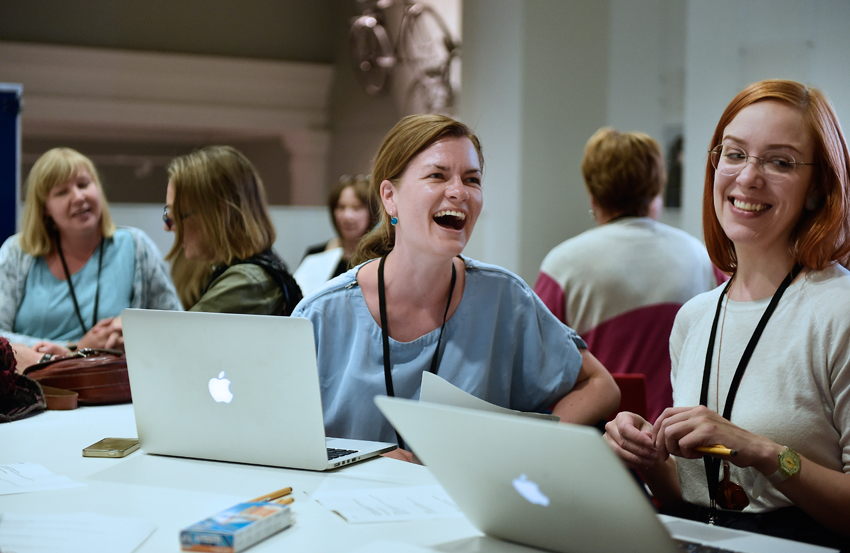 Craft Scotland Conference 2018 / Photography by Neil Hanna
How does it work?
Compass focuses on developing craft talent and equipping individuals with the necessary skills to create a sustainable craft career and business. We have created three strands to provide support whatever stage you are at within your career; Next Generation, Emerging Maker and Established Maker (see below for more information).
Compass offers a unique mix of active learning, mentoring and specialist advice depending on which strand is right for you. Participants can learn about; finance, marketing, entrepreneurship, branding, selling effectively, and more. Creating occasions to cultivate networks is an essential feature of Compass. Through the residential course and mentoring sessions, Compass will encourage a forum for shared learnings and critical discourse.
The Next Generation and Emerging Maker strands will run once a year with a dedicated cohort of makers working through the programme together. Select workshops from the Next Generation and Emerging Maker strands will also be open to the wider maker community to attend. The Established Maker strand will be a rolling programme suitable for makers, with four-plus years in business, allowing them tailored 1:1 support and advice. Plus, the Resources area in our Maker Community will be updated with more advice available online.
Compass has been developed together with Elaine Furnivall, a Chartered Occupational Psychologist and Managing Director/Founder of Aviour. She has over 20 years' experience in personal and organisational development, and executive coaching. Before Aviour, Elaine was a Consulting Manager for Standard Life where she established their consulting services and managed a team of consultants and psychologists working throughout the UK. She has designed and evaluated development programs across different sectors, and regularly facilitates at academic institutions, professional bodies and on accredited courses. Elaine says:
"Having balanced my own home and work life, I am keenly aware of how we startoff in business equipped only with the skills we were trained in at university/college, only to find there is an infinite roundedness of other skills one needs to quickly acquire to survive in business."
We will deliver this learning and development programme through partnerships with venues, experienced specialists and industry leaders to give you the knowledge and guidance you need. Jo Scott, Project Manager, says:
"Compass, our new learning and development programme, is an exciting chapter for Craft Scotland. Building on our experiences of supporting makers through our varied programme, we hope Compass will contribute towards a thriving Scottish craft scene"
Craft Scotland believe that Compass will address the current professional needs of Scotland-based makers and create opportunities to upskill. Compass is essential in achieving our organisational aim of developing a strong economy and infrastructure for craft.
Makers, if you are looking for support in developing your craft business and ready to make a change, then Compass is for you.
Please note, we are recruiting for a Programme Coordinator to support us in delivering this learning and development programme.
---
Compass
Next Generation (20 spaces)
0-1 years in business
Ready to set-up your own craft business, but not sure where to start? Or maybe you've just begun, but you're not sure what to focus on? We know that the first year in business is challenging. Next Generation strand equips participants with the knowledge and skills to decide how they want to take their business idea forward. Includes: hands-on workshops, a residential course and active learning.
Applications open: Spring 2019
Programme starts: Autumn 2019
Emerging Maker (10 spaces)
1-4 years in business
This strand will teach you the vital skills required to build a sustainable craft career.
Applications open: Closed for 2019 intake
Programme starts: March 2019
Established Maker (4-6 spaces)
More than 4 years in business
Are you looking to take your craft business to the next level? Receive 1:1 tailored business development advice and mentoring.
Applications open now
Rolling programme
Applications will open soon for Compass, our learning and development programme. Full information, eligibility and fees will be provided in due course. Sign-up to our Opportunities newsletter to be the first to hear when it goes live.
Any questions please contact Jo Scott, Project Manager: jo@craftscotland.org.