Every year, Craft Week Scotland places a spotlight on the vibrancy of the nation's craft sector, encouraging communities to engage with the skill and creativity of Scotland's makers.
Our new series Crafting Scotland, launched during Craft Week Scotland 2021, offers an insight into what is happening geographically in Scotland''s craft community. Drawing attention to the regional stories and the makers, initiatives and resources all over our talented country.
---
Away from the Central Belt, Aberdeen has seen a significant rise in craft activity in recent years thanks to new collectives, renovations and exciting projects drawing creators in. Aberdeen Art Gallery, for example, underwent a landmark transformation between 2015 and 2019, going on to be named as one of the winners of the Art Fund Museum of the Year 2020. "It really is a stunning place and I am absolutely delighted with the sheer volume and range of beautifully crafted jewellery pieces they have on permanent display," Aubin Stewart of Aubin Jewellery says of the building. "It's a must for any jewellery fan."
Aubin works from her studio at Deemouth Artist Studios, which was founded by Peter Baxter and Allan Watson and officially opened in 2019. Deemouth has become an undeniable hub for makers like Aubin in Aberdeen, with 32 studios hosting 35 practitioners who work across a range of disciplines including ceramics, glass, textiles, sculpture and more.
"I see a confidence in the creative community here even after the recent challenging times we have experienced." Aubin continues.

"The scene has been quietly bubbling away for the last few years with lots of hard work now coming to fruition. I feel this in my own practice too – now working from my studio at Deemouth Artist Studios, I have found being part of a community of makers has pushed me to be more ambitious with my work."
Aubin Stewart / Photography by the artist
Laura Sherriffs, founder of Fernweh UK, ceramicist Amy Benzie and silversmith Emma Louise Wilson are all based out of Deemouth and have similar thoughts on Aberdeen's strength as a creative region. "Aberdeen has a vibrant, growing creative community that encompasses a whole range of creative disciplines," Laura says. "There is so much talent in the area and it feels like it is starting to get the recognition it deserves. From a business perspective, the creative community in the region is very close knit and supportive of another, it's a wonderful support network to bounce ideas around and even collaborate with others."
"For me as a maker, the region offers a unique web of makers, artists and craftspeople," Amy adds, "and though I often work alone I am heartened to have this local network as my colleagues and collaborators, especially within Deemouth Artist Studios. The north has a feeling of persistent perseverance to me as my practice with clay continues to bring me to meeting new enthusiastic makers through kiln building and community firings, contemporary craft fairs and independent exhibitions. The people, the sea and the hills continually fuel my practice."
Emma Louise Wilson grew up in Aberdeen and studied at Gray's School of Art so has always felt connected to the area and its local landscape. "Aberdeen is a great place for arts and crafts," she says. "We have the newly refurbished art gallery with it's fantastic extension which has always been a favourite place to visit. And there is a vibrant craft and design scene in and around Aberdeen with many events championing local makers including North East Open Studios."
Fernweh UK / Photography by the artist // Lindsay and Yoshi / Photography by the artist
Mags Gray, another ceramicist based at Deemouth, also mentions North East Open Studios as a particular highlight in the area. Started by a collective of artists, makers, and designers in the north east of Scotland in 2003, NEOS sees creatives open their studios to the public during a 9-day period in September. As Gray explains, "North East Open Studios has been an annual event for 18 years, and allows over 200 artists and makers to open their spaces to the public. A well organised free catalogue lists all the participants, their addresses, opening times and their disciplines, so it's also a good directory of artists and designers for year-round use."
Elsewhere in Aberdeenshire, the Barn is a noteworthy arts organisation that presents a varied programme of events including performance, films, talks and visual arts. Their contemporary craft and design retail space FOLD and annual craft fair Flock showcases a range of work from Scotland-based makers. Simone Stewart, Head of Programme at the Barn, explains why the organisation's focus on arts and environmental awareness has been crucial to their practice.
Inside FOLD, image courtesy of The Barn by Mike Meller
"As an arts organisation, we are undergoing a process of refocusing and re-centring on environmental wellness. In March 2020 the COVID-19 pandemic acted as a trigger for the Barn to develop a unique online learning space called Becoming Earthly for artists and organisations interested in developing practices that generate new ways of living on Earth, being aware of the critical zone of atmosphere and soil upon which all life is dependent."
"The Barn itself has a rich history of supporting experimental work in arts and environmental awareness. Makers and creatives have a safe place to work through uncertainty and to take risks which often results in unusual and unexpected collaborations and experiences."
Further north in Lumsden, the Scottish Sculpture Workshop empowers artists and communities through collective learning and skills development, with facilities, residencies and workshops that also support experimentation. "Our workshops are a point of crossover and exchange." Programme & Communications Manager Jenny Salmean explains. "Artists and makers from all over the world are working alongside people who live just up the road. Often lasting relationships are forged, where people return again and again to work with friends they have made at SSW."
It's a special site for its location, but also for the varying skill sets available, with courses ranging from ceramics to blacksmithing on offer. "Collective making, living and learning is central to our ethos at SSW." Jenny says. "Many of the processes we support in our workshops require collaboration, such as the choreography of pouring bronze in the foundry or sharing skills on the forge."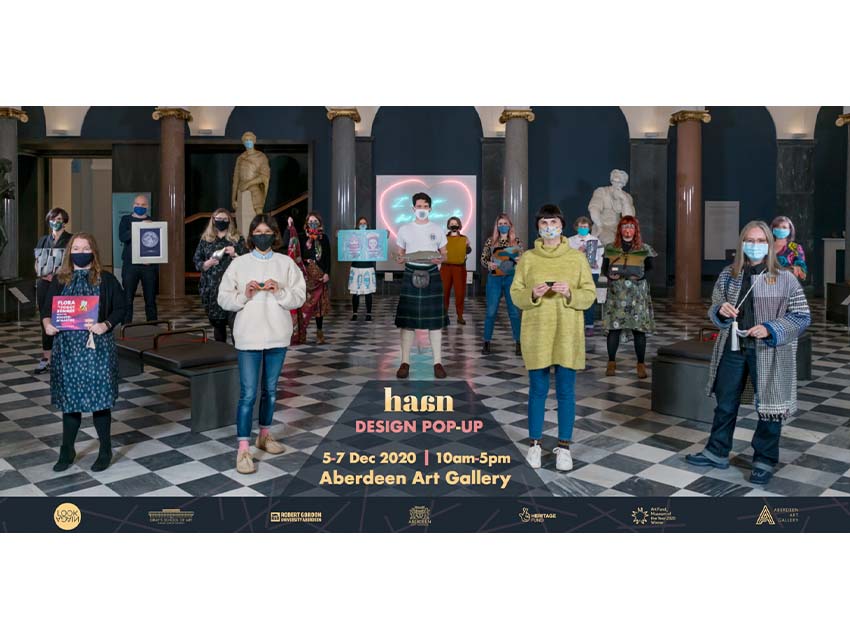 Haan Design Pop-Up / Photographer unknown
Collaboration is a key theme that arises from all conversations about Aberdeen & Aberdenshire's creative community, and it's a quality that appears fundamental to the region's success. "Makers in Aberdeen have been well supported through various initiatives that Look Again runs to support creative business," co-director Hilary Nicoll notes of Look Again, a creative unit based at Gray's School of Art. They host a range of events and exhibitions throughout the year all designed to connect, highlight and strengthen the creative sector in north east Scotland. As well as the biennial Look Again Visual Art & Design Festival, Look Again runs the HAAN Design Pop-Up, which showcases creative products from original independent designers and makers, and has recently introduced a new postgraduate module in Creative Entrepreneurship.
Hilary also references Deemouth, Aberdeen Ceramics Studio and the city council's Creative Learning service as examples of initiatives that are making a positive impact within the region's creative sector.
"Overall, there is a growing and increasingly visible creative presence in the city, driven by a more ambitious and confident creative community, and that is really encouraging to see, particularly after the last few months."
There are many projects and initiatives in Aberdeenshire that empower craft in the area, including Vanilla Ink at The Smiddy. With an in-house silversmith, The Smiddy is a Social Enterprise bringing Silversmithing & Jewellery opportunities to emerging makers and disadvantaged young people in Scotland through workshops and training.
You can also discover multiple makers of note representing the innovative character of the region in their work. Ceramicist Leonie Cowie, for example, makes functional ceramicware for the home via her business Artroxinabox, while Mhairi Allan runs the textiles lifestyle brand Paper Houses Design.
Jonathan Rose crafts striking contemporary furniture and Lindsay Johnston uses traditional and modern methods of making to create illustrated textiles under her brand name Lindsay and Yoshi.
It's clear that Aberdeen and its surrounding area Aberdeenshire offers much to explore by way of craft, but as we celebrate the craft community during Craft Week Scotland, now is as good a time as any to delve into what the region has to offer all year.
Stay tuned for more from the Crafting Scotland series - focusing on Scotland's regional craft stories throughout the year.
---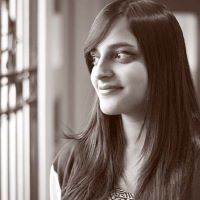 Arusa Qureshi is an award-winning writer, editor and speaker with a passion for music, diversity and accessibility within arts and culture. She has written a book about women in UK hip hop called Flip the Script, which is out now via 404 Ink. Her bylines include the Guardian, NME, Clash, Time Out, The Forty-Five and the Scotsman, and she is part of the We Are Here Scotland team, supporting and amplifying the voices of creatives of colour in Scotland.
She recently worked as a Researcher on the new BBC Scotland podcast Word Up!, and as a Commissioning Editor for Bella Caledonia, and was formerly Editor of The List, the UK events and entertainment publication based in Edinburgh, Scotland.
Arusa Qureshi / Photographer unknown
Focus on Aberdeen & Aberdeenshire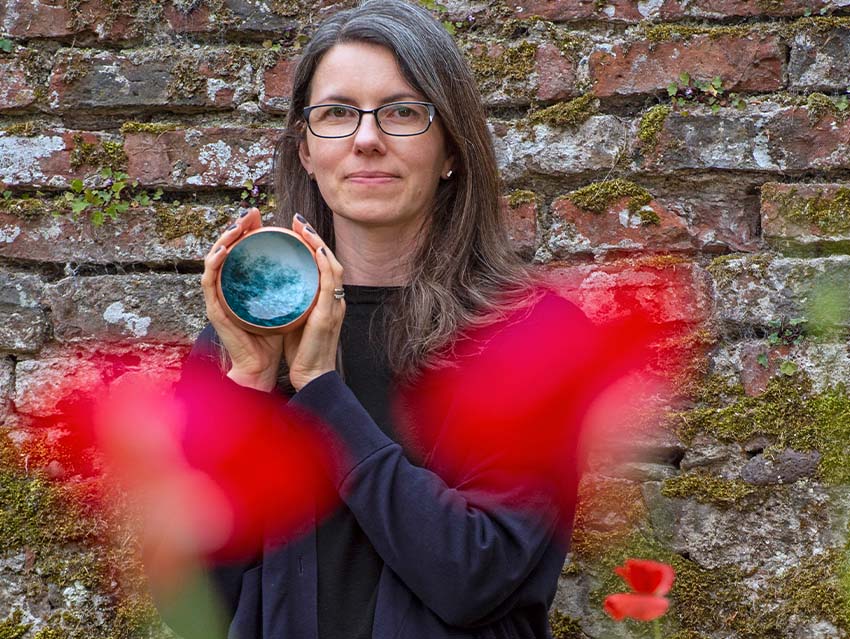 Transparent