Craft is both an artform and an activity that can bring joy and wellbeing to our daily lives and to our communities.
With awareness of the value that craft and making can play in enriching and managing our health becoming much more prevalent, Craft Scotland's new series, Common Ground, aims to shine a light on makers whose practice benefits the wellbeing of our communities.
Florence Dwyer is a Glasgow-based maker whose work predominantly takes the form of ceramics, textile pieces or furniture.
Florence is interested in researching the history of people, especially in relation to craft, industry, and labour practices - thinking about the political relevance of this in relation to everyday life.
Florence has volunteered at Project Ability as part of the Art Matters team and regularly hosts workshops for people with mental health and additional support needs. She also was the first recipient of Jorum Studios and Craft Scotland's Jorum Craft Award in 2020.
---
Hello Florence. Could you tell us a little about your practice?
My practice mainly involves object making in different capacities. Recently this has involved working with both clay and textiles to make objects that you'd usually find within a domestic space; vases, carpets, tapestries and dinner ware.
I have quite an embodied approach to researching which has also led me down different routes. Part of my research has previously involved working alongside professional makers in different capacities, including undertaking work placements with Turnberry Rug Manufacturers; Ju'Sha, a large factory making porcelain objects for domestic use (Arita, Japan); Andrew Appleby, an experimental ceramic archaeologist; and Nanuli Asikuri, a carpet weaver, teacher and ethnographer (Georgia). By working alongside other people and sources of knowledge in this way, I hope to develop a rigorous and diverse approach to developing ideas and works.
Image: Courtesy of Florence Dwyer
What are the primary themes that you seek to explore with your work?
My work often draws on research into craft histories and references recognised design objects, exploring the language embedded within making and their encounters within society. This usually allows me to draw on themes surrounding gendered work, capitalism and the transculturation of craft and objects.
I'm also quite influenced by the processes underpinning experimental archaeology – a field of study which generates and tests archaeological hypotheses through studying how we encounter and interrogate objects of the past through practical processes. This usually involves the re-making of objects through adopting the assumed techniques of the previous maker. This then usually evolves through experimenting with colour, pattern and form. This has recently involved investigations into handmade ceramic glazes and textile dyes made from plant matter, wood ashes and collected pigments. I am interested in exploring experimental material processes and how this can provide contextual grounding to the objects I make.
Can you tell us about your residency in Japan as part of the Scotland/Japan exchange programme? What are some of the main elements you took away from this experience?
It was a great residency that I felt extremely lucky to be part of, it has definitely had a huge impact on my practice. For most of the three-month period I was based in Arita, a town in the southern island of Kyushu that's considered to be the birthplace of Japanese porcelain and is famous for its Arita-ware. Most people that live there, work and interact with porcelain in one way or another, either within a factory, workshop, trading space, shop or packaging manufacturers. Given the profound and dense ceramic history of the area, there was so much to be inspired by.
I started off the residency by undertaking a kind of placement within one of the largest factories there called Jyusha (factory of 10 kilns). Here I helped out with finishing, cleaning and neatening lots of porcelain soap dishes, cosmetic trays and ginger crushers prior to their first firing in the kiln. I also had a go at and learned about traditional Arita-ware painting, which involves using cobalt oxide to create the recognisable blue and white style. They often feature botanical motifs and scenes within nature and are inspired by Chinese and South Korean ceramics.
After this placement, I moved to work in a studio within the town's porcelain research laboratory and found myself getting particularly into turning and carving plaster on a wheel, sculpting a series of different small perfume bottle-shaped forms, which I then cast in porcelain. These were definitely influenced by the delicacy and scale of most of the porcelain objects I was handling in Arita and Jyusha as well as referencing some of the wares found in the Jyusha archives and other recognised design objects.
I also spent some time in Tokyo, camping in the mountains, and taking a trip to the small island of Shikinejima. Throughout this time, I was totally absorbed by the design and beauty contained within different vernacular and domestic objects. This was definitely inspired by The Japan Folk Crafts Museum, established by the founder of the Mingei movement which celebrated the hand-crafted art of ordinary people. The attention to detail and design I encountered within Arita, paired with the honesty to materials I encountered within the different vernacular objects throughout my whole stay in Japan has certainly influenced the way I work today.
You've volunteered with Project Ability as part of the Art Matters team and have also undertaken a ReSearch Residency. How has your work in this area impacted how you approach art today?
Project Ability was a wonderful place to be able to undertake a residency and volunteer. I can really get behind the ethos of the organisation and how it whole-heartedly encourages people to express themselves creatively within a supportive, inclusive and exciting environment. I undertook this placement quite a few years ago when I was just starting to work with and host workshops for people with experiences of mental health and additional support needs. It made me realise the importance of creating a good setting and a nice environment for people to work in, and how this can allow people to absorb themselves within making processes.
Being at Project Ability also made me realise that the best work is made when it's coming from you, and when it is true to yourself and your interests. I loved being surrounded by the stacks of huge canvases expressively painted with animals, characters and people, as well as going into the ceramics room and seeing sculptures and pots sitting alongside one another. I try to think about this energy and the honesty to making that was captured within these studios when I'm getting distracted, over-influenced by something or when I'm getting stuck in a making process that I don't find enjoyable. I often think this can be visible within the end results of the objects I make.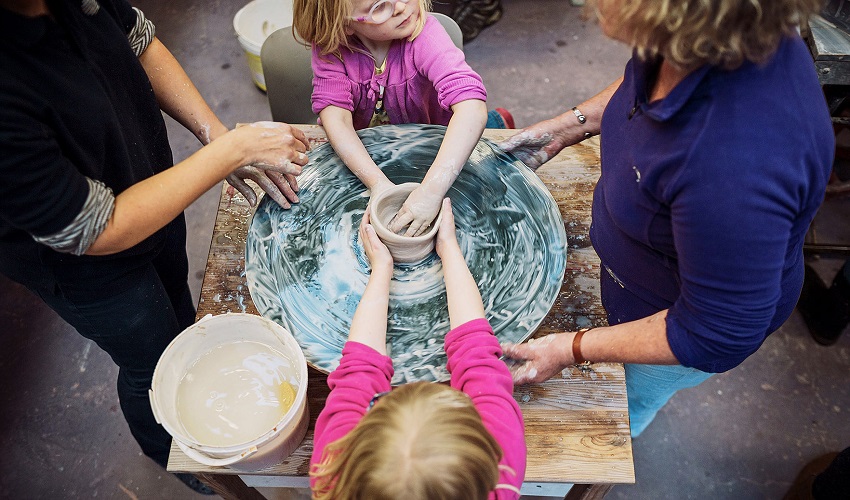 Image: Courtesy of Florence Dwyer
You deliver workshops and outreach projects for community groups that explore different making processes. Why is this something that you find an important part of your practice? And what do participants tend to take away from the workshops?
Working with people and delivering workshops is very much entwined with my practice. I love the process of creating a setting and theme for a workshop, selecting materials and seeing how people respond to them, whether that's through working with clay, weaving, dyeing or making.
When delivering a workshop, I like to see myself as a kind of host that's allowing a group of people to come together and take part in a shared experience through the process of making. I like to provide a starting point and then allow people to take things in different directions and shape their experiences. I don't like to provide too much constraint and rules – we already have too much of that in our lives anyway! I find this often brings out the most in people and hopefully allows them to leave the workshop feeling a little more confident in their own abilities than when starting. Seeing how different people respond to a brief and work with different materials in their own individual way is so engaging, and definitely breathes air and energy into my practice and ideas.
Do you think that art and creative making can be useful tools in the preservation of mental health?
Definitely, not only do I see this first-hand when I'm working with different vulnerable groups, but I can feel it within myself. If I haven't made anything for a while or engaged in any kind of creative process, it quickly starts to change my mood. As cheesy as it may sound, for me there's definitely something about the act of being totally absorbed by a material and process that can not only relax and distract me but also allow me to work through difficulties and personal challenges going on inside. I think that's why I find it so crucial for everybody, especially for those who usually face barriers, to be able to engage in meaningful ways of creative making.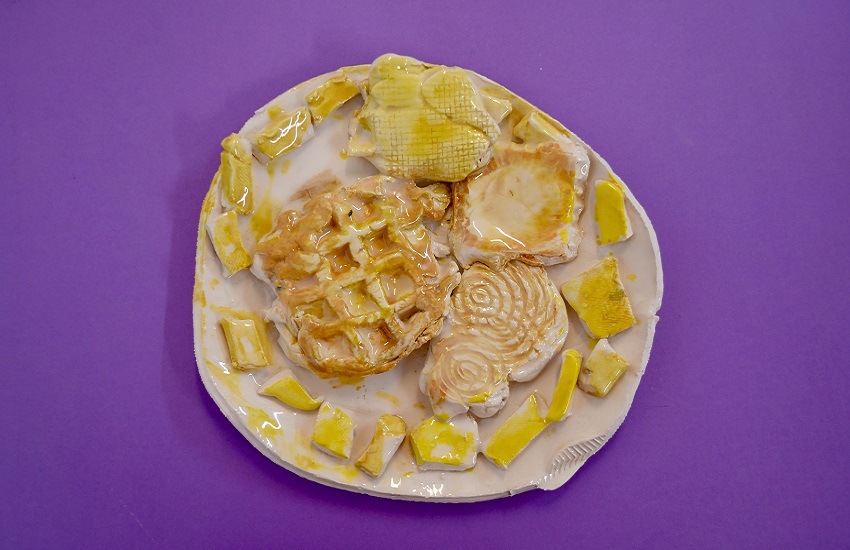 Image: Plate made by Central and West Integration Network Youth Group. Earthernware clay/ Photography by Florence Dwyer
What role do you think art plays in enriching and managing our health and wellbeing?
My reliance on art and making in managing my wellbeing was definitely proved to me earlier this year – I experienced some quite serious health complications which at the time meant that making/working/experiencing art was completely out of the question. I didn't quite have the capacity to realise it at the time, but this definitely caused a lot of built-up frustration. Since then, making, and in particular weaving, for me has been a great tool for physical and mental recovery.
I can also see this clearly with a lovely group who I work with every week at Crafting Together CIC, a crafting community that supports young adults with additional support for learning needs. When you work creatively with the same people on a regular basis over a long period of time, you get to know them in a really particular way and can really start to see the impact that engaging in craft has on a person – this is something I really love to see.
Can you tell us about any recent projects or commissions you have been working on?
I'm just about to start producing a series of hand tufted rugs. This will be the culmination of quite a long project I've been working on and researching for about the last year and a half that's been supported by the Inches Carr Trust as well being influenced by a recent residency I undertook at The Bothy Project on Eigg. They're going to incorporate lots of naturally dyed wool and draw on Shetland's Taatit Rugs. It's been great to have a lot of time to research things in quite an in-depth way, but now I'm excited about finalising these ideas and turning them into functional objects for people to use. I'm also busy in my studio at Glasgow Sculpture Studios working on some ceramic jugs and slipware plates. As well as this, I'm also working on some outreach projects for different organisations including Crafting Together CIC, Glasgow School of Art and Glasgow Sculpture Studios.
More about the maker: For more information on Florence Dwyer and her work, please visit her website.
---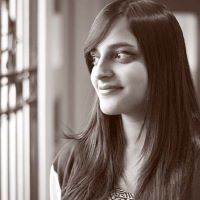 Arusa Qureshi is an award-winning writer, editor and speaker with a passion for music, diversity and accessibility within arts and culture. She has written a book about women in UK hip hop called Flip the Script, which is out now via 404 Ink. Her bylines include the Guardian, NME, Clash, Time Out, The Forty-Five and the Scotsman, and she is part of the We Are Here Scotland team, supporting and amplifying the voices of creatives of colour in Scotland.
She recently worked as a Researcher on the new BBC Scotland podcast Word Up!, and as a Commissioning Editor for Bella Caledonia, and was formerly Editor of The List, the UK events and entertainment publication based in Edinburgh, Scotland.
Arusa Qureshi / Photographer unknown
Florence Dwyer: Engaging in Meaningful Ways of Creative Making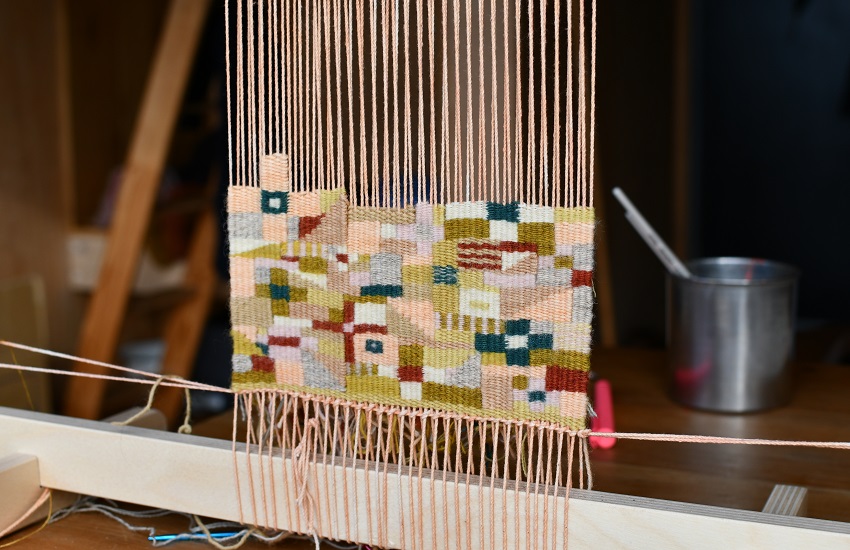 Transparent