Over the past few months, The Living Memory Association (TheLMA) has been exploring craft and making through a craft reminiscence programme called Making Memories. To tie into this, we partnered with TheLMA to deliver a series of Meet Your Maker events in the form of drop-in craft workshops at The Little Shop of Memory in Edinburgh's Ocean Terminal. We caught up with the team from TheLMA to hear about their Meet Your Maker experience, and get the low-down from their makers:
Fascinated by what part craft and making by hand has played in people's lives, from skilled trades and domestic tasks to favourite hobbies and childhood pastimes, Making Memories aims to explore and celebrate people's experiences of making
Showcasing the work of four local contemporary craft makers: silversmith Bryony Knox, furniture maker Isabelle Moore, mosaic artist Joanna Kessel and embroiderer Chloe Patience, TheLMA were interested in creating connections to memories from the past and highlighting how traditional skills still have a vital role to play. Working with makers who combine traditional and contemporary skills, visitors were invited to chat with the makers and join in with some hands-on activities. Handling and exploring materials and processes seemed to reveal a wealth of memories, from a woman in her 96th year recalling her work as a seamstress sewing army officer's uniforms during the Second World War, to a local boat builder teaching groups of young people how to build their own kayaks. Each workshop opened up a new set of stories and connections.
To conclude the workshops each artist was invited to select a favourite object from The Little Shop of Memory collection. TheLMA's resident photographer Miles Tubb used these objects to take a portrait of each artist, and you can see a selection of the images below. These photographs are also included in a new Making Memories exhibition, on display at The Little Shop of Memory until Wednesday 1 March 2017.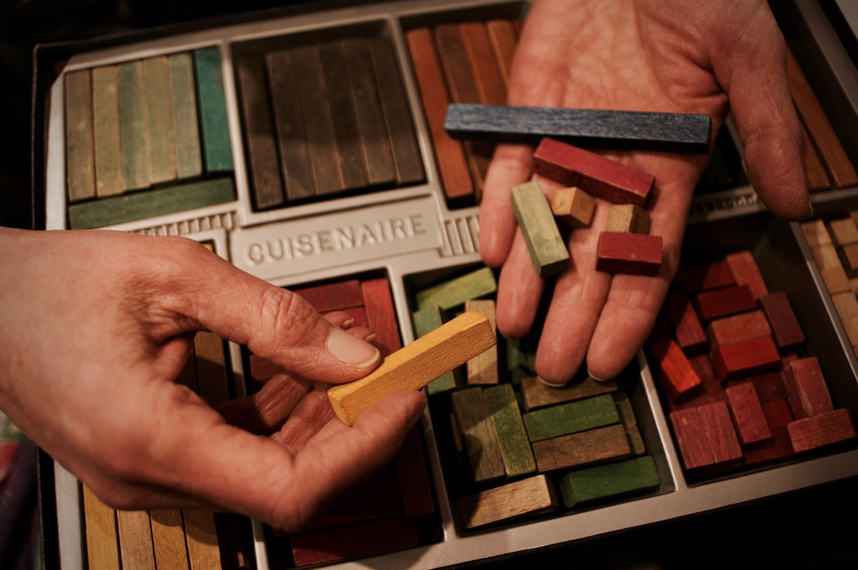 Joanna Kessel
Whilst casting my eye over the wonderful collection of objects at TheLMA my eye was drawn to the box of Cuisenaire rods. On reading up about the Cuisenaire rods I found that they are used to teach arithmetic in schools. If you lay out one of the longer rods you can try out how many of the shorter rods fit within it, you can also make endless arrangements and patterns combining the coloured rods.
In my mosaic artworks I often exploit the use of repetition, similarity and contrast – hand cutting hundreds of miniature, marble and smalti tesserae then juxtaposing them with another material of a different scale or colour.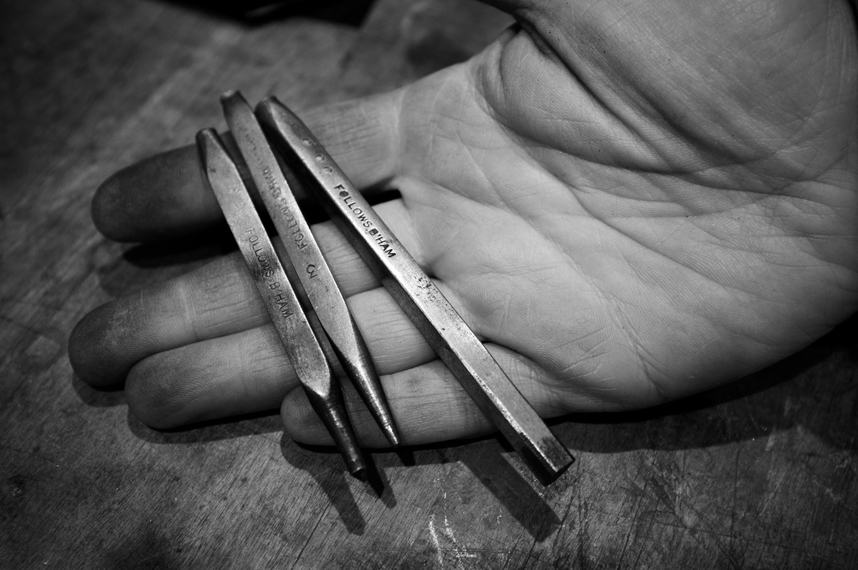 Bryony Knox
I have chosen three small steel punches. Each one has 'FOLLOWS B'HAM' stamped on the side and the individual owners/makers marks, in this case three small circles in a row, ooo. These seemingly insignificant bits of steel remind me of the tools I use for chasing and repousse. This is an ancient technique using pitch and a myriad of steel punches to fashion and form sheet metal. Every craftsman learns to make their own tools, shaping each punch to the desired shape. As your tools are so cherished, each craftsman has their own way of marking them - like a signature.
The markings on the tools allowed me to find a Birmingham-based company, started 80 years ago, called Frederick Follows. They specialise in metal marking tools and making punches which are used in the Hallmarking of silver and gold. I loved that these three bits of steel showed me such a story.
Miles and the Little Shop of Memory kindly donated three other punches to me, so that I can file, sand and form their ends into shapes, which I can continue to use in my chasing and repousse - thank you!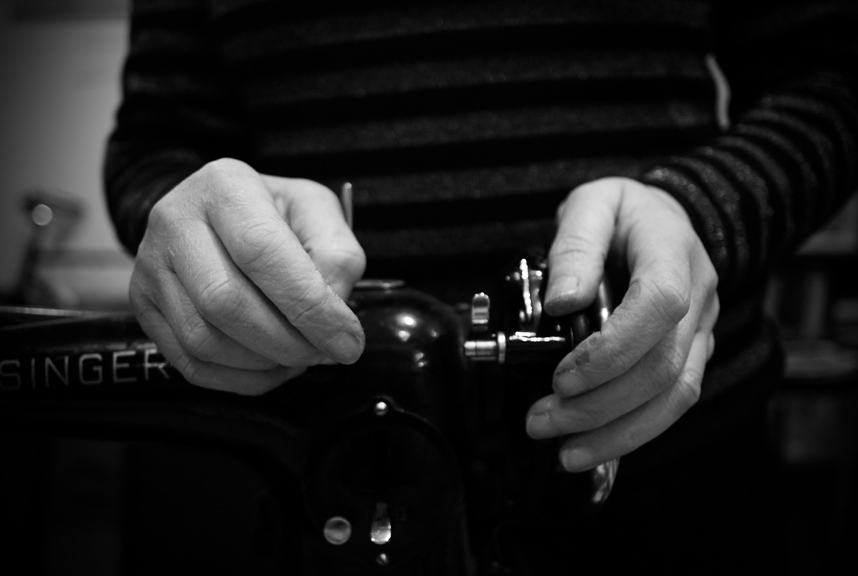 Isabelle Moore
The singer sewing machine is still a staple piece of equipment in our family, brought out to tackle those jobs that would floor a contemporary domestic sewing machine. As a child learning to make clothes for my dolls on our manual Singer, I remember learning about volume, when, having sewn up the traced outlines of my dolls in fabric, the resulting garments were far too small...
TheLMA is a rare, hands-on, informal phenomenon that celebrates the paraphernalia that has surrounded our lives over the past decades and lets us reminisce with recognition, nostalgia and surprise about these forgotten treasures and the memories they invoke.
Chloe Patience
I chose this beautiful hand embroidered piece. I am always drawn to embroidery. I especially like this piece's naive quality and faded vintage colours. It conjures up lots of happy thoughts and memories for me, making me think of my family. I'm especially reminded of my mum's about my great-grandfather learning to embroider during WW1. He was gassed in the trenches and learned to embroider while convalescing in hospital. He used to embroider handkerchiefs or other items to pass the time and to send to his loved ones. We have an amazing tablecloth hand stitched by my great-grandfather which is so intricate.
I like to see old embroideries like this Radio Times cover because they show the maker's personality, patience and attention to detail. This person must have been very kind and giving: there's a hand-embroidered message on the back that says: 'to my pal'.
The Making Memories programme will continue in 2017 with a regular programme of events at The Little Shop of Memory. We are open to suggestions, so if you are interested in getting involved please drop us an email at comhist@gmail.com or send a postcard to The Little Shop of Memory, 1st Floor (next to Debenhams) Ocean Terminal, Leith, Edinburgh EH6 6JJ.