Jurgita Galbraith has been nurturing the thought of opening an art gallery for some time. It wasn't until she found a suitable venue – physical premises on Dundas Street – that she made the firm decision for the primary focus of her new gallery to be craft. She tells us what inspired her to set up Birch Tree Gallery, which will open on Friday 10 March in Edinburgh.
I was, and to some degree still am, hesitant to use word 'craft'. As a non-native English speaker, I am puzzled that the same word can be used to describe a huge range of items made by hand. It can be used in very different capacities, even including items made by preschoolers or as a hobby. In my native Lithuanian language there are different words to describe handmade objects. 'Rankdarbiai' describes items created as a hobby (e.g. knitting, crochet, stitching). 'Tautodailė' is traditional craft, typically practised as an occupation, but rooted in folk art (such as wood-carving, leather goods making, and traditional amber jewellery). In Japan they have a really deep and rich tradition of traditional crafts – nearly every household item, from a fan, lacquerware box or tea cup to a kimono - requires high levels of skills and years of apprenticeship. Craft as fine art (yet another level) describes decorative applied art objects that no longer need to be useable. They can forfeit their original purpose and be seen as art objects exclusively for aesthetic enjoyment. Birch Tree Gallery intends to exhibit fine-crafts; one-off, handmade objects that require expertise and skill to make, but also evince unique artistic expression.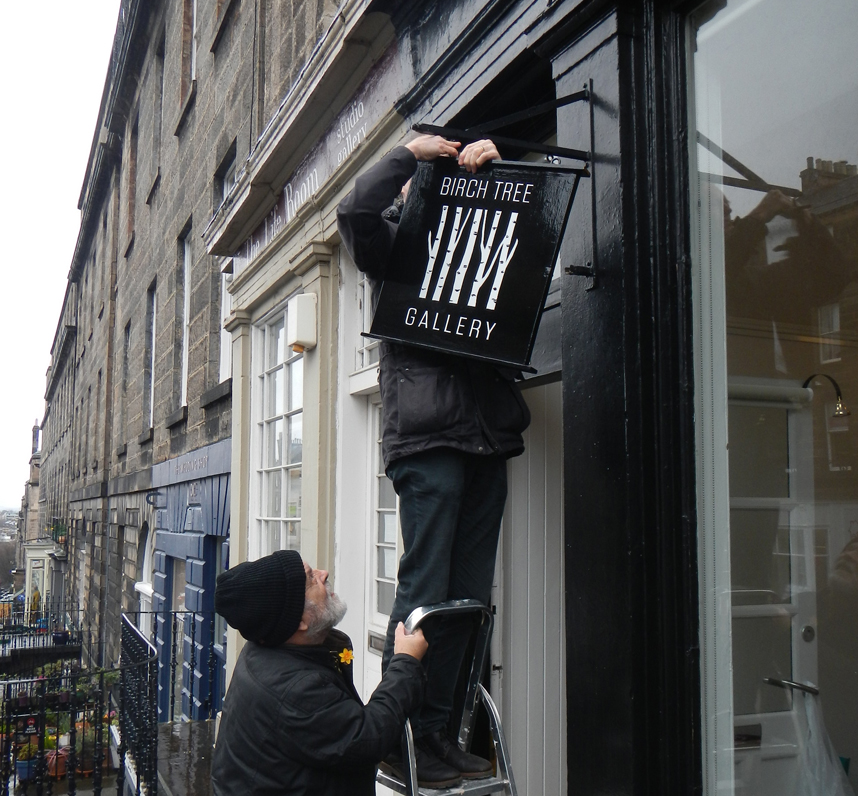 The birch tree image that the gallery takes its name from is very simple but powerful. The strong visual and tactile quality of the tree's bark embodies many of the same qualities that differentiate fine craft from other arts - the physicality of the art medium, texture, and time to master technical skills to produce the works. After all, birches do not have that same bark when they are young – it comes with maturity. But there is another side to the name, too. My home-town Siauliai, in Lithuania, is at exactly the same latitude as Edinburgh - 55.9349° N. Birch trees are quite prominent in Lithuania, as well as the Scottish Highlands. Two species, Betula pendula and Betula pubescens, are indigenous to both countries. I wanted to have this tie to my native landscape embedded in the name of the gallery.
The Birch Tree Gallery's inaugural exhibition Semitones will open on Saturday 11 March (with a preview on Friday 10 March). The exhibition will feature work by ceramicist Maggie Zerafa, from Skye, and tapestry by Argyll-based Louise Oppenheimer.
Maggie is currently experimenting with crystalline glazes which she will feature at the exhibition. Meanwhile, Louise's pieces feature subtle repetitive patterns that display a spectrum of colours.
Despite very different media, what is common to Louise and Maggie's artwork is really a subtle change of colour. Louise blends wool to gradually transition from one colour to another – almost like mixing paints to achieve subtle hues. Maggie's glazes are a fusion of art and science that mimic natural processes by which crystalline minerals are formed deep within the earth's crust over thousands of years and each ring has a slightly different shade of colour.
The gallery will continue to focus on artworks that have roots in nature – whether in materials, inspiration or thematic elements. Future exhibitions will include works in wood, glass, stone, clay, silver, mixed media and prints.
Find out more about the Birch Tree Gallery on their website, or you can grab yourself an invite to the gallery's opening reception on Friday 10 March.