Welcome to our Make Your Own Story feature, a series of interviews with makers where we delve into their fascinating stories about living and working in Scotland. We hope these stories will inspire you and spark new interpretations of craft.
Egypt-born Edinburgh-based ceramicist Mohamed Tonsy uses literature and ceramics to filter his own biographical history and explore imagined near futures. He was drawn to ceramics while studying for his PhD and has since found innovative ways to connect his writing with his art.
---
Hello Mohamed. Could you tell us a little about your practice and what led you down this route?
I'm from Egypt and I came over to Edinburgh to do my PhD in creative writing. I knew going into the PhD that I needed something to ground myself so I began a ceramics course. I used to race triathlons on a semi-professional level but because of trauma and tear gas effects experienced during the protests in Egypt, I lost 18% of my lung capacity. Engaging with clay and finding that I'm still somehow able to create something helped; it allowed me to reclaim my body in a way that felt very healing. I think that has always been a huge part of my practice, along with issues of intersectional identity, especially being an Arabic speaker who's living in the UK. I feel like I have all the language skills to communicate, but the words don't always land for me. Having clay as a medium to work with eliminates that middleman of language and allows me to express something that's simultaneously tangible and ephemeral.
Pottery has always been one of the bigger traditional crafts in Egypt. During my undergrad at university we went to different workshops quite a few times, particularly given the strong intersection between pottery and mudbrick vernacular architecture. I was always fascinated by the craft but never had a proper go at it, except in elementary and middle school where they give you a lump of clay and tell you to make something. When I moved to Edinburgh, I lived next to a ceramics studio, Meadows Pottery, and it was this stroke of luck that I had incredible teachers in Paul Tebble and Junko Shibe. I took courses with them and when I wanted to learn more and further engage with pottery, they offered me an apprenticeship position. So, I apprenticed for a while and spent hours preparing clay and practicing on the wheel. Soon after, a friend – Susie Dalton – had secured a space at the Bridge Pottery Collective in St. Margaret's House and invited me to join. I've been practicing there since.
"Engaging with clay (..) allowed me to reclaim my body in a way that felt very healing."
How does your Egyptian upbringing impact how you approach art today?
It's interesting because I feel like it happens in a very subliminal way. I never really noticed it when it was happening but I found myself leaning towards certain shapes. For example, when I was apprenticing, Paul would say 'that's a very curious shape, where did you come up with that?' And I would answer that it just came to me. But then he'd find an ancient pottery book that he had squirreled away in his library that would reveal that it was a traditionally North African shape. I must have just absorbed quite a few different things from my upbringing in Egypt.
We are firm believers in clay as being a purifier especially because a lot of Cairo is built on clay. So there's this essence and feeling of it almost being a kind of bedrock to society. And our first bits of Egyptian history were inscribed on clay. So it definitely always felt very foundational and important as a way of recording bits and pieces and that was always my connection to back home. But I always try to avoid mimicking shapes even if I find myself leaning towards them. I never actively seek them out because it almost feels at that point like I'm wearing my Egyptian costume for the benefit of others. It depends on the context; sometimes it works, sometimes it doesn't but I like to avoid mimicry especially because here, I usually mostly throw with stoneware and in Egypt we use a locally-scavenged terracotta.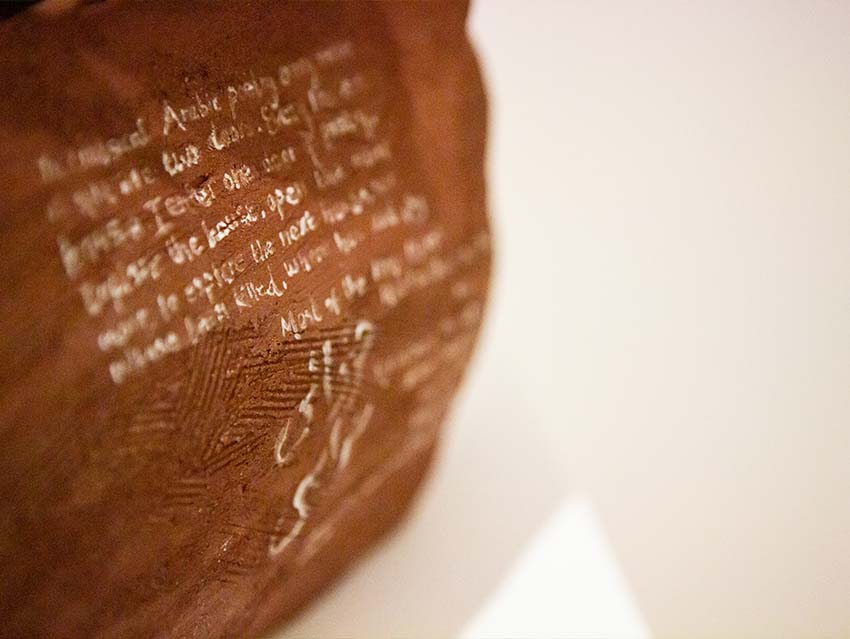 Image: Gawabat by Mohamed Tonsy / Image Courtesy of Talbot Rice Gallery
How has being in Edinburgh and becoming part of the arts scene in Scotland changed how you work or influenced your style?
It's hard to say, given that I never practiced ceramics for any lengthy period in Egypt. However, engaging with the craft whenever I visit home I notice the luxuries we have in Scotland that are not part of the norm in Egypt. In Scotland, it's routine to find workshops that put their pieces through two firings – once to bisque and another to glaze-fire the pieces. However, because of how expensive firing can be in Egypt, most workshops raw-fire, meaning they glaze their pieces at the greenware stage and put them straight through to a glaze-fire.
There's just much more experimentation when it comes to the firing process in Scotland, which can be very exciting as it means one can aim to go for a certain effect through the firing process, and hope to repeat it. In the practices in Egypt, clay is much more 'functional'. Some people do experiment with firing processes, but that's uncommon. Non-utilitarian ceramic pieces struggle to find a home in Egypt. The canopic jars wouldn't have been created, and made to survive, if there wasn't a need to store the organs of the dead.
"[In 'Gawabat'] the writing formed signs meant to project into the future, the clay pieces were the parts of the project reckoning with the past."
Can you tell us about the Trading Zone exhibition at Talbot Rice in 2019. What did you create for this exhibition and why?
My piece was titled 'Gawabat' and it was a series of ceramic sculptures that blended both my ceramics work and my writing. My manuscript for the creative writing PhD was set in Egypt in the near-future, with a kind of dystopian feel, lots of environmental disasters and catastrophes. Where the writing formed signs meant to project into the future, the clay pieces were the parts of the project reckoning with the past. So, with the help of Beth Longmore – an incredible Glasgow-based artist – I slipped and etched passages of the writing onto the clay. The mix of slip used allowed the clay and the passages to interact during the firing process that they broke apart slightly. So, there was only fleeting control over what words would survive into the future. It was like a love letter from a past self, from the current form, addressed to the future. Though most of the writing was in English, I used a lot of Egyptian Arabic vernacular that most viewers would not understand, but could still pronounce phonetically. It was an experiment in seeing the limits of words' tangibility and how past traumas can be filtered through the languages of the present – that of ceramics, and the writing.
In Egyptian folkloric tradition, calling an evil djinn by its true name summons that djinn into being. While I don't subscribe to that superstition, I believe in the effect a superstition has on inherited societal norms, and how that can safeguard toxic hierarchical structures. I also believe in the importance of challenging such a thing. The project helped me identify those djinn for what they were, and respond to them, in a language that was entirely my own. The pieces might not immediately make sense on any other level, but it was about creating a space to experience that narrative in an embodied fashion before sending it off into the future.
Can you tell us about any recent projects or commissions you have been working on?
I'm doing a lot more writing now and I have quite a few pieces that are going to be published soon, which I'm very excited about. With the pottery, I've been working on something that I started to explore pre-lockdown but never got back into because – of course – lockdown muddled everyone's brains and my relationship to the pieces had changed. Coming back to them, I realised what I was trying to do but was initially just groping in the dark. I have been piecing together different forms, to create pieces where there is a sense of an inside that's inaccessible to the viewer. So, it's creating different vessels through a process of mixing and matching. I guess that's concerned with my identity as a queer Egyptian living in Edinburgh, and having to filter a lot of my queer identity through an English language that holds little space for me, then trying to reverse engineer that to understand myself in Arabic as well, to have my identity transfer back to some semblance of an 'authentic' me. It's a process of mixing and matching and just seeing what happens.
What do you hope that audiences will take away from your work?
I guess, a sense of concreteness and opaqueness. So, the idea that something can be tangible and you can interact with it while remaining opaque – you have that very explicit boundary, and that's fine. You get out of it what you experience of it.
More about the maker: For more information on Mohamed Tonsy and his work, please visit his Instagram.
---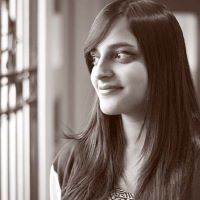 Arusa Qureshi is an award-winning writer, editor and speaker with a passion for music, diversity and accessibility within arts and culture. She has written a book about women in UK hip hop called Flip the Script, which is out now via 404 Ink. Her bylines include the Guardian, NME, Clash, Time Out, The Forty-Five and the Scotsman, and she is part of the We Are Here Scotland team, supporting and amplifying the voices of creatives of colour in Scotland.
She recently worked as a Researcher on the new BBC Scotland podcast Word Up!, and as a Commissioning Editor for Bella Caledonia, and was formerly Editor of The List, the UK events and entertainment publication based in Edinburgh, Scotland.
Arusa Qureshi / Photographer unknown
Mohamed Tonsy: Connecting Ceramics and Literature through Imagined Futures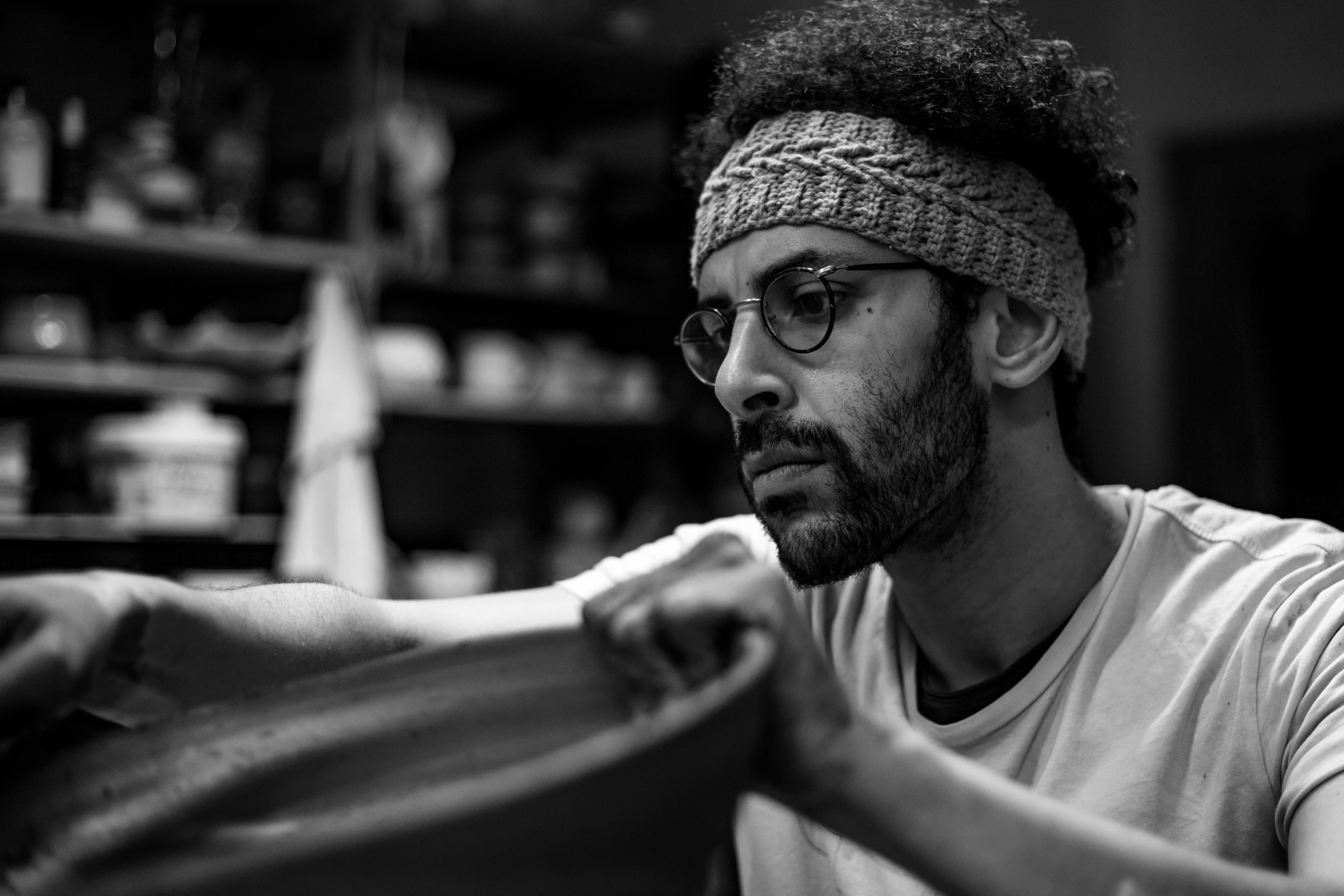 Transparent