Looking for unique Christmas gifts? Let our Handcrafted Christmas Gift Guide make your holiday shopping a little less stressful. Discover contemporary craft from Scotland that will make the perfect gift for your loved ones and gives you the chance to support local businesses.
First up in our Handcrafted Christmas blog series is the National Museum of Scotland Gift Collection. To mark the reopening of the Art and Design and Science and Technology galleries at The National Museum of Scotland, Craft Scotland invited Scottish makers to express interest in producing new ranges inspired by these galleries. The resulting collection reflects the best of craft from Scotland, both creatively and technically.
The makers worked in collaboration with National Museums Scotland Enterprises to finalise their designs, which are now currently available at the National Museum of Scotland gift shop. Paul Wareham, Director of Retail from National Museums Scotland Enterprises said "We are delighted to be working in collaboration with Craft Scotland on a fantastic range of products for the National Museum of Scotland. This collaboration has delivered some excellent designs and we have thoroughly enjoyed the process of working with the makers to create products inspired by the Museum generally."
Seven makers were invited to create a range of products for the Museum's 2016 collection: Badger & Baird, Elin Isaksson, Julia Smith, Jennifer Grey, Frances Teckkam, Bonnie Bling and Bespoke Atelier. Fiona Logue, Director of Craft Scotland says "Visitors from home and abroad appreciate the opportunity to have a souvenir that is beautifully designed and hand made here in Scotland. This collection illustrates the breadth and quality of design-led craft being produced in Scotland today and it was an inspired idea by National Museums Scotland Enterprises to commission it."
You can discover this unique range of jewellery, ceramics, glass and textiles at the National Museum of Scotland, Chambers Street, Edinburgh, EH1 1JF. Open daily: 10:00 - 17:00
To mark 20 years since the birth of Dolly the Sheep and the return of Dolly to the newly opened Science and Technology galleries at the National Museum of Scotland, designer Jennifer Gray has produced a twist on the traditional charm bracelet. The luxury bracelet reflects the story of Dolly's creation from laboratory petri dish to cloned sheep. The range is available at the National Museum of Scotland in silver and 18 carat plated gold.
Jennifer Gray is a designer who works in a range of materials using techniques which move in and out of the handmade and the digital. Her work is sold and exhibited nationally and internationally at design festivals and art fairs. She also works collaboratively with design historians, archaeologists and museums to explore how design and making processes can be used to better understand historical objects, places and people. Jennifer also works as a lecturer in the Design School of Edinburgh College of Art.
Julia Smith's ceramics collection for the National Museum of Scotland includes a tableware and accessories collection inspired by the history of bicycle design to mark the opening of the new galleries at the National Museum of Scotland. As a keen cyclist and lover of bicycle design, she was drawn to the museum's fantastic and eclectic collection of bicycles dating back to 1817. She designed and made a set of mugs, cereal bowls, coasters and brooches with her illustrations of a penny farthing and a modern road bike fired into the glazed surface. All of her pieces are lovingly handmade in her pottery studio in rural Inverness. Julia's ceramics combine a love of making and a passion for materials.
Julia adapts traditional making and printmaking methods with the goal of creating vessels of a timeless quality and beauty. Muted glazes are a common theme in her ever-evolving production combined with colourful illustrations on simple, well-crafted forms. Her geographical location by the sea greatly influences her work and nature is a constant inspiration. Julia Smith is a ceramic maker living and working in the Highlands creating distinctly handmade ceramic tableware and sculptural pots. She is a graduate of Glasgow School of Art where she was awarded a BA in ceramic design in 1996.
The inspiration behin Badger & Baird's new collection is the beautiful Willowwood Piano, painted by Phoeve Anna Traquair in 1909 it is now on display in the National Museum of Scotland's new Art & Design Gallery. By echoing shapes and forms within the magnificent paintingm designer Emma Baird of Badger and Baird has handmade a collection of sterling silver jewellery including statement hoop earrings, gorgeous bangles, bell drop earrings and necklaces. All are available exclusively at the Natinoal Museum of Scotland.
Basger & Baird is a Scottish Jewellery brand with a studio and workshop in the city of Edinburgh. Designer/maker Emma Baird finds inspiration in nature, romance and her surroundings. Working in gold and silver her collections include twig rings, playful smiling hares, seed pods and sycamore pendants.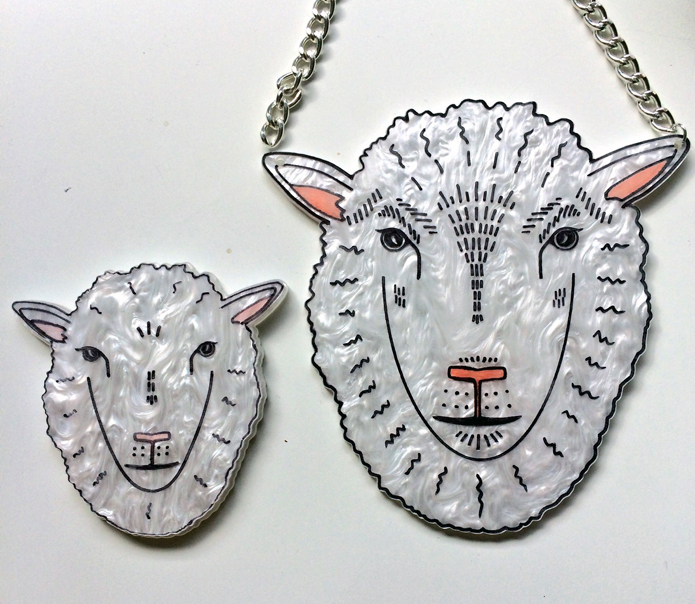 Bonnie Bling, the award-winning laser cut jewellery range created by designer Mhairi Mackenzie, has created several limited edition pieces for the National Museum of Scotland. Based on the museum's historical collection of scientific glass jars and bottles, Mhairi created tactile pieces by specially selecting opaque and ultraviolet glowing plastics. The necklaces look gorgeous by day but really come to life at night, as some of the bottles light up when under UV light.
As the first cloned mammal ever to be created from an adult cell, Dolly's birth was of huge excitement both to the scientific world and to the public. "I loved the idea that Dolly was a clone and as I use a laser cutter for my work, every piece would be identical just like a clone." says Mhairi. She wanted each Dolly necklace to feel extra special to wear so she sourced a beautiful Mother of Pearl effect acrylic plastic. Each Dolly was then hand-painted and jewellery findings added.
Inspired by the 12 metre-long, spectacular life-sized skeleton cast of a T.rex, one of the star attractions at the National Museum of Scotland, Mhairi created a statement necklace featuring a laser cut dinosaur skull, with a hinged jaw and antique style chain he is a roaring showstopper.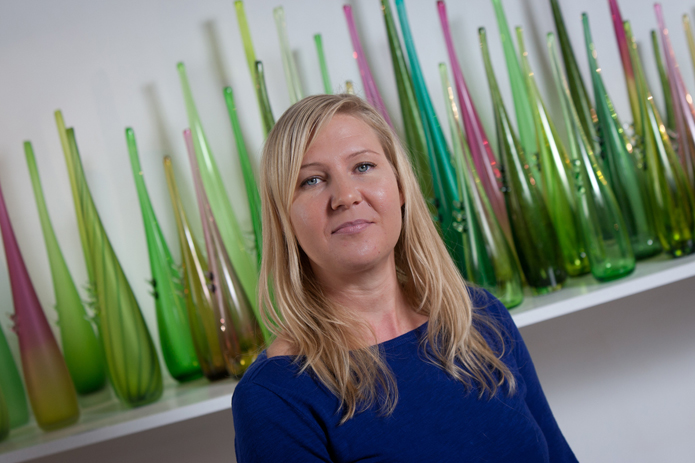 Elin Isaksson created two designs for the National Museum of Scotland inspired by the tear drop design by Charles Rennie Macintosh. Elin essentially translated a 2D purely decorative design into a 3D functional one by translating Charles Rennie Macintosh's colour palette into her blown glass design.
Elin makes hand blown and sand cast glass for interiors and gardens. Her designs are contemporary and tactile in Scandinavian forms. Her range includes functional items, chandeliers and sculptural pieces.
Frances Teckkam, a knitwear designer, created a range of colourful patterned knitwear in natural yarns for the National Museum of Scotland.
Frances drew inspiration for her range from the Willow Piano decorated by Phoebe Anna Traquair, the Irish-born artist who achieved international recognition for her role in the Arts and Crafts movement in Scotland. The Phoebe Anna Traquair knitted accessories are inspired by the panels of the piano, whilst the Reeds & Butterflies and the Ripples & Fish design was inspired by the painting inside the lid of the piano.
Bespoke Atelier is a design studio producing innovative patterns, forms and graphics using specialised materials. They work on a commission basis, creating designs to make an impact, but equally to complement and enhance the surfaces on which they appear.
Bespoke Atelier designs focus on both the iconic National Museums of Scotland building and exploring the new gallery collections, taking inspiration from the Grand Gallery roof structure and the once-hidden treasures now on display. Designed in their Glasgow-based studio, Bespoke Atelier's scarves are digitally printed locally onto a luxurious crepe de chine.
Where To Buy
All of the makers' delightful pieces are available to buy now at the National Museum of Scotland, Chambers Street, Edinburgh, EH1 1JF. Open daily: 10:00 - 17:00