Out of the Blue is investing in a new and exciting creative initiative at Out of the Blue Abbeymount Studios by taking on a five-year lease of all spaces previously managed by Process Studios who ceased trading in October. A significant part of the former Regent Road School building at the top of Edinburgh's Easter Road will be a vital incubator and education space for creative activity with resident professional craft makers and designers.
Out of the Blue acknowledges that there is great demand for space integrating artists studios and workshop spaces for educational programmes, workshop and workbench facilities. The main aim is to provide diverse facilities and resources which enable professional makers, established and emerging, to nurture and grow their businesses and be open to hobbyists and learners. It is estimated that once established Out of the Blue Abbeymount Studios will provide a source of income for over 100 people, with over 1000 people participating each year.
This facility will become an important part of Edinburgh's creative industry infrastructure, initially operating as studio and workshop space for resident makers, and developing to offer its members a flexible space with access to tools, experienced practitioners and courses for professional development.
Out of the Blue has a proven track record in enterprising ventures and Abbeymount Studios will follow the same social enterprise model as its highly successful parent at the Out of the BlueDrill Hall on Dalmeny Street. Out of the Blue is one of Scotland's leading community, cultural and arts development organisations, working in partnership to provide economic, cultural, social and educational opportunities, to a significant number of people to make a real difference to their lives.
Rob Hoon, Manager of Out of the Blue says "Out of the Blue Abbeymount Studios will contribute to the area's economic growth, creation of place, and community engagement. It is another example of Out of the Blue's ability to strategically reuse Edinburgh's building infrastructure to establish much-needed space for employment and participatory educational and recreational activity, to contribute significantly to Edinburgh's vibrancy."
This project has been made possible with transitional funds from Creative Scotland and Social Investment Scotland, working in the context of Creative Scotland's strategy for the Creative Industries, helping to enable sustainable creative businesses. Out of the Blue have also been supported by Creative Edinburgh, Craft Scotland, Edinburgh Voluntary Organisations Council and the City of Edinburgh Council (CEC) to make this intervention.
Fiona Logue, Director of Craft Scotland said: "New makers face many challenges and having access to good studio space and the opportunity to share equipment that would be too expensive to buy individually are two of the most demanding. Craft Scotland is delighted that Out of the Blue is taking over Abbeymount Studios as this is an important resource for the craft sector in Edinburgh supporting both aspiring professional makers and those looking to learn a new skill"
Clive Gillman, Director, Creative Industries at Creative Scotland said: "We're very pleased that Out of the Blue have been able to take on Abbeymount Studios, protecting the future of a significant number of Scotland's most important small creative businesses through the provision of sustainable studio space. We know they have worked hard to make this happen and their ambition and professionalism have enabled a very positive outcome."
Alistair Johnstone, Chief Credit Officer at Social Investment Scotland said:"Out of the Blue have a proven track record in the sector and continue to pursue opportunities to secure studios and workshop space to help artists. Social Investment Scotland had no hesitation in supporting Out of the Blue in this new venture, which we are convinced will be a success for all involved."
Councillor Richard Lewis, Convener of the City of Edinburgh Council's Culture and Leisure committee, said "I am delighted that Out of the Blue is taking on the management of Abbeymount Studios in order to preserve these much-needed artist studios and workshop spaces for the city, while at the same time creating a fantastic new space for the local community."
Out of the Blue Arts and Education Trust is based in the Out of the Blue Drill Hall in Dalmeny Street, Edinburgh. Our vision is that Edinburgh becomes a creative, participative city in which everyone is able to access the spaces and resources they require to pursue their own creativity, no matter who they are and what form it may take. Our mission is to provide affordable and appropriate spaces, resources, projects and opportunities for the residents of Edinburgh to be creative. We seek to make this diversity of creativity more visible and in doing so, support the creation of cultural, social and economic value within the city.
Out of the Blue takes on Abbeymount Studios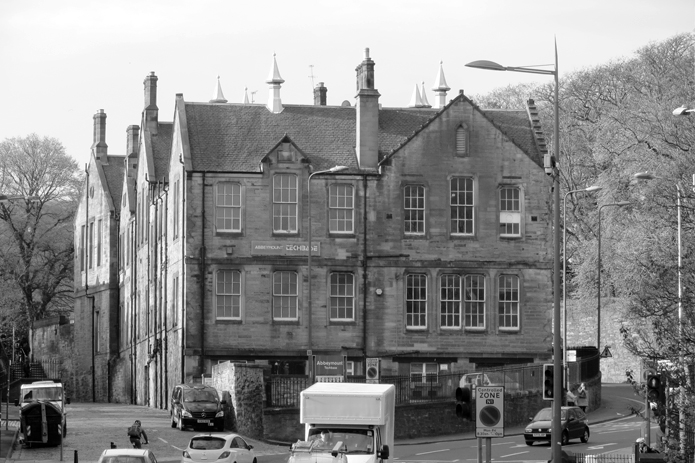 Transparent