In this month's The Craft Edit, we bring you the latest inspiring news and stories from makers and craft organisations across Scotland. 
Hear about the ECA graduate whose goblet made from fairmined silver won The Scottish Goldsmiths Trust student award. Plus, learn more about the knitwear designer from the Scottish Borders who is getting ready to launch her first ever book on visible mending.
---
Ethically-sourced silver used to craft Scottish Goldsmith's Trust award.
The Scottish Goldsmiths Trust (SGT) is thrilled to announce the completion of the 2019 Outstanding Student Award Goblet, designed and made by Ruth Page, Edinburgh College of Art graduate and trainee silversmith at Hamilton & Inches.  The goblet, inspired by the weights on railway signals and handcrafted from ethically sourced silver (fairmined) will be among the captivating pieces in an exhibition celebrating Scottish jewellery and silversmithing.
Victoria Houghton, CEO of Hamilton & Inches, added: "Ruth's exceptional goblet is the result of the skills and support from the established craftspeople of Hamilton & Inches. Passing on expertise from one generation to the next helps secure the longevity and preservation of craft in Scotland. In turn, we look forward to Ruth sharing her knowledge and expertise for years to come." 
This is the first time that the award-winning SGT Outstanding Student Award in 2019 design has been made from Fairmined silver – reflecting SGT's ambition to see Scotland become a world leader in the use of ethically-sourced materials and sustainable practices. 
Ebba Goring, Chief Executive of SGT, said: "The goblet is also notable because it is the first time the Outstanding Student Award design has been made from Fairmined silver. By commissioning this goblet in Fairmined silver we know exactly where this material came from, in this case, the Macdesa mine in Peru. We also know that the mine meets the Fairmined standard relating to social, economic and environmental standards."
The Celebrating our Craft exhibition is being staged by Hamilton & Inches and will feature some 70 pieces created by its makers throughout its 155-year history and takes place within their Edinburgh showroom from Thursday 26 August - Sunday 5 September 2021. Among the star exhibits will be a selection of sporting trophies, awards and more.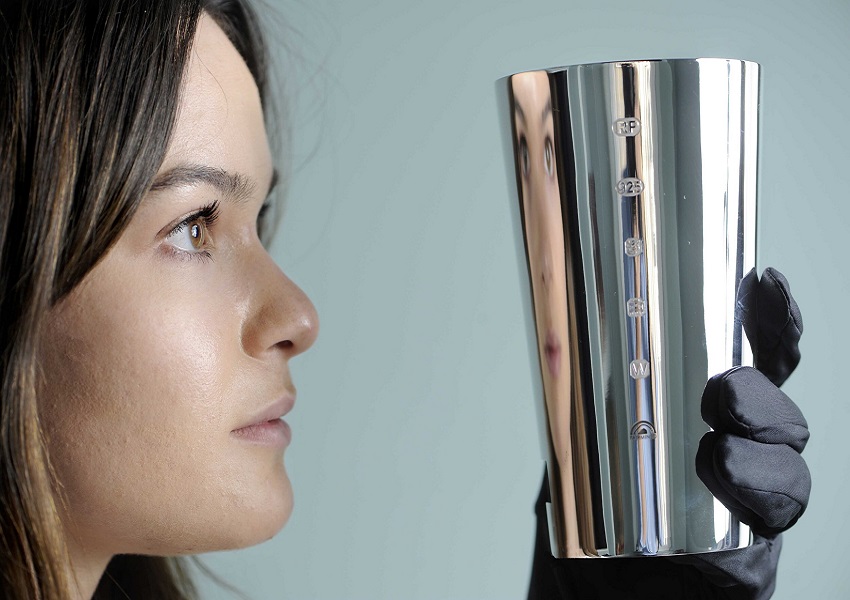 Image: Ruth Page/ Photography: Colin Hattersley
World-class visitor attraction in Galashiels to house The Great Tapestry of Scotland.
The new purpose-built Great Tapestry of Scotland gallery, visitor centre, cafe, and workshop space will be opening in Galashiels, the heart of the UK's textile region, on Thursday 26 August 2021.
Conceptualised by writer Alexander McCall Smith and designed by artist Andrew Crummy, The Great Tapestry of Scotland is one of the world's largest community craft projects.
The Tapestry tells the inspirational true story of the country's history, heritage and culture (from 8500 BC to the present day). It was hand-stitched by over 1000 people in communities across Scotland and transported by land, sea and air. It is made up of 160 panels and 300 miles of wool, with people coming together to share stories and create a record of their history.
Speaking on the news of the centre's opening, Alexander McCall Smith said: "The opening of this wonderful gallery marks the end of a long period of hard work by all of those who have created this astonishing tapestry and its permanent home. But it also marks the beginning of the public life of one of the great artistic creations of our time."
Sandy Maxwell-Forbes, Centre Director for The Great Tapestry of Scotland added: "We are absolutely delighted to be opening the doors of our new purpose-built visitor centre, with its stunning architectural ceiling sculptured to reflect the town's Victorian roofscape, on Thursday 26 August. This presents an exciting opportunity to support the economy, create local jobs and enhance the cultural and educational opportunities in the south of Scotland. And it offers a fantastic day out for locals and visitors alike."
Those planning on visiting are advised to book ahead via the official website, where full opening times can be found along with details of social distancing measures in place. If spaces are still available on the day, tickets can also be purchased at the door.
For more information visit greattapestryofscotland.com
Visible mending gets creative with Scottish Borders knitwear designer
Demand for sustainable garments is on the rise and consumers are becoming increasingly more aware of the impact that their wardrobes have on the planet. Scottish knitwear designer Flora Collingwood-Norris wants to inspire us to take care of what we already own and give new life to old garments through the art of creative mending.
In her new book Visible Creative Mending, Flora Collingwood-Norris shows, step by step with written instructions and accompanying photos, how to repair holes and ragged edges, add pattern and create something new and beautiful from garments you thought you'd never wear again.
After graduating from Heriot Watt University in Galashiels, Flora worked as a freelance knitwear designer, creating knitwear samples for the likes of Christopher Kane, Jasper Conran and House of Holland. She started her knitwear label Collingwood-Norris in 2016, telling Selvedge magazine: "I've always been mindful about what happens to my designs at the end of their life, so I've always wanted to have repair as part of my business. When I first tried visibly mending my own knitwear, it just felt right— it was a way of combining the textile skills I loved in a creative way."
Learn more about Flora and the book, Visible Creative Mending,  by visiting her website: www.collingwoodnorrisdesign.com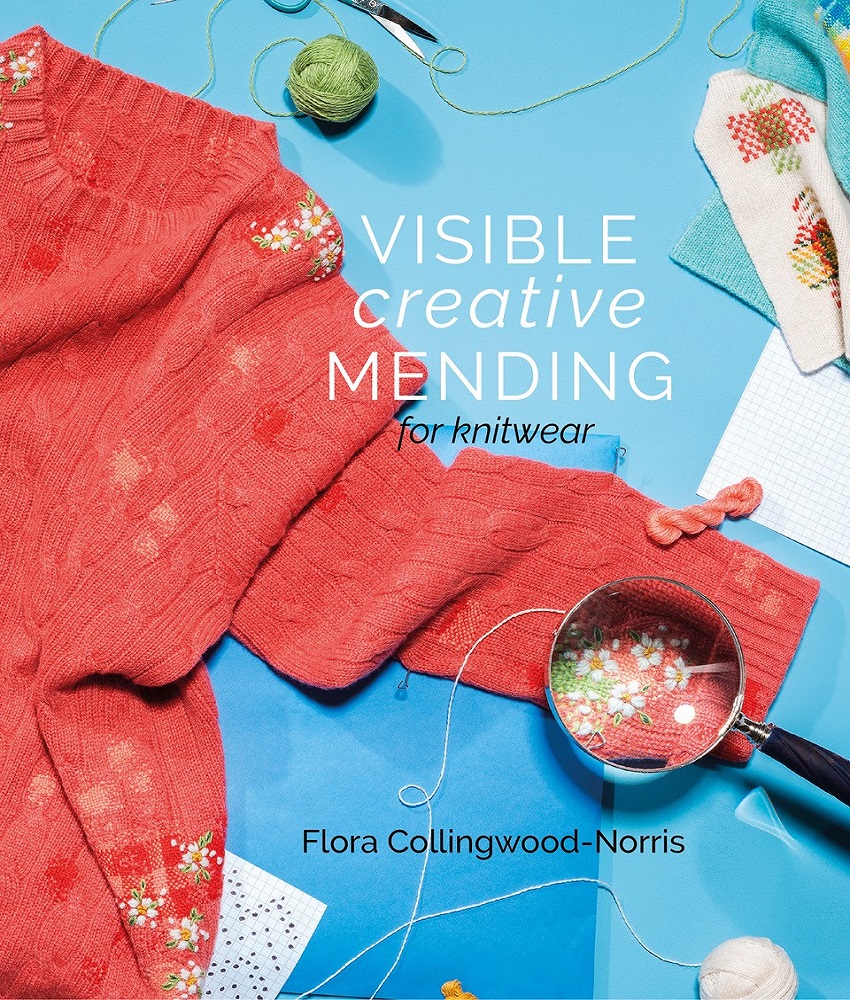 Image: Flora Collingwood-Norris / Photographer unknown
Treasured: Open Winners to go on show at Bonhoga 
This autumn, Bonhoga Gallery  will host an exhibition of contemporary craft from the five winners of the Shetland Open 2019.
The exhibition title Treasured reflects precious time spent immersed in making during a challenging year and the transformation of sometimes overlooked raw materials into new and joyful artworks.
Graeme Howell, CEO at Shetland Arts said, "The Shetland Open usually takes place every two years, with an exhibition of work by prize winners in the intervening year. Although the pandemic changed our plans for the Open Winners, we're delighted that we are now able to go ahead with the exhibition this September. The makers have created a bright, colourful and joyful selection of work that deserves to be treasured for years to come."   
The five winning makers span an exciting range of disciplines: Deborah Briggs works in textiles, and for this show has created beautifully woven pieces. She is inspired by the vivid colours of wildflowers against the greys and browns of Shetland cliffs, combined with the brilliant blue sea and bright sky.  Eve Eunson is a designer/maker inspired by the vernacular furniture of Fair Isle. Eve has created chairs from repurposed wood that arrived in Shetland as dunnage – the wood used during transportation to keep cargo in place.
Contemporary textile artist Marcia Galvin has knitted bright and playful garments incorporating unusual textures and bold colours.  Lynn Ritch Bullough takes her inspiration from nature, mixing washed up fishing ropes and plastic waste found on the beach with Shetland's age-old traditions of weaving and basket making.  Jeweller Esmé Wilcock is also inspired by the natural world, she is well known for her delicate creations, often featuring sea glass or cast seashells. 
Treasured: Shetland Open Winners Exhibition will take place at Bonhoga Gallery from Friday 10 September to Sunday 31 October 2021. The exhibition will run according to Scottish government guidance at this time.  Book your tickets here: tickets.shetlandarts.org
Meet Make Collaborate – an international connection for Scottish crafters.
As part of Crafting Interconnections, from Saturday 21 August - Saturday 6 November 2021, Applied Arts Scotland and The Barn will host Meet Make Collaborate, a touring exhibition of new works created by makers participating in the International Exchanges Project.
Crafting Interconnections is a season of events including workshops and discussions hosted by the Banchory venue exploring interconnections between craft and environmental sustainability.
Meet Make Collaborate brings together Scotland-based makers with their counterparts in Mexico, Thailand and Canada. Through a programme of international exchange residencies, the participants had space and time to expand the scope of their practice and create new works on the themes of identity, sustainability and collaboration.
The first stage of these residencies took place before Coronavirus (COVID-19), and enabled makers to meet in person across Canada, Thailand, Mexico and Scotland, however during 2020, the makers developed new ways to continue their collaborations digitally.
For many participants these collaborations have been a lifeline during the pandemic, and have provided comfort, support, focus, creative inspiration and reinforced the joy and sense of connection brought about through making.
To book visit thebarnarts.co.uk
Local Heroes x London Design Festival Showroom
Local Heroes Design, in partnership with Brompton Design District and London Design Festival, presents The Future of Home, a showroom celebrating Scotland's contemporary design scene. Designers/makers from 15 studios and brands that embody Scotland's dynamic design culture have been invited by curator Stacey Hunter to exhibit new work in a special collection marking five years since the first Local Heroes exhibition. ⁠
At a time when we are experiencing an increased fluidity between our home and our workspace, The Future of Home offers a fresh take on modern interiors from a new generation of designer/makers. Over 40 new products, from furniture and lighting to textiles and collectible craft have been brought together to create spaces of comfort and style that also reflect the hybrid needs of flexible working. ⁠
⁠
Designers have used the past 12 months to innovate, speculate and dream – the results are a vision of a future where interiors are fun, beautiful, and tactile. A platform for critical discussion, and acquisition, the exhibition presents product launches from a new generation of designers.⁠
The Future of Home by Local Heroes - Opens Saturday 18 - Sunday 26 September, at 6-7 Thurloe Place, Brompton Quarter, South Kensington. This exhibition is made possible with the support of the National Lottery and Creative Scotland.
⁠
Learn more about craft this month:  
Read  
How prescribing creativity might help wellbeing
New Designers 2021 features graduates from Scottish Universities
Listen 
Etsy Conversations: Turning a Creative Outlet Into a Growing Business
 
Visit
Marchmont House Open Studios – Artists and Makers Are Reconnecting Society and the Natural World
---
Share your news with Craft Scotland. Email a press release and quality photography to hello@craftscotland.org.
Left to Right Clockwise: Urpflanze Chandelier, Fossil Surface Material and 400 Chair by Mirrl, Wemyss Side Table by Chalk Plaster / Art Direction and Styling: Reuben Paris & Stacey Hunter / Photography by Reuben Paris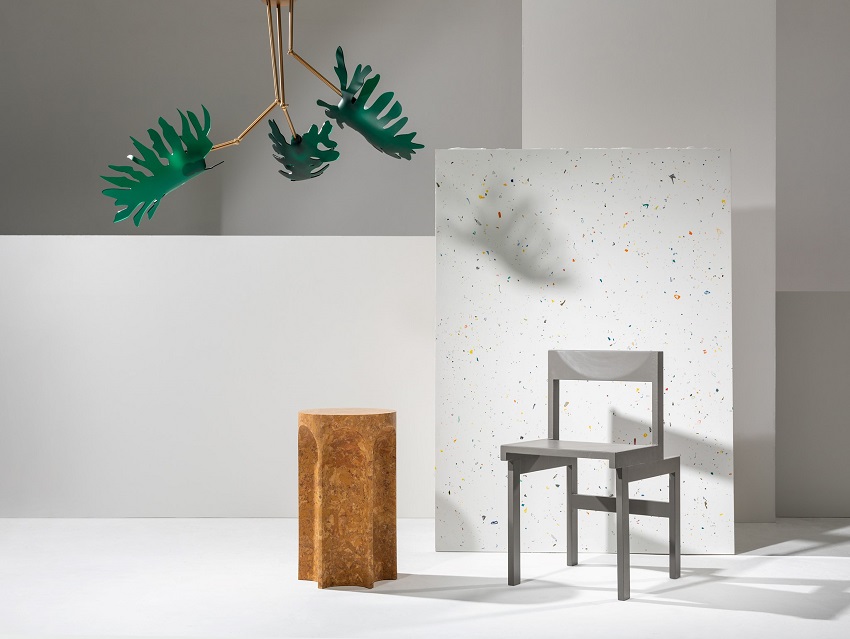 Transparent