Craft Week Scotland 2021: a celebration of Scottish contemporary craft
The Event

Join Craft Scotland this October for Craft Week Scotland.
Running from Monday 25 – Sunday 31 October 2021, Craft Week Scotland is a nationwide celebration of Scottish contemporary craft.
Created by Craft Scotland, Craft Week Scotland aims to highlight the vibrant craft sector to encourage communities across Scotland to discover, shop and learn about contemporary craft.
You can delve into the full programme of Craft Week Scotland events on our popular What's On section.
Explore Scotland's vibrant craft community with our Craft Directory, where you can learn more about craft destinations and delve into makers' practices and visual portfolios.
Join the conversation on Instagram, Twitter and Facebook #CraftWeekScotland
---
Craft & Cultural Conversations 2021
Join Craft Scotland for a series of Craft & Cultural Conversations across Craft Week Scotland. Placing craft in a cultural context, these talks will explore current social themes with a wide range of speakers.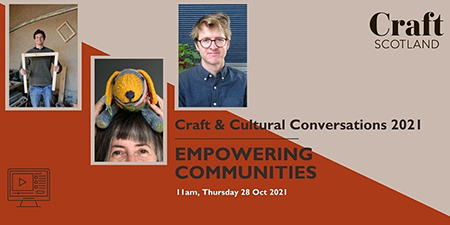 Empowering Communities
Event date: 11am, Thur 28 Oct 2021
Edmund Le Brun, co-founder of ISHKAR, and artist/maker Deirdre Nelson in conversation with Dr Stephen Knott, discuss different approaches to working with and empowering communities, in the UK and beyond, that are facing challenges. This panel will be followed by an audience Q&A.
Book now via Eventbrite (Sliding Scale tickets available)
Final Keynote & Curator's Review
Event date: 5pm, Thur 28 Oct 2021
For our final event, we are delighted to welcome our closing Keynote speaker Namita Gupta Wiggers to discuss communities in craft from her perspective as a curator and educator.
Namita Gupta Wiggers is a curator, educator, and writer based in Portland, Oregon. She is the Director, Master of Arts in Critical Craft Studies, Warren Wilson College, North Carolina, a low-residency program focused on craft history and theory. Wiggers leads Critical Craft Forum, an online and onsite platform for dialogue and exchange about craft, including an active Facebook Group and annual sessions at College Art Association.
The series ends with an overview of this programme's themes by the curator Dr Catharine Rossi of Kingston University.
Book now via Eventbrite (Sliding Scale tickets available)
---
Instagram Story Takeovers
Delve behind the scenes with Scotland-based makers and craft destinations on Craft Scotland's Instagram channel: @craftscotland
Monday 25 October 2021
Michelle De Bruin
, stonework, Scottish Borders
Tuesday 26 October 2021
Fenneke Wolters-Sinke
, Fenfolio, paper, Aberdeen
Wednesday 27 October 2021
Alison Thyra Ceramics
, ceramics, Aberdeenshire
Thursday 28 October 2021
Jenny Deans
, jewellery, Edinburgh
Friday 29 October 2021
Rebecca Wilson & Jo Pudelko,
Central Scotland School of Craft
Associated Events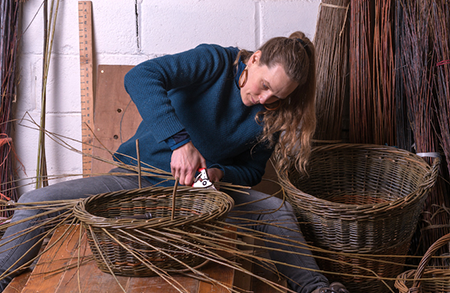 Discover makers, craft destinations and craft organisations across Scotland with Craft Week Scotland Associated Events.
You can get involved either in person (social distanced) or online (listed chronologically).
In-person
Image courtesy of Anna Liebmann
---
Disclaimer
Craft Week Scotland Associated Events are organised, managed and uploaded by external organisations, makers and venues. In view of the ongoing Coronavirus (COVID-19) situation in Scotland, when booking an in-person event please always check the organisers' terms and conditions for the event. Check the organiser's website for the latest update on the event. Craft Scotland is not responsible for incorrect details nor the organisation of an Associated Event.
By participating in any of Craft Scotland's online sessions, you are agreeing to the terms as set out in Craft Scotland Online Sessions Disclaimer.