Collect Booth Talk with CHALK & Craft Scotland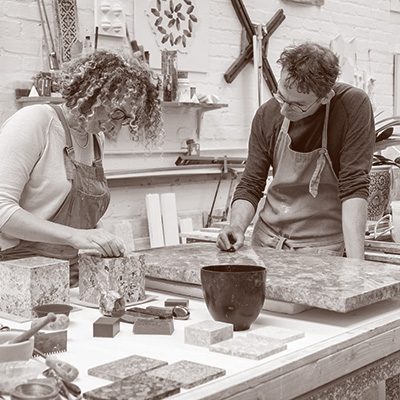 Booth Talk

CHALK
Noon, Sunday 27 February 2022
Ffion and Steven Blench root their practice in the rich history of plain and decorative plasterwork. Together as CHALK, their practice explores opportunities to adapt historic techniques and apply them to contemporary designs.
Discussing the importance of material to their making process, Ffion and Steven explore how this informs their work. Each piece within their collection uses hand processed materials gathered at specific locations. Some pieces make use of wild pigments and reflect the natural palette of local geology whilst others rely on man-made materials, collected during the restoration of historic buildings.
Noon, Sunday 27 February 2022
In-person at Craft Scotland's gallery space W10 held at Collect, Somerset House.
Free to attend for ticket holders.
Previous Project
Next Project