Guest Curators
Dr Jessamy Kelly & Sarah Rothwell
Dr Jessamy Kelly
Dr Jessamy Kelly is a glass artist and educator based in Edinburgh. She is a Lecturer in Glass, within the School of Design at Edinburgh College of Art at the University of Edinburgh.
Jessamy runs her own studio glass business, and her work has been exhibited widely throughout the UK as well as internationally throughout Europe and the United States. Her creative practice examines the qualities of glass as an artistic, sustainable material and its ability to imitate or intersect with other materials.
Jessamy has collaborated on a number of interdisciplinary research projects and as a design facilitator and co-curator for museum-led design projects and exhibitions. Her research outputs include a range of national and international exhibitions and peer-reviewed papers.
Jessamy is the vice chair of the RAFT research group, and a trustee of both North Lands Creative and the Scottish Stained-Glass Trust.
She is a guest editor of the MDPI Arts journal collection Topical Collection focused on Contemporary Glass Art. She achieved her B.A. in Glass & Ceramics (2001) from the University of Sunderland, her M.Des. in Glass Design (2002) from Edinburgh College of Art, and her Ph.D. in Glass & Ceramics (2009) from the University of Sunderland.
Image: Dr Jessamy Kelly / Photographer unknown
---
Sarah Rothwell
Sarah Rothwell is the Senior Curator of Modern & Contemporary Design, in the Department of Global Arts, Cultures and Design at National Museums Scotland (NMS). Where she is responsible for the British, European and other 'Western' glass, ceramics, metalwork, jewellery and industrial design circa 1945-present collections. 
Her research focuses on Nordic and British Modernist Jewellery Design; Contemporary Craft with a focus on Ceramics, Glass and Jewellery; 20th Century European Art & Design; the integration and interpretation of historical collections by working artists and makers.   
Sarah was one of six guest curators for the European Glass Context 2021 and curated the NMS exhibitions Modernist Jewellery and Art of Glass developed in collaboration with the National Centre for Craft & Design; curated the Scottish content for the ACMI touring exhibition Games Masters; co-curating the exhibition Nordic Modernist Design; and assisted on Express Yourself. 
Sarah was one of five successful recipients in 2015 to be awarded the Art Funds New Collecting Award, with a project focusing on collecting, researching and disseminating Northern Modernist Jewellery particularly work designed and manufactured in Britain and Northern Europe. 
Sarah currently sits on the Boards of Craft Scotland and The Scottish Goldsmiths Trust.  
Image: Sarah Rothwell views Beauty Tricks by Pinkie Maclure / Photography courtesy of National Museums Scotland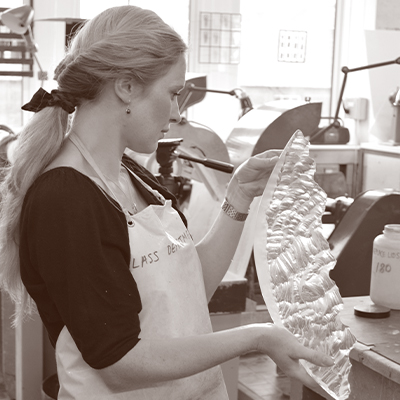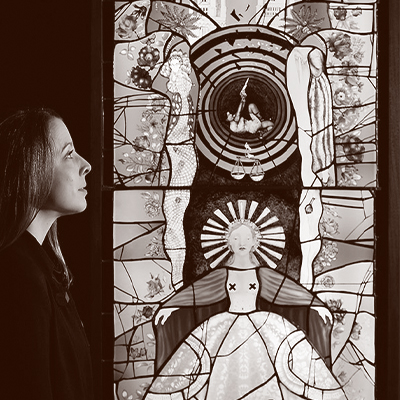 Previous Project
Next Project