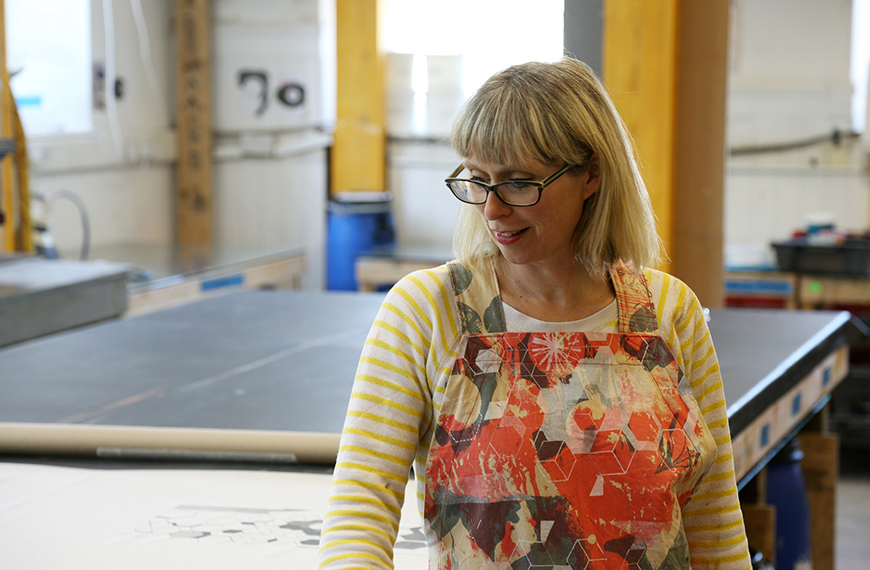 Blessed Unrest's range of interior textiles and products make an immediate impact. The complex and skilled layering of imagery and considered colour palette work together to express a bold, maverick style.
'My prints evolve as a direct response to the screen printing process. I enjoy working intuitively with a variety of imagery; layering, covering up and revealing is the core element of my practice.'
Working with photographic and hand drawn motifs Lorna considers the surface pattern, the rhythm along with the spaces between the imagery. Working with opaque and transparent ink allows her to control which areas to reveal or cover up. By overprinting or masking areas to reveal the previous images she builds up a layered history of each print moment. Blessed Unrest's textiles are hand crafted, distinctive artworks but with a focus of function and purpose.
They translate beautifully across popular products like cushions, light shades, hanging lengths of fabric and wall paper. The designs have versatility and translate to many light and heavier weight fabrics as well as wood, paper and ceramics. The surfaces are printed using water based inks, British sourced materials, using micro manufacturing processes at her Edinburgh design studio. 
Disclaimer:
Please note: directory profiles are paid for and maintained by individual makers or craft places. Craft Scotland is not responsible for incorrect details and we have no contact details other than those provided.