Taking inspiration from historical objects and the ancient ruins of Rome, HGR Jewellery creates pieces that are as individual as the person who wears them. Using tiny granules of silver and gold, each design has its own unique and intricate surface pattern and adds a touch of elegance to your everyday look. We've caught up with Hannah to tell us more about the art of granulation and which is her must-have piece from the new Craft Marketplace.
Hi Hannah! Tell us about yourself and how you got to where you are now...
Hello! I am a contemporary fine jewellery designer and maker from Glasgow, Scotland. I specialise in a technique called granulation, which is an ancient goldsmith method of creating surface patterns out of tiny gold or silver granules. I started using granulation as a feature of my work during my final year at Glasgow School of Art, and it developed from there.
After graduating, I spent a year or so showcasing my degree show collection at various design fairs and exhibitions, before locking myself away in my studio to design a brand new body of work. It is a very fiddly, unpredictable and time-consuming way of making, so pieces either come together at the very last minute or completely fall apart in my hands – there's absolutely no middle ground! The result, however, was my The Grandeur That Was… collection, which was inspired by jewellery artefacts which have been uncovered from the ruins of Ancient Rome.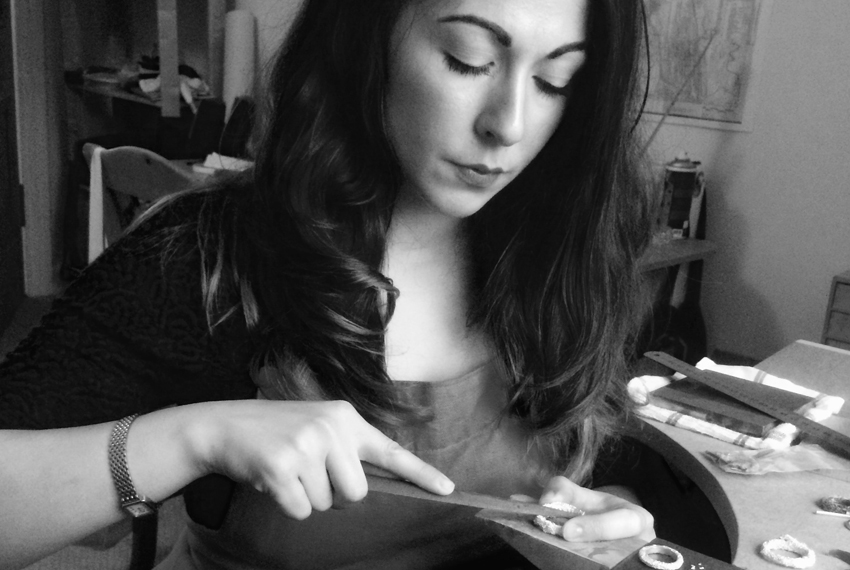 HGR Jewellery in the studio
What is your favourite part of the making process?
I think I like being locked away in my studio the best. I never really sketch my ideas before sitting down at my workbench – I much prefer to make a big pot of coffee, turn up some music and just start to make. There are days where I start a small production line and keep soldering until I can't see straight, and then there are days where I sit and scribble and stare out the window. There's no right or wrong way to be a designer/maker, so I just take my cues from how I feel that day.
Tell us more about the materials you work with...
I work almost exclusively in sterling silver as it is so versatile. Almost every design in my collection comes in three colourways – oxidised silver, frosted silver or yellow gold-plated silver – and they each tend to attract a very different type of customer. The secret goths and throwback punks always go for the oxidised finish, whereas magpies tend to fall for the glittery effect created by the frosted silver. I am a total sucker for anything vintage, so the yellow gold-plated finish is my personal favourite.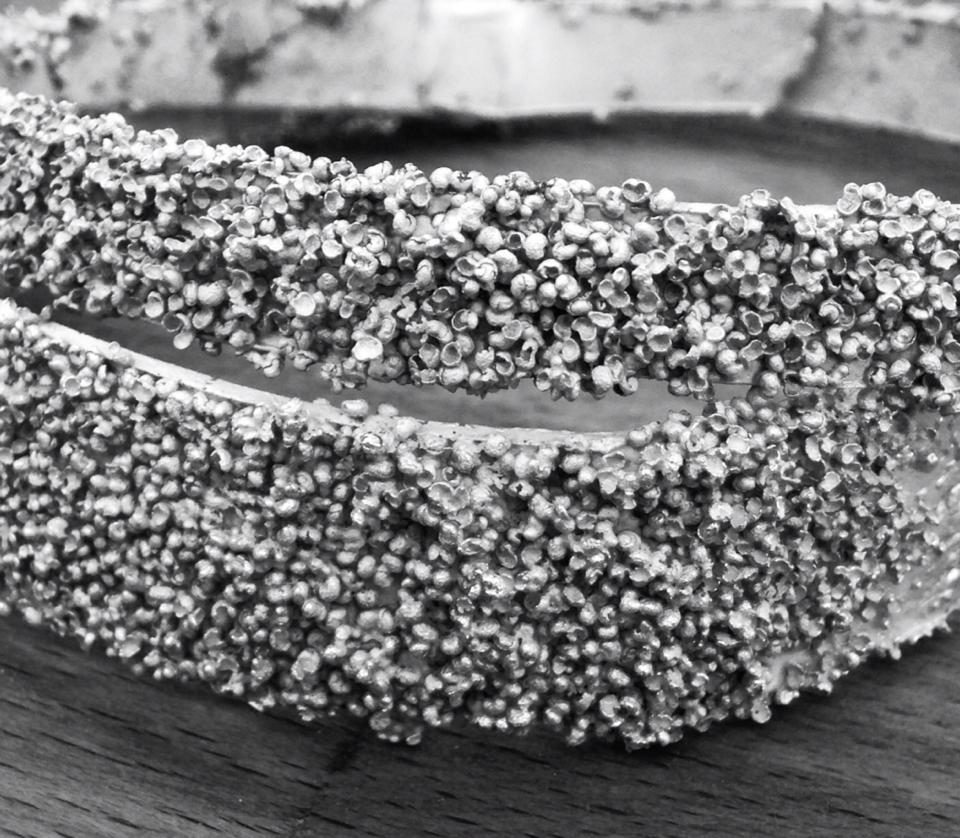 HGR Jewellery granulation detail / Photography by artist
What tool in your studio could you not live without?
I think I would be lost without my charcoal block and blowtorches. So much of my process depends on me heating the silver until it glows bright red, so I have a collection of torches with differently sized flames. There's definitely something mesmerising about watching metal heat up, warp and change, before cooling into its final form. Carving into the charcoal block helps me dictate this form, so the two together make up 90% of my process!
What is your favourite piece in the Craft Marketplace and how is it made?
I love the Cybele Ring! It is a classic HGR Jewellery piece – simple and wearable, yet completely individual. Each Cybele ring is entirely made by hand using my granulation technique, so no two ever turn out the same. I made an extra chunky Cybele ring for my middle finger; I wear it almost every day and I'm always being complimented on it. I think everyone should treat themselves to a quality silver ring at least once, and with the Cybele design, you're guaranteed to get something unique!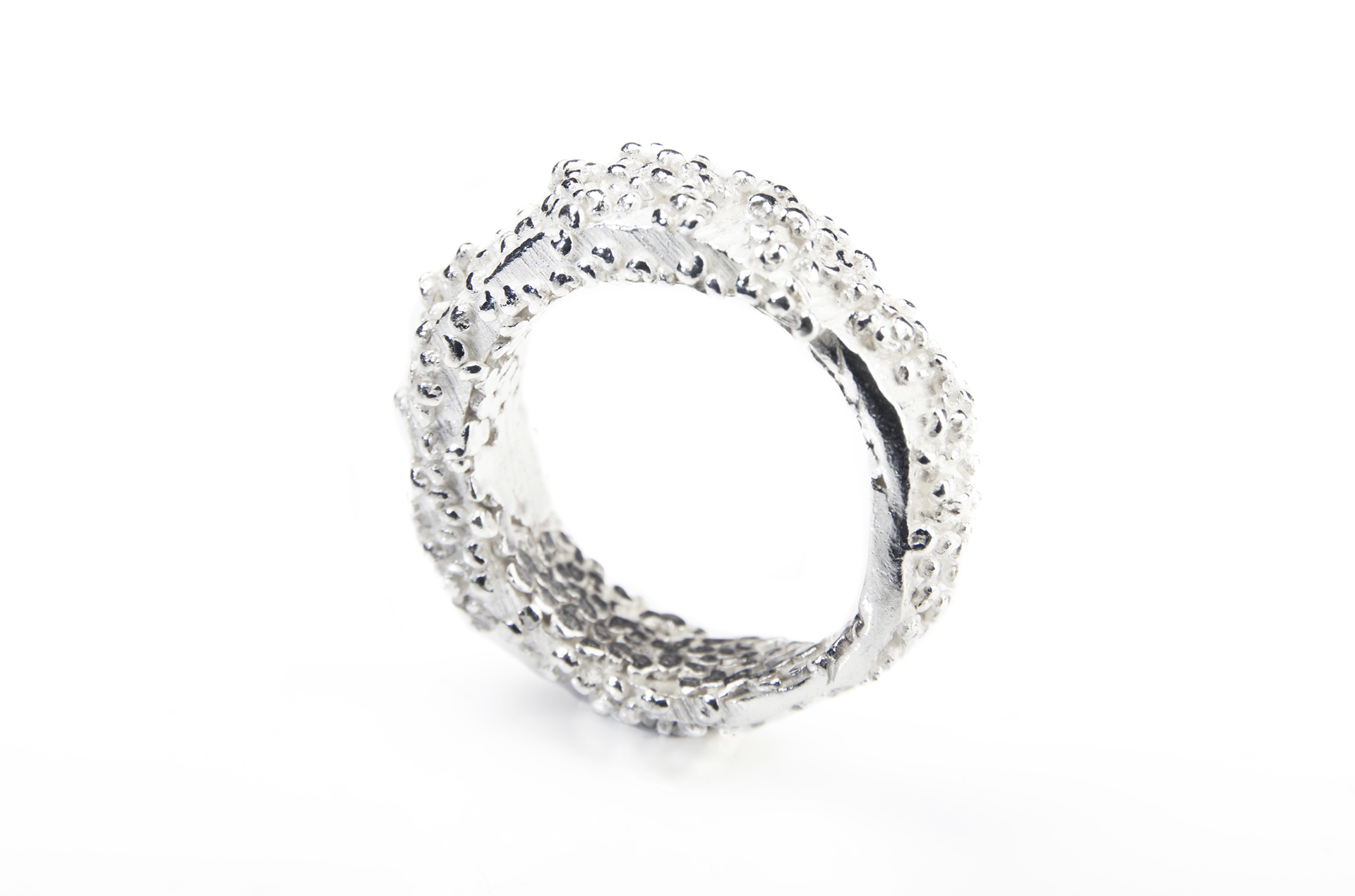 HGR Jewellery Cybele Ring / Photography: Alasdair Watson
What soundtrack keeps your studio humming?
I simply can't work in silence, so I have a huge collection of playlists I rely on to keep me going. At the moment I'm listening to a lot of female gospel and rock 'n' roll singers, such as Sister Rosetta Tharpe, Odetta and Big Mama Thornton. I'm a die-hard Frightened Rabbit fan as well, for some reason their unique brand of misery-indie-rock lends itself well to late nights in the studio.
What do you do to unwind after a day in the studio?
A few years ago I took up weightlifting as a way of unwinding and pushing myself physically, and it's become a real obsession of mine. When I'm not scrolling through Instagram for jewellery inspiration, I'm scrolling looking for weightlifting tips and tricks. I'd recommend it to anyone with a challenging job – lifting something super heavy is a great stress reliever!
Shop the Cybele Ring along with a range of other beautiful HGR Jewellery pieces in the new Craft Marketplace.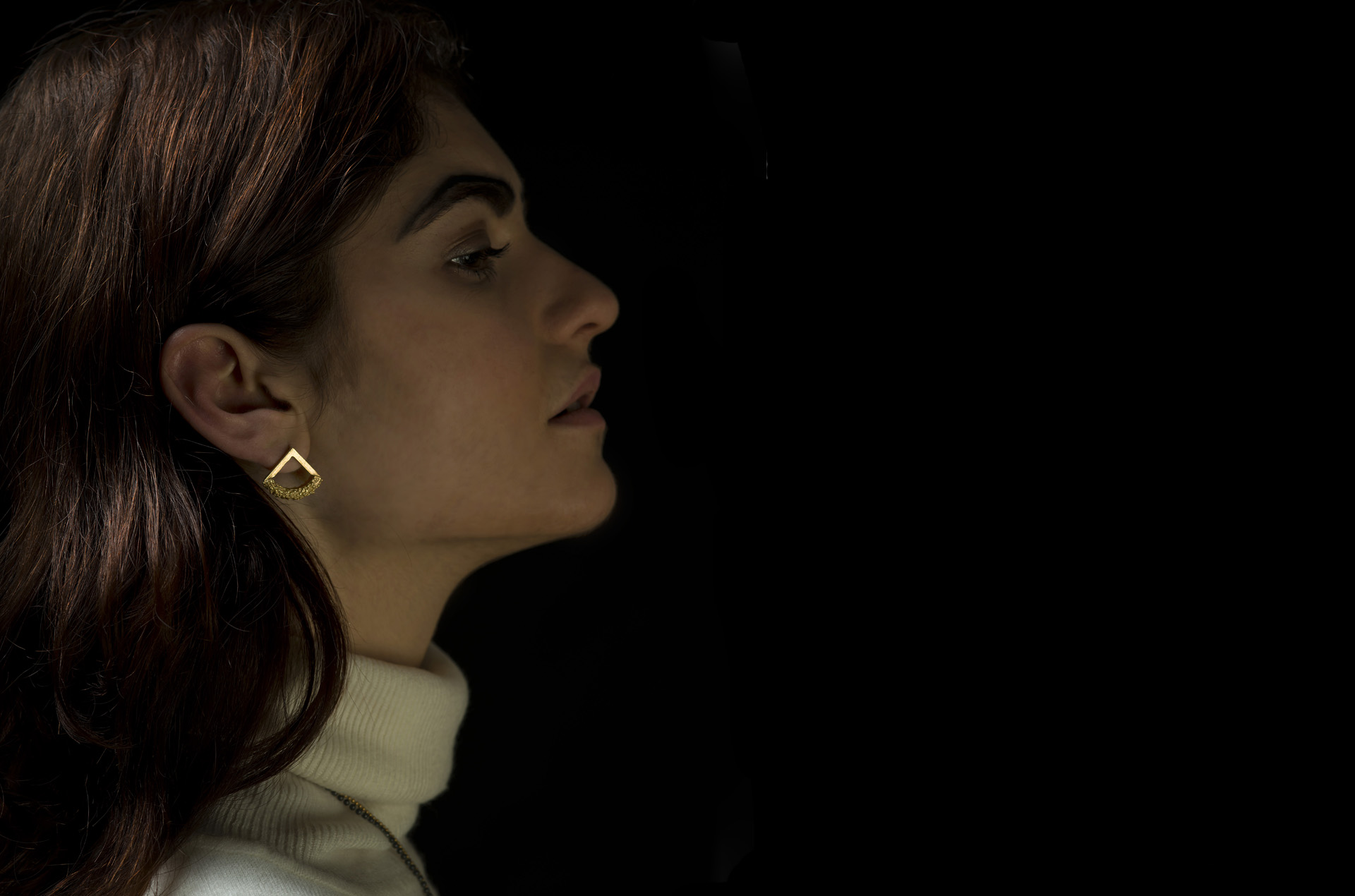 HGR Jewellery Minerva Studs / Photography: Alasdair Watson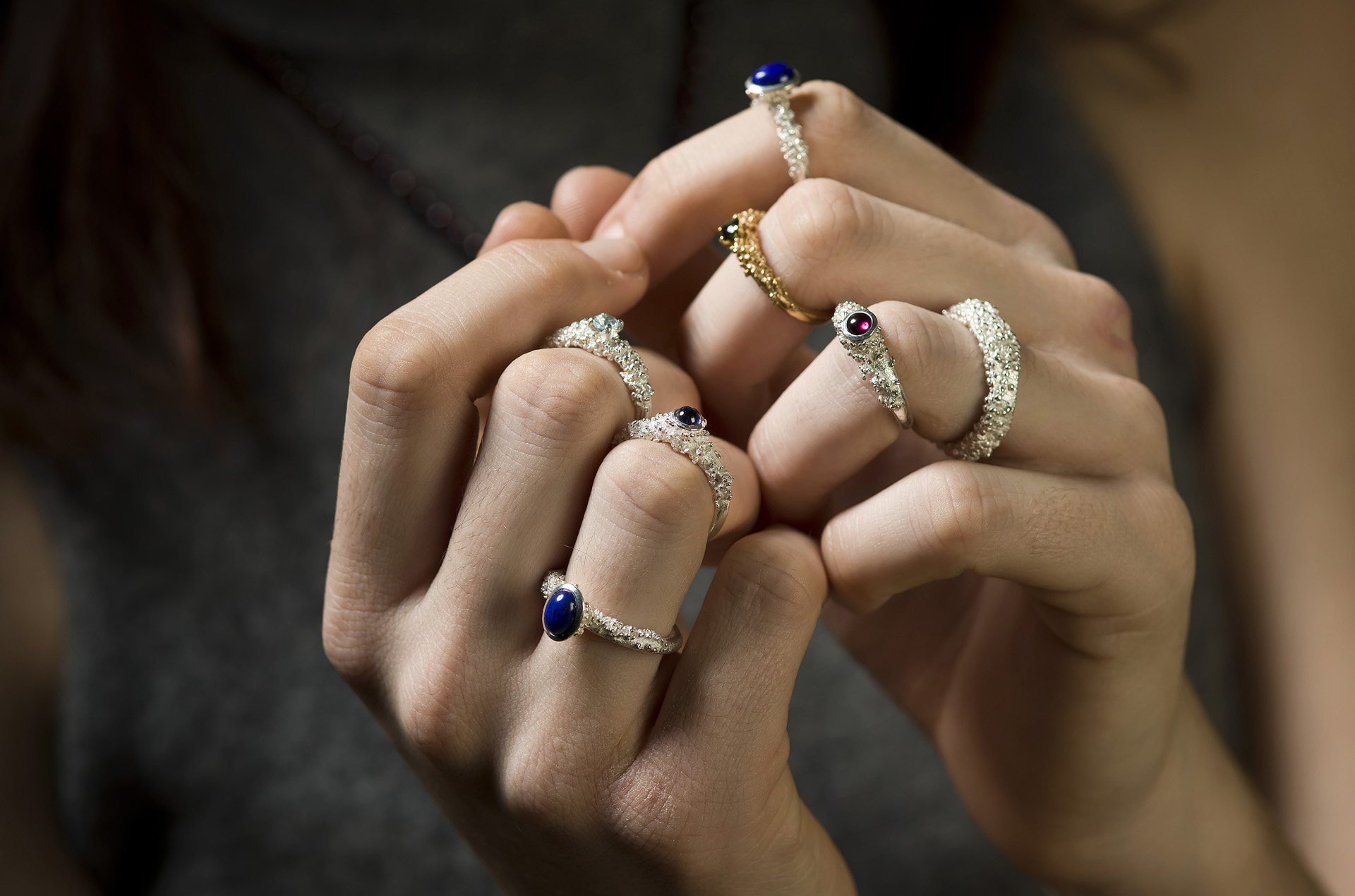 HGR Jewellery Venus Ring pictured with The Grandeur That Was... collection / Photography Alasdair Watson