We are delighted to announce that we are moving to the new cultural and creative hub Castle Mills in Fountainbridge, Edinburgh.
From Tuesday 30 July 2019, our new address will be:
Craft Scotland
Studio 6 & 7, Castle Mills
2 Gilmore Park
Edinburgh EH3 9FN
hello@craftscotland.org | 0131 357 3288
About Castle Mills
Castle Mills is the new home of Edinburgh Printmakers and many other creative organisations. Formerly an Edinburgh rubber factory, the building has seen an eleven million-pound transformation led by Edinburgh Printmakers thanks to National Lottery Heritage Fund, Creative Scotland, Scottish Government, City of Edinburgh Council, Historic Environment Scotland and all individuals who supported the fundraising campaign along with The Gannochy Trust and Robertson Trust. Creatives based in the building include: High Tide, Angie Lewin and Catherine Rayner.
>> Read more about the history of the building on Edinburgh Printmakers' website
Our Equalities, Diversity and Inclusion policy was a key factor in our decision to move. Importantly, Castle Mills will provide the organisation with a fully accessible space and building from which we can operate in the future. Additionally, the move will offer exciting opportunities for partnership development within this new creative community.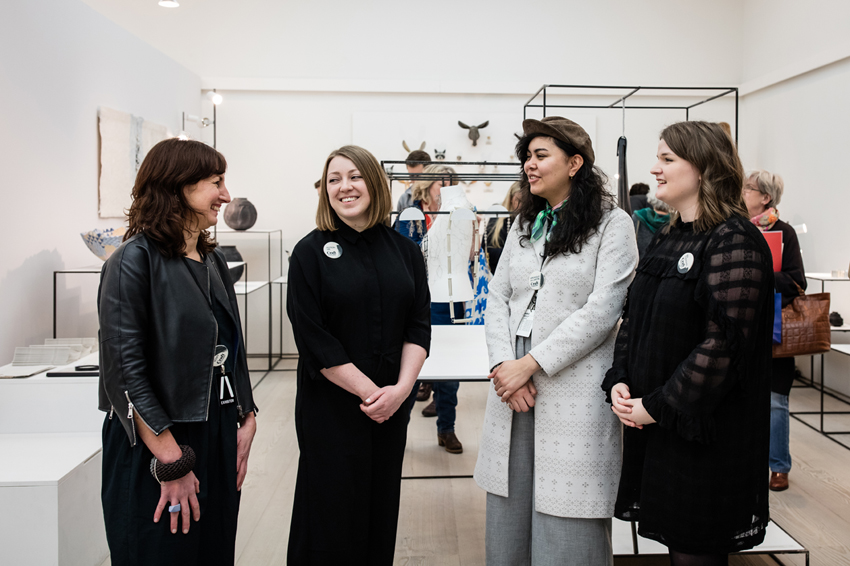 A few members of the team at the Craft Scotland showcase at Collect 2018 | Photography by Sophie Mutevelian
Castle Mills houses an open-access print studio, traditional and digital processes, a dedicated learning space, artist accommodation, art galleries, a shop, a creative industries hub, café and print archive – making Castle Mills now one of the largest printmaking facilities created for artists in Europe.
The range of spaces available at Castle Mills provides Craft Scotland with an exciting opportunity to enhance our future programme, and Edinburgh Printmakers' creative learning studio is a real asset to the arts sector. Our new location will be closer to transport links, allowing easier access for visitors and makers, and crucially, the team can continue supporting our partners and developing valuable projects across Scotland.
It has been an exciting nine years based within Coburg House Art Studios, and we see our new location as the start of another exciting chapter in the organisation's history.