Craft Hub is a collaborative project involving UK & EU partners from Ireland, UK, Italy, Portugal, Germany, Greece, Norway and Denmark, co-funded by Creative Europe.
The partners, including Craft Scotland, have worked together on Craft Hub over the past three years, illustrating craft's importance in our shared European cultural heritage, and its continuing relevance in contemporary practice.

We invited curator and writer Dr Elizabeth Goring to share her thoughts on the Craft Hub website and its contributions from Scotland-based makers.
---


One of the principal elements of the Craft Hub project is its digital library, designed to preserve and share craft knowledge, materials and processes to benefit and inspire present and future generations.

This resource is especially vital today, when opportunities for refining and handing on craft skills are under significant threat. In the UK, access to formal craft education at all levels is shrinking. The recent loss to Scotland and glassmaking of the world-class facility at North Lands Creative Glass in Lybster is incalculable and one such example of a deteriorating infrastructure.

Meanwhile, the number of older makers with years of expertise in traditional craft disciplines is dwindling, with no effective structures in place to ensure their knowledge can be handed on. Many traditional skills are at risk, if not close to extinction. In the UK, Heritage Crafts' Red List of Endangered Crafts for 2023 makes sobering reading, identifying over 60 critically endangered crafts with "a shrinking base of craftspeople, …limited training opportunities, …low financial viability", or "no mechanism to pass on the skills and knowledge".


The importance of Intangible Cultural Heritage
Craft Scotland is one of nine partners collaborating on Craft Hub, a 3-year project co-funded by the EU's Creative Europe programme. The other partners are Carlow County Council (Ireland), Designschool Kolding (Denmark), Glasmalerei Peters Studios (Germany), Materahub (Italy), Nova University (Portugal), OECON (Greece), OsloMet (Norway) and University of Wales (Wales). The project, which launched in April 2021, highlights craft's importance within the European cultural heritage and its continuing relevance to contemporary practice.

The project's overarching goals centre around preserving intangible cultural heritage and how this interplays with contemporary practice. It seeks to address concerns through exploring and documenting endangered and contemporary skills and practices while also identifying cultural and transnational differences in approaches to craft.

Craft Hub's wide-ranging programme of activities to support these goals has included international maker residencies, exhibitions, conferences and a festival. These are aimed at encouraging the creation of new work and innovative experimentation with materials and processes, alongside preserving traditional skills.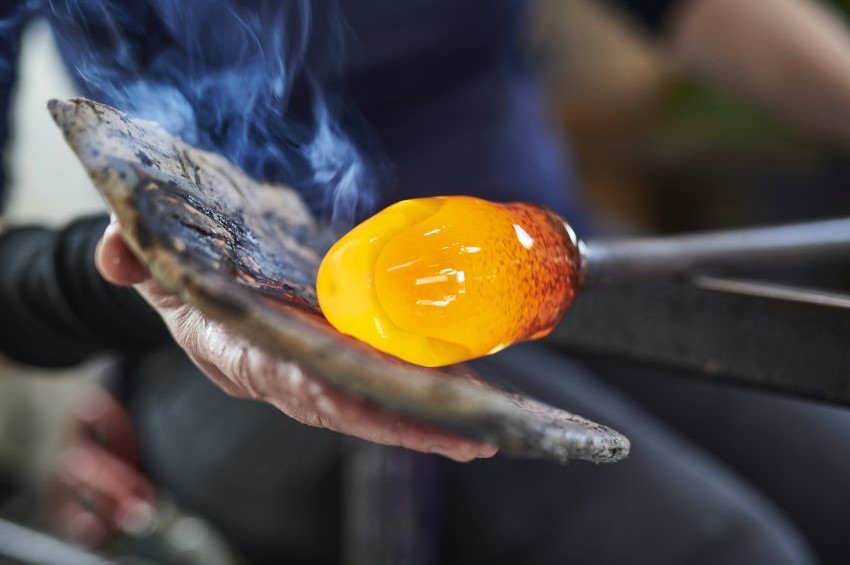 Image: Elin Isaksson / Photography by Shannon Tofts

Experimentation in Craft in Response to Changing Landscape
The escalating costs of energy and raw materials impact practitioners in all craft disciplines, and Craft Hub's digital resources capture this challenging context in which makers work.

"Glass-blowing…is a dying art since glass requires a lot of energy…and energy costs are rising in all aspects of glass making" - Maker, Elin Isaksson.

Elin Isaksson, a Swedish glass artist working in Dunblane and a contributor to the online Practitioners Gallery, is keenly aware of the existential risks to her craft. "Glass-blowing…is a dying art since glass requires a lot of energy…and energy costs are rising in all aspects of glass making", she writes. Passionate about its survival, she teaches glassblowing to the public to raise awareness of the craft and its struggle to continue.

At the same time, grave environmental concerns demand a radical rethinking of how energy and materials are used and a vigorous focus on sustainability. Craft practitioners have constantly demonstrated how their profound understanding of materials and methods, and innovative approaches to their craft, can offer important contemporary solutions. Ethical considerations increasingly lie at the heart of their work, an approach exemplified by the Scottish Goldsmiths Trust's Ethical Making Programme.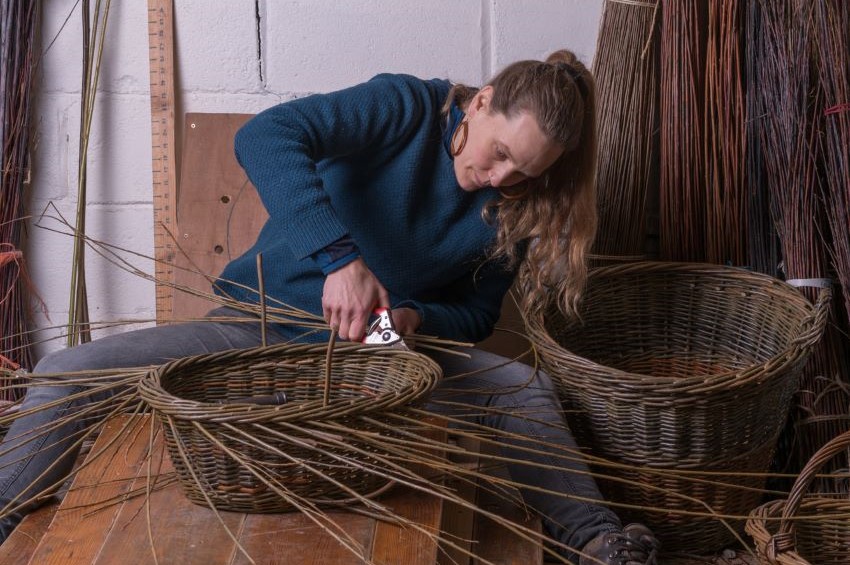 Image: Anna Liebmann / Photographer unknown

Makers increasingly emphasise responsible sourcing. Anna Liebmann, for example, also part of the online Practitioners Gallery, is a maker and teacher of basketry in north Edinburgh. She manages two willow coppice beds, growing, cutting and preparing her own material. Craft has never been more relevant.

For many practitioners, satisfying the expectations of a competitive marketplace leaves little scope for research and experimentation. Here, collaboration may be key. Craft Hub, itself a collaboration, offers numerous examples of partnership working, together with the potential to kickstart many more.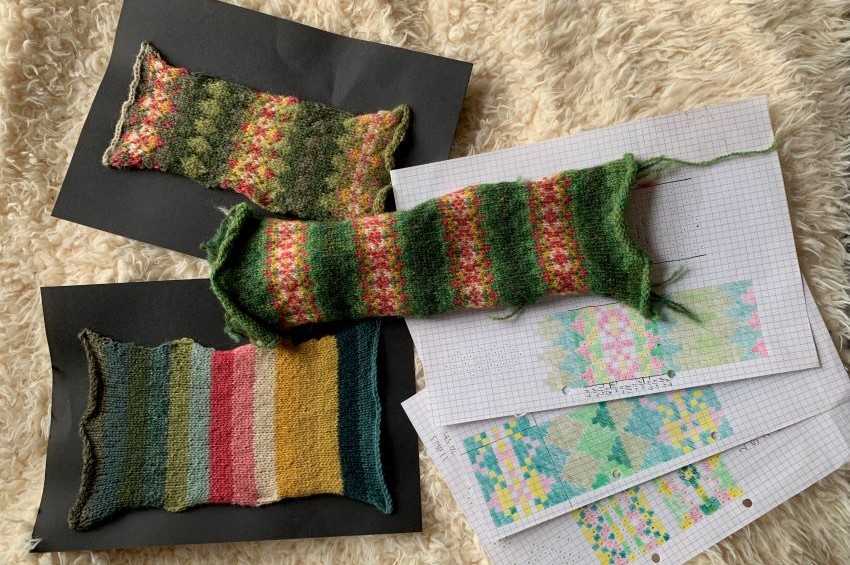 Image: Rachel Challoner / Photography by the artist

Building a Legacy for Making
The Craft Hub website has two main interlinked parts: the Material Library and the Practitioner Gallery, their content originating directly from practitioners responding to an open call. Contributions come both from those using heritage processes and those breaking boundaries through experimentation.

By mid-August 2023, there had been over 1300 submissions to the Material Library. These comprise images documenting different traditional and innovative processes in a range of media, with details of how the work was achieved (including recipes where appropriate). One contribution from Scotland is the culturally specific Fair Isle knitwear design process from Shetland, submitted by Rachel Challoner, a Fair Isle knitter and Shetland wool producer. An incomer to an island with a decreasing population of fewer than 45, she works in the back bedroom of her croft house "carrying on a tradition that goes back generations". Her other contributions include 100% Shetland wool from sheep bred, reared and hand-sheared by herself, for spinning by Uist Wool.

The Material Library content can be searched under various headings or tagged themes. Serendipitous browsing is also available using the compelling 'View Random Material' button. For me, this brought up, in sequence, Mimi Shikerina's whittled birch spoon inspired by Slavic folklore; tactile ceramic heads by Eleanor Swan (NCADI), 3D interpretations of paintings to assist visually impaired people access 2D art; and one of four Dyer's Coreopsis dye samples by Chloe Scadding (University of Wales). Whenever the visitor returns to the Library, a new selection of 10 entries appears, offering unexpected inspiration.

The Practitioner Gallery showcases craftspeople from across Europe. By mid-August, profiles had been submitted by over four hundred contributors from more than 30 countries, addressing questions about their work, sources of inspiration, workspaces, techniques and aspirations. Scotland is currently represented by over 60 practitioners in wood, glass and stained glass, basketry, jewellery and metal, textiles, ceramics, paper and bookbinding. While many were born and trained in Scotland, others have come from elsewhere, like Fenneke Wolters-Sinke, originally from the Netherlands, a bookbinder, print maker and paper artist, who works from her home studio in Banchory.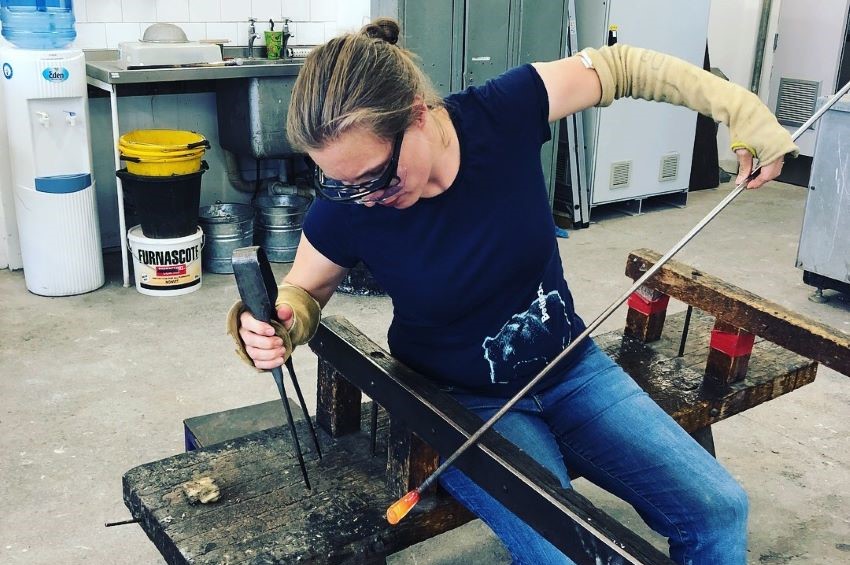 Image: Charlott Rodgers / Photography by Ames Truscott

Many contributors are acutely aware of their place in a continuum of makers. Charlott Rodgers, who works in glass and ceramics in Glasgow, writes, "Both crafts matter to me because they allow for new developments and individual artistic expression while linking me to the myriads of other craftspeople and artists that have gone before me. I feel connected through techniques and materials."
Cally Booker, a handweaver with a studio in a converted jute mill in Dundee, writes, "I'm conscious of the long history of handweaving, and am in awe of the generations of weavers who developed the tools and approaches which I can now pick up and work with."

Lynne Hocking-Mennie, a handweaver in Aberdeen, is inspired by her "family's connection to the weaving trade in north-east Scotland stretching over at least seven generations". The specialist skills of Ruth Davies, a pattern maker and woodcarver in Paisley, are essential to the conservation and heritage sector. Her work continues "a long tradition which began at the start of the industrial revolution in central Scotland where cast iron architectural ornaments were manufactured and sent all over the world…and continues today albeit as a much more niche trade."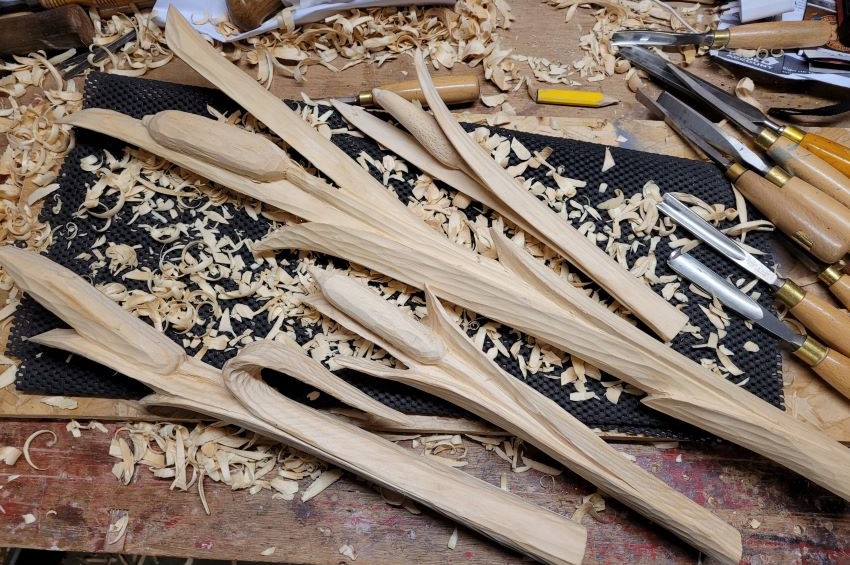 Image: Ruth Davies / Photography by the artist

Many feel the weight of responsibility to hand on this heritage. Toben Lewis, a bookbinder on Iona, appreciates using "the same techniques and skills that generations before me have honed and passed on…It's important to me to keep it alive and pass it on."

Deborah Gray, a textile artist in Oban and a Lead Practitioner for the Eco Creative Cluster dye garden project, has taught hand spinning and natural dyeing for over 40 years. Behind all contributions lies dedication to their craft. As Hannah McAndrew, a slipware potter in Castle Douglas, expresses it: "I am a potter, but it isn't my job, it is my very being…my life, my driving force, the very thing I think of from the moment I wake, and it is on my mind as I fall asleep."

It is passion like this that will keep craft alive.
---
Dr Elizabeth Goring is an independent curator and writer. She was formerly a Principal Curator at National Museums Scotland.
Craft's Future Shaped by Intangible Cultural Heritage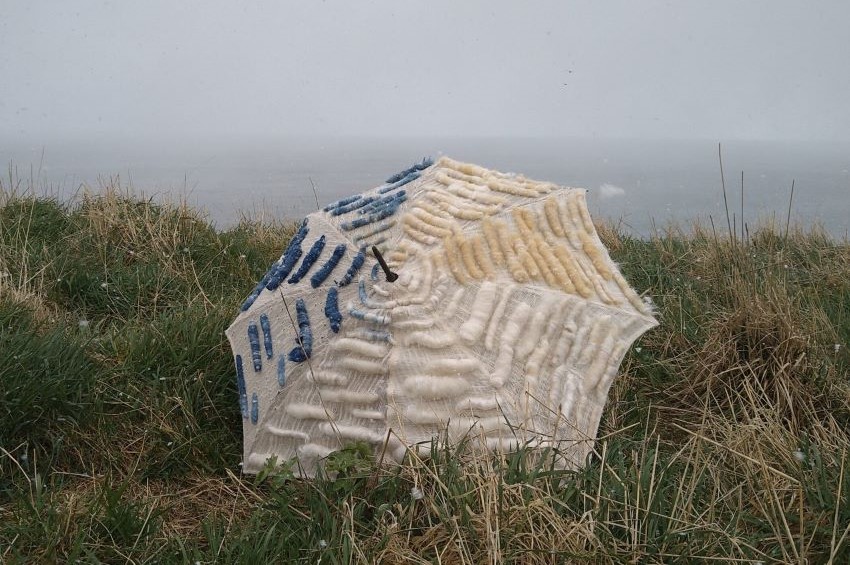 Transparent