Craft is both an artform and an activity that can bring joy and wellbeing to our daily lives and to our communities.
With awareness of the value that craft and making can play in enriching and managing our health becoming much more prevalent, Craft Scotland's new series, Common Ground, aims to shine a light on creatives whose practice has benefited the wellbeing of others.
Deborah Campbell has worked as a freelance artist and maker for many years, collaborating with architects, interior designers and makers from varying disciplines. She worked as a part-time art & design lecturer for seven years, which eventually led her to developing workshops aimed at enhancing people's experience and awareness of the arts. In her own practice, she focuses on textiles which feature heavily in her year-round workshops for schools and community groups.
---
Hello Deborah. Could you tell us a little about your practice and your journey so far?
I went to Glasgow School of Art over 30 years ago, although it feels like yesterday! I studied Printed Textiles and after graduating I set up in business as a limited company. There were three of us and we were creating printed textile designs for the international market. After a couple of years, it felt a bit soulless as we weren't really communicating with people directly. We preferred the idea of trying to work with a more local, British audience and went on to collaborate with architects and interior designers in Glasgow and London on commissions for commercial and private interiors.
I did that for a long time, and I actually never thought about being a teacher; I never even contemplated it, but after 15/20 years, I was kind of led into it, and then started to really enjoy it. I think I probably needed those 20 years of running a creative business and working as an artist to then have the experience to teach, rather than going straight from college or art school into a teaching job.
For the last maybe 15 years, there's always been some form of teaching in the background as part of my practice. I find that I often get as much from the teaching as the people who I am teaching; it's a circular process, so I've really found a benefit. My teaching has taken me to all sorts of places and has allowed me to work with all different kinds of communities and people.
My own practice is very much influenced by Scotland's coastal landscape. I go into the environment to work – drawing, painting and using mixed media to create ideas. Then, I come back to the studio and develop these ideas into textiles. Lockdown has seen me focus my work much more towards textiles. I work in print but in a way that is much more fluid, spontaneous and more painterly, where I'm painting and printing directly onto fabrics. Then, I use them to collage and create finished pieces of work using free motion machine embroidery. I get so much out of it and so much back from it as well because I realise now that there's a huge audience out there for this kind of work. It's not a new journey for me because I've always worked in textiles throughout my career, but I feel now that textiles is my main focus.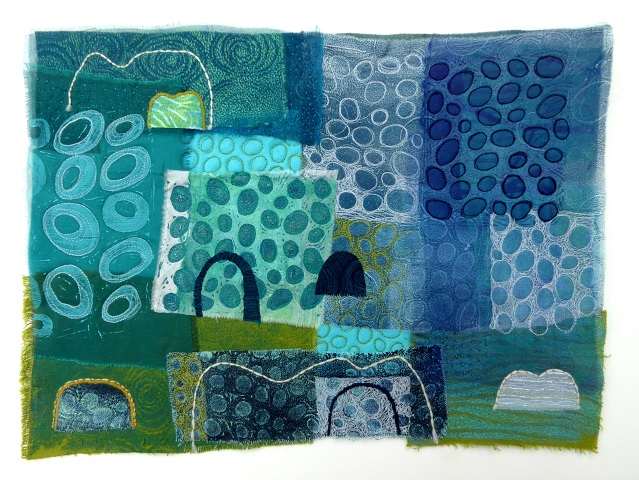 Image: Courtesy of Deborah Campbell
What are the primary themes that you seek to explore with your work?
The main influence in my work is the coastal landscape and I use my textiles as a device to create my own unique abstract interpretation.
At the beginning of 2021 when we went back into lockdown, I wanted to explore a new direction in my work, so I decided to challenge myself by creating an A to Z of Britain's Coastal Birds mixed in with my coastal textures, with the plan of using this collection of work to highlight the plight of coastal birds due to climate change.
On a recent visit to the Morayshire coast, I discovered many guillemots washed up on the shoreline. This upsetting sight, though unexplained, gave me more incentive to continue with my collection, emphasising the message that we really need to take care of our wildlife and that the way we live our lives has an impact on them.
I have increased my use of recycled materials as part of my practice; instead of always ordering or buying new fabrics, I've been trying to use what's to hand as well as asking friends and family for fabrics they don't want that would normally have gone to landfill. The textile industry is a major polluter, so it crosses two areas, highlighting that actually, all of these lovely fabrics that are being created are causing a huge issue to the environment, hence the reason why I wanted to shift my focus and start using recycled material.
Serendipitously, the RSPB put an advert on Creative Scotland for someone to create a banner for COP26. When I saw it, it pulled everything together for me and I knew it was a project I had to apply for.
With COP26 due to take place in Glasgow this coming November the aim of the banner was to create a strong piece of work that highlighted and expressed the views of Glasgow's communities on the issue of climate change and how it has impacted the biodiversity of the city. I worked closely with the RSPB and local communities, inviting people to create hand embroidered patches that would get added to the final banner. The patches were to illustrate species in the local area of Glasgow that are threatened due to climate change. The response was incredible and each day I was receiving the most beautiful bundle of embroideries through the post.
The banner was on display at COP26, in front of delegates and world leaders like the President of the United States. It was a real privilege to work with the RSPB and the local communities on the banner project. It brought together many talented people and gave them an incentive to channel their creativity towards the making of a collaborative piece.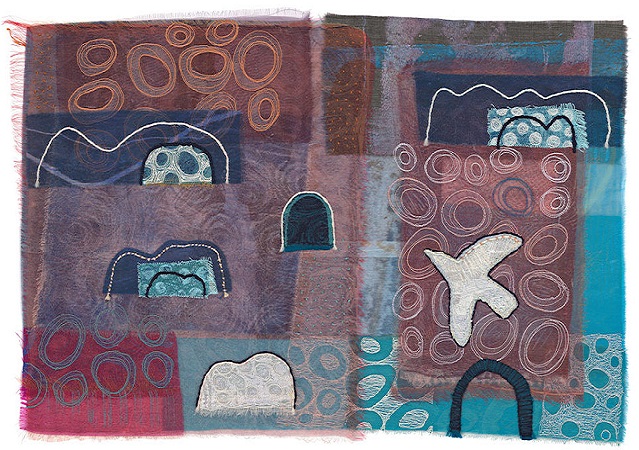 Image: Courtesy of Deborah Campbell
You deliver workshops and outreach projects for community groups regularly. Why is this something that you find an important part of your practice?
I love sharing ideas and introducing new work methods to encourage and enhance people's experience and awareness of the arts. Nothing gives me more pleasure than helping people realise their own creative potential by giving them the tools they need to take their creativity forward.
I have great enthusiasm towards my subject and I try to instil that throughout my workshops. My aim is always to encourage people to have creativity as a constant in their lives and not just as a one-off workshop.
I ran two summer schools this year, which I wasn't even sure would go ahead because of COVID-19. Both workshops ran successfully and there were quite a few people who, similar to myself, had lost someone very close to them through the pandemic and had turned to art as a means of healing. It was good for me to be able to have that conversation with other people who've been in similar situations, confirming my belief on how important it is to have a creative outlet in your life.
I received an email from a lady who was renting a large holiday home in Northumberland. She was part of a large group who came up to Northumberland from London for a holiday. She got in touch to ask if I would come and do a workshop with them one afternoon. They were London lawyers, and obviously had very stressful lives, but we had a lovely afternoon working in charcoal, graphite, pen and ink. Afterwards, I received an incredibly appreciative email from the group explaining how much they were moved by the experience and that freeing up their creativity had created other positive benefits like 'feeling really happy and relaxed' and this is a great example of why I love to teach.
Can you tell us about some of the community projects you've worked on in the past?
'Making It Your Own' was a really interesting project where I worked with a group of young homeless women and young mums. I was one of 3 artists working with South Lanarkshire Arts Coordinators on this innovative interior design project. The project provided a mixture of visual and textile arts input that supported the development of creative ideas and practical skills.
Each young woman worked on creating cushions, furniture and art that was to help decorate and enhance their experience of moving into a new room in a local hostel. For many of the young women this was a very new experience, but we focussed on developing their basic skills and creating work that they could confidently achieve. The outcome was hugely positive and the young women were extremely proud of their achievements.
To celebrate the young people's achievements their work was then exhibited as part of a group show at Chatelherault Country Park near Hamilton.
More recently, I've been working on a project with the Macmillan Trust, which is currently ongoing. The Borders General Hospital in Melrose was undergoing refurbishment and they asked 14 artists throughout the Borders, which is where I was living at the time, to submit an application. My application went in and I was lucky enough to win the commission. This project involved working with patients from the unit and the nurses to generate ideas. We were incredibly lucky to be given the opportunity to work at Sir Walter Scott's house in Abbotsford with some of the patients who had been in the unit. We worked in a beautiful room in Abbotsford House where we created hand-stitched embroideries.
My brief to the group was to work on a piece of hand embroidery that reflected their personal experience of their treatment at the Macmillan Trust unit, embroidering a word that they felt represented their feelings or response to dealing with their illness.
An interesting response from the group was nerves and trepidation. However, with a bit of gentle persuasion and encouragement, taking it one stitch at a time, the nerves faded and they ended up really enjoying and benefiting from the experience.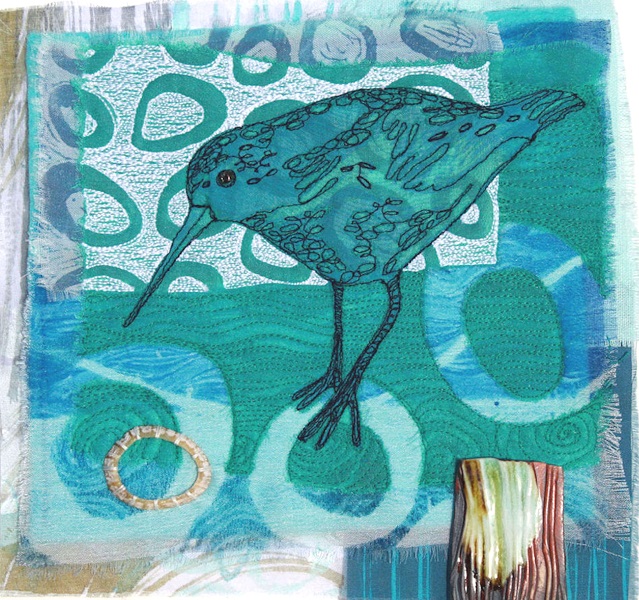 Image: Courtesy of Deborah Campbell
Do you think that art and creative making can be useful tools in the preservation of mental health?
I think it's huge, from my point of view. I lost my father to COVID-19 right at beginning of the pandemic. My father had gone into care with mobility problems, with the plan that he was going to come back out of care and back to his own home. But unfortunately, at the care home that he was in, 11 people died of COVID-19.
For me, the only way of coping with this huge loss in my life was getting into my studio and working through ideas, or just sitting, sewing to try to slow everything down and have that time to heal I suppose. That healing process goes on for a long time, it doesn't just happen overnight. Creativity gives you a place to be and not to think; to stop your head and emotions from racing away from you. It contains you, which I think is greatly beneficial. I think if we can include some sort of creativity in our lives, we'll be far better and more balanced as human beings.
Would you say that art and craft plays a major role in enriching and managing our health and wellbeing?
Absolutely. I have always had this in my life; even when I was a child, I used to draw constantly. There's never been a point where I've not been creative, so from my own point of view, and my own mental health and wellbeing, I can see how it can really help. Having creative projects on the go; they're just always there and you can dip in and out of them when you want and you can do it at your own pace. It has its frustrations as well, don't get me wrong, but that's part of the joy of it. Everything in life that's worth doing has some kind of struggle in it. Another thing I like to teach in my classes is that even though I've been doing it for over 30 years, it doesn't turn out right every time. Every painting, every drawing, every textile isn't perfect – there's a lot of messing about and experimenting. People think that artists just turn up at a canvas one day and create a masterpiece every time, but it doesn't work that way.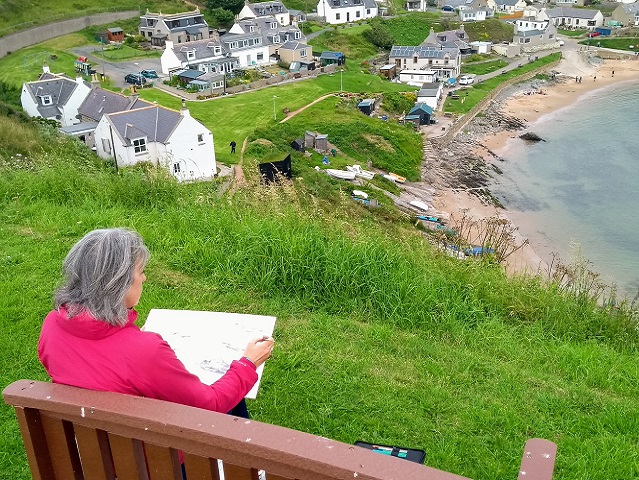 Image: Courtesy of Deborah Campbell
Can you tell us about any recent projects or commissions you have been working on?
Recently, I was asked by the National Galleries of Scotland to apply for a position to work with a school in the Scottish Borders, using the National Galleries as a resource. The plan is that I'll work with the school on the history of Scottish landscape painting, but it will be very much from a Borders perspective. We'll be looking at a lot of Borders artists, artists who came to the area and were inspired by the landscape.
Within my own practice I love to get out into the landscape and work directly, so I will be taking the children out on a big hike somewhere in their local environment where we'll be working outside in the landscape to gather ideas.
The plan is for each child to create sketchbooks which will include creative writing, drawing, painting, doing lots of different techniques, looking at different artists and making little journals. The idea is that this will be something that is rolled out in other schools throughout Scotland, using the National Galleries as a resource for school children.
More about the maker: For more information on Deborah Campbell and her work, please visit her Instagram or her website.
---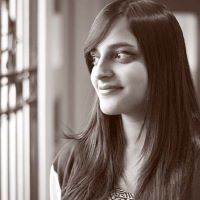 Arusa Qureshi is an award-winning writer, editor and speaker with a passion for music, diversity and accessibility within arts and culture. She has written a book about women in UK hip hop called Flip the Script, which is out now via 404 Ink. Her bylines include the Guardian, NME, Clash, Time Out, The Forty-Five and the Scotsman, and she is part of the We Are Here Scotland team, supporting and amplifying the voices of creatives of colour in Scotland.
She recently worked as a Researcher on the new BBC Scotland podcast Word Up!, and as a Commissioning Editor for Bella Caledonia, and was formerly Editor of The List, the UK events and entertainment publication based in Edinburgh, Scotland.
Arusa Qureshi / Photographer unknown