This post is part of our Make It Green series, by Craft Scotland and Creative Carbon Scotland. Hear inspiring maker's stories from across Scotland, as well as useful advice on how you can contribute to a greener craft sector.
Created for the Green Crafts Initiative that champions and promotes environmentally sustainable craft practices, this series features makers who use innovative techniques and eco-friendly materials as part of their creative practice.
Kate Ive is an award-winning Edinburgh-based artist, with artworks in recognised public and private collections including the British Museum, Royal Mint Museum and the Museo della Carta e della Filigrana. She creates work with an eye for intricacy and fine detail in a range of materials including metal, jesmonite, wax and ceramics, always looking at ways to recycle and reduce waste.
---
Hello Kate, could you tell us a little about your practice and what led you down this route?
I work from my studio at the Edinburgh Sculpture Workshop, having graduated from Edinburgh College of Art in 2008. I hand-carve and form intricate sculptural pieces preferring an experimental approach, cross-pollinating techniques and materials, making work for exhibitions, commissions and public art projects – one example of which is a commission, "Old to New", I made for the new Royal Hospital for Children and Young People in Edinburgh (2016-19). It involved the research, creation and installation of 19 sculptural handmade pieces located throughout the hospital. Creating my work by hand is a huge part of my practice along with it being research-based. I translate my research into intimately scaled pieces, which make the content more personal. It also allows me to connect directly with my materials and their sustainability.
My concern about our human impact on the environment and effect on the ocean has led me down the route of research. To make global environmental and oceanic issues more relatable and engaging, I take a granular approach. I explore specific examples that contribute to the climate crisis and ecological damage in detail (e.g. deep geological storage of nuclear waste, ocean acidification and stress hormones in baleen whales resulting from our anthropogenic impact).
Many of my pieces are designed to be tactile with tiny engraved relief details that require you to look more closely and question their provenance, for example "Link By Link", which is currently included in WWF's virtual exhibition, the Great Scottish Canvas. Inspired by Scotland's creeping leafy mosses, this particular piece shows a tiny hand-carved plant growing abundantly and resiliently along a rusted chain, reclaiming it and reusing it as new habitat. An ancient rootless plant, humble mosses have survived extreme climate changes in the past and help re-establish new ecosystems in often uninhabitable locations. They play an important, frequently overlooked role in biodiversity. Putting our relationship with nature under the microscope in this way, I draw from nature's resilience and create pieces that explore the intricate and fragile balance within which we all live.
I have limited my studio waste and making my work by hand reduces my power consumption. I reuse and recycle my materials and all my packaging.
What materials do you tend to work with and why are these your preferred materials?
I work in a wide range of materials, including jesmonite, natural fibres, my own blended waxes and ceramics. The message of the piece I am making determines the materials I choose. I spend a lot of time researching potential new sustainable materials to accompany my wide-ranging research. I try to regularly review the materials and processes that I use to check if they are still the best fit for my work and the wellbeing of the environment. This has meant consciously and deliberately reducing my earlier use of certain materials with a large carbon footprint, e.g. bronze. Generally my preference is for materials that are reclaimed and recyclable from source and are reusable in my studio. For example at the moment I am extensively using non-hazardous wax that I can melt down and reuse for new work. I save all the shavings from the pieces I am making along with all failed or cracked works, which I melt down and reuse. Some of the waxes are already recycled when they arrive at my studio, having been reclaimed from jet engine and engineering industries.
Over the years as my practice has developed and focused on our impact on the environment, I have become very aware of my own personal responsibilities. Consequently, I have limited my studio waste and making my work by hand reduces my power consumption. I reuse and recycle my materials and all my packaging.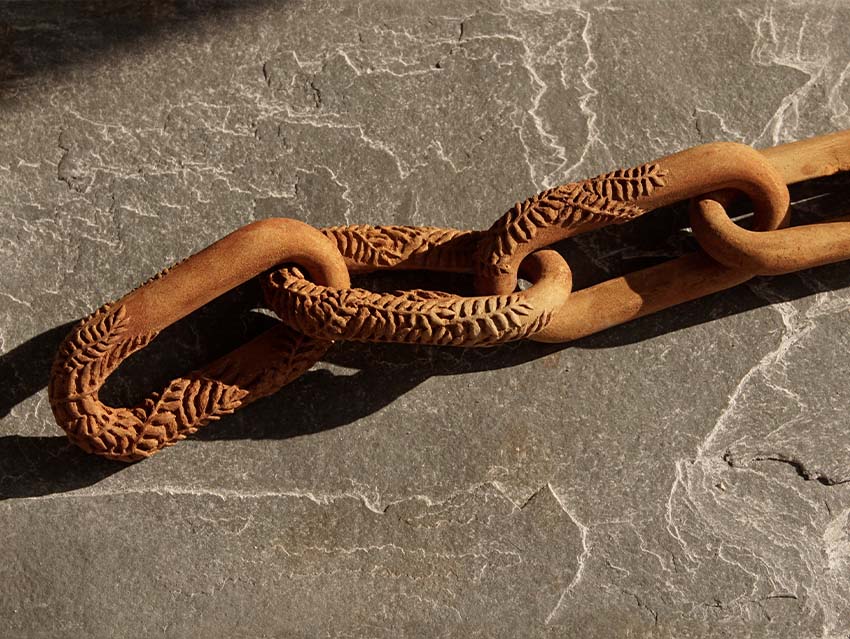 Kate Ive, "Link By Link", Jesmonite on slate 2020 / Photography by the artist


Your Zero Waste artworks seek to turn waste and litter into treasures. What inspired you to work with recycled materials and what themes do you explore with these works?
In 2011, after a week at the British Museum and V&A as part of the British Art Medal Society's "New Medallist" award and time spent in London, I wanted to draw attention to our street rubbish and litter. This resulted in the creation of "Modern Pearl", a small handheld piece that highlights our accumulating waste. Tongue-in-cheek, I wanted to transform discarded chewing gum in its wrapper into something more precious. It was the precursor to my Zero Waste series, which shows nature reclaiming and adapting foreign habitats from our rubbish in order to survive and thrive.
Inspired by how an oyster transforms an irritant into a pearl, this series imagines nature fighting back against our plastic waste by reclaiming and repurposing it. Using found litter and recycled bronze, "Amethyst Cluster", "Aqua Geode" and "Gardens of Ninfa" reconfirm the resilience and indomitability of nature in the face of our pollution. They show that it can and will reclaim and transform even the most uninhabitable and non-biodegradable waste into a living platform.
Tell us about your favourite pieces that incorporate sustainable methods?
One of my favourite pieces was an early career commission for the Scottish Government creating a sculpture for teir litter prevention campaign in 2014. Whilst my work is visually quite different now, it was a rewarding piece to work on. I created a 2m tall model sculpture of the Scott Monument by reusing Edinburgh's litter and rubbish, including plastic bottles, bags and wrappers. The campaign drew attention to the impact of litter on our capital and the need to reduce our waste and rubbish through correct disposal and recycling.
Another favourite piece was commissioned by The Bowes Museum. Inspired by the museum's collection of stopped clocks and as part of their #Untitled10 2019 exhibition, I made "John & Joséphine's Timepieces". The project focused on the process of making rather than finishing a piece by specifying 'unfinished' work for the exhibition. This marked a significant turning point for me. It encouraged me to reflect on my "making" processes and allowed me to establish new sustainable ways of working.
I had limited amounts of an expensive wax, which during my research required me to document my work and then melt it back down for reuse. These pieces were also entirely made by hand. It was the first time I thought about wax as the final result rather than a stepping stone material. I liked the fact this work in its wax state wouldn't last forever; its time was fleeting before being melted down and recycled.
By embracing the best of old techniques and new future technologies, it is possible to not only improve the sustainability of craft, but also encourage greater respect for the natural world in general.
Can you tell us about any recent research projects or commissions you have been working on?
I am soon to begin a significant period of research and development with a 3-month residency at the European Ceramic Workcentre (EKWC), supported by the National Lottery through Creative Scotland and Making Waves Ceramics Trust. This will be a really intensive period of experimentation and production. It will allow me to expand on the beginnings I made through The Bowes Museum exhibition. I will be making a new series of pieces with accompanying drawings that are inspired by environmental datasets, specifically focusing on our anthropogenic impact on marine environments. Now in the UN's Decade of Ocean Science for Sustainable Development, I am researching a wide range of datasets that explore our impact on the ocean. As a few examples this includes the projected decline of krill and its importance in ocean health by sustaining marine food chains, phytoplankton and their role in the carbon cycle transferring CO2 from the atmosphere and storing it in the ocean, and statistics around increasing ocean acidification.
This EKWC residency will involve learning new ceramic techniques and processes. Alongside this, I want to develop appropriate technical approaches to improve the sustainable use of ceramics in my practice. I will focus on making my kiln firings as energy efficient as possible, avoiding toxic chemicals, recycling clay and reducing water consumption.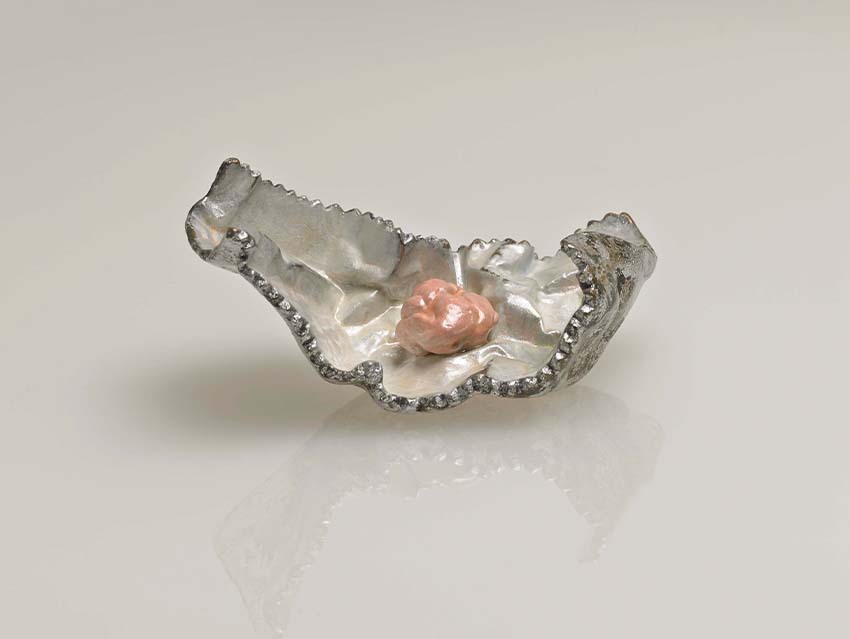 Kate Ive, "Modern Pearl", bronze, 2013 - Image courtesy of Kate Ive, BAMS, Trustees of The British Museum / Photography by Stephen Dodd
Do you have any advice for other makers who are considering working in a more environmentally sustainable way?
Developing the sustainability of my practice is an on-going journey. I continue to question my processes, my output and whether there are any new improvements I can make. What is considered good practice now may soon change. We also have an on-going responsibility to nature, the environment and each other to make the most sustainable choices possible. Researching sustainable options can be very time consuming and depending on the area of discipline the solutions can be expensive. I think it is important not to feel overwhelmed or put off by this. Online is a good place to start and organisations, like Creative Carbon Scotland, offer information and support to artists and makers through their websites. There is huge value in discussing what you are doing with other makers in your community. Sharing knowledge, resources and tips not only allows others to benefit from your sustainability research but may in turn help you problem solve your way forward too. If you are in a position to choose your energy provider, opt for renewable and sustainable energy.
I think for anyone considering finding more environmentally sustainable ways of working, my advice would be to start now. Do some research and try to be as informed as possible about sustainable options and approaches in your specialism. Assess what you're making, start with the obvious things that can be improved and go from there. I am currently enjoying wearing a new pair of glasses, whose frames are made in Britain from recycled fishing nets pulled from the ocean.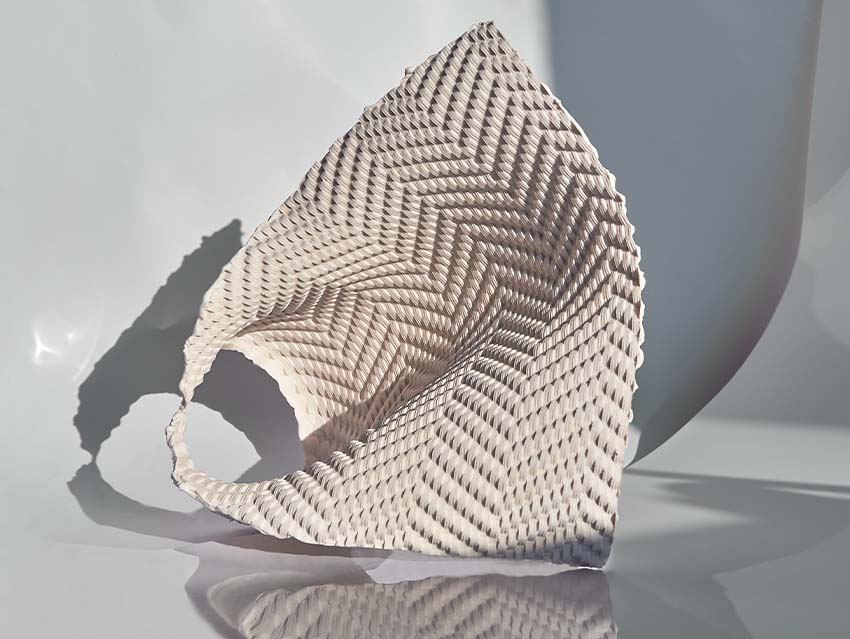 Kate Ive, "Deform", Jesmonite 2020 / Photography by the artist
What are your hopes for the future of sustainable craft making?
With COP26 taking place in Glasgow in November, the spotlight is really on Scotland and our collective drive towards a sustainable future.
My hope for the future of craft making is that sustainable choices become more available and more affordable for everyone. I hope taking a conscientious and environmentally responsible approach becomes second nature for us all.
I think that by embracing the best of old techniques and new future technologies, it is possible to not only improve the sustainability of craft, but also encourage greater respect for the natural world in general. As makers we can help each other and together get there faster. Ensuring our practices are sustainable is a positive and urgent first step.
More about the Maker: To learn more about Kate, view her Craft Directory profile, Instagram and Facebook page, or visit her website at kateive.co.uk.
---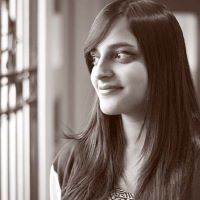 Arusa Qureshi is an award-winning writer, editor and speaker with a passion for music, diversity and accessibility within arts and culture. She has written a book about women in UK hip hop called Flip the Script, which is out now via 404 Ink. Her bylines include the Guardian, NME, Clash, Time Out, The Forty-Five and the Scotsman, and she is part of the We Are Here Scotland team, supporting and amplifying the voices of creatives of colour in Scotland.
She recently worked as a Researcher on the new BBC Scotland podcast Word Up!, and as a Commissioning Editor for Bella Caledonia, and was formerly Editor of The List, the UK events and entertainment publication based in Edinburgh, Scotland.
Arusa Qureshi / Photographer unknown