It's that time of year again! Degree Show season is fast approaching and students across the country are preparing night and day to showcase their graduate collections. Scotland has an international reputation for high-class teaching in craft, art and design subjects, and visiting degree shows is one of the best ways to show your support for the next generation of talented makers.
In the next few months, we will be sharing our top picks from talented Scottish graduates working in craft disciplines. First up is the Edinburgh College of Art's (ECA) jewellery and silversmithing department that has a reputation for fresh, exuberant and original work.
For nine days in summer, Edinburgh College of Art (ECA) is transformed into a bustling showcase of vibrant work from their graduates. The Jewellery and Silversmithing department at Edinburgh College of Art balances practical skills with innovation. Their students embrace new technologies alongside traditional time-honoured processes and techniques in materials such as precious metal, gemstones, plastics, wood, paper, stones and textiles. They create unique artefacts sensitive to the complex relationships humans form with objects.
Isabella's collection is influenced by the mystical world of the oceans. By making bundles and clusters of objects, she manipulates materials to resemble another - for instance making silver malleable like paper - in order to challenge the viewers' preconceptions. The tactile fragile nature of these materials creates a balance between movement and a sense of growth. Over time the pieces will age and distort making them even more personal to the wearer and echoing the ever-changing quality of the sea.
Follow Isabella on Instagram
Roberta Lee
Roberta explores lines by tracing the contours of organic forms and the fluid shapes of body movement. She strives to capture the expressive quality of the human figure as it dances in her linear drawings, which she then translates into metal. Roberta enjoys exploring materials intuitively so that the creative process is spontaneous. The rich hues of her collection Catching Lines are drawn from the colourscape of Morocco and applied to the metal forms with hand-dyed thread. The result? Vivid, sculptural jewellery that tangibly captures the essence of motion.
Utilitarian designs of cranes and construction sites; that's the inspiration for Rowena's collection. "The raw elegance of the equipment represents limitless potential in what it can build, but are often overlooked themselves, designed with only one thought in mind: functionality". Her process starts with printmaking, where she creates fluid new shapes before realising them in metal. Aiming always to keep the bluntness of the building site within the work, Rowena uses fold-forming and etching to pick out different aspects and create the basics of her pieces, changing and developing as she goes. Creating a collection that not only sings in harmony but each piece can also stand alone - as she says just as "proud as a crane against a city skyline".
Follow Rowena on Instagram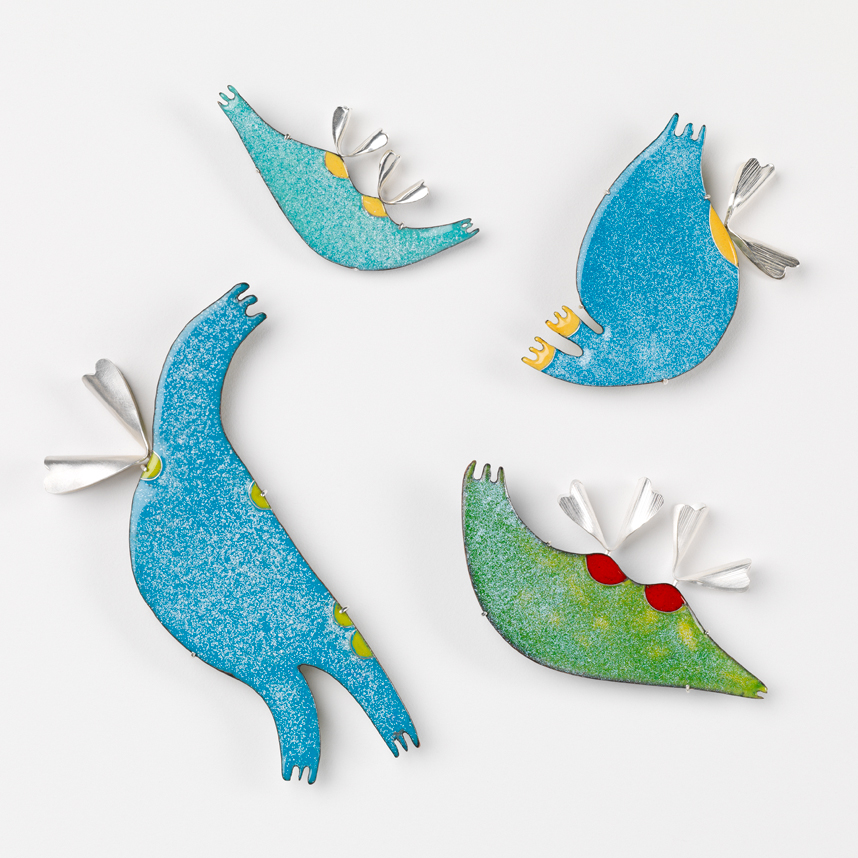 Coaxing people into using their imagination, Diana transforms her loose observational drawings into playful enamel jewellery. She is intrigued by the audience's personal perspective and how they often relate their own story to the individual abstract shapes. Diana aims to find the perfect balance between two-dimensional and three-dimensional forms.
Follow Diana on Instagram
Visit Edinburgh College of Art Degree Show 2017
Free / Drop-in, 11am to 5pm
Saturday 3 to Sunday 11 June 2017
74 Lauriston Place, Edinburgh, EH3