Welcome to our new feature Make Your Own Story, a series of interviews with craft makers. Hear from makers who have fascinating stories to tell about living and working in Scotland. We hope their stories will inspire you and spark off new interpretations of craft...
Originally from Germany, Katharina Vones creates innovative, stimulus-responsive jewellery inspired by the idea of future ecology. In this interview, we chat to Katharina about how her experiences at art school have shaped her practice and get the low-down on some of her inventive techniques.
Q: Hello Katharina, tell us a little bit about yourself...
Katharina: Hello! I am a jewellery artist and interactive craft researcher, and I live in Edinburgh. I studied Jewellery and Silversmithing at the Edinburgh College of Art (ECA) and the Royal College of Art (RCA) and I have just handed in my PhD thesis at Duncan of Jordanstone College of Art (DJCAD) in Dundee – phew!
When I am not lecturing or attending conferences I make jewellery in my studio at home, which I occasionally share with my cat Roxy.
Q: Where do you get your inspiration from?
Katharina: My biggest inspiration has always been the natural environment, and particularly the colourful realm of the deep sea. I draw inspiration from the idea of a future ecology, in which nature has been supplemented by semi-organic forms of life, and the human body has been altered to accept permanent modifications.
Through climate change, many of the natural wonders of our world are endangered. The splendour of rarefied ecological systems, such as the Great Barrier Reef, might be forever lost. In response to this gradual erosion of natural diversity and beauty, my work draws its aesthetic influences from the realms of the macroscopic. To that end, I observe the smallest structural and textural details of plants, minerals and other things such as butterfly wings, fungal growth, mould and architectural structures through drawing, macroscopic photography and collage.
Q: Describe your practice to us?
Katharina: I create stimulus-responsive jewellery made from smart materials and microelectronics in combination with precious metals. The pieces engage the wearer in a playful interaction through colour change and illumination.
In my work I use traditional jewellery techniques in conjunction with digital making methods, such as 3D-printing, to create vibrant jewellery organisms that virtually live on the body. Colour-changing Chromic silicone is used to create a dynamic interaction with the wearer and their environment.
I exhibit my work both nationally and internationally at craft fairs, trade shows and galleries.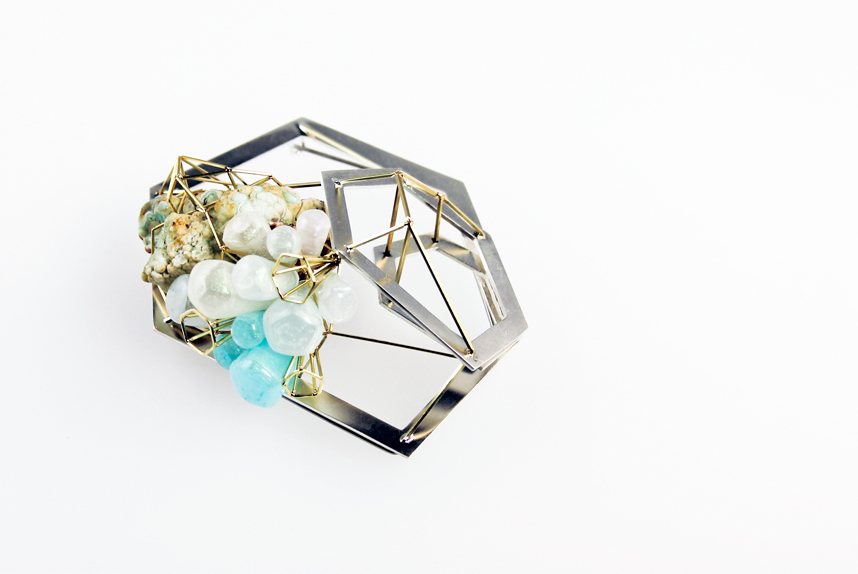 Q: You studied Jewellery and Silversmithing at Edinburgh College of Art (ECA) under the guidance of Professor Dorothy Hogg MBA. How does your experience at ECA inform your work now?
Katharina: My time at ECA was an absolutely invaluable experience. When I initially started, I thought I would study painting, textiles, or photography, but it was making jewellery that really excited me because of its three-dimensional qualities and intimate relationship with the body.
Dorothy allowed us a lot of freedom to develop our own way of working, while also teaching us practical skills in a more traditional way, which I revelled in. She always emphasised the importance of looking outside of our own discipline to keep our practice vibrant and fresh.
I think that is such an important way of working in the arts and craft today, where some of the most exciting work is being produced as part of cross-disciplinary collaboration and stepping out of your own comfort zone. Having said that, I think it is such an exciting time for jewellery right now, with all sorts of new materials and technologies becoming available to creative practitioners.
As part of my doctoral research at DJCAD, I visited a number of materials libraries all over Europe, which was such an eye-opener in terms of the novel materiality that is currently developing and how it could be applied to making jewellery. In response to this challenge, I set up my blog Smart Jewellery to document my journey of material discovery and inspire other makers to work with the materials and processes I encountered.
Q: Tell us about your innovative techniques?
Katharina: Current digital fabrication technologies are used in combination with craft methodologies to translate organic structures and their irregularities into jewellery objects that reflect the intricacies of a living system. Creating enchantment through playful interaction is at the centre of my practice, and combining Chromic smart materials with tactile silicone provides multifaceted colour transitions that react to the human body and the environment in equal measures.
Microelectronic elements are used to imbue the jewellery with life, manifested through pulsating, breathing lights, and sensors that intimately connect the object to the body of its wearer by measuring touch, light and pressure. Delicate wire growths envelop crystalline features - with the complexity of mould these Microjewels emerge from and respond to their surroundings like glittering, geometric microcosms.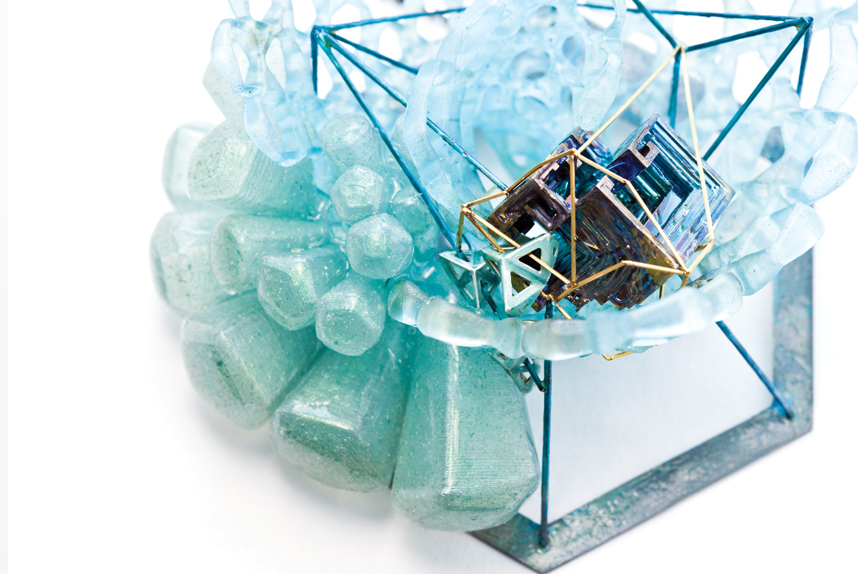 Q: How do you hope people will respond to your work?
Katharina: Silicone can be an exciting material, and people react in different ways to it – some really enjoy its tactile qualities, while others feel uncomfortable about its yielding softness. In combination with smart materials, it really comes to life and surprises its wearer by reacting to touch and light exposure by changing colour. I really enjoy it when my jewellery creates a sense of enchanted wonder, mixed with the eerie undertones of the uncanny in its wearer.
Q: How has living and working in Scotland influenced you as a maker?
Katharina: Scotland and especially its natural environment has really been a great influence on my work. I didn't realise how much I had relied on the natural beauty surrounding me for inspiration until I moved to London to do my MA – my work changed completely and became a lot more geometric and architectural as I was suddenly surrounded by all this fantastic Modernist and Brutalist architecture.
I was very lucky to live in the Barbican within a community of young photographers and architects and became obsessed with an obscure architectural movement called Japanese Metabolism which is all about buildings that are like living organisms and are made from multiple repetitive structural units. I started to make very intricate pieces of jewellery that resembled miniature dark cities, colonising the body like mould and using laser welding to improvise the structural elements so they would really be 'grown'.
When I eventually returned to Edinburgh, I realised that my time in London had been a really important part of my artistic development, but that I also much preferred the peaceful lifestyle that is possible in Scotland and leaves you more time for creative contemplation. I think Edinburgh is one of the best places to live in the world – the buzz and culture of the museums, events and the Festival – and then driving in any direction out of the city you encounter spectacular beaches, forests and mountains within the hour.
My favourite place to go is a beach in East Lothian near Tantallon, where you have to walk through an enchanted forest with ruined stone dwellings which eventually parts to reveal an expanse of tidal rocks and seaweed. I did a shoot with a model there for my recent Microjewels catalogue, and it looks like she is placed within an alien, lunar landscape.
There is real excitement around Scottish jewellery right now, with local events like Elements introducing contemporary jewellery to a wider audience, and the international connections made by Craft Scotland, such as the participation in SOFA which I was lucky enough to be selected for in 2013, promoting our work abroad. The creative community and support for individual makers in Scotland is fantastic, and I feel very much at home here.
This interview has been lightly edited and condensed for clarity.