This post is part of our Make It Green series for 2016/17 on the Green Crafts Initiative that includes makers' stories and helpful hints and tips..
Andy Stirling Robertson, a woven textile designer from Glasgow, is a traditional handloom weaver however the materials he uses are far from traditional - reclaimed and sustainable yarns like telecom cables, bamboo and rubber. Andy is a member of the Green Crafts Initiative, launched in 2014 to celebrate and encourage more environmentally sustainable practices in Scotland's craft sector.
I'm very chuffed to contribute to this blog as I design woven textiles that imagine answers to our environmental crisis. Sustainable making has been my practice since studying at The Glasgow School of Art. Back in January 2007 I was in third year of my textile design degree. At that time of year the Newberry Tower (now demolished) was leaky, cold, but charming. January is traditionally the start of the 'fashion show project'; much to the excitement of the student body as the show gets a lot of press. It wasn't my thing. I was a scruffy wee weaver disinterested by glitz. I felt apprehensive about producing new things in a world that makes and buys too much already. An entry level show for an industry built on greed, consumerism and exploitation!? No, ta. I quite fancied myself as a non conformist!
The school brought in an industry professional to collaborate with us. Noki is a London based 'Art Brand' focusing on one offs and customisation. A local charity retailer also donated a mountain of unsellable clothes for us to work with. This provided an opportunity to design with recycled materials. Noki caught my imagination. He's quite a big dude and I remember staring up at him as he gave a talk on ethical design. He let me forgive myself for hating consumerism whilst wanting to make. "Make with found materials" was his call to action and a solution to my dilemma. What a relief. So in the cold Newberry Tower I dug into the donated 'clothes mountain'. I pulled out enough t-shirts of the same colour to shred into strips and weave with. The work was awful. I'm amazed it got pass marks. I should know; I now teach on the course.
Andy Stirling Robertson Weaving
I'm still designing textiles too, although not much for fashion anymore. My collections and commisions are made for installations, exhibitions and interiors. My textile panels and rugs are produced on a scale suitable for ambitious architecture and interior design projects. At the moment I'm making panels using recycled rubber bicycle inner tubes. It's in collaboration with the Bike Station, Glasgow. I weave on a traditional handloom, and contemporary or reclaimed materials don't always behave well in front of traditional craftsmanship. It's a challenge, but it's the most fun part of the process.
I still resent the idea of working with bought materials. I find industrial partners where I can. Then it's about how I support their social responsibilities by offering a creative solution to their recycling. Previous successes have included a collaboration with telecom cable manufacturer B3 Cables. I have made a series of textile panels for interiors using their off cuts. Success comes from sales, obviously. But also from the idea I've shifted a company's or collector's thinking about our environment.Textile panels made with reclaimed telecom cables.
Key to sustainable or 'green' making is authenticity. John Thorne, a leader on sustainability at GSA talks about it running like a thread through each element of your practice. I love that idea, not just because I'm a weaver. You can't bolt 'green-ness' on at the end of your supply chain. Some brands shout "Huzzah! Hemp tote bags!". My response is, "Good, who made them?" Your clients will see through green gimmicks. Although, I'm not squeaky clean either. As a micro-business, delivering something zero waste with a transparent supply chain is often out of your hands. Manufacturers can refuse to tell you their product's country of origin, for example. You also have to make concessions on materials at times. I bought SoySilk yarn from USA, with no clarity on where it's spun. I'll just have to take that one on the chin and use it as a lesson to improve my next project.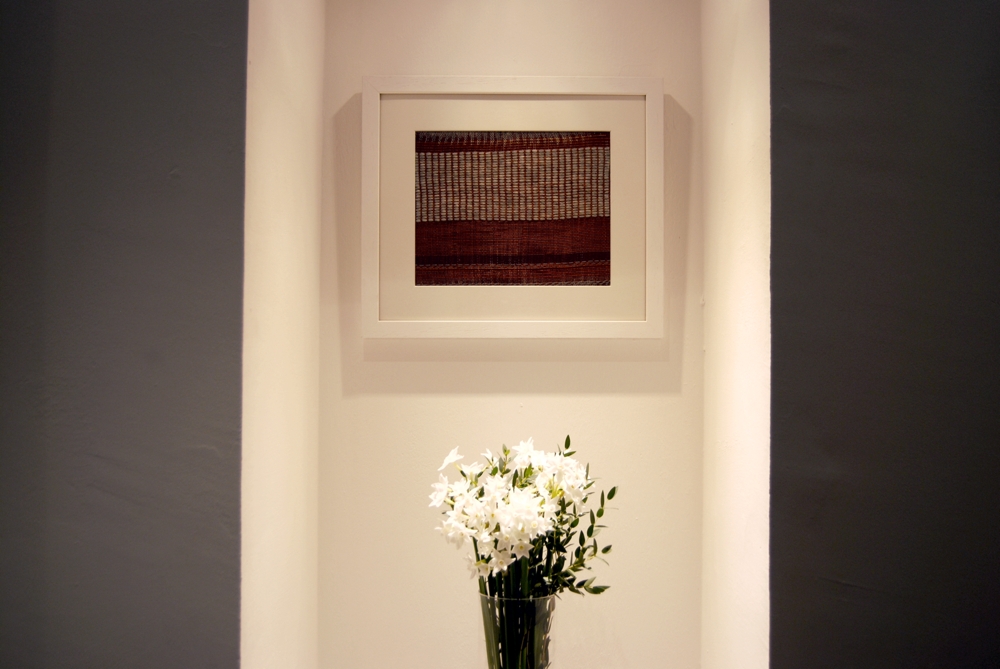 As my practice has matured I've realised sustainability isn't always a priority for clients. OK, so maybe 10% or 25% of my potential market will buy work because of an interesting material or process. Those collectors will always be there. But I've started to ask, 'is what I've made more functional, beautiful or desirable than a less sustainable alternative?'. If not, then why should the client care? The interior designer buying my textile panel for a new hotel doesn't care if it's sustainable, they care if it's better. So the challenge is to offer an emotional connection. And that can happen by having clarity of purpose.
David Hieatt in his book Do Purpose writes about the best brands having fans, not customers. Fans support why you exist. Some makers mistake this idea as meaning you need to bow to market research. I don't. A cliché that best explains why I don't do this is a Henry Ford quote; "If I had asked people what they wanted, they would have said faster horses.". If sustainable makers didn't produce with green materials, no one would have asked us to. The customer isn't always right. I want to see a change in our impact on the environment. That impact is caused by consumer capitalism. I offer an alternative vision: through making. However, I have to be bold in using conflict and contradiction to connect with new fans.
I took my website down for Black Friday. It doesn't suit my purpose as a maker to exploit this US imported tradition of unhealthy consumerism. But, new fans arrived. Seems counter-intuitive doesn't it? If you express something you're committed to, and say it with clarity, fans will join you. This idea is now appearing in design marketing trend forecasts and I think small makers, like me, started it.
My hope is that sustainable makers continue to take the initiative. Offering ideas and inspiration to society through what we make. Our mad ideas can trickle up and make a difference at the top end of the design industry. If you can clarify your purpose and hold onto it, you'll find that those who agree will join you. And you'll be rewarded with far more than having sold some craft, you'll be helping to change the world in whatever way you want.
For more projects check out Andy's website.