This post is part of our 2018 Make It Green series, for the Green Crafts Initiative that champions and promotes environmentally sustainable craft practices. In this series by Craft Scotland and Creative Carbon Scotland, you will hear inspiring maker's stories as well as useful advice on how you can contribute to a greener craft sector.
---
One year on from their first ethical making symposium, the Incorporation of Goldsmiths, Scotland's oldest consumer protection body, is continuing to champion Scotland as a leader in ethical jewellery making. We sat down with Courtney Lawler, Communications and Event Manager from Incorporations of Goldsmiths to discuss this year's symposium, where heads of Scotland's leading art colleges gathered to sign a first of its kind pledge to incorporate ethical making into their curriculums.
Plus, to encourage change the Incorporation have launched their unique online Ethical Making Resource, full of up-to-date practical information for jewellers and silversmiths.
Hi Courtney, tell us all about this year's Ethical Making Symposium…
It was a great success. We were thrilled to bring more than 200 makers, activists, suppliers and other industry representatives together for a day of learning and inspiration.
We built this year's programme around the theme of 'One Year On' and invited speakers to discuss recent changes in the industry as well as changes in their personal practice. While one of the goals of the Symposium is, of course, to build makers' foundational knowledge of ethical issues in the industry, one of our additional goals was to highlight the small but significant changes that attendees can make to their practice.
We were also very excited to gather representatives of all the Scottish colleges offering HND and degree level jewellery and silversmithing courses for the signing of our Ethical Making Pledge.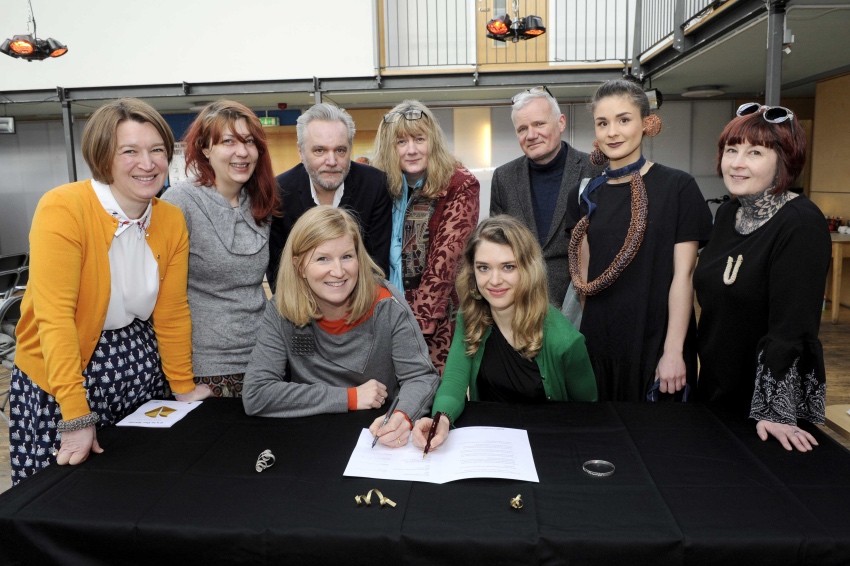 Photography by Colin Hattersley
What important themes were talked about during the day?
One key theme that came up again and again on the day was, as speaker Greg Valerio MBE put it:
"Don't be frightened into inertia"
A number of our speakers echoed this sentiment. As makers and as people, mistakes will be made, but it is so important not to let the pursuit of perfection stop us from making changes we can right now.
As Ute Decker told us, "in everything we do, we're making a choice", and she encouraged makers to start with small changes and then to build from these as they continue on their path towards a more ethical practice.
Another takeaway was the importance of doing your homework. "Transparency and traceability" was Greg's suggested mantra for makers, and he encouraged attendees to always question where their materials have come from and who has handled them along the way.
Did you feel a change in attitudes and perceptions towards ethical making from last year's Symposium?
We were overwhelmed by the positive reception last year's Symposium received, and this year was no different. We noted last year that there was a feeling of reaching a tipping point when it came to how makers and consumers were thinking about ethics, and we think that the community has continued to move in a positive direction.
Many attendees told us they now felt ready to tackle ethical issues and to make changes to their practice, and that's exactly what we wanted to hear. There was a feeling of hope for a more ethical future in the room, especially with the announcement that the Scottish colleges will be incorporating information about ethical making into their curriculums in the very near future.
Tell us about the importance of the pledge made by Scotland's art schools...
The Ethical Making Pledge is the first of its kind, and it reflects the growing determination of makers, designers, educators and consumers to demand that materials are responsibly sourced, and workshops are environmentally friendly and safe.
The pledge, which has been signed by representatives of City of Glasgow College, Duncan of Jordanstone College of Art and Design, Edinburgh College of Art, Fife College, Gray's School of Art, Glasgow Kelvin College and Glasgow School of Art, will result in jewellery and silversmithing departments:
Moving towards the sole use of ethically sourced precious materials
Including ethical theory and practice in their curriculums and workshop practices, and
Nominating student ambassador to take part in ethical making information sessions with the goal to assist in educating their peers about the importance of ethical making
We recently held our first information session with the student ambassadors and we're sure that they'll do a great job!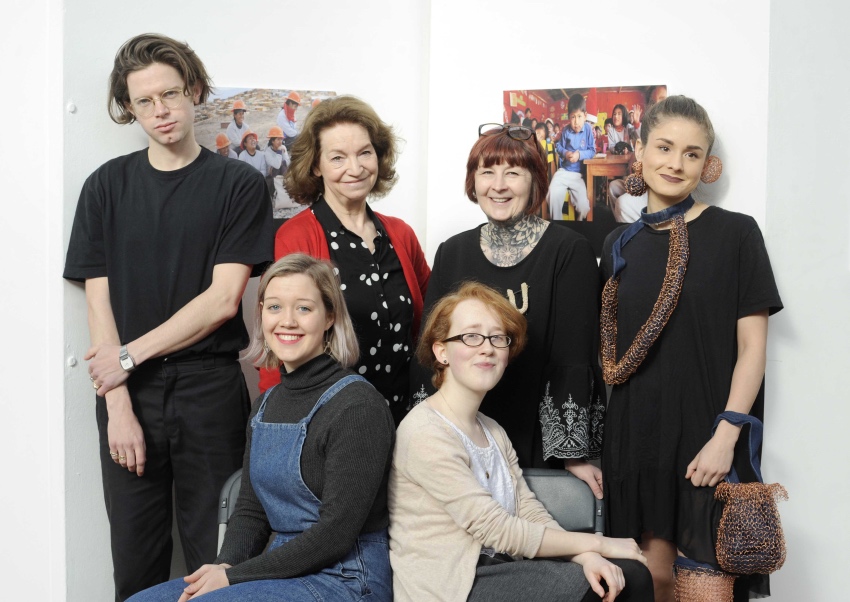 Student Ambassadors nominated as part of the Ethical Making Pledge / Photography by Colin Hattersley
You have just launched your Ethical Making Resource, a unique online resource for jewellers and silversmiths. Could you tell us more about the motivations behind its creation?
When we first started speaking to the jewellers and silversmiths in our networks about ethical making, they all told us the same thing – that there is so much information out there, but the information was often fragmented, difficult to find and included wildly differing views on the same schemes and issues.
What we learned that was while the interest in ethical making was there, it was difficult for makers to know where to start, who to trust, which schemes entail real change and where to turn when they had questions or needed support.
Having identified these issues, we decided that creating an online, regularly updated resource for makers would be an effective way to address them. The Resource is a one-stop shop for makers who want to know what ethical making means, why it's important, what schemes exists and how they work, how they can improve their workshop practices and a whole host of other useful information.
What are your future hopes for the Ethical Making Symposium and sustainable practice in jewellery?
In terms of the Symposium, we hope to continue delivering an annual event that brings people who are interested in and passionate about ethical making together, and to inspire these people to keep working to create positive change in the industry. We have some ideas for how we might change the format of the event to keep it exciting, so watch this space.
We believe that Scotland has the potential to be a world leader in ethical making. We hope that through our events, educational programmes and the Ethical Making Resource, more and more makers will be able to access the information and motivation they need to move towards a more ethical practice.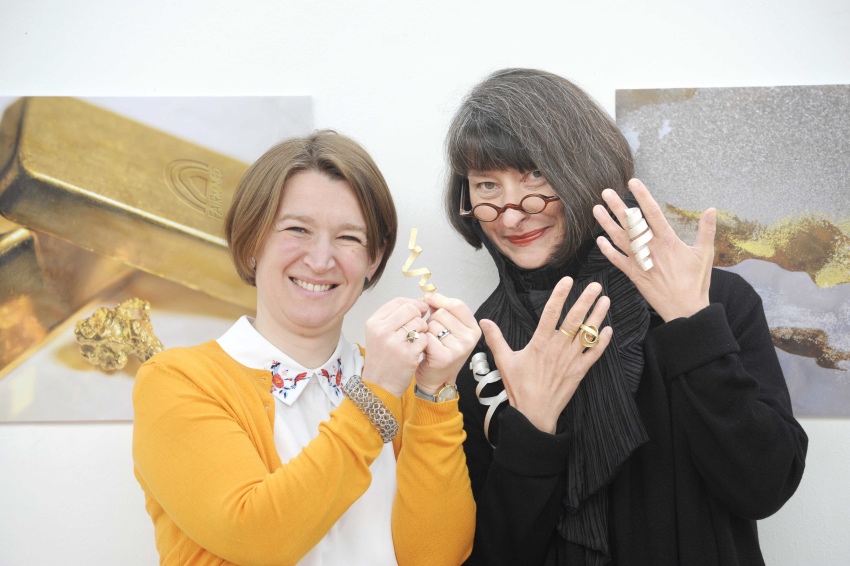 Incorporation of Goldsmiths Director Mary Michel and jeweller Ute Decker / Photography Colin Hattersley
Later this year the Incorporation of Goldsmiths will hold Elements 4, a glittering festival of gold and silver. How will the exhibition explore what ethical making means in contemporary silversmithing and jewellery?
We are really excited about this year's Elements exhibition. We are working with two organisations who focus on an ethical approach to jewellery and silverware, but in very different ways. The exhibition will explore ethical making and provenance as a facet of fine craftsmanship and will highlight the wide range of approaches to ethical making, such as the origin of the metals or stones and the environmental impact of creating the finished piece.
We can't say too much right now, but we will be announcing further details in the lead up to Elements, which will run from Friday 19 October to Sunday 21 October 2018 in Edinburgh.
Thank you to Courtney for this wonderful summary of this year's symposium and for giving an insight into what the future holds for ethical making in jewellery and silversmithing.
Feeling inspired? You can visit the Ethical Making Resource now, or head over to the Incorporation of Goldsmiths to find out more about the symposium and their upcoming Elements festival.
Why not join the Green Crafts Initiative and take the pledge to making Scotland that little bit greener.
This interview has been lightly edited for clarity.