Craft is built on community, so we know that this period of social distancing and isolation is challenging for the craft sector. Especially for individual makers and small businesses who are having to adapt to these new ways of working; studios may be closed, you might not have access to your normal materials and your favourite tools are not to hand.
We reached out to nine makers across Scotland to hear their lockdown stories during this pandemic. It has been fascinating to hear about the inventive ways in which makers are continuing their craft practice at home during the lockdown and navigating the negatives. In Part One of Making in Lockdown, we speak to makers Agnes Jones, Cara Louise Walker, John Cowan and Sally-Ann Provan.

Discover Part Two and Part Three here.
---
Agnes Jones, Metal
Agnes Jones (pictured above) is a blacksmith based in Glasgow who makes a range of work, from small homeware pieces to large public art commissions. Typically, Agnes scales up her sketches into wire work - and from there into large metal work. This allows Agnes to retain the exciting energy and feeling taken from her original drawings. Agnes explains:
"The lockdown has pressed pause on most of my commissions and exhibitions, so I've taken the time to work on some personal projects instead. I've been making life-drawing sculptures and researching how to use steel to create soft and intimate drawings of personal space."
When lockdown started, Agnes had initially been working in places she felt confined to, such as her bed or sofa. Like many of us, she has since managed to separate her living space from her workspace – her favourite being her window seat (pictured) surrounded by plants, but she often ends up drawing on a much larger scale on the floor.
Interested in how to make the steel appear softer and less structural, Agnes has been creating an essay accompanied by a series of drawings in both pen and steel.
"Blacksmithing is really enjoyable but not something you can do from the sitting room, so I'm very lucky that my studio is just over the wall behind my flat - I can get to it without seeing anyone. I'm in the wonderful Mount Florida Studios, which is normally such a friendly and engaging space, so it's strange to be separated from everyone. It has been so helpful having the workshop nearby as I find I really need to make things for my mental wellbeing, and there are only so many loaves of sourdough I can get through!"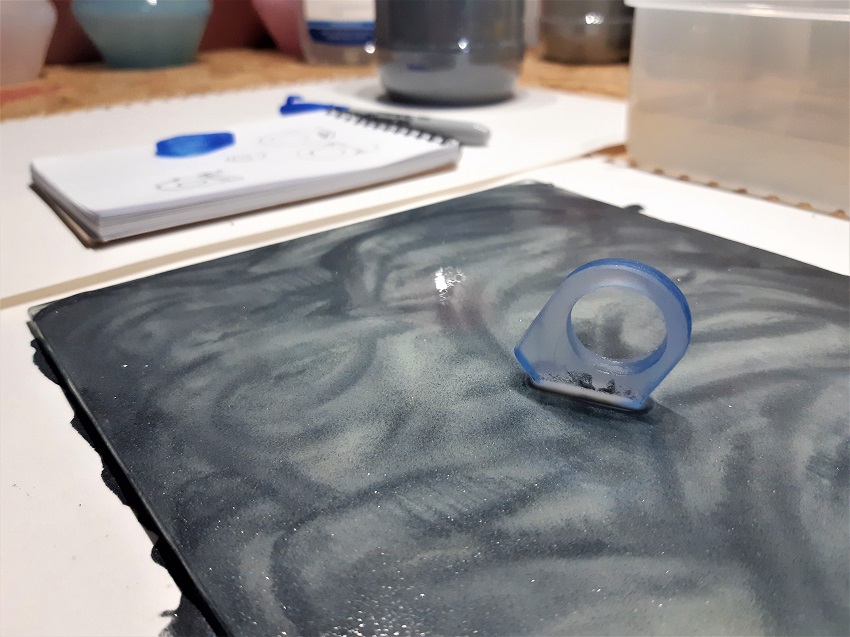 Image: Cara Louise Walker / Image by the artist
Cara Louise Walker, Glass & Jewellery
"Like many other makers out there, I would normally rely on studio access to create and finish my work as a lot of processes cannot be achieved from home. With there already being so much anxiety and uncertainty in the air, I decided to focus on what can be achieved instead of worrying about the latter and was pleasantly surprised!"
Cara Louise Walker is a designer/maker from Glasgow. Specialising in the production of cast glass and jewellery, Cara Louise provides a commission-based service alongside the production of artwork for galleries and exhibitions.
Cara transformed a smaller room in her home into a make-shift studio space and by doing so, she has been able to utilise the tools and materials found at home. Cara is now spending her time during lockdown to focus on developing her digital skills and other smaller projects such as her glass ring prototypes (pictured), which were made with the purpose of tackling glass waste by using cast glass offcuts. Sometimes these new parameters around making are creating new exciting discoveries, as Cara Louise explains:
"Since most of my specialist tools and equipment are locked away in the studio, I've turned to more analogue methods of grinding and finishing glass. If anything, it has made me appreciate the skills that I have and how we can adapt to make things work."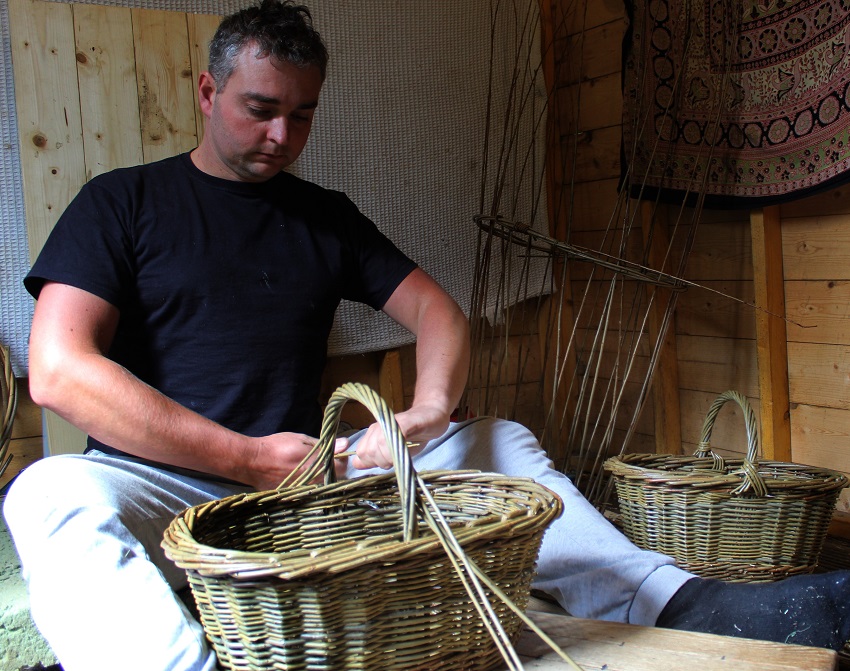 Image: John Cowan / Image by the artist
John Cowan, Willow weaving
From his small workshop in Lanark, John Cowan produces custom-made baskets using UK-grown willows and occasionally Hazel. Most of the willow John uses is unstripped so the natural and varied colours of willow bark, as well as its ephemeral fragrance are features of his baskets. John discusses how the first weeks of lockdown affected his craft business:
"Following the Government's move from giving social distancing advice to police-enforced lockdown, I had my first weekend in recent memory where I had no weekend sales through my online store. Fortunately, I discovered quite quickly that what was needed was a banner announcement on the website saying: I'm still open for business and I welcome orders. Things returned to normal and online sales even increased from private individuals stuck at home. This boost was balanced by businesses, who give regular work, cancelling scheduled orders."
However, John goes on to share how these new adaptations to his business impacted on other areas of his life: "my small cottage is now cluttered with website stock which is annoying as it is strangely important for me to keep my family life and work separate and to get away from my craft during my time off."
Normally, during early Spring, John receives several large orders from hotels, interior designers and even film and TV prop assistants these orders have not materialised this year as those industries are also disrupted.
John has additionally lost income from cancelled in-person teaching, he goes on to explain: "Although the loss of income from teaching is no big deal to me, the loss of the enjoyment of sharing my love of weaving is now much missed. I made a video tutorial with my free time showing each step in weaving an oval basket which I posted online. This video is my contribution to help people staying at home at present who are interested in basketmaking. I was thrilled when several viewers sent me photos of baskets they had made after watching my video."
John submitted work prior to the lockdown to be showcased in a basketry exhibition, he explains: "I'm taking part in a basketry exhibition in Spain which is still going ahead. My contribution was going to be The Great Line Basket, a traditional style from the old UK fishing industry. Further research would have been needed for me to make this basket, including visiting national museum collections - impossible during current events. Thankfully, the organisers accepted the substitution of other styles already in my repertoire as my exhibits."
Coronavirus (COVID-19) has also brought a shift in consumer buying habits, John has seen sales of shopping baskets significantly increased during this time. He explains: "Folks are keen to avoid all manner of potential infection from supermarket baskets, it did surprise and delight me that I benefited from the demand. This return (, for some), to using a traditional willow shopping basket has re-focused customers' minds when deciding exactly what they want when placing an order. I have ended up making a slightly larger version of the basket that seems to be a winner as there's now just that little extra room to cram in a second bottle."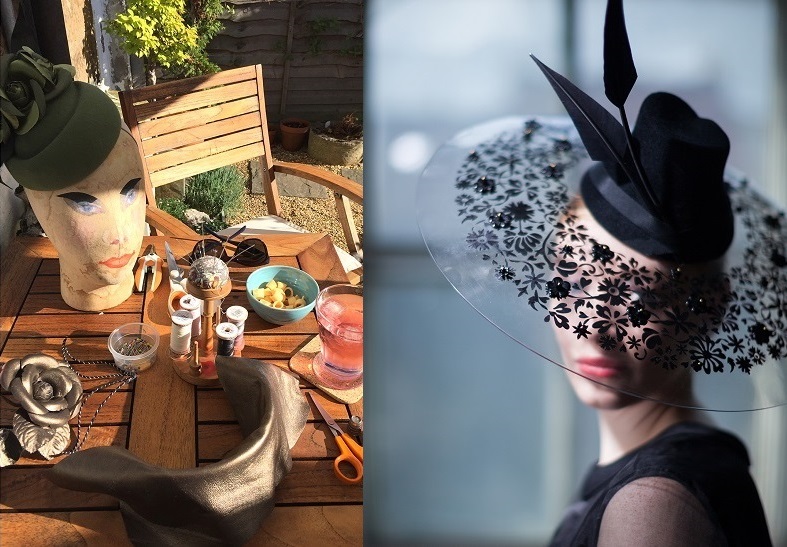 Image: Sally-Ann Provan / Image by the artist
Sally-Ann Provan, Millinery
Sally-Ann Provan is an award-winning milliner with a far-reaching reputation for distinctive designs, and a client base stretching round the world. She creates distinctive elegant modern millinery exploring form and surface pattern, using modern technologies and traditional techniques.
"Like a lot of makers, I have found the transition to working at home quite challenging, but I've managed to create a small space where I can sew and I'm blocking hats in the kitchen. If the weather is good, I will do a little work in the garden which helps to calm me. It gives me an escape and a sense of perspective. This time has forced us all to slow down and reflect, but it also gives us time to plan a new way forwards."
Sally works face-to-face with most of her clients and is heavily reliant on the wedding industry. As weddings across the country have been postponed due to the lockdown, she is adapting her usual ways of working to help the business stay afloat until social distancing is no longer such a big issue.
"Keeping creative at this time is challenging, but just before the lockdown I bought some new flower-making tools - it's now time to unpack them and further develop my skills and experiment with some new designs."
"I've also been making scrubs hats for the NHS, which has felt like a positive thing to do in these troubled times, and it's good to know I'm doing something to help others who are working so hard on the front line."
Stay updated with the latest information and support during Coronavirus (COVID-19) in our Maker's Guide to Coronavirus (COVID-19).
Discover Part Two and Part Three here.
Interviews have been lightly edited for clarity or condensed.
Making in Lockdown - Part One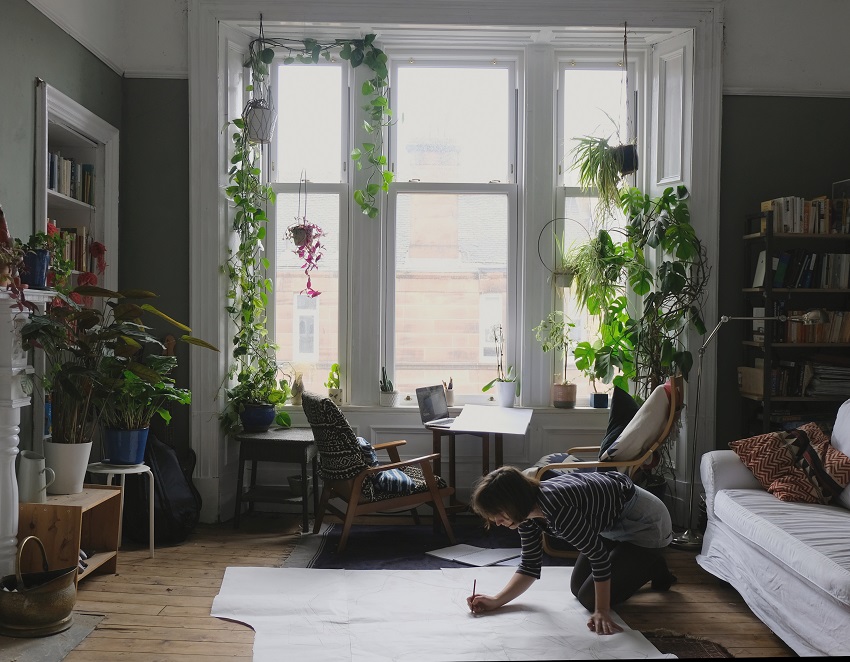 Transparent