Panel and Craft Scotland hosted a private event at the Scottish Parliament this week, inviting MSPs to consider the long-term value of teaching craft as part of the MAKE Learn project.
On Thursday 20 April MAKE Learn presented the Research Report and Learnings from our Pilot Schools Project at a private Parliamentary event sponsored by Ruth Maguire (MSP for Cunninghame South).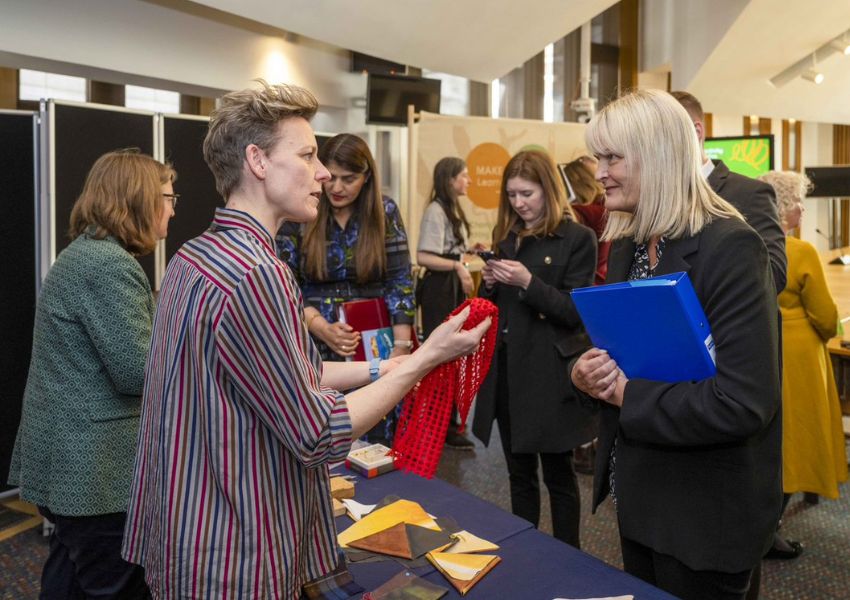 Image: Ostrero demonstrate sustainable craft education activities to MSPs / Photography by Neil Hana
Craft Scotland Director Irene Kernan says:
MAKE Learn is an important partnership project for the craft sector which has been building momentum over the past three years. Through MAKE Learn we want to ensure more equitable access to craft for children and young people across Scotland. We also want to make the benefits of learning craft skills more widely known with the aim of securing a place for craft in the school curriculum and developing resources and support for teachers and makers. MAKE Learn is fundamentally about securing a sustainable future for the sector and we are looking forward to the next two-year period of work with our partners, Panel.
Championing the value of teaching craft and making skills through key findings and recommendations, the MAKE Learn Report argues for better coordination, resources and strategy for the craft and education sectors.
52% of teachers surveyed felt that craft was not a priority within the curriculum.

Young adults aged 16-24 have the lowest level of participation in craft in Scotland's adult population.
The key asks by MAKE Learn is that Scotland recognises the value of craft as an art form and a creative industry, which is included, and appropriately prioritised, within Scotland's education curriculum.
Specifically, we are calling for:
An entitlement for every primary school child of 10 hours of craft and making in the classroom a year. This is equivalent to 1% of the school year.

The inclusion of craft in the Expressive Art curriculum as an addition to the Art and Design Experiences and Outcomes Benchmarks.
MAKE Learn is an advocacy campaign and programme of activity that highlights how craft can support young people's health and wellbeing through building resilience and confidence, and additionally supports learning and attainment across a wide range of subjects including STEAM.
MAKE Learn is a partnership between Panel and Craft Scotland, supported by Creative Scotland as part of their targeted funding to strengthen the craft sector in Scotland.