In the inaugural year of the Craft Scotland Graduate Award, we are delighted to present the four graduates who received the accolade for 2018.
This is a new initiative that we have developed specifically for design and craft graduates from Duncan of Jordanstone College of Art and Design, Glasgow School of Art, Edinburgh College of Art and Grays School of Art. Each graduate received an award of £100, a feature article and a Craft Directory profile for one year, placing them alongside some of Scotland's most exciting emerging and established makers. You can find out more about the award on the Craft Scotland Graduate Award project page.
---
With each of them working in an original way within their chosen discipline, it is clear that the process of making is a great source of inspiration for each of the graduates. It was a rewarding experience for the Craft Scotland team to meet these graduates and to witness the talented makers who are emerging from Scotland's fantastic art colleges.
We caught up with our awardees; Anna Younie, Alison Wibmer, Caitlin Hegney and Shirley Lowe, to find out more about their craft practices and time at art college.
Anna Younie (Ceramics, Gray's School of Art)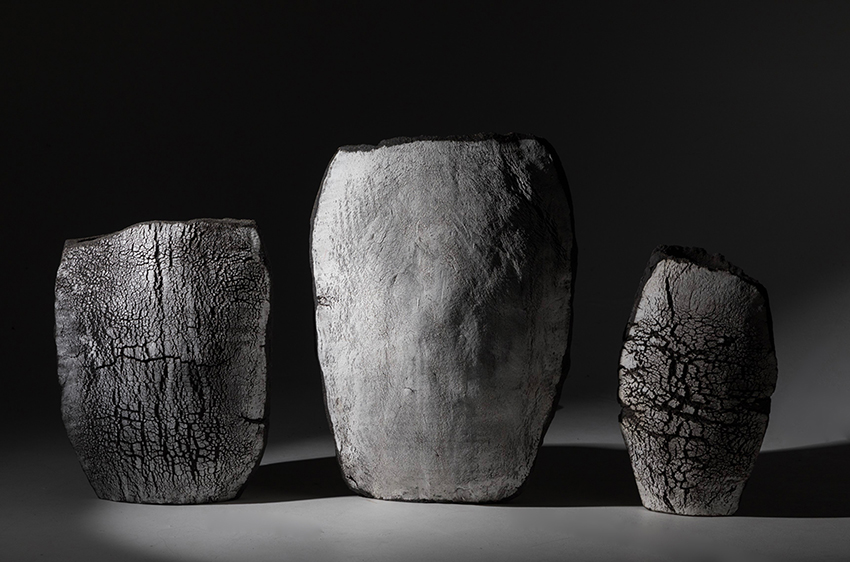 Anna Younie, The Brodgar Collection
The striking forms of the stone circles found at Steness and the Ring of Brodgar in Orkney inspire the forms of Anna's ceramic vessels, made from black Vulcan stoneware. Decorated using china clay slip stretched across the surface to mirror the rugged coastline and weathered cliffs on Orkney, where Anna is originally from.
Reflecting the uniqueness of the areas of Orkney's weathered coastline, Anna's process leads to one-off works, with surfaces that cannot be repeated. Describing the importance of this to her practice, Anna said:
"I can control the size and form of the vessel, however the aesthetic created when the clay is stretched and manipulated is something that's out of my control"
The experimental nature of Anna's practice was nurtured and encouraged during her time at Gray's School of Art, where she discovered ceramics after trying a number of disciplines. During an Erasmus programme at PXL MAD in Hasselet, Belgium, Anna discovered a new way to approach working with ceramics. Returning with a wealth of research into the iconic standing stones on Orkney and a new approach to making, Anna spent her final year creating and experimenting with processes for her graduate collection.
Moving back to the location of her inspiration in Orkney, her home, Anna plans to continue making, sourcing her own clay on the island to challenge her to working with new material.
Alison Wibmer (Textiles, Edinburgh College of Art)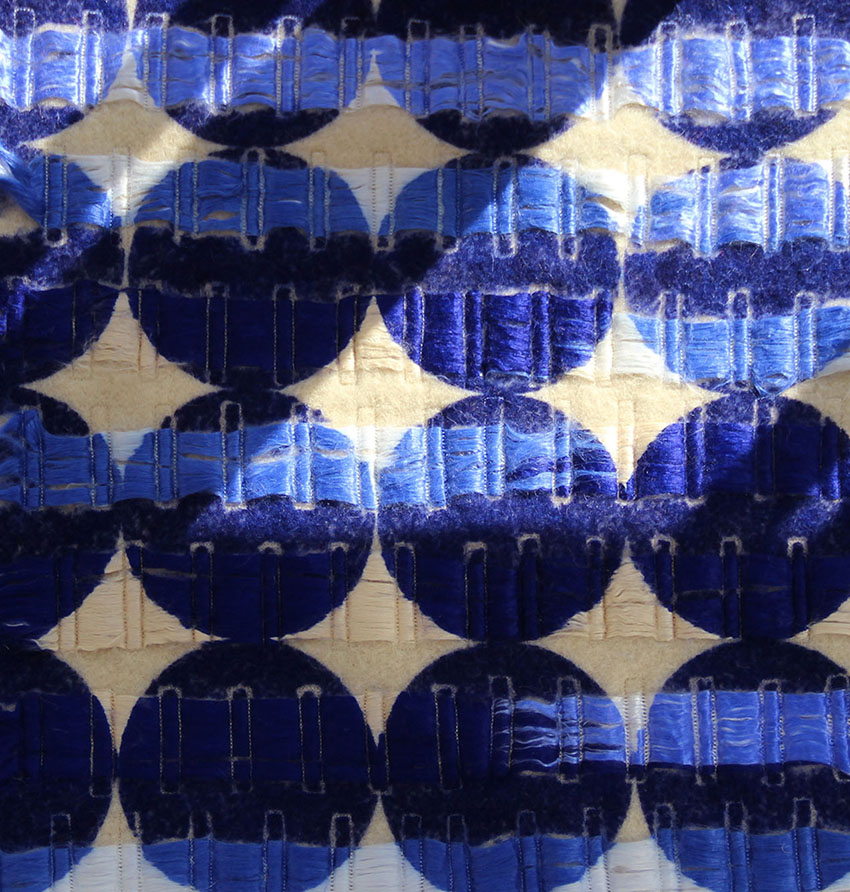 Alison Wibmer, Bobbin Fabric
Creating knitted textiles using playful colour palettes and patterns, the originality of Alison's woven textiles drew the panel members to her work. To create her textile pieces, Alison sources local, British wool that she spins, felts and dyes by hand.
"My work follows the journey of wool from fleece to fibre, so in and of itself aims to portray a narrative"
In Alison's work, it was clear that her approach to making with wool was something special; her curiosity for expanding the possibilities of a common material was both exciting and technically impressive. Bringing together traditional techniques with new technology is at the centre of Alison's refined process. In the embroidery found in her work, she mixes the use of hand and CAD embroidery.
During a collaborative project with the Edinburgh branch of the Embroiderers Guild, Alison learned to felt, a technique that has been crucial in the development of her graduate collection. As part of her course at Edinburgh College of Art, Alison was given the opportunity to do a work placement at Studio Claudy Jongstra in the Netherlands, a renowned studio that specialises in large-scale felted textiles.
"The way that they used textiles as such an integral part of architectural spaces was brave and inspiring"
With further support and use of the varied facilities at Edinburgh College of Art, Alison found the inspiration and confidence to create large-scale work for interiors. Similarly to all of the successful graduates, Alison used her final year to embrace the opportunity to refine her skill set and create a bold collection.
Moving forward, Alison plans to continue making vibrant textiles and gain some industry experience. Speaking highly of the facilities and opportunity to take creative risks whilst at Edinburgh College of Art, Alison is considering returning to higher education to complete a masters degree in textiles.
Caitlin Hegney (Jewellery, Glasgow School of Art)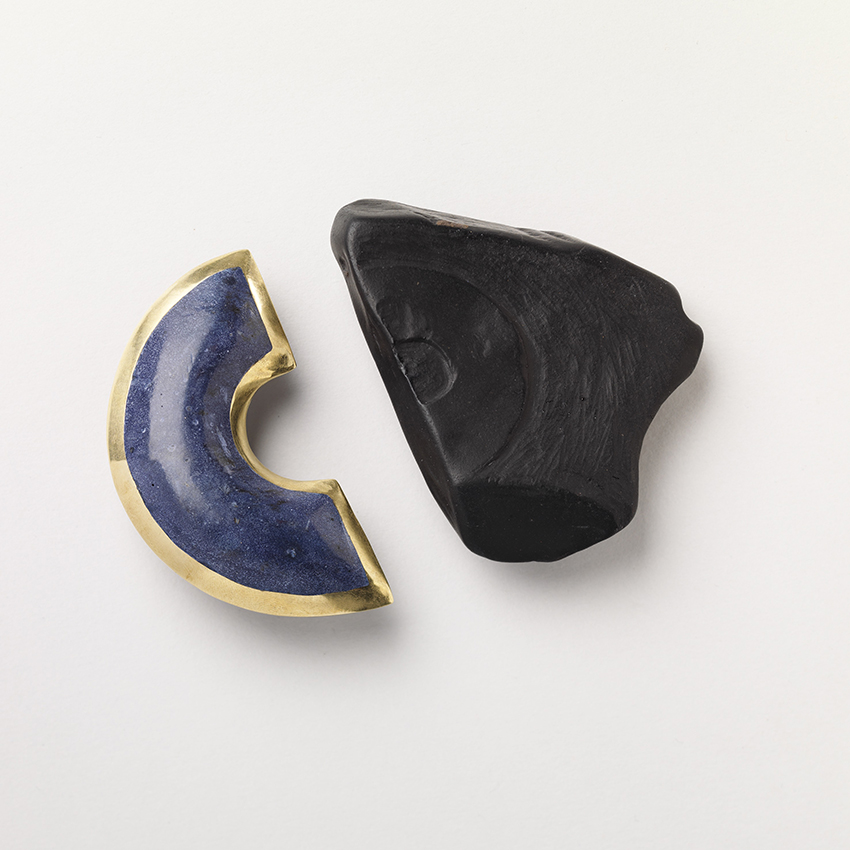 Caitlin Hegney, Azure and Woad Brooches
The history of the colour blue was central to Caitlin's collection of wearable jewellery. In her work, Caitlin forges a delicate balance between the use of ancient and contemporary techniques to create an accomplished collection.
"I am fascinated by the role of ancient craft in modern culture. I am keen to find or develop an outlet within Scotland, and potentially beyond, where these precious skills can be energising and engaging for contemporary society."
In her work, the blue Lapis Lazuli stone is used to provide colour, a now common material that was once more expensive than gold. This historic material can be set or crushed to a powder to dye other materials, providing more freedom in the creation of her forms.
Caitlin's approach to process is captivating. The rhythmic designs often found on the surface and in the individual forms that make up her assemblages are technically excellent, and created using tools conceived and forged by Caitlin.
"I am drawn to the processes that resonate with the expressiveness of drawing. Forging my own tools, makes chasing my equivalent of drawing but in metal."
After her success in securing the Artist in Residence position at Glasgow School of Art, Caitlin will keep making and researching. Her keenness to continue making at the School is a testament to the educational experience she had during her degree. When speaking of the recent fire, Caitlin describes how this affected her, and how she considers it a privilege to have worked in such an iconic environment. Commenting on the culture of Glasgow School of Art:
"This makes me covet the ethos, community and energy that makes the Glasgow School of Art such an undefinably special place to work."
Shirley Lowe (Jewellery, Duncan of Jordanstone College of Art and Design)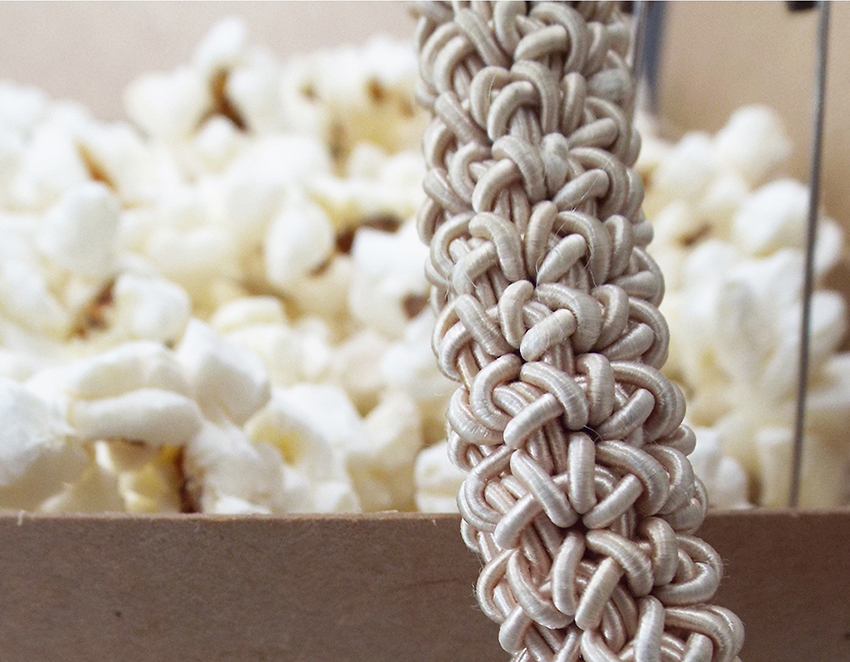 Shirley Lowe, Detail of Yarn Brooch
Shirley's graduate collection of jewellery centred on the use of ethical making and sustainable materials and evidences the beautiful work that can be achieved even with the restrictions. Shirley's commitment to sustainable craft led her on a path that put making and materials before design for her final year at Duncan of Jordanstone College of Art and Design. Of ethical making, she describes how it encouraged her to "push my abilities as far as possible by restricting my materials to only that which I could source myself."
Every element of Shirley's jewellery has a low environmental impact; starting with wire handmade with scrap or recycled metal, with the addition of biodegradable yarn hand-dyed with tea and recycled bottles that are slumped in kilns. These materials may not be considered valuable, but in her making they are transformed into something precious. Importantly, all of these materials are recyclable and contribute to a circular economy that reduces waste.
"I hope to inspire others to walk a more ethical path, to implement small changes to the independent makers workshop and to introduce a plan for ethical making in curriculum."
Like our other awardees, research was key in the development of Shirley's work. In her goal to achieve zero waste making, she attended various symposiums and workshops, which led to her nomination as an Ambassador for Ethical Making with the Incorporation of Goldsmiths. For her thesis, Shirley interviewed ethical makers who are "forging a path in the industry without compromising on the aesthetic value of their work."
Moving forward, Shirley hopes to complete a postgraduate teaching qualification. Through her work, advocacy for ethical craft and research, she hopes to inspire makers to consider the impact of their work. Shirley is a member of our Green Crafts Initiative, a resource for makers who are committed to sustainable craft.
---
Discover a gallery of works by these makers on their new Craft Directory maker profiles. We look forward to seeing what they do next, you can keep up-to-date with the progression of their practice over the next year on our Craft Directory.
New graduates, new approaches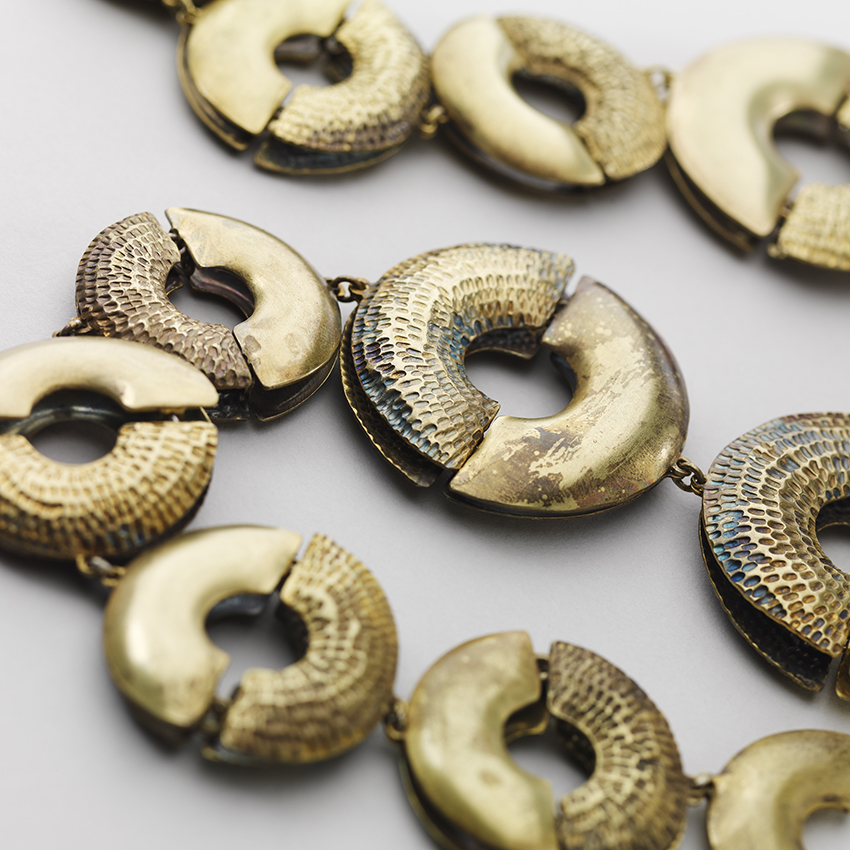 New graduates, new approaches
Transparent