In anticipation of the Craft Scotland Summer Show returning for its sixth year this August, we chatted to Karen Collins from Naturally Useful about learning new techniques, their death and dying range, and creative collaborative learning.
---
There's certainly no lack of natural materials or inspiration around Marcassie Farm, Moray where craft collective Naturally Useful are based. Headed up by founder, Karen Collins, the makers create a variety of beautiful and practical pieces from willow, antlers, wool, leather and wood. Within their idyllic barn that functions as a studio, you'll find everything from baskets and rugs to sustainable coffins and homeware.
Naturally Useful make products that Karen describes as "enlivening people's homes and that are pleasing to the soul". Ultimately, she wants other people "to experience what I do when I make. The tranquillity and peace of body, mind and spirit. To feel the empowerment of producing a beautiful useful product that can be used and admired."
Karen was inspired to set-up Naturally Useful in 2014, to practice her craft but also to share her skills with future generations. She is passionate about not only keeping traditional techniques alive but creating a collaborative culture in which talent is nurtured and skills are shared. Now a Community Interest Company (CIC), the collective is focused on people and products as well as revenue.
"I decided to become a craft collective rather than have employees, because I feel everyone has their own style of making, with their own passion and inspirations. Rather than have a boss to say what needs making, we collaborate together on ideas and methods. It gives more responsibility and empowerment to the makers. Between us all we have many different skills we can share."
"I feel being a collective makes us stand out. There's more voices talking about what we are doing and much more variation in styles. As a collective, we can work together producing products at the same time. And we have time to teach and train others too."
It was Karen's grandparents that seeded her love of nature and making things with her hands. From a young age, Karen would spend hours walking the North Yorkshire Moors with her Grandad Cooper foraging for things, including handfuls of wool. As soon as she was old enough to hold a needle she learned to sew and knit with her Nana Cooper. During her time at Jacob Cramer Art College in Leeds as a fashion design student, Karen began experimenting with papermaking:
"I loved the process. I would gather bags of leaves, grasses, lichens, bark and other bits from the woods out the back of my house, then at college mash it to a pulp that, with the right tools, kit and guiding words from my teacher, I could make into a sheet of paper. It seemed like magic!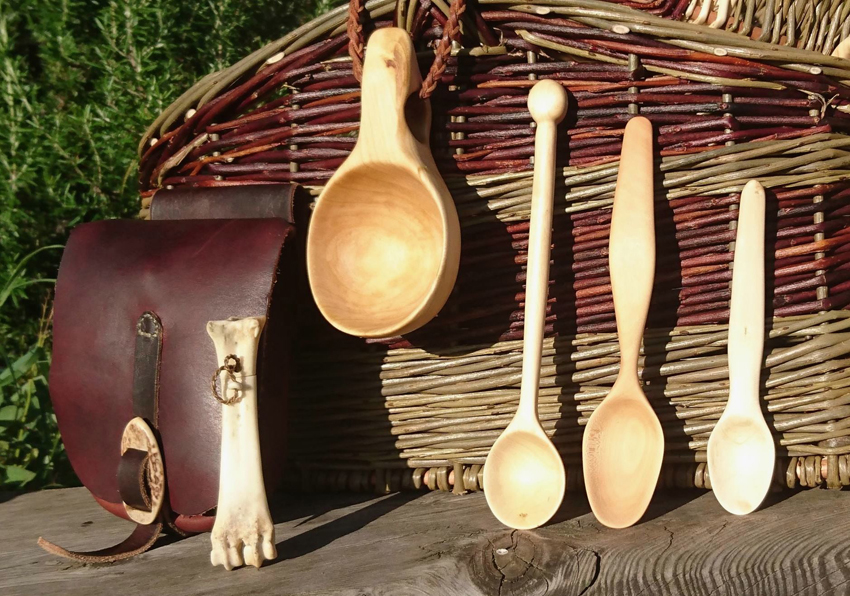 It was around this time I found myself wondering what other material I could gather from outside and put to good use. Those walks on the moors with Grandad and my pockets of wool first came to mind. Bradford, my hometown, helped too it being a well-known focus of Northern England's wool production. A few chats to local sheep farmers yielded me some lovely lanolin-heavy Wensleydale fleeces to play with. It wasn't long before I'd spun enough wool to knit a jumper."
After college, Karen worked in the art department of youth clubs and later became an independent fashion and wedding dress designer. Teaching craft to young people is a theme of Karen's career. During her time in the Scottish Borders, she ran workshops for young people with specific needs, both physical and cognitive. Then in Moray, she worked at the local Steiner school for over a decade teaching craft techniques to students, aged 7 to 17.
Around the time Karen left the Steiner school, she started to work caring for the elderly. "I like the intimacy and connection with the old folk, they inspire me with their stories of life. My mum and I cared for my Nana in her old age. She became ill with cancer towards the end and I spent some precious days holding her hand and reading her bible to her, until she died. Since then I have supported three people on this profound journey at the end of life. I feel comfortable and at peace with death as a part of the natural cycle of life. The way we leave this world is as important as we arrive, and I feel I have a part to play in supporting people at the end of life."
One of Naturally Useful's most popular range is their death and dying products. Clients can have coffins, shrouds and urns handcrafted in natural materials. You can even integrate much-loved treasures from your favourite beach, a piece of clothing or garden plant into the weave. How does one go from weaving baskets to weaving coffins?
"One day I saw an advert for a willow coffin making course. Ping! I knew I wanted to have a go. I booked myself on a one to one course and was even measured up to make my own coffin. I loved it and found I could do it with ease. So, I came home and made another one, and then another. Soon people heard what I was doing, and I started to sell them."
Naturally Useful offer families the opportunity to become involved in the creation of the death and dying pieces. They can come along to the barn and join in with the making and decoration of the coffins and shrouds. Karen describes this as "a beautiful intimate process between families and one of the collective. I took a counselling course a few years back to support this process. I find when the hands are busy making, the mind relaxes and people begin to talk freely, so I felt I needed to learn some skills to support this journey."
Discover Naturally Useful and even more contemporary craft at the Craft Scotland Summer Show 2018
Friday 3 to Sunday 26 August 2018 | Open daily | Free entry
Mon - Wed: 10am - 6pm
Thurs: 10am - 7pm
Fri - Sat: 10am - 6pm
Sun: 11am – 5pm
Venue 205, Second floor, White Stuff, 89 George Street, Edinburgh EH2 3ES