This post is part of our 2018 Make It Green series, for the Green Crafts Initiative that champions and promotes environmentally sustainable craft practices. In this series by Craft Scotland and Creative Carbon Scotland, you will hear inspiring maker's stories as well as useful advice on how you can contribute to a greener craft sector.
We're pleased to feature makers on our Craft Directory who are working towards a more sustainable practice. In this interview, you will hear from a maker who is part of the Green Crafts Initiative (GCI), a project we partnered with Creative Carbon Scotland to promote and celebrate craft makers with environmentally sustainable practices.
---
Pieter van der Werf is a Dutch textile designer/ maker based on the West Coast of Scotland. Working under the business name Orains, Pieter is passionate about the sourcing of the wool he uses to create large-scale contemporary wall art. His work is a celebration of traditional felting techniques, paired with the contemporary use of natural dyes and the exploration of the different types of wool available from his surrounding environment.
Q: Hi Pieter, and welcome to the Craft Directory! Can you tell us a bit more about your practice?
Pieter: I'm an artist and maker working with natural and renewable textile fibre wool. I run my studio in Colintraive, a rural coastal village on the west coast of Scotland. I design and create art pieces and murals with 100% locally sourced wool, straight from the farmer. Because I know the farms, I know each and every fibre that goes into a piece. I 'own' the whole making process, for example, I don't send fleeces away to have them cleaned, I wash and dry on site. My clients are private individuals and interior designers who include the pieces in their work for their clients. I do commissions too and the studio is always open for a look behind the scenes.
Q: Why is sustainability important to you as a maker?
Pieter: Sustainability is important for me as a maker but first and foremost it is important for me as a person – a person being part of a wider, global society. The definition of the word 'sustainability' should in this instance perhaps be 'how can I try to make sure that the ones living now and after me have a good life'. This means that my work is connected with the future in this specific sense. For example, when taking part in Sculpture by the Sea in 2006, my work 'A Beachcomber's House' addressed the issue of the huge plastic 'conveyor belt' floating in the Pacific. I held Q&A's with Sydney primary school children. These kids are now at college or university, and only now the plastic-issue is on the agenda.
This attitude means I make choices when designing and making my pieces. I am aware of the origin of each and every material used in the process: from the fibre of the sheep fleece to the wood that I source for the energy needed to heat the studio. Each part of the making process is accounted for and I believe I score low on so-called 'food miles' or actually, 'craft miles'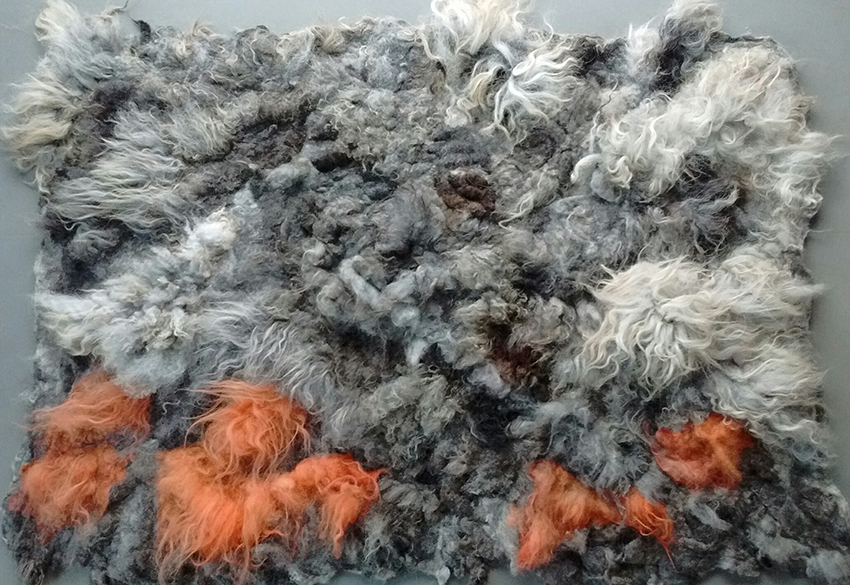 Q: The West Coast of Scotland is known for its beauty, are you inspired by the environment that surrounds you?
Pieter: When I'm working I feel lucky enough to be in one of Scotland's National Scenic Areas 'The Kyles of Bute'. This is a relatively unspoilt area where different types of natural environments come together: a rugged coastline with tidal flows, wetlands at the head of lochs, steep ridged mountain ranges, moorlands and peatlands – important for carbon storage. And the fauna is unbelievable: eagles, geese, waders, eider ducks, gannets and otters, deer and of course, sheep… How could I not be inspired by this? The flora incidentally offers a rich source of plant materials for the natural dyes, and I periodically collect heather flower, bark and Scottish thistle.
We use this scenic area for our other benefits too, and I'm happy to see the importance of tourism in this area gaining ground year on year. People are starting to realise there is something spectacular so close to Glasgow.
Q: We know that your practice is informed by socio-economic issues that surround the cycle of sheep farming. Can you tell us a bit more about this and why it interests you?
Pieter: Sheep farming is part of the economic fabric in Scotland. Here in our village, I see a mix of highland and lowland rearing of sheep, with farmers looking for scale to make a living. We know the sheep are reared for meat, and the wool does not generate a sufficient additional income: it is a costly affair to have a herd of 500 sheep clipped. I'm happy to be able to be part of this cycle and support it in my way. And the farmers are absolutely interested in what happens with the fleeces. Together with others, my micro-business Orains plays a further role in this in that it attracts people to the area when we, for example, open the studio or offer one and multiple-day workshops. We know depopulation is a fact in Argyll & Bute, but if we can reverse this by offering new experiences and different perspectives, people will come and contribute to the local economy.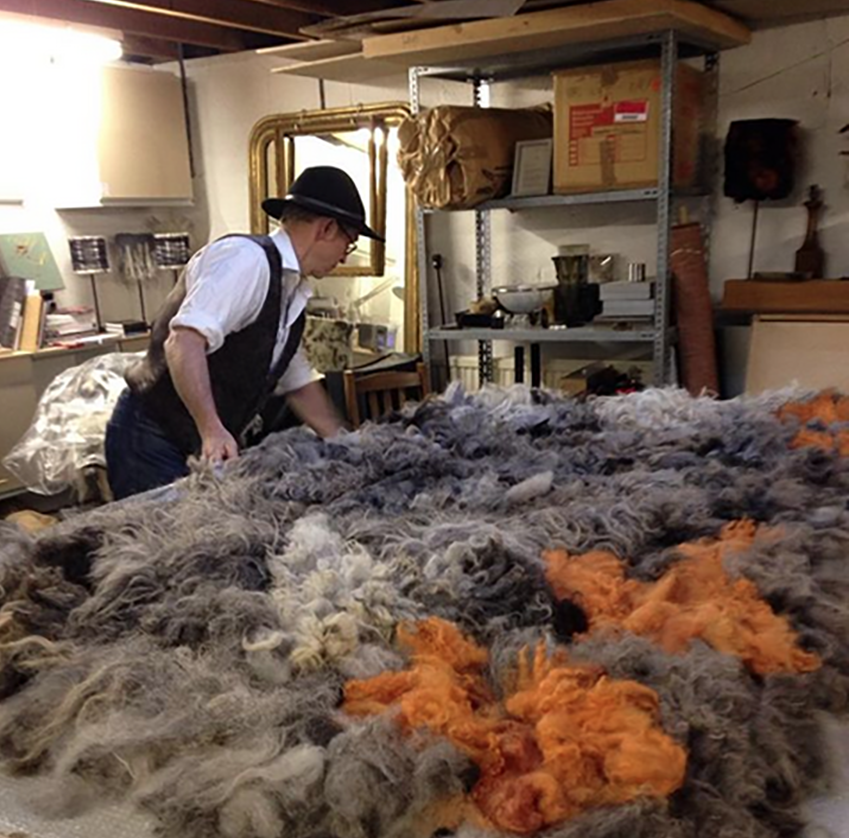 Q: Do you have to make a conscious effort to ensure sustainability, or is this a natural part of your process?
Pieter: Perhaps because I grew up in The Netherlands and have lived in Switzerland – where the concept of sustainability is ingrained in everybody's lives – sustainability is front of mind. When my partner Fiona and I 'set up shop' in Scotland, we explored ways to reduce our impact on the environment and ensure sustainability here.
Start by looking at your energy requirements, calculate how many kilowatts (kWh) you need each year and try to find alternative ways to meet those needs. Of course, you change light bulbs for energy saving ones, replace drafty windows and put insulation in the loft, but the big saver is heating because it 'costs' many kWh per hour. We opted for a wood-fired heating system to replace the old oil boiler, and now this provides hot water for washing the sheep fleeces and heating for the workshop. But this requires planning too; yesterday was spent splitting and stacking wood for use in 12 months' time.
The beauty of this means that when I'm making work I know that the time and effort going into the 'pre-production' process has paid off and I can truly say that I 'own' the piece and its provenance.
Q: Do you have any advice or tips for textile makers who are considering working in a more environmentally sustainable way?
Pieter: My first response would be not to see this as a 'cost' but as an investment in one's practice that actually will pay off. My clients are interested in the story of the wool, they love authenticity and provenance, but I also notice the need for ethically sourced goods. This includes, as I said before, energy needs. I know each and every craft and textile maker has different requirements and I would certainly advise having a look at the Green Crafts Initiative website by Creative Carbon Scotland and Craft Scotland. It offers a wide range of resources and case studies and I would say, look at where you are now, then look for 'best practice' and solutions offered by others. Try to formulate your own strategy. I know in my case a log boiler is suitable in the country, but perhaps a district heating scheme with an air source heat pump fits well in the middle of a city. A good thing to do straight away is to look and see if you can sign up for hydro generated electricity.
Regarding textiles themselves, if you are a (wool) weaver, I suspect you know where your yarns and dyes come from. If you work with cotton for instance, then you know of 'fair trade' and organic – only recently launched worldwide. It ensures the people harvesting the buds profit from the trade too and can sustain their lives. And this hopefully will filter through to the fashion industry too. In the case of 'green crafts', I think there's a lot of work already done, but there's still some to be done. With Orains I hope to contribute for some years to come.
Interested in joining the Green Craft's Initiative? Join today.
This interview has been lightly edited and condensed for clarity.