The Scotland: Craft & Design pavilion championed the energy, innovation and talent in the Scottish craft sector at London Design Fair Thursday 22 to Sunday 25 September 2016. We want to say a huge thank you to everyone who supported the pavilion: visitors, makers and partners.
The Scotland: Craft & Design pavilion was an initiative between Craft Scotland, the national agency for craft, and Emergents, a community interest company supporting the development of creative careers, enterprise and the economy in the Highlands and Islands. This was the first time Scotland has had a country pavilion at the prestigious London Design Fair.
Over the course of four days, the London Design Fair attracted over 25,000 influential retailer buyers, architects, interior designers, press, designers and design-savvy public. The visitor response to the Scotland: Craft & Design pavilion was incredible and it was great to see visitors interacting with the makers and their work.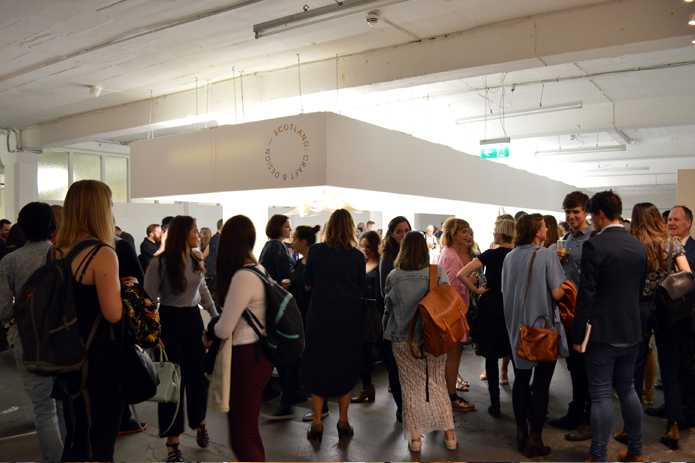 Makers
22 makers from around Scotland were selected by an industry panel to be part of the showcase. It was amazing to see visitors to the pavilion engaging with Scottish craft makers and learning more about the inspiration and provenance behind their work. On display, amongst others, were the geometric patterns of Catherine MacGruer's soft merino textiles and Lizzie Farey's organic sculptural forms in willow. Striking hand-built vessels by ceramicist Lara Scobie sat alongside contemporary vernacular furniture by Kevin Gauld, the Orkney Furniture Maker, and utilitarian wooden lighting from Yellow Broom.
Jennifer Gray's new work was chosen for a Heal's Selects badge. Jennifer developed her new Surface Tiles and Condiment Set for the pavilion: each Jesmonite component has the same triangular 'footprint' to allow the tiles and 3D elements to tessellate as the owner wishes.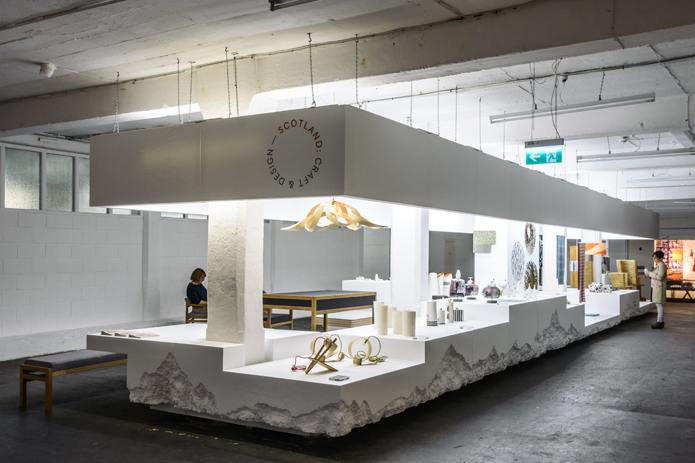 Our showstopping stand was designed by GRAS, a Scottish architecture and design studio, based in Edinburgh. Arriving into the darkened space, visitors encountered one long central stand made from recyclable polystyrene. A smooth upper surface was contrasted with the ruggedness of the sculpted finish towards the base of the mass.
The Scotland: Craft & Design pavilion branding was designed by Graphical House, whilst the pavilion seating was provided by David Watson Cabinetmakers. Rock Rose gin from Caithness kindly sponsored the drinks for our popular private view.
Super Talk
On Friday 23 September, Dr. Juliette MacDonald (ECA), Grant McCaig (Silversmith), Gunnar Groves-Raines (Architect), Natalie Melton (The New Craftsman), and Prof Remo Pedreschi (ECA) came together to debate A New Scottish Craft Vernacular. Visitors had the opportunity to hear about the creative backgrounds of the panel and to listen to their lively debate on what contributes to the Scottish creative identity. The panel considered how Scotland, from its rich heritage, cultivates a pioneering spirit, innovative approach and creates cutting-edge designs. Topics discussed included how the Scottish landscape informs maker's practices; how to support graduates; and the heritage of industrial making in Scotland including the steel industry.