Our Summer Show has opened its doors, catch it until Sunday 25 August, and alongside presenting work from 41 Scotland-based designer/makers you can discover our inspirational maker-led workshops for adults and young people.
Why not try your hand at weaving a trinket basket using willow sourced right here in Scotland, create your own personal wall hanging to take home, or learn the art of paper folding.
Read on to learn more about the three makers leading this year's creative workshops and discover why the power of making is important for your wellbeing and the planet.
---
Anna Liebmann – Willow Weaving
I was drawn to willow weaving mainly due to its link with my materials and the low carbon footprint: I was involved in growing willow for another basketmaker (Lise Bech), and loved the fact that something useful, functional and beautiful could be made with a trip to the willow field and a pair of secateurs.
I love the colour of the different willows I grow. I mostly enjoy making functional items and thinking about how people will enjoy using them. So in a way the willow is the inspiration, but I am always trying to make lasting and beautiful useful things.
People have been weaving baskets for longer than time has been recorded. I think that we would find a way in the future to weave with woods again should all the skills be lost, but obviously not in such depth and variety as has been built up over the millenia. Many traditional baskets that have served particular functions and been passed from person to person, hand to hand, are no longer being passed on in the same way.
Weaving keeps a connection to the past and our heritage, and to the Earth on which we all live. People get a huge sense of connection with the natural world when weaving with willows and sometimes an overwhelming sense of awe and achievement that they have the power to make things with only their hands!
Image: Anna Liebmann's Nut Baskets / Photography by Craft Scotland
Usually in these workshops, I choose lots of different colours of small willow from my patch, so that participants can choose to experiment with colour and the different textures of each willow. People will feel the flexibility of the willow and learn how to ease it round corners and build up a pattern.
In the workshops we will use a former (made of cardboard) to hold the ribs in place. Then, using the thickest of the tiny willows, we will start to weave in and out, from the centre, and always starting at the back and in the centre to build up a nice pattern and evenness. Gradually, people can grade the willows to be finer and shorter as they work towards the ends. Once a few inches of weaving are done, the weaving will be holding the ribs securely and the former can be removed to allow the other end to be built up. At the very end, trimming off and a Japanese style knot finish the basket off beautifully.
The finished product will be what I call a Nut Basket, but really baskets are for anything you choose to put in them. Nuts, pencils, phone... whatever! It is long and slender like a small canoe or large leaf pod, and will smell gorgeous as the willow dries. It looks beautiful because the materials are so tactile and the experience of making it will always be part of it.
Willow Weaving with Anna Liebmann

1.30pm – 5pm, Tuesday 20 – SOLD OUT
1.30pm – 5pm, Saturday 24 August – SOLD OUT

Second floor, White Stuff (Venue 205), 89 George Street, EH2 3ES / £50
Image: Stephanie Fradette (Le Petit Moose) / Photographer unknown
Stephanie Fradette – Hand Weaving

I became obsessed with frame loom weaving five years ago, after discovering a tapestry by artist Maryanne Moodie. Wanting to have one of these textured modern pieces in my space and being a hands-on type of person, I dived right into learning the woven craft with online tutorials and vintage tapestry books. I knew I had found a medium that worked with my creative sensibilities and lifestyle. I love the never ending textural combinations, playing with fibers, the meditative process and how easy it can be to create beautiful things with just a few simple tools and basic techniques.
I appreciate a simple linear approach, texture and exploring colour gradients; they are design aspects that really speak to me. Whether it is a field against the horizon or coastal drone images exploring symmetry and form, I love working on delivering a modern perspective on mid-century crafts and techniques.
Apart from the personal satisfactions of living a life of creativity and working with age-old materials such as wool and fibres; I think it's the primal art of making craft, exploring through our hands that keep us connected as humans.
For my workshops, participants will be working with a variety of fibres such as chunky yarns and roving to create a personalised wall hanging to take home. The tools used are easy to use and all the techniques learned during the workshop can be applied towards making a much larger piece. Beware…you may quickly catch the "weaver fever"!
Hand Weaving with Le Petit Moose

1.30pm – 5pm, Friday 9 – SOLD OUT
1.30pm – 5pm, Saturday 10 August - SOLD OUT

Second floor, White Stuff (Venue 205), 89 George Street, EH2 3ES / £45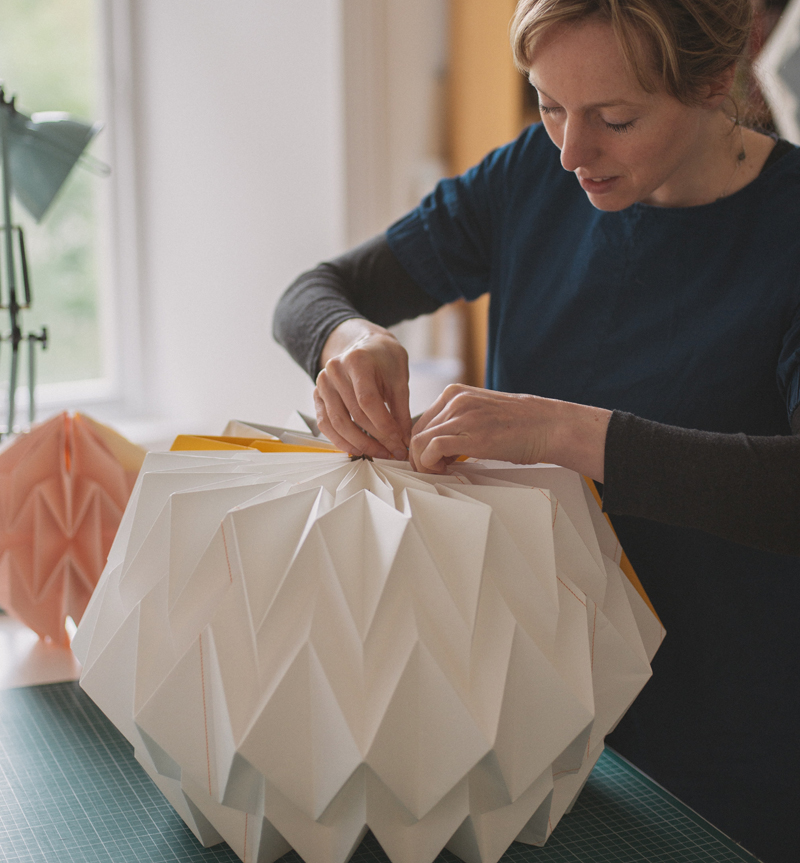 Image: Kate Colin / Photographer unknown
I have always been interested in 3D design and working with paper as a raw material. In the beginning I was primarily interested in the exploration of geometric form and the potential of what could be created through the manipulation of a flat piece of paper.
Combining good design with functionality is key to my practice and as I started to incorporate more colour into my work I began to experiment with how my pieces reacted to light. I was pleased to discover that illumination radically transformed their appearance: folds, creases and angles became emphasised while an intensity of colour was brilliantly revealed. At this point, I knew that light would be an essential element in most of work and that my pieces would have function as well as decorative appeal.
I was inspired to start paper folding through my dad's hobby of making polyhedra models. He was a mathematician and I think I must have inherited some of his passion for geometric form, line and precise angles. I soon discovered that the possibilities were endless and became increasingly fascinated by how the slightest alteration in angle, fold or measurement could completely transform the final piece.
Paper folding appeals to everyone whether it is to marvel at the wondrous creations that can be made from a flat piece of paper or to try folding themselves.
It's a wonderful thing to learn, it increases spacial awareness, focus and mathematical skills in children. Plus, it has become a useful tool in aiding relaxation and mindfulness.
There are some wonderful papers on the market these days and it is a craft which is accessible to all. Once you learn a few basic folds anyone can get really creative and make some wonderful three dimensional and unique pieces - the possibilities are endless!
The workshops in August will provide a basic introduction to the art of paper folding. Participants will explore the techniques needed to transform a flat piece of paper into a range of three dimensional shapes and forms and they'll learn how to make some amazing three dimensional homewares and vases using just a few simple folds. A range of high quality colourful paper will be provided as well as all materials and tools. You'll leave with skills, knowledge and lots of new ideas to try for yourself at home.
Introduction to Paper Folding

1.30pm – 4pm, Sunday 18 - SOLD OUT
1.30pm – 4pm, Wednesday 21 August – Buy tickets

Second floor, White Stuff (Venue 205), 89 George Street, EH2 3ES / £40
---
Visit the Craft Scotland Summer Show
Friday 2 August to Sunday 25 August 2019
Mon - Wed, Fri - Sat: 10am - 6pm
Thurs: 10am - 7pm / Sun: 11am - 5pm
Free admission to the show
Second floor, White Stuff (Venue 205), 89 George Street, EH2 3ES