In October's The Craft Edit, we bring you the latest inspiring news and stories from makers and craft organisations across Scotland.
Hear about the potter whose one-off ceramic piece, created in support of England football players who received racist abuse following the Euro 2020 final has been auctioned to raise money for food poverty, as well as the Scottish designers who are making their debut with London Design Festival. Plus, discover the student who's won an Applied Arts Scotland award for inspiring sustainability.
---
Scottish Artist Pots Against Racism
South-west Scotland based potter, Hannah McAndrew, has made a large (48cm diameter) ceramic slipware charger in response to the racist attacks received by players during the Euro 2020 final. Three England players, Marcus Rashford, Jadon Sancho and Bukayo Saka, missed their penalty kicks during the Euro 2020 final, and despite doing their best under huge pressure, they were subjected to a barrage of abuse due to the colour of their skin.
This unique ceramic piece is to be offered in a prize draw for FareShare, the charity championed by England International Marcus Rashford.
Hannah is the first to admit she is not a football fan, and although she lives in Scotland, she was taken by the conduct of the English team during this tournament to use their privileged position to send out powerful messages of inclusion for fans of all ages.
The illustration of lions on slipware pottery is a nod to the England team crest, with influences derived from the intricate chargers by Thomas Toft in the late 17th Century. It was made with a mixture of slip trailing and paper resist techniques and has a rich honey glaze, giving the slip colours a deep warmth and vibrancy. The rim has been divided into thirteen sections, each filled with slip trailed cross-hatched lines. The thirteen sections represent the thirteen other countries that members of the Euro 2020 England squad could have played for due to their heritage but they chose to play for England.
Hannah McAndrew has been a potter for over twenty years and has built up an international reputation for making highly decorated pots. She was recently accepted as a Fellow of The Craft Potters Association.
Hannah's slipware charger was offered in a prize draw on Crowdfunder.co.uk to support the work of FareShare, a charity network aimed at relieving food poverty and reducing food waste in the UK.
On Thursday 23 September 2021, £8.880 was successfully raised by 400 supporters in 21 days for Hannah's chosen charity.
Find out more about Hannah's charity piece: www.crowdfunder.co.uk/win-this-is-england-charger-by-hannah-mcandrew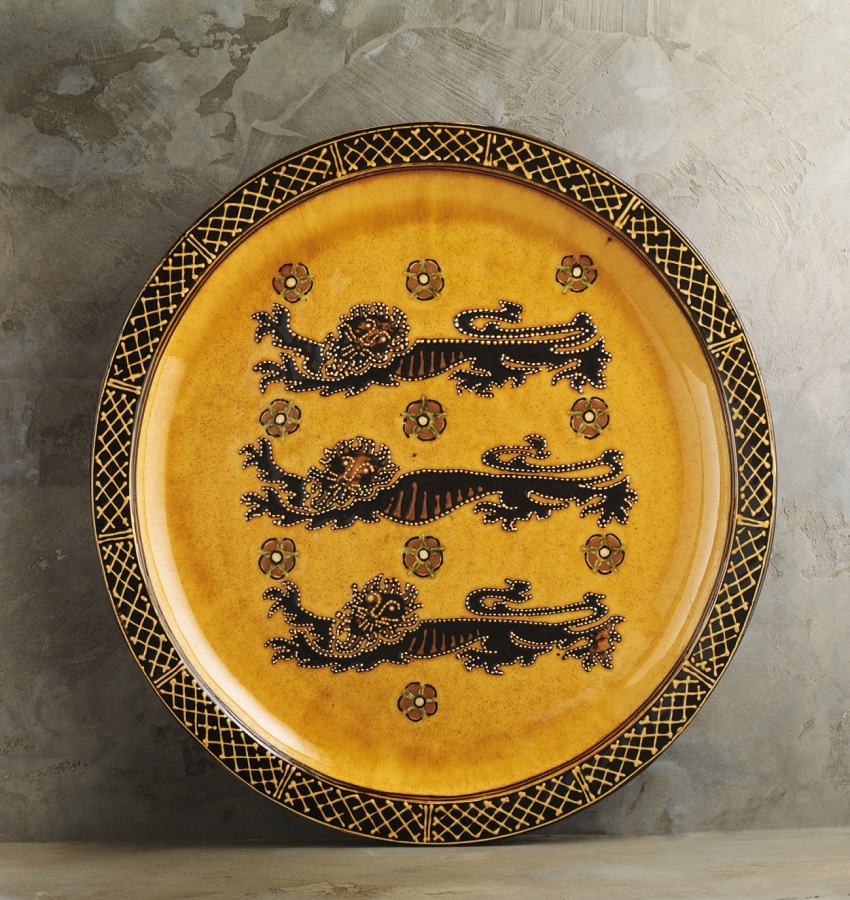 Image: Hannah McAndrew/ Photography by Shannon Tofts
World-Renowned Japanese Textile Designer Exhibits In Scotland
Dovecot Studios presents a brand new partnership with Japan House London and the Centre for Heritage Art & Textiles in Hong Kong to bring the work of world renowned textile designer Sudō Reiko to Scotland for the first time. Sudō Reiko is one of Japan's most influential contemporary textile designers, renowned for creating innovative textiles, championing sustainable manufacturing methods and working to highlight Japan's textile heritage.
Launched on Friday 17 September 2021, this unique and innovative exhibition is not one to be missed. The exhibition will celebrate a variety of creative techniques from washi dyeing to chemical lace embroidery, and each installation is accompanied by drawings and sketches alongside raw materials and design prototypes to combine traditional Japanese aesthetics with the latest digital and synthetics technologies.
Making NUNO – Japanese Textile Innovation from Sudō Reiko runs from 17 Sep 2021 – 8 Jan 2022.
For more information, visit: dovecotstudios.com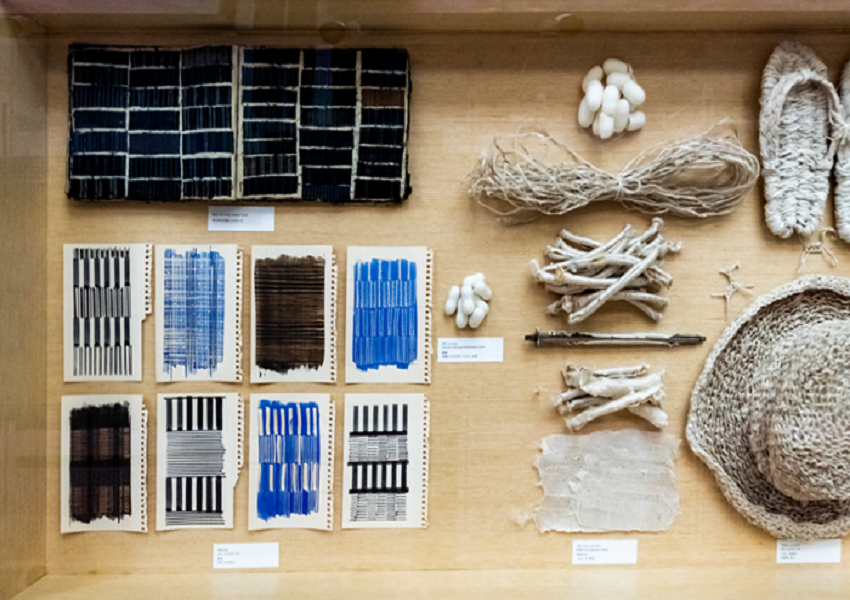 Image: Dovecot Studios/ Photographer unknown
City of Glasgow College Student wins AAS Award for 'Inspiring Sustainability'
Student Chloe Fea is the first winner of the new Applied Arts Scotland (AAS) Student Competition which piloted this year with City of Glasgow College. The award was open to HNC Applied Arts students with the work forming part of the course's jewellery module.
The ongoing COVID-19 situation has caused major disruption to student access to college workshops and in person teaching, therefore students did not have workshop time to make their finished pieces. As a result of this, the competition was judged on concept, design, and environmental awareness only.
The brief was to develop a brooch design inspired by an element of nature they felt is threatened by Climate Change and to include an experimental technique.
When asked about how sustainability plays a part in her work, Chloe shared: "Sustainability is very important in my work, I will always try to make my work sustainable and eco-friendly in all my projects. For me this normally takes the form of upcycling and using old items or sourcing materials from charity shops/ buying second hand to make my art. This is a great way to reduce waste, and the use of old materials helps inspire new ideas and opens possibilities to give materials a new lease of life."
As her prize, Chloe received free AAS Associate Membership for a year and mentoring from an AAS Member. She is now in the first year of a degree course in costume design and construction at Queen Margaret University.
Learn more about Chloe's work and the AAS award here: www.appliedartsscotland.org.uk
Scottish Designers Exhibit Innovative Ideas at London Design Festival
Design Exhibition Scotland made its debut in London this September at Brompton Design District (part of London Design Festival 2021), showcasing projects from a variety of four designer/makers with their exhibition Design for our Times – Material Innovation & Drinking Fountains. Celebrating fresh ideas and tireless exploration.
Design for our Times champions the energy of creators and makers who, fired by a wish to make a difference, question established norms and think afresh about waste.
The designer/makers showcasing their work at the event included: Mirrl of Glasgow, Aymeric Renaud, Chalk Plaster and Catriona Brown.
Sharing insights into what inspires and fuels this innovation, Design for our Times illuminates the design process: the journey taken from the initial idea, through to developing prototypes and onwards to wider production.
Design for our Times is supported by Creative Scotland through the National Lottery.
Find out more: www.designexhibitionscotland.co.uk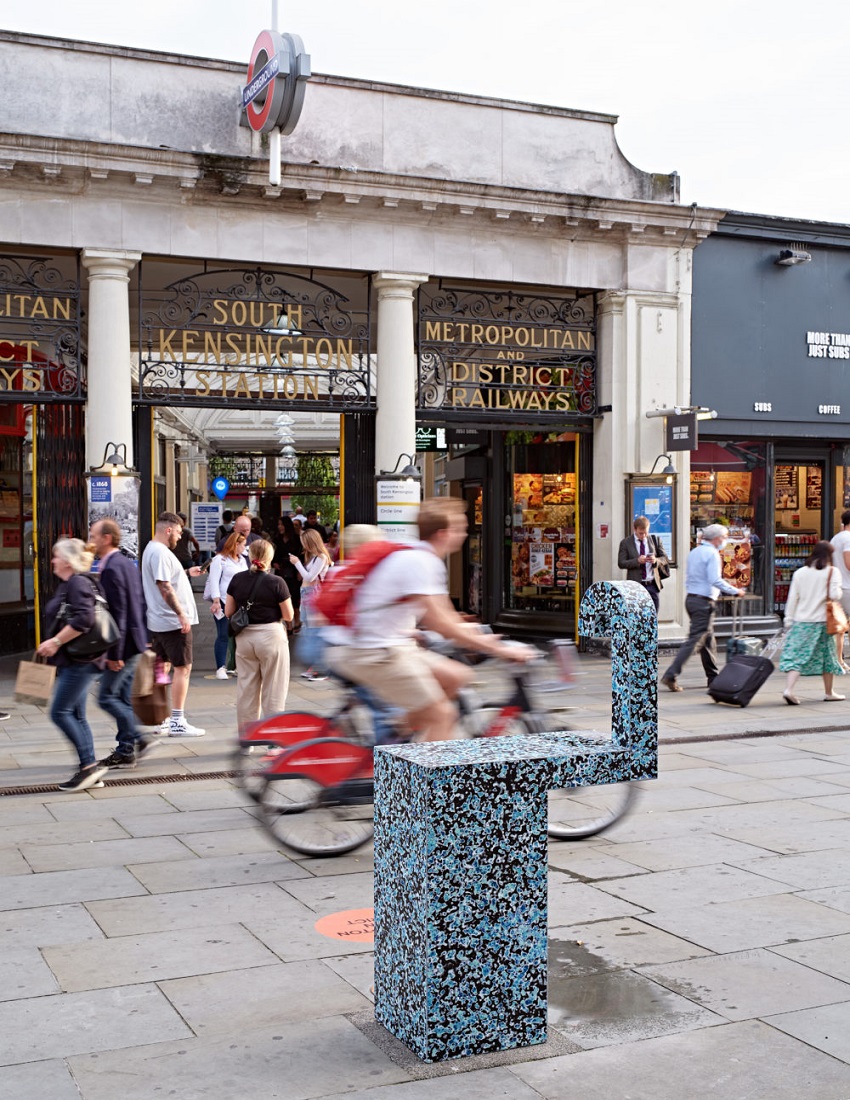 Image: Mirrl of Glasgow/ Photography by Brompton Design District, Copyright Andy Stagg.
Scottish Designer Inspires Kids to get Creative and is Shortlisted for Acclaimed Award
Edinburgh-based designer/maker Maija Nygren and her brand Almaborealis have been shortlisted in the wearable design category of the Dezeen Awards 2021.
Maija creates knitwear that challenges fast fashion and the lack of interaction that we have with our clothes, creating long lasting knitwear that's designed to be repaired, extended and worn for many years. Maija believes that clothing, as with any material goods in our lives, ought to be designed to have an infinite life cycle. Knitting each piece from her Leith studio using with 100% Scottish lambswool, Maija strives for her pieces to be durable for many years of adventures, creating naturally biodegradable pieces which will leave no trace of plastic for future generations to clean up.
Her shortlisted project, Convertibles - Clothes That Kids Can Make, invites children between 4 and 12 years to get involved in making their own clothes.
Convertibles are wearable puzzles, which a child can playfully assemble using a tactile tool kit whilst learning life skills, dexterity and creative thinking as well as an understanding for clothing care, repair and re-use. Convertibles celebrates traditional craft skills, an infinite life cycle of products and participatory design.
Learn more: www.dezeen.com/awards/2021
New Home Needed For Edinburgh Artists And Makers
Beaverhall House, a multi-disciplinary art studio in the city centre of Edinburgh, has recently been sold and now faces re-development, creating another chapter in the area's long history of renewal. The development means the current tenants of Beaverhall House are looking to start new chapters elsewhere.
This highlights an ongoing shortage of affordable, suitable semi-industrial accommodation throughout Edinburgh, and although there is suggestion of "artist spaces" within the new development, these will not be able to accommodate every tenant in the existing studios.
Small businesses are increasingly in need of a central city location to support and promote local travel and essential ease of access for clients and students are finding such accommodation to be in increasingly short supply, as more areas of the city are re-developed in favour of housing or student accommodation.
The creative businesses and tenants of Beaverhall Studios welcome the opportunity to work with new landlords to re-locate and to work towards creating these much-needed spaces for those in need within the city.
To help support the businesses and artists of Beaverhall Studios, you can attend their open studio event on Saturday 4- Sunday 5 December at Beaverhall Studios. At the open studios event, you will be able to meet the creatives, view their art, buy products and book workshop places.
If you would like to work with Beaverhall Studios, they can be contacted through Instagram or Facebook.
---
In Memoriam
Sir Nicholas Goodison
Craft Scotland remembers Sir Nicholas Goodison, a true advocate of craft.
In July 2021, the world of contemporary craft lost one of its most important patrons. As chair of the Crafts Council from 1997–2005, Nicholas recalled how his role had strengthened and deepened his knowledge of and interest in modern craft through the opportunity to meet makers and see their works.
This role followed a significant and influential public career in the financial sector, most notably as chairman of the Stock Exchange (1976-1986) for which he was knighted in 1982.
Sir Nicholas's polymathic career, scholarship and interests were brought together in his generous patronage of modern craft, believing that "objects sit at the centre of art history and human life", believing that the work of makers play a great importance to both culture and economy. See Crafts Council to learn more about Sir Nicholas Goodison's life and patronage of craft.
Sir Nicholas Goodison and his wife, Judith, visited the Craft Scotland showcase at Collect many times over the years, selecting three works by Scotland-based makers Lynne MacLachlan and Frances Priest to be gifted to The Fitzwilliam Museum, Cambridge.
Frances Priest "Gathering Places | Grammar of Ornament - India i (small), was gifted in 2018, and Lynne MacLachlan's "Helix Statement Bangle" and "Spiral Statement Earrings" were gifted in 2019 to the museum by the Nicholas & Judith Goodison Charitable Trust.
Dr. Ghada Hijjawi-Qaddumi
Craft Scotland also remembers the beloved Dr. Ghada Hijjawi-Qaddumi, who passed away on Thursday 1 April 2021.
Dr. Ghada served as the President of World Crafts Council-Asia Pacific Region until 2020, and was also elected as the first Arab woman President of the World Craft Council International (AISBL) earlier in 2021.
A Kuwaiti national, born in Nablus-Palestine, Dr. Ghada Hijjawi-Qaddumi had a Phd in history of Islamic Art and Architecture from Harvard University, and also studied at the American University of Beirut and Lebanese American University. Ghada held a long career as director and curator of several museums, and leaves behind a rich legacy in the world of craft.
"Dr Ghada will be greatly missed by all those who knew her. She was dearly loved and respected by all the people who worked with her. She will be always remembered for her dynamic personality, exuberant energy and dedication to the cause of handicrafts and craftspeople since 2004." - World Crafts Council Europe.

---
Learn more about craft this month:
Read
Creative Scotland's illustrated guide for freelancers, know your legal working rights
Listen
Celebrating Black Fashion - How are progressive changes within the fashion industry being documented through exhibitions and contemporary collecting?
Visit
Glasgow Glass Studio are opening their studio for Craft Week Scotland
---
Share your news with Craft Scotland. Email information or a press release along with good quality photography to hello@craftscotland.org.