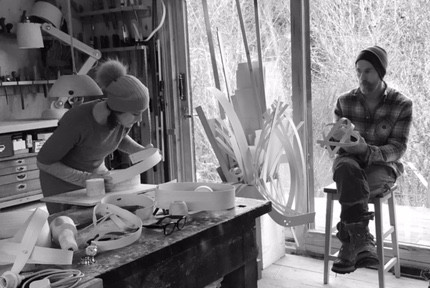 The Yellow Broom studio sits quietly within the Cairngorms National Park. We are a two person collaboration consisting of makers David Robson and Clare Waddle. Working with traditional steam bending techniques alongside contemporary construction we co-design and hand-make a range of well crafted, design-led, utilitarian lighting.
A fundamental recognition of interiors and the opportunities they offer creative minds is central to our work. We place a strong value upon simplicity, good craftsmanship, and quality materials.

Yellow broom value sustainability and is proud to create products with a zero waste approach to production. All materials are carefully reused; some are converted into wooden business cards, the rest are collected and carefully stored to create an annual offering of one-off lights whilst the wood shavings from the turning process carefully provide the packaging.

As with most Scottish based makers, our immediate environment alongside the life we have chosen to surround ourselves with gives us constant inspiration and clarity of mind. We believe that some of the best designs are things that we take for granted; for us, the simplicity and the genius of the paper clip are what we both strive for in the lighting we create.
Disclaimer:
Please note: directory profiles are paid for and maintained by individual makers or craft places. Craft Scotland is not responsible for incorrect details and we have no contact details other than those provided.