Collect: The International Art Fair for Contemporary Objects from the Crafts Council is back for its thirteenth edition. Returning to the Saatchi Gallery in London's King's Road, the fair is open from Thursday 2 to Monday 6 February 2017. We have rustled up a selection of the show's Scottish contingent.
During an extended run of five days, the Crafts Council presents an unrivalled opportunity to see and buy contemporary museum-quality ceramics, glass, jewellery, wood, metal and textiles from established and emerging artists and makers represented by over 37 of the world's finest galleries.
Making the trek from Scotland, The Scottish Gallery has taken up residence at stand 6.2. The Gallery is celebrating its 175th birthday this year and is showcasing the work of Wendy Ramshaw and David Watkins. They have been awarded Outstanding Presentation by a Gallery for the display, so it's well worth dropping by. Christina Jansen, Director of The Scottish Gallery, will be in discussion with curator and journalist Corinne Julius, jeweller and lecturer Christopher Thompson Royds, and metal artists Juliette Bigley and Simon Fraser on Friday 3 February at 4pm. Together they will draw out different perspectives and processes on metal, during this Material Focus discussion, part of the Collect Talks series.
Malcolm Appleby will be showing new work - textured bowls in a series he calls Full Circle - alongside a complementary necklace. The renowned designer and engraver's work will be shown at the Bishopsland Educational Trust exhibition stand. For Collect 2017, Bishopsland is showcasing new work from silversmiths with an established presence and reputation in the arts world, as well as those making their way to becoming the established makers of the future. Including, new work from Bryony Knox. Her kinetic silver pieces are based on her love of storytelling, movement and colour. Her elegant silver and glass pieces bring a hint of humour and glamour to the simple items we use in our daily rituals.
On the London Glassblowing Gallery stand you can take a gander at work by Harry Morgan. Harry is an emerging artist and designer based in Edinburgh, combining glass with concrete and metal to create his sculptural pieces. The London Glassblowing Gallery is one of the leading galleries in the UK for contemporary British and International Studio Glass.
Andrea Walsh will be exhibiting her new collection with Officine Saffi, a Contemporary Ceramics Gallery from Milan. Based in Edinburgh, Andrea Walsh explores ideas of containment, materiality, preciousness and value, through considered and exquisitely tactile objects which communicate with the viewer notably through their intimate scale.
Collect visitors can indulge both their passion for collecting and their interest in design and interiors. The Collect experience for 2017 also includes Showtime, an exhibition highlighting the history of Crafts Council exhibitions; the opportunity to see the Crafts Council's latest acquisition for their national collection, a pair of The Essex House Tapestries by Grayson Perry; plus a free talks and events programme encouraging debate about contemporary craft.
If you can't make it to Collect, you can always have a listen to the Crafts Council's podcasts from the event over on Soundcloud.
Find out more about the show by visiting the Crafts Council.
Collect 2017: The Scottish contingent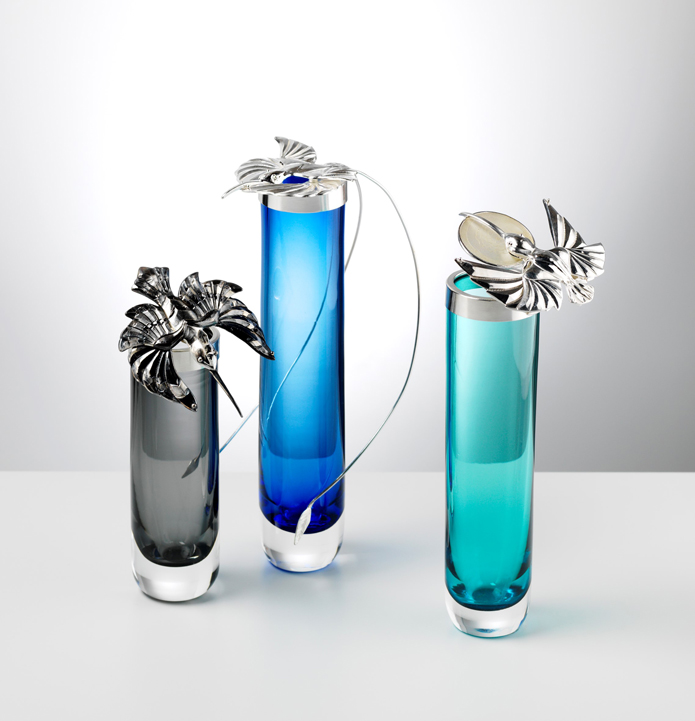 Transparent