With the launch of a brand-new craft-focused TV series on BBC Alba and the appointment of new CEO at Crafts Council UK, September is an inspiring month for craft.
Read on with September's The Craft Edit.
---
Contemporary Scottish textiles takes centre stage in new BBC Alba series Fillte
New BBC Alba craft series Fillte will bring tales of textiles and highlight the stunning work of Scotland's best creative designers. Discovering the stories behind wool, linen, lace and tweed, the series will engage with provenance, history and heritage, as well as looking at the future of sustainability and slow fashion, highlighting Scottish designers' unique ambitions and innovations.
Across six episodes, the series will follow designers and producers of wool and handcrafted cloth, exploring the many techniques and skills of textiles work. The show will explore how makers draw inspiration from the stunning Scottish landscape, and the many untold stories of cloth and community.
The first episode followed weaver and crofter Meg Rodger, from Berneray, North Uist, as she shared her passion for the history and heritage of her Hebridean flock. Meg's passion for her Hebridean flock inspired not only her work, but also detailed research into this unique sheep breed. With a background in fine art and a true appreciation for self-sufficiency, her Birlinn yarns brand produces varied garments and yarns such as the Wildflower shawl and Bog Cotton yarn. Across the Applecross peninsula, it is hair-moss from the North Highlands that basket-maker Sarah Paramor uses as her weaving materials. Creating intricate baskets, bags and shoes – called "heather-steppers" - Sarah is one of the fortunate artists to live and work in the place that both inspires them and provides their material. The episode premiered on BBC Alba on Tuesday 20 September 2020 and is now available to watch online on www.bbc.co.uk.
New episodes on Tuesdays at 20:30pm on BBC Alba, available to watch online following broadcast at www.bbc.co.uk.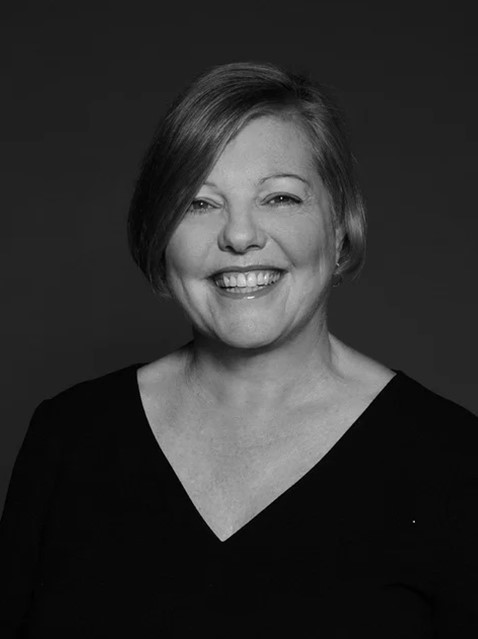 Image: Claire Whitaker OBE / courtesy of Crafts Council
Claire Whitaker OBE appointed as new Crafts Council chief executive
Claire Whitaker OBE has been appointed as chief executive of the Crafts Council, the UK's national charity for craft, and will take up the role in November 2022.
Claire is currently CEO of the Southampton Culture Trust, as well as CEO of Seriously Inclusive, a strategic consultancy advising organisations on their equality, diversity and inclusion strategies. She also holds several non-executive roles, including Trustee of Paul Hamlyn Foundation, a Cultural Ambassador for the Mayor of London and member of the British Council's Arts and Creative Economy Advisory Group. In 2020, she was appointed as an independent trustee of the UK Government's Cultural Recovery Fund.
Claire joins the Crafts Council to lead and accelerate the organisation's work to expand representation within craft and foreground the role that craft can play in tackling social issues, broadening access to craft, supporting makers from all backgrounds and championing the role of craft in enhancing the nation's health and wellbeing.
Incoming chief executive Claire Whitaker OBE said of her new appointment: "I am delighted to be joining the Crafts Council. Celebrating the breadth and diversity of the UK's makers and amplifying their voices at a moment of profound economic hardship, enhancing career paths, initiating new partnerships, and creating opportunities for all to participate in making, will be our priorities in these very challenging times."
Rose Sinclair, chair of the Crafts Council Global Majority Advisory Group said: "Claire brings a wealth of experience to the Crafts Council, her background in cultural leadership is impressive. Her leadership especially around strategic consultancy and advising organisations on their equality, diversity and inclusion strategies are at the heart of what she is about and as chair of the Global Majority Action Group we look forward to working with Claire in championing the role of craft and broadening access to craft and supporting makers from all backgrounds."
Read more on www.craftscouncil.org.uk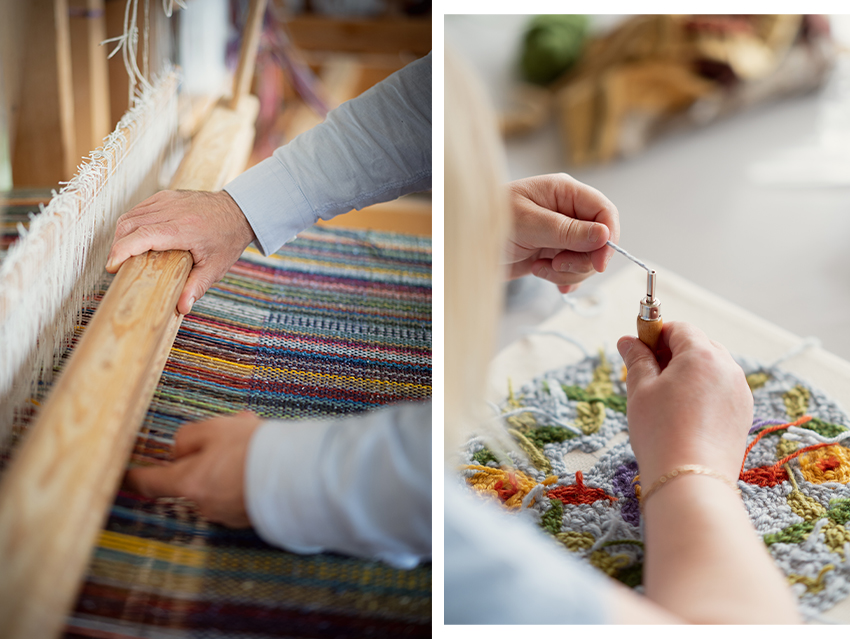 Image: Garvald Textiles Workshop / courtesy of Hot Tin Roof PR
Garvald's Textiles Workshop: 20 years of making with a purpose
Promoting weaving and making with a purpose, Garvald's Textiles Workshop continues to grow after twenty years with a recent spot at the Edinburgh textiles fair Glow.
Garvald is an Edinburgh-based charity for adults with special needs which takes inspiration from the principles of Social Therapy. The Textiles Workshop has been led by friends Layla Tree and Caroline Farquhar Swift since its creation. Sharing a passion for weaving, Layla and Caroline grew up in the same part of town and both studied at the Scottish School of Textiles and Design in Galashiels ten years apart. Workshop members work on their own loom creating a range of textiles work including knotted rugs, cushion covers, wall hangings, rucksacks, scarves, table runners, rag rugs and tapestries.
Of the project and participating Garvald members, Layla said: "The charities' members really care about what happens to their work. They want to see it sold to the public alongside the work of other crafters, where it belongs." Both workshop leaders believe the workshop members deserve more recognition for their work and have praised them for helping to keep the tradition of hand weaving alive. Caroline adds: "We are fortunate to be in a position where we can pass on our textile skills and expertise to a group of people who would not normally have access to this opportunity".
The work is sold commercially via the charity's Mulberry shop as well as through Glow, which showcases the best of contemporary Scottish design. Glow's CEO, textile artist James Donald of PickOne, said: "I love the ethos at Garvald and the quality of their work. They have a great product range and I'm delighted to have them on board for Glow."
Learn more about the Garvald Textiles Workshop at www.garvaldedinburgh.org.uk.
Image: Jane McCance / courtesy of the artist
Jewellery designer Jane McCance re-launches her brand with new collection of slow-making rings
Whilst the world rushes on at an ever-increasing pace, Dundee-based jewellery designer Jane McCance has decided to consciously slow down. With her dedication to creativity and customer connection at the forefront of her mind, Jane has embraced a strict "slow making" ethos to her practice. Now creating one-of-a-kind pieces only, her first collection drop will launch 30 September.
On her new collection format, Jane said: "Launching these collections as 'drops' means that I can work at my own pace and when I feel I am ready I can make them available to the world. I am not restricted by style because I believe in delivering variety and allowing people to express themselves in what they pick". Jane hopes her jewellery will allow people to connect with themselves, offering pieces that are as unique as the people wearing them.
Jane McCance Jewellery is a bespoke Jewellery design business based on the outskirts of the city of Dundee. Predominantly working in precious metals such as silver and gold, Jane is proud to make every piece by hand. Before re-launching her brand in 2022, she enjoyed a successful career, running a high-end brand that retailed in Harvey Nichols and The National Gallery. Her work has been worn by notable figures such as Emeli Sande and Emma Thompson and has been featured in Marie Claire, Woman & Home, Professional Jeweller, and iD Magazine.
More information and behind the scenes footage on Instagram @janemccancejewellery or visit janemccancejewellery.com.
---
We want to hear from you! Share your contemporary craft news for inclusion in next month's The Craft Edit.
Contact the Craft Scotland team with more information, URLS, images and/or a press release via email hello@craftscotland.org.
Transparent