Christmas is the perfect time to give thoughtful gifts with a personal touch.

When you buy a handmade gift, you are purchasing more than a single object – you are also investing in the maker who created it. No handmade item is the same, and these gifts capture all the time their makers spent on them, their craft skills, their inspiration, signature techniques and passion.

We've compiled a collection of seven handmade items from makers and craft destinations across Scotland, so read on for inspiration.
---
"I think the most important part of shopping local and independent is the love and care behind those products you buy. It's not just an object or a present but someone's dream you are supporting by buying from a maker or a small community of people, by looking for presents from a small business."- Borja Moronta, Edinburgh-based ceramicist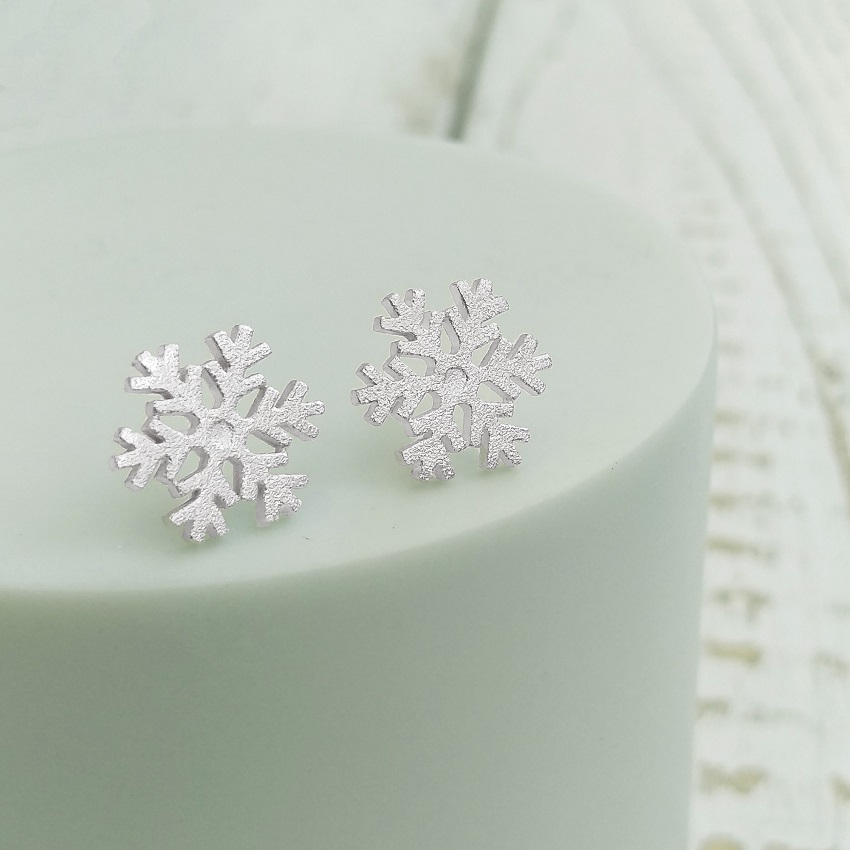 Image: Eileen Gatt / Image by the artist

Eileen Gatt
Snowflake Studs
Sterling silver, 1.2cm in diameter
£75

These charming snowflake earrings are perfect for anyone who wants to make a statement, as well as express their love for Scotland's winter landscape.
Part of the Polar Collection, Eileen Gatt has been inspired by the icy landscape that surrounds her home in the Scottish Highlands. These beautifully stylised snowflakes are elegant and simple, they are very slightly concave, capturing the light and enhancing the sparkle. The snowflakes have a specialist frosty satin finish which echoes the cold wintry landscapes that influence Eileen's work.
These earrings look great with sweaters in winter and are perfect for your Zoom Christmas Party. They can be worn on their own to make a small statement, or they can be teamed up with the Snowflake Pendant, the Arctic Charm Bracelet, or the Winter Bangle.
Scottish jewellery designer and silversmith Eileen Gatt has been designing and making jewellery for over 20 years. Based in the picturesque Black Isle in the Scottish Highlands, Eileen is fascinated by the mystical interaction between people and the sea, and often uses traditional customs and superstitions as starting points for her designs.

Discover the Polar Collection on Eileen's website or visit her recently opened shop in the Black Isle (The old Post office, 17 Milbank road, Munlochy, Ross-shire IV8 8ND).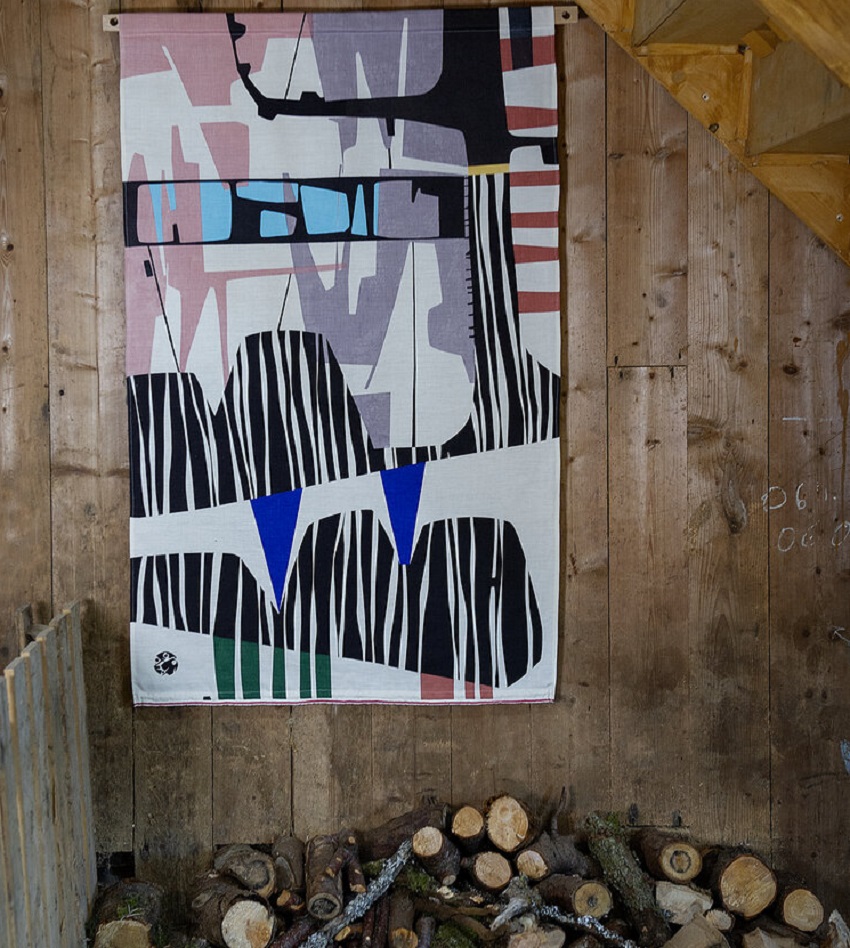 Image: Eve Campbell / Image by the artist

Eve Campbell
Winter Larch
Handprinted linen, 134cm x 83cm
£540
This vibrant hand-printed wallhanging is sure to bring some colour to the home this winter.

Winter Larch is designed by Tighnabruiach-based maker Eve Campbell for her latest collection titled Wildwood, inspired by the woodland on the west coast of Scotland.
It is a one-off print created through paper stencilling and screen printing, printed using water-based Eco Pigments onto 100% linen. Learn more about how the wallhangings are made. Finished with handmade fallen wood hanging baton and hidden lead weighted bottom edge.

With an interest in creating surface pattern inspired by Scottish nature and architecture, textiles designer Eve Campbell creates printed wallhangings and ceramic tiles. Through paper stencilling and screen printing, her unique prints capture the colours, shapes and patterns of nature on Scotland's west coast.

Discover the range at Eve's website

Image: Buchlyvie Pottery / Image by the artist

Buchlyvie Pottery
Make Waves plant pot
Hand-painted porcelain, 12 cm x 19 cm
£45
A gift for the green-fingered, this vibrant Make Waves plant pot will compliment any houseplant.
Handmade from slip cast porcelain and painted by hand with underglaze colour in broad brushstrokes, the plant pot is finished with a translucent glaze to replicate the stormy seas of Scotland's west coast.
This plant pot, by Buchlyvie Pottery, will look stunning anywhere in the house whether it's for herb plants in the kitchen, ferns in your bathroom or a jade plant in your bedroom.

Buchlyvvie Pottery comprises of Eilidh & Craig, second generation of potters that run the pottery shop since 1989 in Stirlingshire. They specialise in slip cast porcelain tableware which are usually decorated with cobalt blue glazes.

Shop the range online or at the Made In Stirling Store.

"When supporting local makers and artists you are supporting an entire community, a movement of independent businesses, you are supporting passion, originality and hours of endless hard work. When shopping with Made In Stirling Store you are allowing us to build back a better future for our high street, one that is rich with diversity and culture. With a focus on quality and craftsmanship" – Paul Jenkins, Made in Stirling Store (Creative Stirling)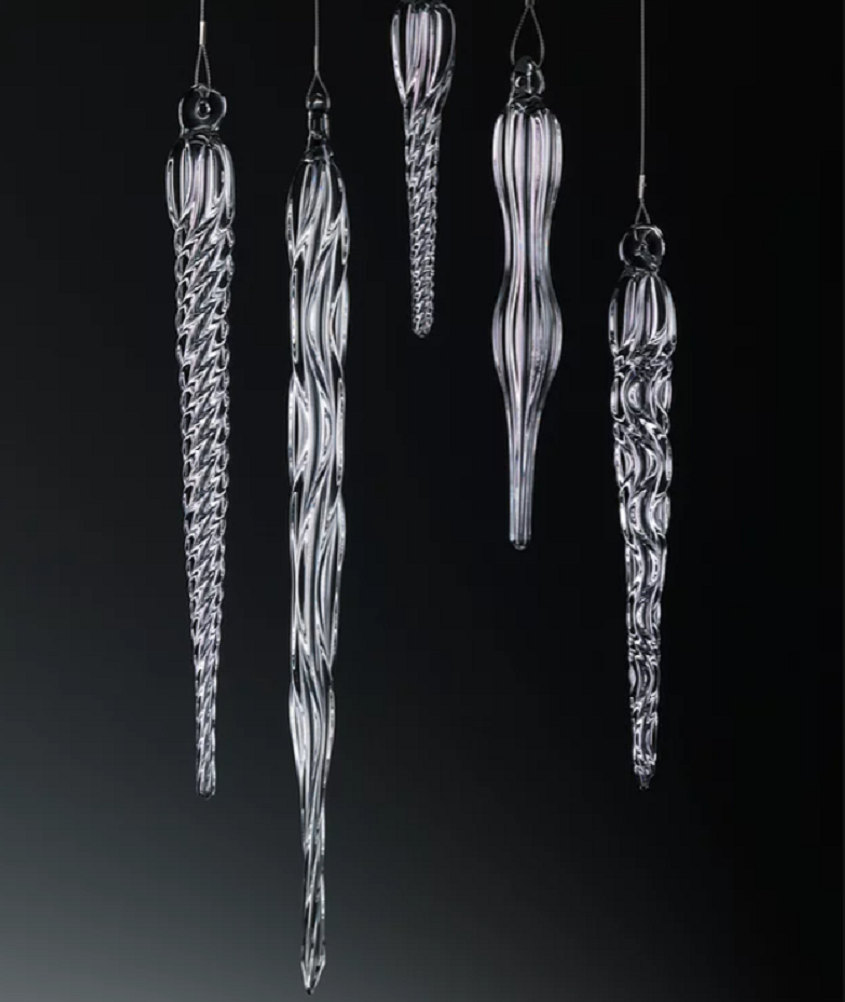 Image: Carrie Fertig / Image by the artist

Carrie Fertig
Medium & large icicles
Glass, medium icicles - 24mm (15/16"), large - 30mm (1 3/16")
£50

These delicate icicles are made from hollow flameworked borosilicate glass, the same icicles found in artist/maker Carrie Fertig's installation Ausklingen (Fade Away). Their hanging mechanisms are identical: strung with plastic coated steel hanging from a fishing swivel.

This icicle ornament is based on an old lauscha ornament and references not only the birthplace of ornaments, but also the home of flameworking. Perfect for decorating the tree, and each icicle reflects and fragments light – creating a winter wonderland in your own home.
Carrie Fertig is a maker based in Laurencekirk, Aberdeenshire, specialising in flameworked glass. She makes lighting that doubles as a musical instrument echoing her sound installations. Chandeliers are comprised of hundred of glass icicles and can be gently played, as all the glass Carrie uses is borosilicate. This glass is made to withstand stress, pressure, and extremes of temperature, and is extremely hardy.

Discover more on Carrie's online store, including hand wrought metal ornaments and jewellery.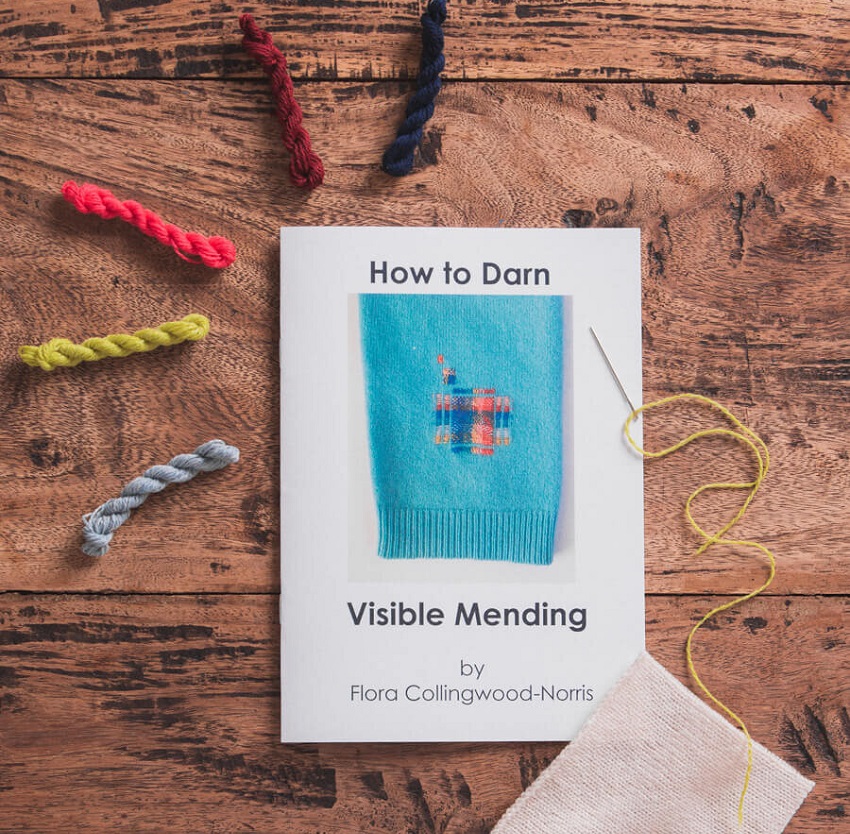 Image: Collingwood-Norris / Image by the artist

Collingwood-Norris
How to Darn Kit
£20

Give the gift of learning a new skill this season with this handy visible mending kit by maker Collingwood-Norris.
The kit includes step by step instructions for darning, lambswool fabric square to darn on (knitted by Flora in the studio), a tapestry needle and mini skeins of lambswool in the right weight for the fabric (approx 4.3m of each colour) wound by Flora.
Each kit comes wrapped in tissue paper and tied with gold thread, ready to give or just a nice treat for yourself.
All the lambswool used is spun and dyed in Scotland with Global Organic Textile Standard approved dyes and is mulesing free. Order by Sunday 20 December for delivery in time for Christmas in the UK.

Flora Collingwood-Norris creates luxurious knitwear from her small studio in the Scottish Borders. Preferring to use natural fibres, especially extra fine lambswool, Flora's aim is to encourage ethical practice and reduce environmental impact at all stages, from design to production. Shop her colourful collections of lambswool scarves, sweaters, hats, blankets and more.
Flora is also offering the option to have some of her scarves customised with a small unique darned patch. It adds an extra flash of colour and a hand stitched detail to the scarves. Learn more at Flora's website.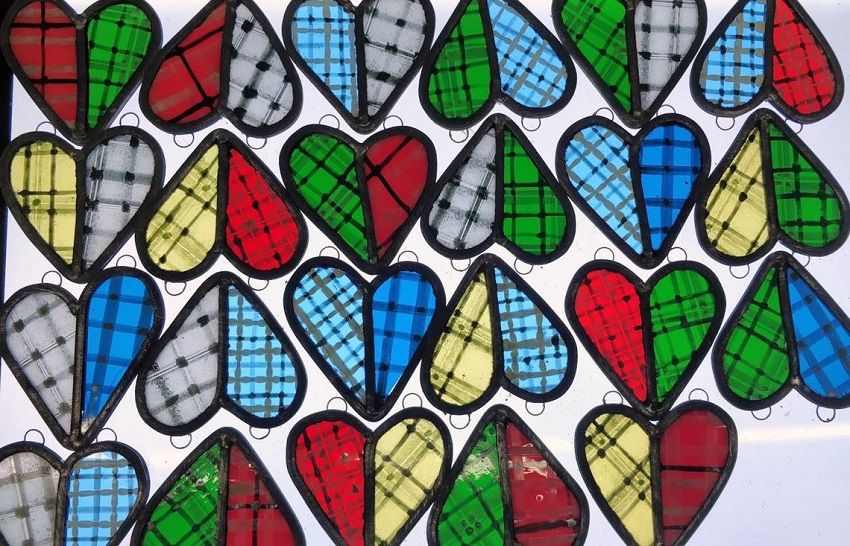 Image: Gallus Glass / Image by the artist

Gallus Glass
Patchwork Tartan Hearts
Stained glass, 11cm x 11cm
£20
Spread the love this festive season with these Patchwork Tartan Hearts, perfect as a stocking filler or to hang on the tree.
Maureen Crosbie of Gallas Glass, is passionate about tartan as it is such a versatile motif, classically Scottish and traditional. Inspired by the extensive fabric stash she inherited from her mother, these hearts can be made in any colour combination you require.
Having graduated from Glasgow School of Art Fine Art department, and teaching for a period of time, Maureen found herself drawn to the medium of glass. Working in both traditional leaded glass and mosaic, she make pieces for both public and private commissions.
Discover more of Maureen's range on her etsy store or visit Cabinet Ullapool.
"We are lucky to have so many talented and diverse artists and makers living locally in our area, producing high quality and original work and it is a privilege to stock their work in Cabinet. By helping to keep the businesses operating, it allows us to keep offering an outlet for artists and independents, as well as provide a unique retail space for shoppers." – Charlotte Watters, Cabinet Ullapool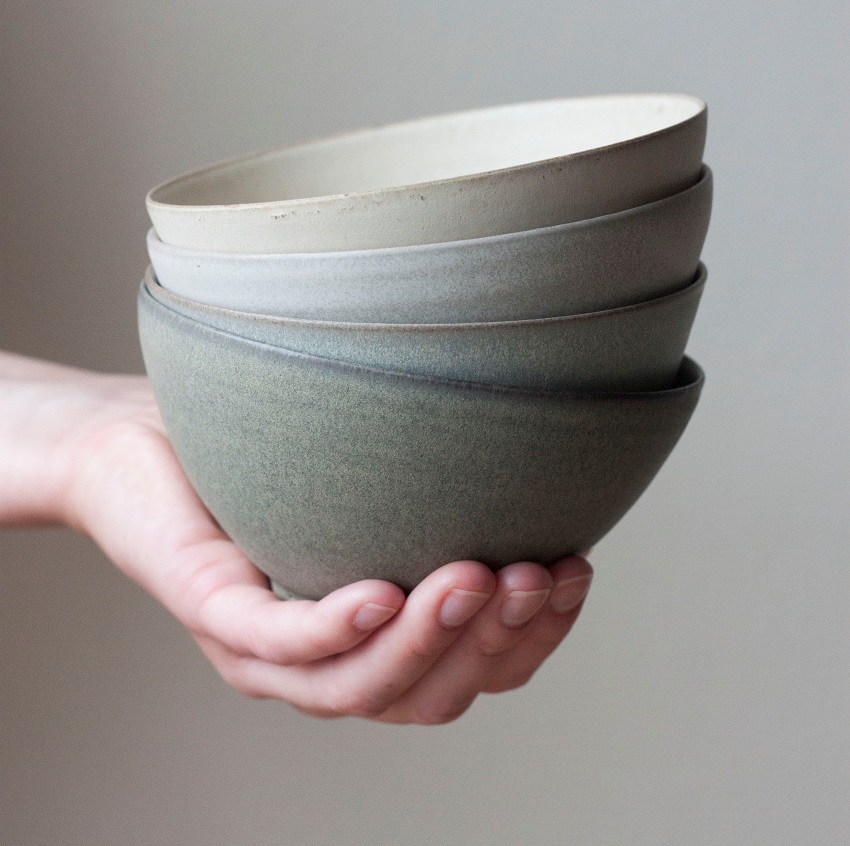 Image: Borja Moronta / Photographer unknown

Borja Moronta
Stack of small breakfast bowls
Wheelthrown stoneware, 13cm x 7cm
£30

The ideal gift for someone who prefers a more muted palette for their home, Edinburgh-based potter Borja Moronta makes ceramics that follow basic, calmed and natural forms on a soft tone palette.

Borja has been making pots for just over two and a half years, after his discovery of ceramics was part of a recovery process from a severe surgery due to nerve damage on his left hand. Each piece is individually crafted on the potter's wheel and throughout all the stages, therefore showing all the nature of handmade.
You can shop Borja's range of stoneware from Edinburgh-based stockists Lifestory, Logan Malloch and Root to Market, or visit his online shop launching Friday 4 December 2020.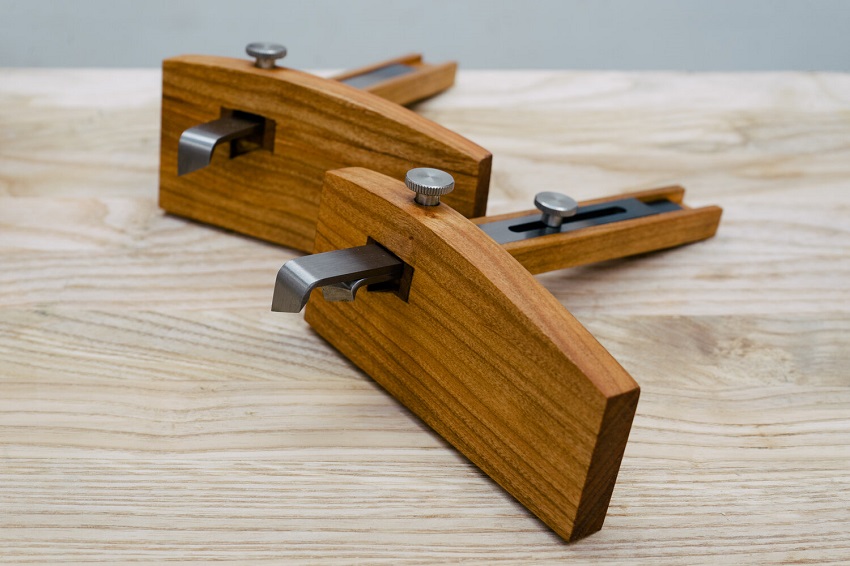 Image: Sheahan Made / Image by the artist

Sheahan Made
Marking Gauge
Cherry, 140mm x 60mm face, 150mm stem (approx.)
From £110
This handy marking gauge made from Cherry is a thoughtful gift for the DIY enthusiast in your life.

The Japanese-style marking gauge is perfect for woodworking, with two independently adjusted blades - comes with either bevel-in blades for marking mortises or bevel-out, for marking tenons (cheeks and shoulders). Made from Scottish Ash originally, this making gauge is also available in other woods on request (for an extra £10)

Sheahan Made is the work of Jack Sheahan as he develops his furniture making practice. As a deeply process-oriented woodworker, Jack quickly began making his own tools. Starting simple with a wooden mallet, a Japanese marking gauge, and tool rolls, moving to the complex and novel with his dovetail square and custom vise mechanisms.
Shop his range of handmade tools on his website.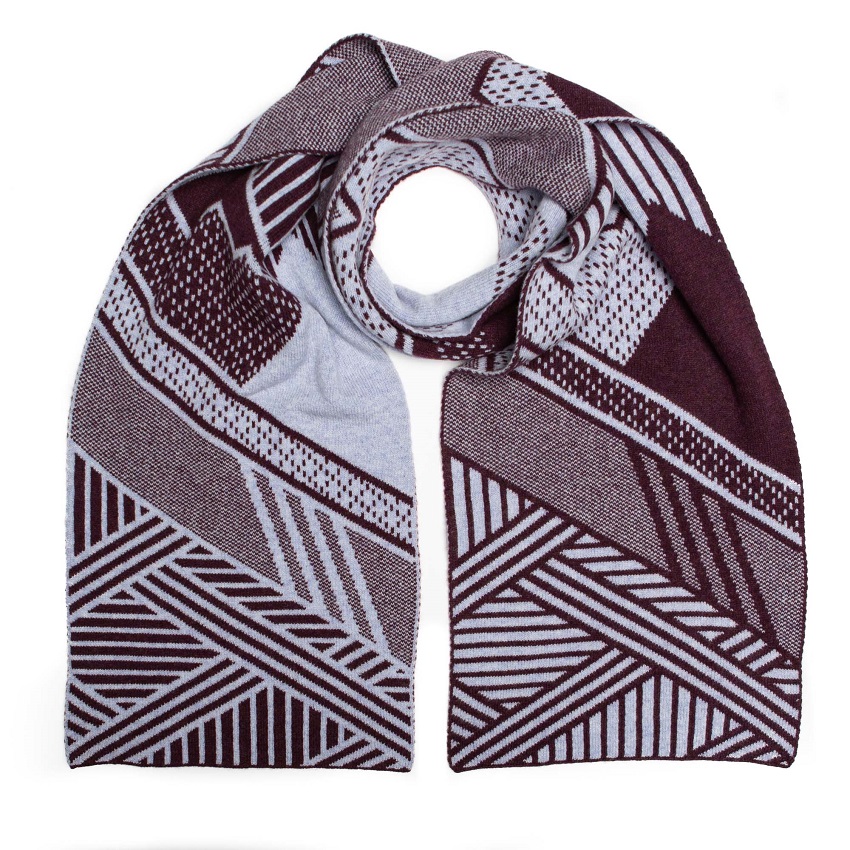 Image: Green Thomas / Image courtesy of Welcome Home

Green Thomas
Highland Blanket Scarf in Winter Lilac
Merino lambswool, 220cm x 55cm
£100
Exclusive to the Welcome Home store, this large and luxurious lightweight scarf by textile designer brand Green Thomas can be worn many ways.
Made from beautifully soft 100% Merino lambswool sourced from a British spinner (est. since 1766), the scarf is knitted by a small independent mill in the Scottish Borders.
Green Thomas are design duo Emma Green and Alan Thomas Dibble, who met on the first day of their MA Fashion course at Central Saint Martins, London in 1992. From their studio in Glasgow, they launched their brand in 2015 and combine their love of pattern and colour with a passion for knitting in Scotland.
Shop their range of scarves, exclusive to the Welcome Home store.
Please note, due to the current lockdown restrictions, the Welcome Home store is open for collection (aka click & collect) only from 11am to 2pm on Mondays and Wednesdays. Mail order will continue to be shipped out twice a week.
"We are proud to present a carefully curated selection of unique gifts from independent makers, including luxury textiles by Green Thomas. We are thrilled to offer hats, shawls, and a collection of scarves that are exclusive to Welcome Home. Available on our online store, snag a piece of a brand that employs exciting, contemporary patterns whilst staying rooted in the heritage traditions of Scottish knitwear production." - Rushka Gray, Welcome Home
---
Discover more Scotland-based makers and craft destinations on our Craft Directory.
If you have any special shopping events in the run up to Christmas, you can list for free on our What's On section or email us with your latest news at hello@craftscotland.org.
Craft for Christmas - 7 handmade gifts for this festive season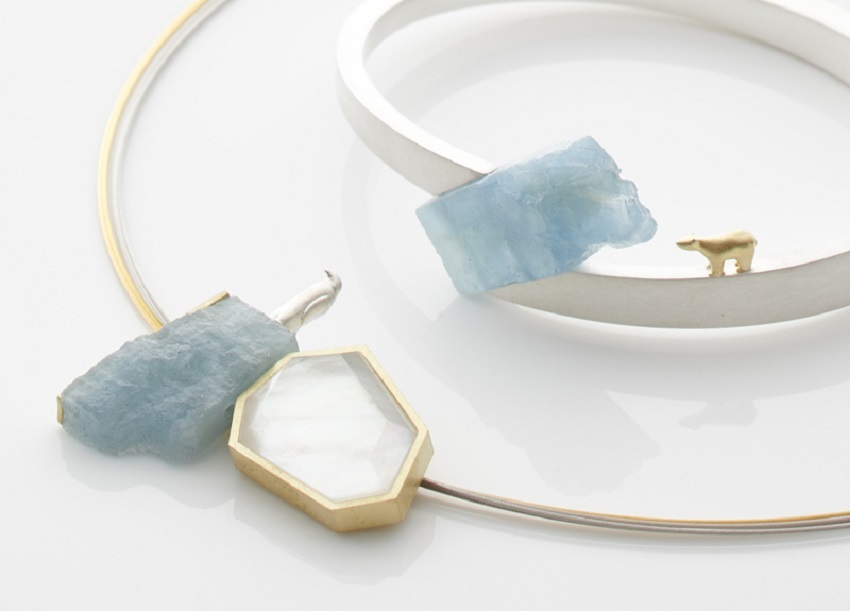 Transparent