Taking place every year in late spring, Degree Show season is a central event in Scotland's craft calendar. The exhibitions organised by universities, schools and colleges around the country are a great opportunity to see the works of graduating classes in many craft disciplines, including jewellery, silversmithing, ceramics, textiles, and more.
This year, however, has been a challenging one for the graduating classes of 2020. With campuses and studios closing in early March, and all physical exhibitions subsequently cancelled following the Coronavirus (COVID-19) outbreak, graduates and institutions had to look for innovative new ways to show their work.
From online graduate exhibitions and digital launch events, to individual showcase on international publications' website and new digital graduate awards, Degree Show season has adapted to this unexpected time in novel and creative ways.

University and Colleges find new virtual ways to hold their Degree Shows:

With an initial opening planned for Friday 22 May 2020, Duncan of Jordanstone College of Art and Design moved their degree showcase to a dedicated website, running from Saturday 13 to Sunday 21 June 2020, with an online opening event on the evening of Friday 12 June 2020. The Art, Design and Architecture Graduate Showcase was an online exhibition taking place on the DJCAD's website.
The Glasgow School of Art kept their original opening date of 29 May 2020 but launched their Graduate Showcase's digitally through a dedicated website, planned to stay up until Friday 31 December 2021. Visit gsashowcase.net and navigate the online display by degree, with the option to see works from both the Glasgow and Singapore's campus.
Edinburgh College of Art, which Degree Show would have taken place from Saturday 30 May to Sunday 7 June 2020, also launched their own online Degree Show on the dedicated website degreeshow.eca.ed.ac.uk.
In addition, individual ECA departments have been taking advantage of the full scope of digital showcases available to them. The ECA Jewellery and Silversmithing department took over their courses' Instagram from Monday 1 to Saturday 13 June 2020, while the ECA Fashion Design department are exhibiting on Showstudio, and the ECA Product Design course are exhibiting on Dezeen's Virtual Design Festival.
The Fashion and Textiles undergraduate course at Gray's School of Art, which Degree Show would have taken place from Saturday 13 June to Friday 26 June 2020, have also taken to Instagram to showcase their work. Head over to their social media page to see the work that students have been producing this year. Another Textiles department using Instagram to display their work year-round is the Shetland College University of the University of Highlands and Islands' textiles department, which their Instagram account is updated regularly with the students' work.
Finally, Heriot-Watt University School of Textiles and Design have also moved their Degree Shows online, launching Graduate Showcase: Creative Disruption on Friday 26 June 2020 on the dedicated website hwgraduateshow.com The university's Fashion Design graduates are also exhibiting their work on fashion platform Showstudio.
Scotland's creative community comes together to support new graduates.
Every Degree Show season, Visual Arts Scotland visit degree shows around Scotland to select fresh and dynamic work from emerging artists and designers for their Graduate Showcase. In response to this year's Degree Shows cancellations, VAS has opened applications for a digital version of the Graduate Showcase. Apply before 20 June 2020.
For Architecture and design, the bi-annual event Architecture Fringe have collaborated with Scot Portfolio, Ism Magazine, and Crumble Magazine, to create an online Graduate Showcase for graduates from all of Scotland's Schools of Architecture and Landscape Architecture. With more details to be announced soon, stay up to date by following them on Instagram.
Online visual art, architecture and design platforms come together to support graduating students:

Online design and architecture magazine Dezeen launched the Virtual Design Festival, the world's first online design festival. Running from 15 April to 30 June 2020, the Virtual Design Festival features an eclectic programme of talks, articles and virtual exhibitions, including a school and students showcase. This dedicated platform offers universities and schools department, classes, or students an opportunity to host an online exhibition of their work on the Virtual Design Festival website.
Art Jewellery online platform Klimt02 have also published an Open Call for students and teachers to submit their graduate exhibition works to be showcased on their website. Find more about how to apply here.
Online platforms and publications are also creating new graduate awards in response to the challenges brought about by the Coronavirus (COVID 19) outbreak for the graduating classes of 2020.
ARTS THREAD, the leading digital platform for emerging artists and designers, and fashion and culture magazine i-D, have partnered to launch the ARTSTHREAD and i-D Global Design Graduate Show 2020. The competition is open to all art and design students internationally, both undergraduate and postgraduate, graduating this year in any related discipline. Deadline for application is Friday 31 July 2020.
Creative Review is bringing Gradwatch, their annual showcase of new graudates, back this year. The team will explore the many virtual showcase available online, and also accept individual submissions from graduates. Please send work to gradwatch@centaurmedia.com before Monday 20 July 2020. See all information here.
---
If you are organising a virtual Degree Show or know of an online initiative supporting graduates whose Degree Show have been cancelled due to Coronavirus (COVID-19), please email us at hello@craftscotland.org.
You can also visit our What's On to know where to see virtual Degree Shows and graduates' works online this week, and head over to our Maker Community's Opportunities section to find new awards and funding open to graduates.
This article was updated on Thursday 2 July 2020 to reflect on the launch of ECA and Heriot-Watt University School of Textiles and Design​'s online degree shows, as well as Creative Review's Gradwatch 2020.
Scotland's Degree Shows 2020 Go Digital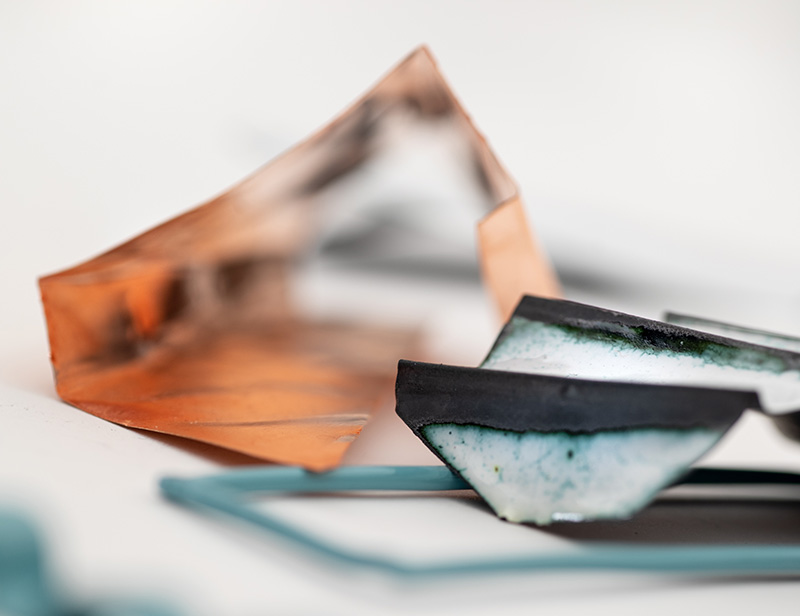 Transparent