Looking for unique Christmas gifts? Our Handcrafted Christmas series is back to make your holiday shopping a little less stressful. Discover contemporary craft from Scotland that will make perfect gifts for your loved ones and all while supporting local businesses and independent makers.
There are lots of fantastic markets, pop-ups and events taking place this festive season, plus a great selection of independent shops and galleries, all showcasing the best of independent makers. Here we gather the best Christmas craft destinations from all around Scotland so wherever you are, you can find and shop handmade gifts from Scotland's makers.
First up, we go to the west of Scotland, from Dumfries & Galloway, through Glasgow and up through the west coast to the stunning Hebrides.
---
Dumfries & Galloway
We Make Pots Annual Studio Sale
24 to 25 November 2018 10am – 5pm, 33 Victoria Street, Kirkpatrick Durham, Castle Douglas DG7 3HQ
Join Clare Dawdry of We Make Pots alongside artist Pamela Grace for their annual studio sale and find a bargain or two this Christmas.
Open Tuesday to Friday 10am – 5pm, 28 Edinburgh Road, Dumfries DG1 1JQ
Gracefield Arts Centre's craft shop celebrates makers from Dumfries & Galloway and around the UK. Join them for their Early Bird Christmas Shopping event on Saturday 17 November and get in the festive spirit.
Open Monday to Saturday 10am – 5pm, 47 St Mary Street, Kirkudbright DG6 4DU
One of the leading galleries in the south west of Scotland, as well as fine art, The Whitehouse Gallery's winter exhibition features makers from across Scotland include jewellers Eileen MacAlister and Heather Andrews, textiles by Jo Gallant and more.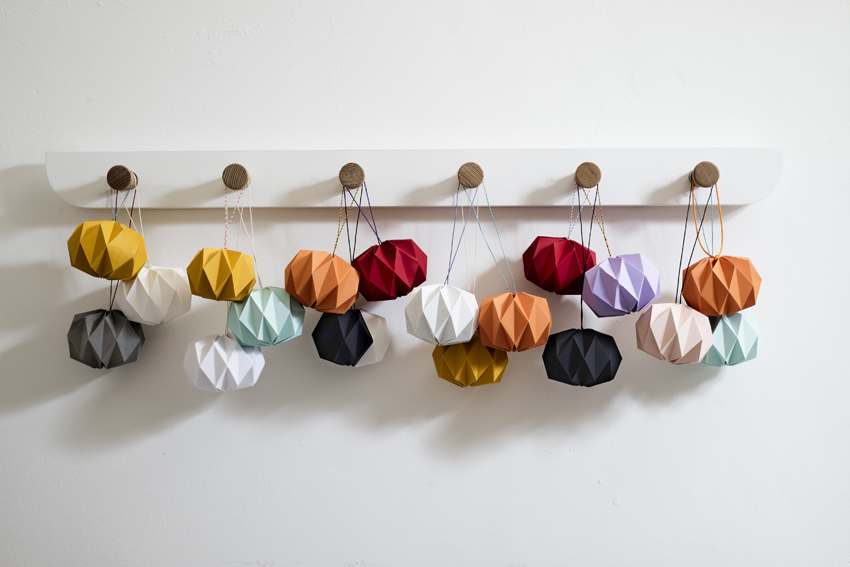 Grey Wolf Studios Christmas Sale - Kate Colin Geometric Baubles / Photographer unknown
Glasgow
1 to 2 December 10am – 8pm, 1184 Argyle St, Glasgow G3 8TE
A unique pop-up in Glasgow's West End showcasing contemporary work from Scottish artists and designers, including ceramics and textiles. Free entry.
1 to 2 December 11am – 4.30pm, 147 Bridgegate, The Briggait, Glasgow, G1 5HZ
One of Glasgow's biggest alternative Christmas shopping events showcasing 68 designer/makers in the stunning venue of The Briggait. This is your opportunity to buy locally from the wealth of creativity in Scotland, including gifts from Anna Hepburn, Gavin Burnett Ceramics, Nikki McWilliams and Clod & Pebble and more.
Grey Wolf Studios Christmas Sale
6 December 4pm – 8pm, 131 Craighall Road, Glasgow G4 9TR
Join Grey Wolf Studios for their annual studio selling event, where makers including Laura Spring, Cecilia Stamp, Heather Shields, and Kate Colin sell their beautiful wares in an intimate Christmas sale. Find a variety of handcrafted products to choose from including textiles, jewellery, ceramics and homewares. They will also have a local florist creating beautiful wreaths, and locally made food and refreshments.
Tea Green Festive Market at Kibble Palace
8 to 9 December 10am – 4pm, Glasgow Botanic Gardens, Glasgow G12 0UE
Leading pop-up events platform Tea Green champions Scotland's wealth of independent creative talent, with visitors to able to meet the makers and find the high-quality handmade products in a truly unique location.
Open Tuesday to Sunday 11am – 6pm, 37 Ruthven Lane, Glasgow G12 9BG
Find classic items that are made to last this Christmas at First Trade Days. Each object is picked for its quality craftsmanship and they stock a selection of Scottish makers including Jude Gove, Beth Lamont and Smith & Gibb.
Open Tuesday to Saturday 11am – 6pm, 350 Sauchiehall Street, Glasgow G2 3JD
Run by designer Mhari McMullan and on the ground floor of the Centre for Contemporary Arts (CCA), Welcome Home is a vibrant creative retail space for craft, design and illustration. Find inspiration for festive gifts that are handmade, well-designed and beautiful. Makers include Claire Henry Ceramics, Kate Trouw and Alice Handler Jewellery.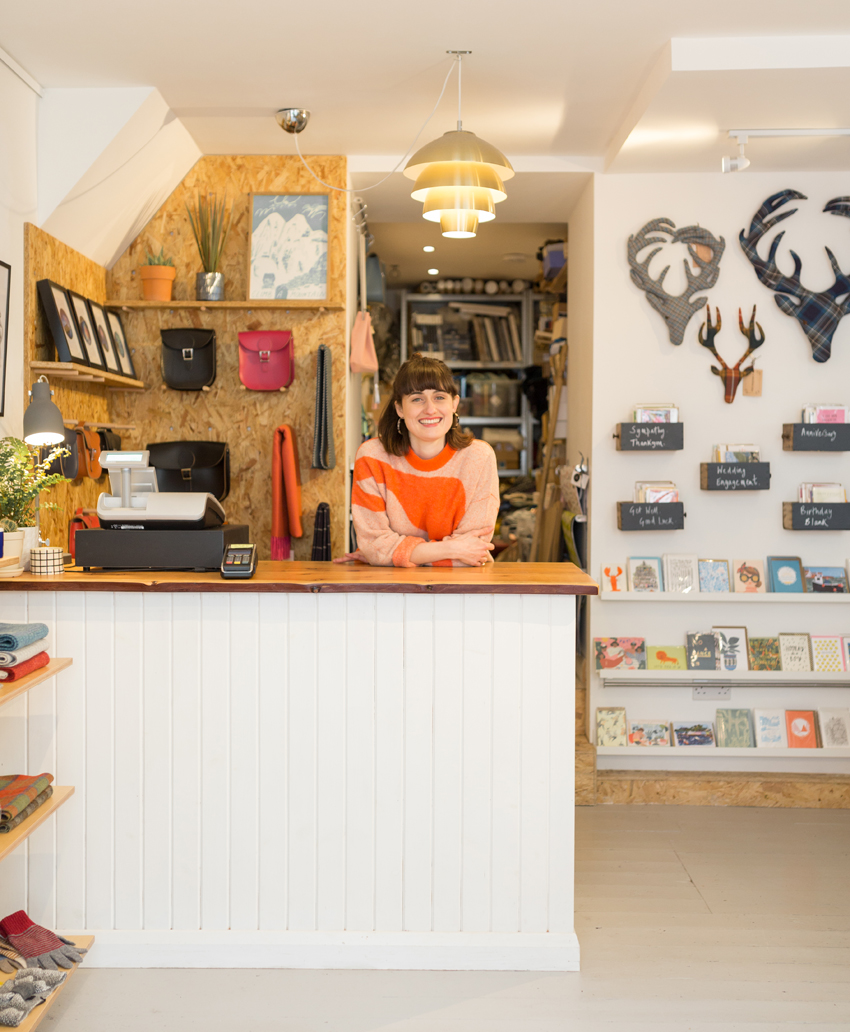 Owner Jen Pearson inside ÒR in Portree / Photography by Alexander Martin
West coast
West Kilbride Christmas Craft Fair
24 to 25 November 10am – 4.30pm, The Barony Centre, 50 Main Street West Kilbride KA23 9AW
Hosted in Craft Town Scotland's The Barony Centre, the West Kilbride Christmas Craft Fair is the ideal place to find individual gifts from local makers. Free entry.
Open Tuesday to Saturday, 10am – 3pm, Isle of Iona PA76 6SJ
A rare outpost for quality Scottish craft and design, at the heart of the Iona Craft Shop's ethos is a recognition of Iona's long and lasting cultural heritage. Makers include Hilary Grant, Collingwood-Norris and ceramics from local artist Julia Ward. They will also be serving mince pies cookies and mulled wine every Saturday to truly get you in the festive spirit.
Open Monday, Wednesday to Saturday 10am – 4pm, Oban Harbour Building, North Pier, Oban PA34 5QD
Found in the busy west coast town of Oban, The Modern Croft showcases beautiful things from Scotland and beyond. Discover ceramics by Natalie J Wood and Claire Henry, textiles from The Store Hus and Catherine Aitken and jewellery by Katherine Agnew and more.
Open Monday to Saturday 9am – 5.30pm, Sunday 10am – 5pm, 4 Wentworth Street, Portree IV51 9EJ
Run by jeweller Jen Pearson, ÒR showcases a variety of craft from makers based in Scotland and around the UK. Coming from a making background, Jen understands the challenges of running a creative business and is passionate in supporting makers in their practice. Find makers and designers including Myer Halliday, Maggie Williams, Green Thomas and Wooden Tom.
Open daily 10am – 5pm, 1 West Argyle Street, Ullapool IV23 2UG
Cabinet focuses on original, high-quality and inventive work from makers/designers across the Highlands and further afield. Run by artists, you can find an evolving collection of desirable and inspiring ceramics, jewellery, textiles and more.
Open daily, 21 West Argyle St, Ullapool IV26 2TY
This Christmas co-founders Sara Garnett and Jan Breckenridge are showcasing new work by ceramicist Julia Smith and textile artist Jan Kilpatrick alongside a fantastic festive display of handcrafted work from selected makers in the Highlands. Join them for their special late-night opening on 29 November to coincide with the switch on of Ullapool's Christmas lights.
---
Stay tuned for our east of Scotland edition, featuring Christmas craft events and boutiques where you can shop handmade gifts from Edinburgh to Aberdeenshire.
Why not visit our Craft Marketplace any time to shop beautiful objects online direct from independent makers.
Looking for more craft events to get you in the Christmas spirit?
Head over to our What's On that is brimming with events taking place across Scotland this winter. You can also visit the Craft Directory to discover our Places, craft destinations where you can learn about, enjoy, and shop contemporary design-led craft.