Continuing our three-part series exploring the innovative ways in which makers in Scotland are maintaining their craft practice during Coronavirus (COVID-19). Discover Part One and Part Three here.

In Part Two, we speak to designer/makers Carolyn Kinnaird, Ciara Isabel, Louise Forbes and Stephanie Fradette.
From designating working spaces in the home to providing at-home making kits to other makers, read about the inventive ways in which makers are adapting a variety of disciplines during the pandemic.
---
Stephanie Fradette, Textiles
Stephanie Fradette (pictured above), the maker behind fibre art brand Le Petite Moose, blends bold colours into her woven wall hangings – showcasing a passion for beautiful fibres, rich textures, contemporary design and making.
She explains: "I love incorporating bold colours into my woven, wall hangings, to showcase rich textures, contemporary design and craftsmanship. I also teach fibre-based workshops and work part-time as Creative Learning Coordinator at The Barn, in rural Aberdeenshire."
Stephanie feels fortunate that, a few years back she moved her yarn-filled studio into a converted shed in her garden. "This means I can still work on my practice like I did before lockdown. I've been focusing on offering DIY weaving kits, which have been very popular with lots of people picking up new hobbies. I've also been continuing with Aberdeen's Creative Learning - Sustaining Life as a Creative Programme (SLAAC). The varied workshop-based programme and peer support has given me the skills and confidence to take my practice to the next level."
For many makers, another issue to tackle is balancing home life with work, Stephanie explains: "I'm currently at home with my partner and two girls, Sienna aged ten and Eva aged seven. I must say that the first couple of weeks of the lockdown were definitely a bit of a whirlwind, having to adapt quickly to new regulations, cancelled freelance work and navigating Zoom meetings. This sudden change in dynamics has forced me to slow down and tackle daily tasks differently. Especially with the added challenge of a full household and home schooling. I'm definitely not feeling as productive as I was before but found that having one achievable business goal for the day helps me stay mentally healthy and focused amongst these uncertain times."
Stephanie adds: "Remember that this is all uncharted territory for most of us, who are usually, busy multitasking and planning our daily lives. Now I try and simplify my actions and thoughts, doing one thing at a time and savouring the little moments of joy."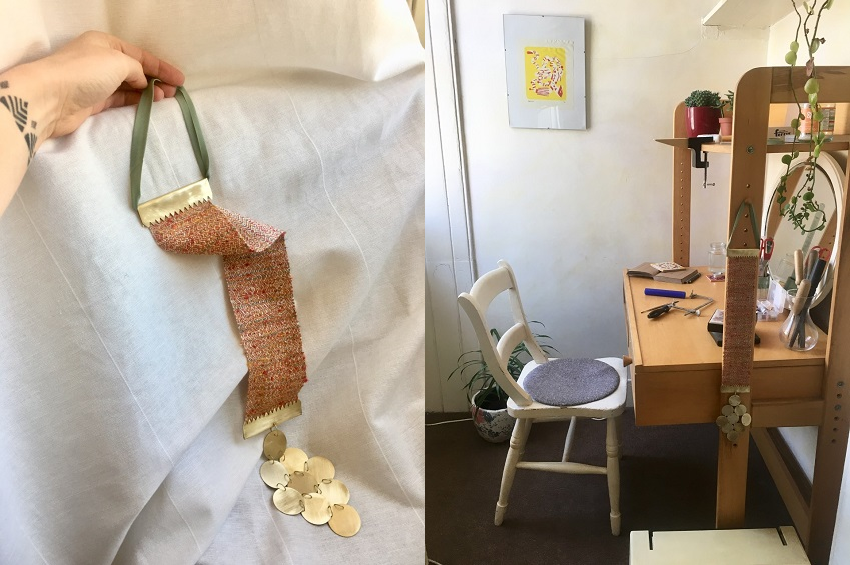 Image: Carolyn Kinnaird / Image by the artist
Carolyn Kinnaird, Jewellery

After graduating from Edinburgh College of Art in 2011 with a BA in Design and Applied Arts, Carolyn Kinnaird embarked on a number of research trips which took her to various countries around the world. During these trips she developed a love of symmetry, geometry and linear pattern. Primarily working in metals, Carolyn adds texture through wax engraving and creates accents of colour through using perspex and other non-precious materials.
She describes her new workspace: "As a resident jeweller at Silver Hub Studios, I am used to working within a shared working space, with numerous creative minds to bounce ideas. However, after lockdown was announced I suddenly found myself working in my living room at a makeshift bench - a desk in my rented flat that I hadn't looked twice at since moving in last year. I had to be a little creative with the set-up, such as with the bench peg that I have to stand up to use, but this has proved quite successful and a welcome break from all the sitting that comes from being stuck inside."
Carolyn has been working on some exciting commissions during lockdown and using this time to finish up projects, such as a collaboration with Brighton-based textiles designer Siobhan Martin. Carolyn explains how lockdown as allowed her to explore new ideas: "This wall hanging (pictured) is a project that I had been working on for a while and finally had time to concentrate on during lockdown. It is an idea that I am hoping to develop further once everything eases. I am also busy working on creating some new designs in wax for a ring project I started working on when lockdown began - watch this space! Creating 3D forms in wax has been a great thing to do at home as it requires minimal equipment."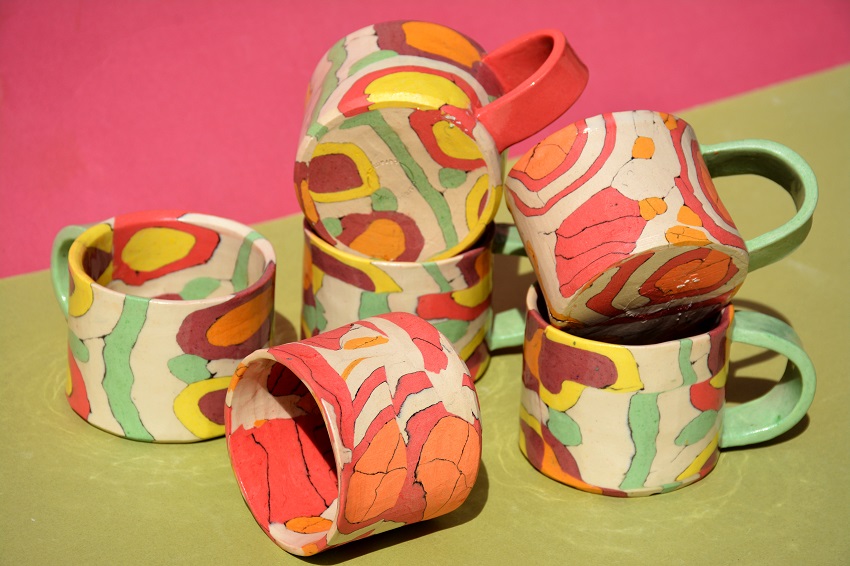 Image: Ciara Isabel Neufeldt / Image by the artist
Ciara Isabel Neufeldt, Ceramics
German-Irish ceramicist Ciara Isabel Neufeldt is the maker behind the colourful Ciara Isabel Ceramics. With a studio in Glasgow's East End, Ciara creates her pieces by combining pigment with white stoneware clay. These coloured clays are then layered together to form a block of pattern, from which slabs are cut, rolled out and reformed.
Ciara told us back in April about her experience of lockdown: "My studio shut around six weeks ago, but I was able to grab some essential materials and tools before it did. I feel unbelievably lucky to be able to keep my practice going during these strange times."
Her back bedroom has been turned into what she calls The Ceramic HQ, comprising of a desk and the best natural light in her home. Ciara has adjusted her process to this space, she explains:
"It's been difficult to stay motivated without the usual deadlines to work towards, but I've been taking this time to focus instead on creating larger work and translating my patterns onto different shaped vessels. I've also had a few commissions which is great, as it's forced me to focus and get back into the headspace of making to order."
For anyone interested in trying their hand at coloured clay, but without the access to materials or a studio, Ciara recommends purchasing polymer clay and looking up YouTube tutorials. The result is similar to the colourful and playful patterns found in her work. No need for a kiln as the clay bakes in the oven and with a variety of colours available, it is family and kitchen-table friendly.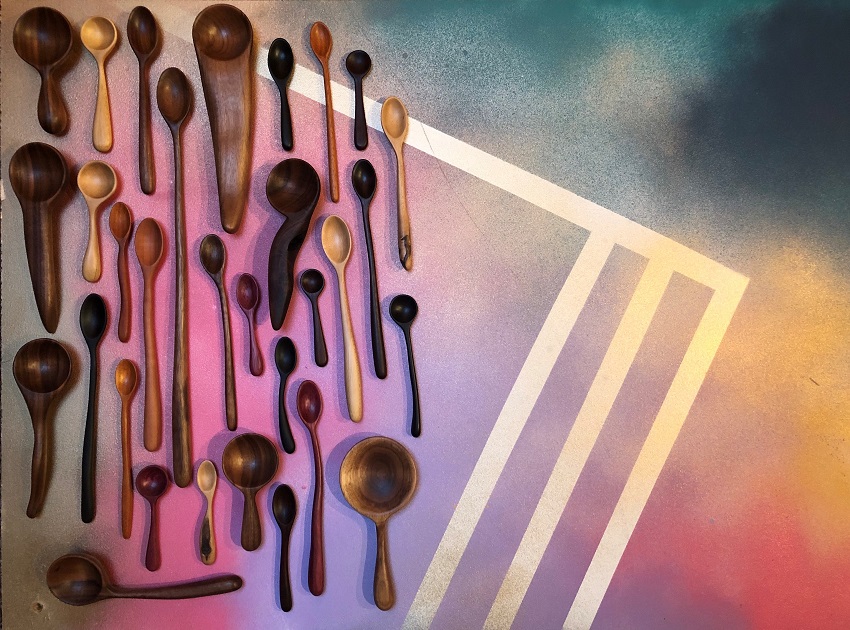 Image: Louise Forbes / Image by the artist

Louise Forbes, Wood
Louise Forbes is a Dundee-based designer/maker running both Louise Forbes Design and co-owner of the Tayberry Gallery in Perth. Louise Forbes Design was established in 2011 while Louise was working as a retail manager, she started making chopping boards, mirrors and some small-scale furniture from a friend's workshop in Angus. Louise shares her story on continuing her practice in woodwork during the lockdown:

"I am super lucky during the lockdown as my workshop is in a building that is currently not being used by anyone else. It's also not far from my house so I can walk there on my daily exercise and get some work done. All the tools I use are so large, and my work creates a lot of dust, it would be very difficult for me to work from home."
Together with jeweller Sarah Spalding, Louise runs the Tayberry Gallery in Perth. She explains: "I usually spend a lot of my time through in Tayberry Gallery, but we have had to close for the time being. So, this lockdown has actually been a really good opportunity for me to concentrate on my work and get some stock made - it's been years since I've had five days straight in my workshop doing all my own stuff."
Louise remains positive and is taking inspiration from the pandemic, as she explains: "I designed and made a Corona Spoon which was great fun and felt like it was taking me back to my design roots, then made a video to hopefully make people smile. I have an awesome intern, Kim Burke, who has been redesigning my website over the past couple of months. I have now had time to get it done and my new website went live a few weeks ago. I'm definitely trying to make the most of this time and stay really positive, all of my workshops for the next few months have been cancelled, but hopefully once the world starts turning again we'll be carving spoons all over Scotland."

Stay updated with the latest information and support during COVID-19 in our Maker's Guide to Coronavirus (COVID-19).

Discover Part One and Part Three here.
Interviews have been lightly edited or condensed.