From the latest collections to funding and special collaborations, The Craft Edit is your monthly insight into the most inspiring stories from local makers and craft organisations.
---

Iseabal Hendry raises funds from new collection during lockdown
Designer/maker Iseabal Hendry (pictured above) launched her business in August during lockdown and has spent the last four years developing work in the hope of producing a capsule collection of handwoven accessories.

Iseabal applied for a new Crowdfunder initiative supported by Creative Scotland with an initial target of £5,000. Within the first 48 hours, Iseabal made more than double her target (£18,000) to match funding from Creative Scotland and she was also approached by Royal Bank of Scotland who wanted to support her project with their Back Her Business initiative. In a boost to her new venture, Iseabal sold out of her new phone holder, the Swing Case, within the first day of her product launch.

Highlands weaving mill creates innovative face mask service

Prickly Thistle Scotland, the only tartan weaving mill in the Highlands of Scotland, launches the first face mask subscription service during the Coronavirus (COVID-19) pandemic.

The Mask of Integrity is a filtration-tested, reusable mask made from 100% natural fibre fabric.
Clare Campbell, Director of Prickly Thistle teamed up with the Edinburgh-based Institute of Occupational Medicine (IOM) to test the particle filtration and fit of the face mask design.

The user customised subscription service will equip each customer with two reusable masks and the regular replacement schedule of these will be dependent on their usage habits. Prickly Thistle is working with Zero Waste Scotland to ensure that all masks returned as part of this subscription service will be repurposed.

The durability of the natural fibre cloth was based on key learnings from the woven sail craftsmanship of the Viking age. Clare was inspired after reading The Golden Thread written by Kassia St Clair, and connected with Professor Donna Heddle, Director of the University of the Highlands and Islands institute for Northern Studies, to further explore this.

To pre-register your interest in ordering the Mask of Integrity, apply at https://pricklythistlescotland.com/mask-of-integrity/moi-pre-order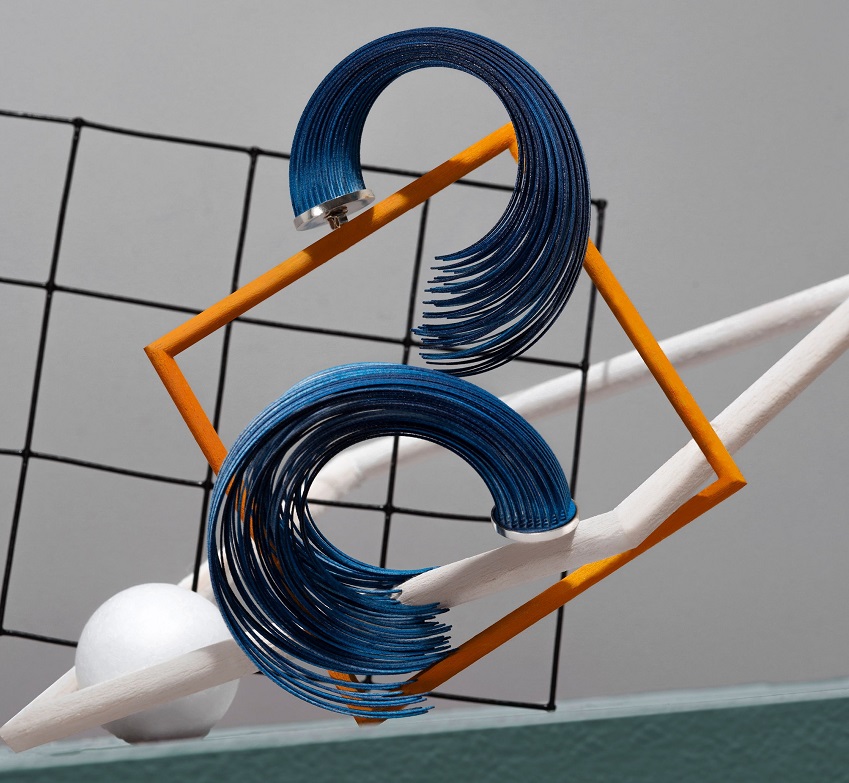 Image: Evgeniia Balashova​ / Image courtesy of the Incorporation of Goldsmiths

Scottish Goldsmiths Trust raises funds for charitable work

Makers from across Scotland have donated items for the Scottish Goldsmiths raffle, with the retail value of all pieces estimated at more than £3,500. Items available to win include Large Brushstroke Earrings in Ocean Blue by Evgeniia Balashova (pictured), the Heald Pin by Ruth Leslie, the Moonstruck Bangle by Malcolm Appleby, and Evernia Earrings by Kate Bajic.
Funds raised through the raffle will directly support jewellers and silversmiths at student and emerging maker level through three programmes: the Precious Metal Grant, an annual grant given to each of the Scottish Art Colleges teaching Jewellery at HND level and above; the Ethical Making Pledge supporting transition to sustainable and responsible making processes; and support for a reduced stand cost for emerging makers
Every £10 donated counts as one ticket, and there was no limit on the number of tickets that could be bought. Each ticket was one entry to win one of the 20 items donated. Winners were drawn at the closing event of Elements: A Festival of Jewellery, Silver and Gold, on 8 November 2020.
You can also view the event and pieces that were included in the raffle on the Elements website.


Over £1.6m National Lottery funds reach creative projects, including makers and craft organisations

Makers Lisa Arnott and Jessica Howarth, Archipelago Folkschool, and Local Heroes have received a share of the £1.6 million of National Lottery funding through Creative Scotland in the latest round of Open Fund awards.

Lisa Arnott & Jessica Howarth applied for funding for their Flourish project as part of the Jewellers in residence at SilverHub Jewellery School and Studios, Edinburgh.

Lisa is a jeweller, enamel artist, educator and researcher. As a jeweller and artist, Lisa creates wearable sculptural objects which hark back to the post-industrial age whilst responding to the urban environment in which she lives. Lisa's interests include the use of innovative enamelling techniques, etching, printing and upcycling industrial waste materials.

After graduating with 1st Class Honours in Jewellery and Metal Design from the University of Dundee in 2011, Jessica Howarth set up her own creative practice. She has exhibited both locally and nationally and has received several awards including the Visual Artists and Craft Makers Award from Edinburgh City Council and Creative Scotland in 2017.

Craft organisations Archipelago Folkschool and Local Heroes received the Open Fund for Organisations. Archipelago Folkschool is a collaborative social enterprise, that connect people with craft and will use the funding for their 100 Boat for Scotland project.

Curatorial agency Local Heroes will put the funding towards their partnership with the Incorporation Of Goldsmiths, to take contemporary jewellers to New York City Jewellery Week (taking place Tuesday 16 to Sunday 22 November 2020)

Creative Scotland distributes funding for the arts, screen and creative industries from two primary sources, the Scottish Government and the National Lottery.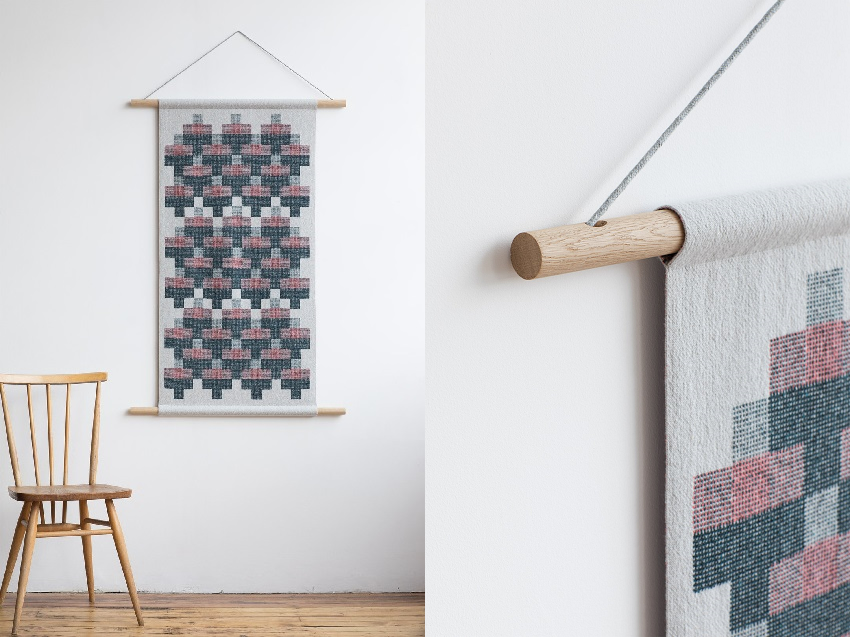 Image: Hilary Grant / Photographer unknown

Hilary Grant launches new Faro Wall hanging

Orkney-based textile design studio Hilary Grant has launched their new Faro Wall Hanging this month.

The hanging is machine knitted and hand finished, though knitted to a higher tension so the textile has more stability. The textile is framed on oak dowels sustainably grown in Europe and hung from a cotton cord made in England. Hilary and her team soft launched the new design earlier this year in May, where the items were sold out within the first day of the launch.

Hilary Grant's knitted pieces cross the boundaries of craft and design, combining industrial production, craft, design and applied art. The wall hanging achieves a balance between an everyday textile which is accessible and yet maintains the precision and the high standard which Hilary Grant's knitwear is associated with.

The Faro Wall Hanging is available to buy on the Hilary Grant website.
UK's first virtual market experience launches with 150 Scottish independent brands

The UK's first fully immersive virtual market experience is set to launch this November.

Super Market Events, who have been running creative market events across Glasgow since 2017, wanted to bring their popular market experience to people virtually. As the lockdown and further Coronavirus (COVID-19) restrictions have made it impossible for them to operate in their usual live events format, the virtual shopping event will allow visitors to enjoy a similar experience from the safety of their own homes.

Visitors to the event will be able to shop online from over 150 Scottish independent brands, including To make the experience more personal, each stall features a voice message from the seller telling shoppers about themselves and their brand.
Share your news with Craft Scotland. Email a press release and high-quality photography to hello@craftscotland.org.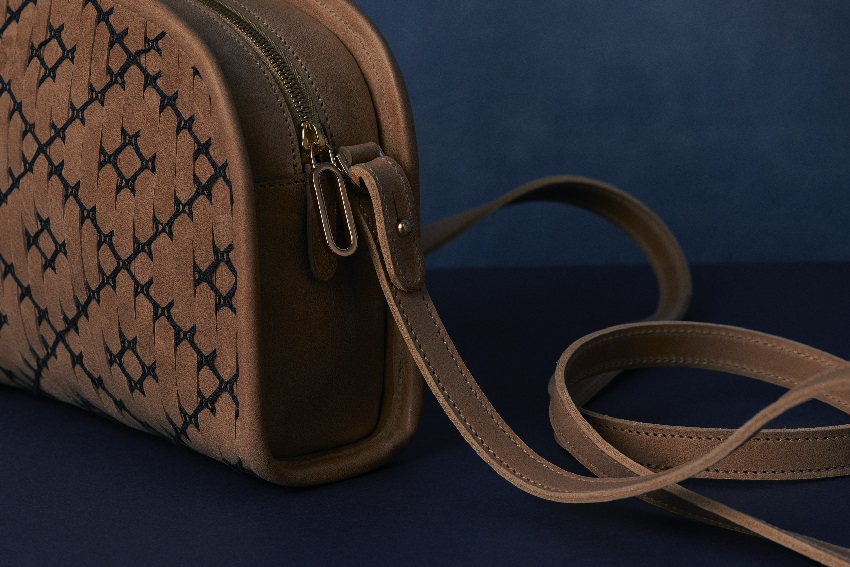 Transparent