The Craft Edit is your monthly insight into Scotland's thriving craft sector. Hear all the latest news from awards and funding, to artist residencies and special collaborations.
---
Scotland designers awarded Design Guild Mark
22 designers were awarded the Design Guild Mark in May this year, including Scotland-based designers Catherine Aitken, Namon Gaston and Peter Holmes.
Now in its eleventh year, the Design Guild Mark recognises the highest standards in the design of furnishings in volume production by British designers working abroad, and designers based in Britain.
Catherine Aitkin received the Jonathan Hindle Prize for Excellence for The Ori Guest Bed, a versatile piece functioning as both a daytime sofa and pull-out double bed. Edinburgh-based accessories brand Catherine Aitken designs and handcrafts items created for those who want to connect with beauty, purpose and provenance. Catherine collaborated with Another Country, an award-winning company that produces contemporary wood furniture and home accessories.

Namon Gaston and Peter Holmes received the DGM 215 award for The Oxbow Lounge Chair. Available as an arm and side chair, the Oxbow Lounge Chair has been crafted from European oak and Swedish oak bark tanned leather.
Namon Gaston designs his carefully proportioned and considered furniture from his workshop in East Lothian. Each piece has been meticulously designed, developed and refined, and is handmade to order. In order to create The Oxbow, he collaborated with Edinburgh-based maker Peter Holmes. Peter's company Be Seated specialises in producing bespoke upholstered furniture along with the restoration of antique pieces.
The judging panel comprised of leading industry professionals with a background in furniture, hospitality, commercial, retail, or media industry. Each entry was judged on the demonstration excellence in design, materials, manufacture and function.

The Design Guild Mark is now accepting applications for next year's awards and a new Lighting Design category has been launched for 2020.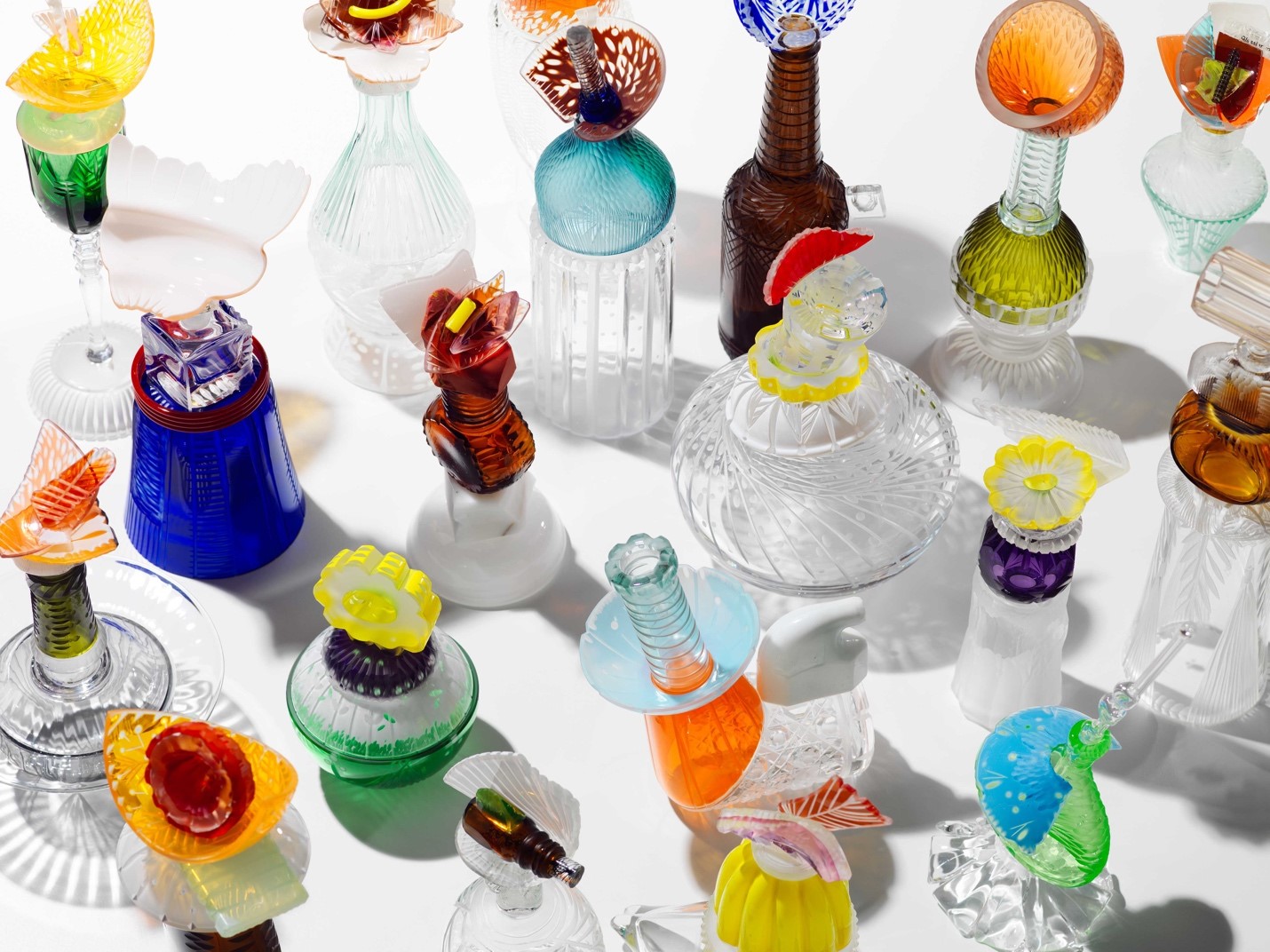 Image: Juli Bolaños-Durman / Photography by Shannon Tofts
Maker Juli Bolaños-Durman collaborates with fragrance brand Jorum Studio
An exciting collaboration between Edinburgh-based designer Juli Bolaños-Durman Studio titled Wild Flowers is on show at Make Hauser & Wirth Somerset.
Scotland-based glass artist, Juli Bolaños-Durman, presents her latest collaboration with independent Edinburgh-based fragrance brand, Jorum Studio. The collection opened to the public on 18 October, as part of the exhibition Re.Use, Re.Think, Re.Imagine at Make Hauser & Wirth Somerset.
Titled Wild Flowers, the collection comprises of 21 sculptures, which embody the bountiful nature of wild flowers and our natural environment. They are brought to life by deconstructing discarded glass and embellishing them with colourful layers of hand-cut details.
Juli is known for revitalising waste material by applying various heritage cold-working processes. Her practice is driven by a genuine concern for the environment and the amount of waste produced by consumers. As a maker working with a material that can be repaired, this project represents an opportunity to demonstrate both the traditional skills and artistic vision to breathe new life into discarded objects.
Alongside Juli's works in response to the Jorum Studio collection, Edinburgh-based photographer Shannon Tofts was commissioned to document the finished pieces.
Presenting the work of seven UK-based experimental makers, the exhibition is open at Make Hauser & Wirth Somerset until New Year's Day 2020.
Designer makes history by joining Hammermen of Dundee
Jewellery designer Teena Ramsay has made history by becoming the first female maker to join the city trade group, The Hammermen Incorporation of Dundee.
As the jewellery and metal design programme director at Duncan of Jordanstone College of Art and Design, Teena's work consists largely of carefully-crafted contemporary pieces.Teena produces rings, chokers, neckpieces and bracelets fashioned in gold, steel and silver with unusual stone settings and beads.
In order to join the Hammerman Incorporation of Dundee, Teena had to swear an oath of allegiance as part of the Nine Incorporated Trades, by striking the ceremonial anvil and signing her name in the locket book - a document which dates back to 1587.
Founded in the 16th Century, The Hammerman Incorporation of Dundee is one of the city's historic Nine Trades. They created a strong bargaining group to oversee the individual trades, help them control their funds, and to provide funds for charitable causes.
They also purchased property and participated in the running of many bodies within the City of Dundee, providing board members and funds to many key institutions and organisations.
As long-term supporters of Teena's course at Duncan of Jordanstone, the Hammermen sponsor annual prizes that enable students to develop their practice. It was this relationship, and Teena receiving the title of Incorporation's Boxmaster Chain of Office, that led to her joining.
Today, The Hammerman Incorporation of Dundee comprises of more than 60 members, including blacksmiths, plumbers, mechanics and engineers. The group are largely involved in charity work, mostly regarding education.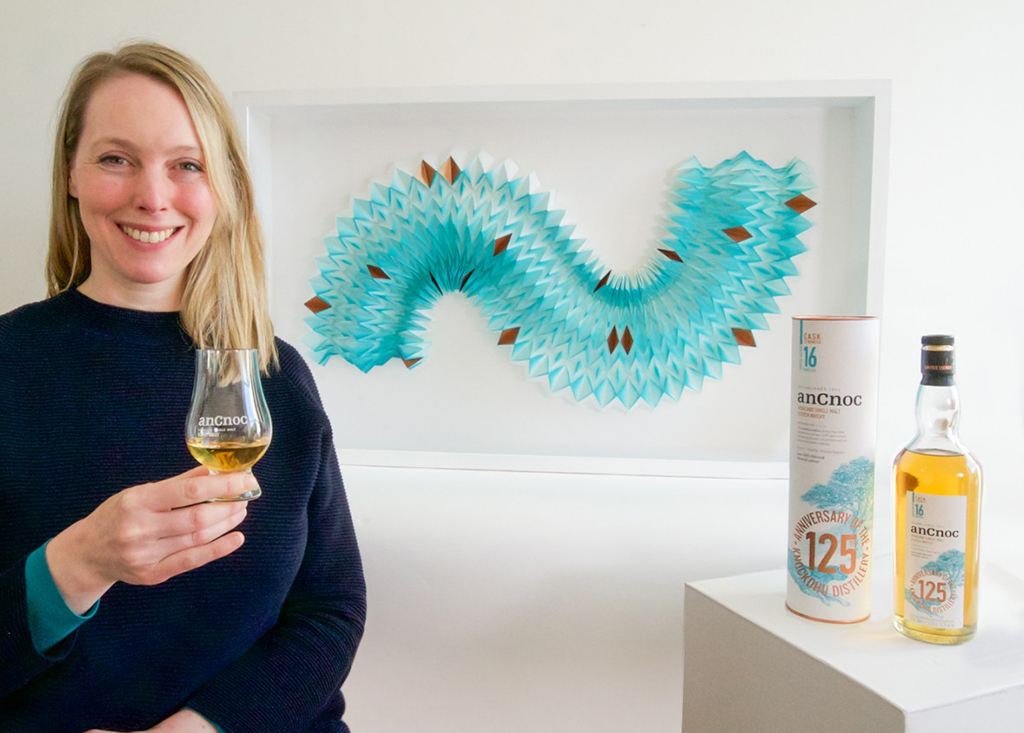 Image: Kate Colin / Photographer unknown
Scotland makers help celebrate 125 years of ANCNOC WHISKY DISTILLERY
To mark 125 years of its distillery in style, anCnoc Single Malt Scotch Whisky has collaborated with Scotland makers Kate Colin and Joachim King.
Each maker produced a bespoke piece inspired by the distillery's story, and the two new Limited Edition expressions – anCnoc 16 Years Old Cask Strength and the new Limited Edition Peated whisky, which were created in celebration of anCnoc's 125 year anniversary.
Kate Colin was invited to collaborate due to her unique work with paper.Using geometric forms to create innovative and sculptural work, her designs are created through intricate hand scoring and folding techniques.
Kate drew inspiration from anCnoc's 16 Years Old packaging, which is a bright turquoise colour, and the Limited-Edition packaging, which features the Black Hill. Its peaks and valleys are reflected through the folds in the paper. Sixteen copper decals were added to represent each year the whisky spent maturing quietly in the distillery's warehouse.
Glasgow-based maker Joachim King creates pieces of modern furniture with traditional methods such as steam bending, which he inherited from his Finnish boatbuilding family. In 2007, he founded the self-titled Glasgow-based furniture and cabinetmaking studio, designing and manufacturing their own pieces for sale and to order, as well as taking on bespoke commissions and larger projects.

Taking inspiration from the whisky making process and the Limited Edition Peated packaging, Joachim produced a whiskey cabinet which also serves as an art piece. Curved like a whisky barrel, with a diagonal cut linking back to the peat cutting process, Joachim also took cues from the deer, seen silhouetted on the landscape. Exposed bolts and rivets add an industrial feel, reflecting the steam trains which served as transport and ran past the distillery.
These final pieces celebrate anCnoc's past and paying homage to their present and future. Knockdhu Distillery, home to the award-winning anCnoc whisky, uses traditional production methods to craft a bold and modern single malt. Founded in 1894 by visionary John Morrison, the copper pot stills remain the same shape and style as they were when the distillery first opened its doors.
A one-off replica of Joachim's 125th Anniversary celebratory piece is available for commission.

Orcadian luxury knitwear selected for Tate Modern Shop
Tate Edit is now supplying Hilary Grant blankets for its winter collection. Tate Edit is a specially curated shop set within the Boiler House extension to the Tate Modern Art Gallery, London. Selling products that are both functional and beautiful, often selected by Tate curators.
This year's collection has been curated by a panel including design journalist Katrina Burroughs, The Crafts Council creative director Natalie Melton and lead curator at the Tate Modern, Donald Hyslop.
Orkney-based textile brand Hilary Grant specialise in original knitted pattern and compositions - for blankets, wall hangings, scarves and accessories. All of their knitwear, including blankets (pictured) are made from luxury-grade, mulesing-free 100% lambswool yarn. They are knitted in Scotland on state-of-the-art Japanese knitting machines, before being finished by hand.
For its winter collection, Tate Edit has stocked the Faro blanket in Lichen, and their Asplund design in Vole and Rust.
The space in which Tate Edit is set was designed by Jasper Morrison in collaboration with architects Herzog & de Meuron. Tate Edit features a carefully selected range of artworks, design objects and practical items for the home. You can shop the latest collection online.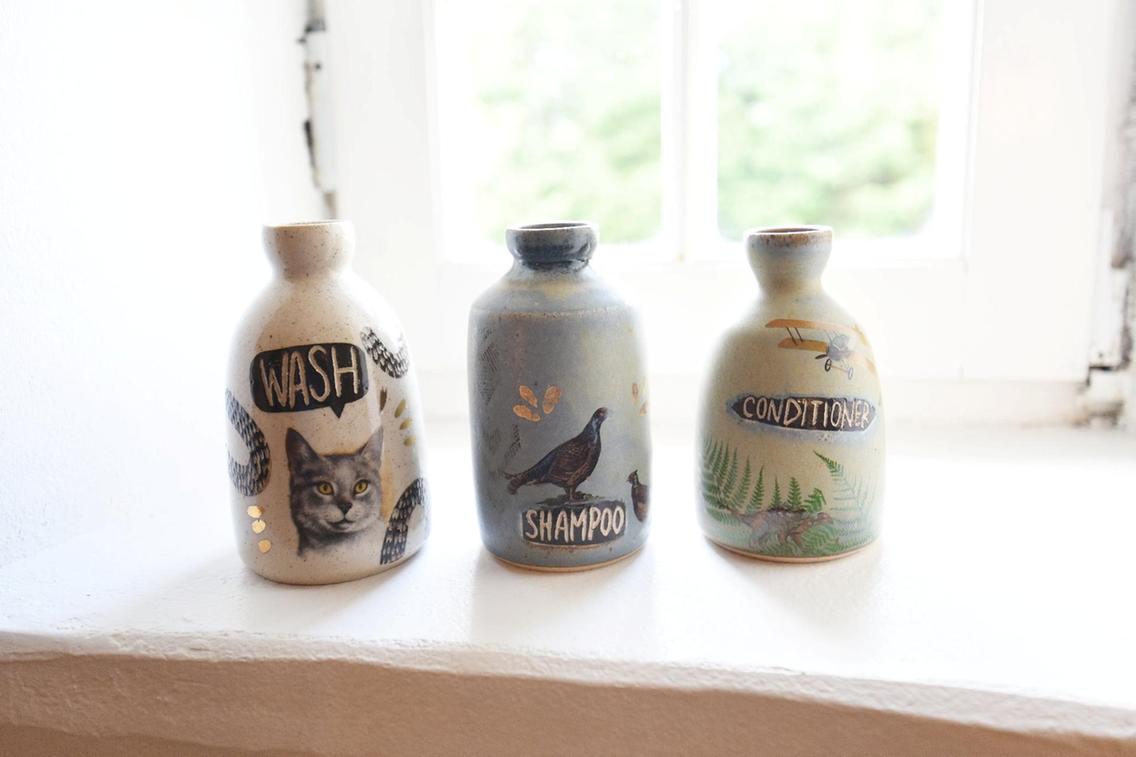 Image: Claire Henry ceramics / Image by Kilmartin Castle
Local ceramicist commissioned for Scottish hotel project

Kilmartin-based ceramicist Claire Henry has been commissioned to create ceramic pots for an exciting hotel project.

Beginning in 2014, former Dubai-residents Stef Burgon and Simon Hunt took up the challenge to convert the 500-year old Kilmartin Castle into a bed and breakfast. After living in the UAE for more than a decade and running the castle remotely as an Airbnb for almost four years, the couple returned live in, convert and run the property themselves.
From Aime van Belleghem paintings to vintage cabinets and ornate mirrors, Stef and Simon collected unique items to decorate interior of the castle, in keeping with its 16th Century aesthetic.
The eco-friendly approach of incorporating vintage and thrift store finds is also reflected throughout, and the couple plan to run their operation as sustainably as possible.
Local maker Claire Henry was commissioned to create her bespoke ceramics for the bathrooms. Stef and Simon intend to refill these unique ceramic pots with eco-friendly Faith In Nature products for guests to use.

Claire Henry is a small-batch production potter who has been working with clay for over a decade, striving for functionality and quality in her craft. Her tableware has been commissioned by numerous cafes and restaurants and is found in private collections in North America and throughout Europe.

Seven months of renovations, along with a team of tradespeople, the Stef and Simon have now completed their luxury five-room Bed and Breakfast. The Kilamartin Castle project was captured by cameras for British TV show The Great Hotel Escape, which aired earlier this year in August. You can watch the series on 4OD.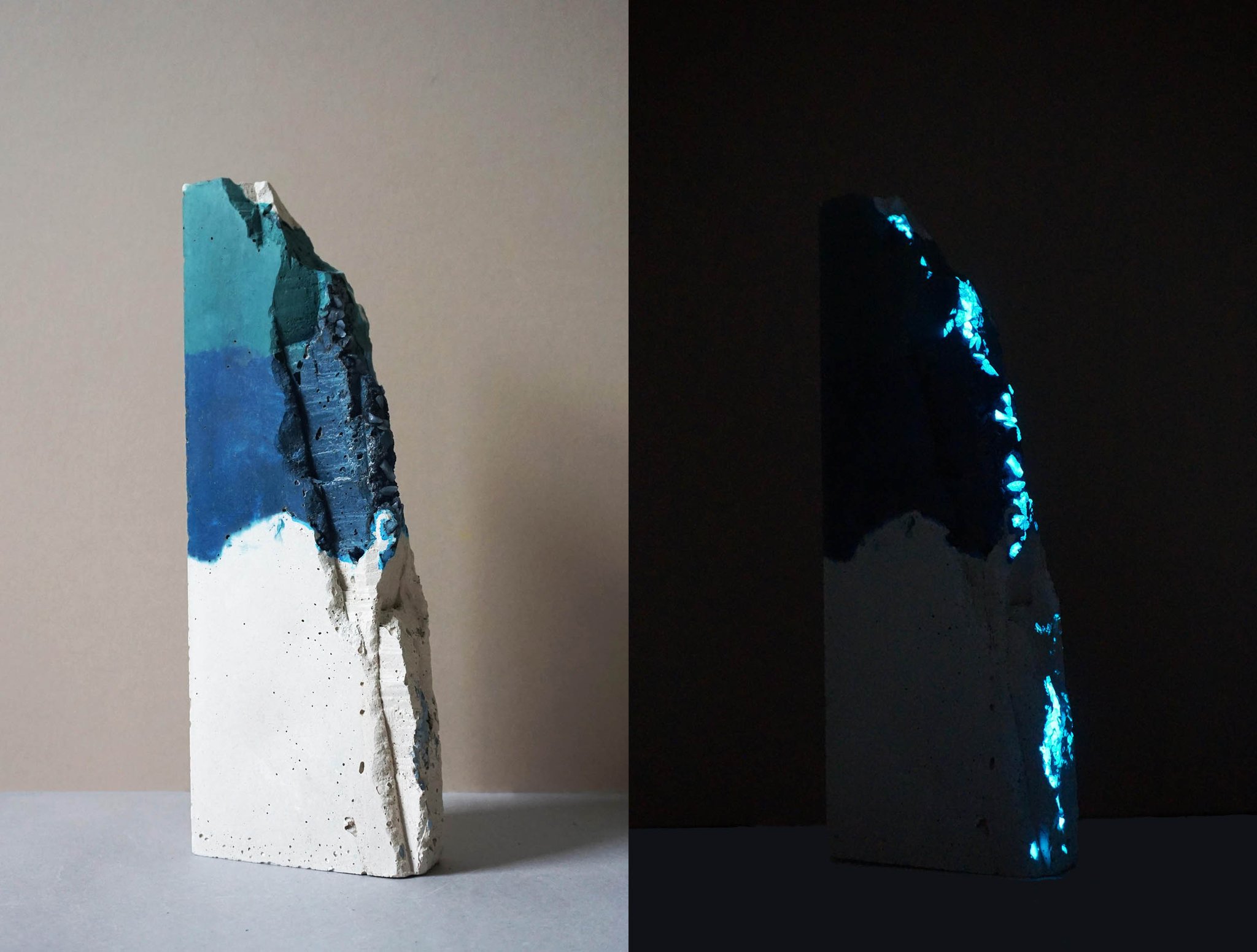 Image: Studio Emma / Photography by Eoin Carey
Scottish Album of the Year Award prize designed by Edinburgh maker

Each year, the Scottish Album of the Year (SAY) Award commissions a designer to make bespoke prizes for musicians who make it to the prestigious shortlist.
For the first time this year the ceremony relocated to Edinburgh, where local artist Studio Emma created the award inspired by the basalt cliffs of Salisbury Crags. Edinburgh-based design curator Local Heroes helped enlist designer Emma McDowall to create the ten cast concrete awards, with costs covered by SAY Award sponsors Sweetdram.
Each piece is made by hand from concrete, mimicking the texture and colour from Scottish landscape with deep grey-blues and forest greens blending into a natural sand tone. The pieces also have been adorned with UV crystals fused into the textured edges of the concrete (pictured).
Emma created her brand Studio Emma in 2016, having graduated in Textile Design from Gray's School of Art. She took her love for colour and texture and expanded into new materials and more sculptural forms. Working with imaginative colour combinations to create free-form patterns and surface textures, her designs play on the unpredictable and the imperfect, taking shape as bold, decorative pieces.

The SAY Award has become one of Scotland's most popular and prestigious music prizes. Developed by The Scottish Music Industry Association (SMIA), The SAY Award gives out a prize of £20,000 to the winning album and nine runners-up prizes of £1,000.
Entries were selected by an expert panel of judges made of ten key influential and experienced tastemakers from across the creative industries.
This year's award went to Glasgow-based electronic band Auntie Flo for their album Radio Highlife.
Learn more about craft this month:
Grant Gibson's back with series four of Material Matter's podcast – a must listen for any craft aficionado.

The Herald: How Prince Charles' Borders visit marks a textiles renaissance

The Sunday Post: The good, the plaid and the unbelievable…

The Times: Why is everyone obsessed with ceramics right now?

The Press and Journal: Inspired by Orkney's stylish charm and rich history

The Press and Journal: Best of Scotland's artistic talent to be showcased in Workshops Week
The National: Dunbar welcomes John Muir bear sculpture by Andy Scott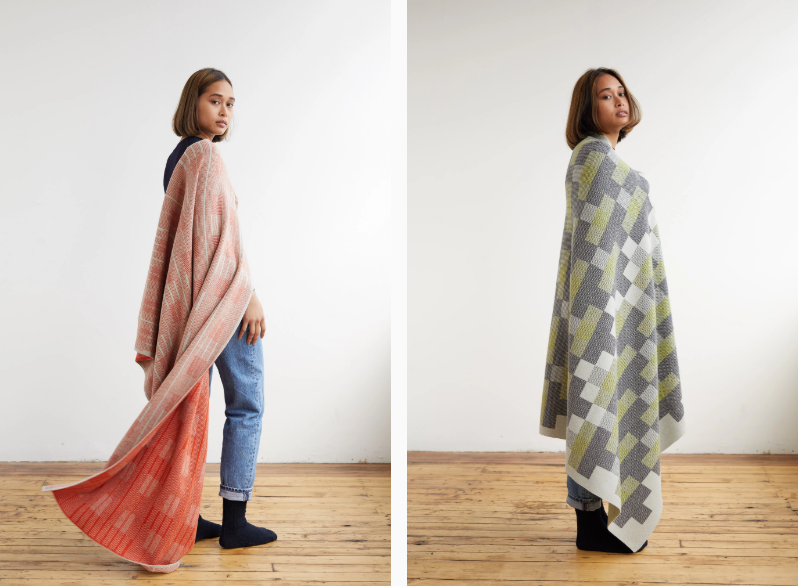 Transparent