In November's The Craft Edit, we bring you the latest inspiring news and stories from makers and craft organisations across Scotland.
This month, hear about the new UNESCO status of the city of Perth, as well as the GSA graduate who's creating wearable jewellery pieces made from foraged seaweed. Plus, discover the two Scottish ceramicists who are joining together to create a brand new collaborative ceramics studio in Edinburgh.
---
Perth Becomes the First UK City Named a UNESCO City of Crafts and Folk Art
Perth has joined the established Creative City network of 50 countries across the world, including Jaipur, Cairo and Carrara, in celebrating craft.
The importance of craft is paramount to the history and heritage of Perth. The city was known as Craftistown from the early 16th century because of the importance of its trade and guilds.
The bid also highlighted the climate change challenge as the city aims to include craft as part of plans to reuse, recycle and meet carbon-neutral commitments. It is hoped that becoming a UNESCO city will have a positive impact on the city and surrounding areas as it is a world recognised badge of quality. The UNESCO badge will be a driver of funding streams and a way of creating new commercial and learning opportunities.
Perth and Kinross Council leader Murray Lyle said, "This is a tremendous accolade for Perth and I am delighted we are now part of UNESCO's Creative Cities Network, as well as the UK's first City of Craft and Folk Art. There are wonderful examples of craft all around us in Perth and Kinross and I am sure this award will lead and inspire even greater creativity."
James Bridge, chief executive and secretary-general of the UK's National Commission for UNESCO, congratulated Perth on the designation. "Known for over 500 years as a centre of craft production and trade, the city's new UNESCO status pays homage to the heritage of Perth and carries forward the traditions of its makers and practitioners into the future."
Perth's UNESCO recognition means it joins Dundee as City of Design, Edinburgh as City of Literature and Glasgow as City of Music.
Learn more about UNESCO: en.unesco.org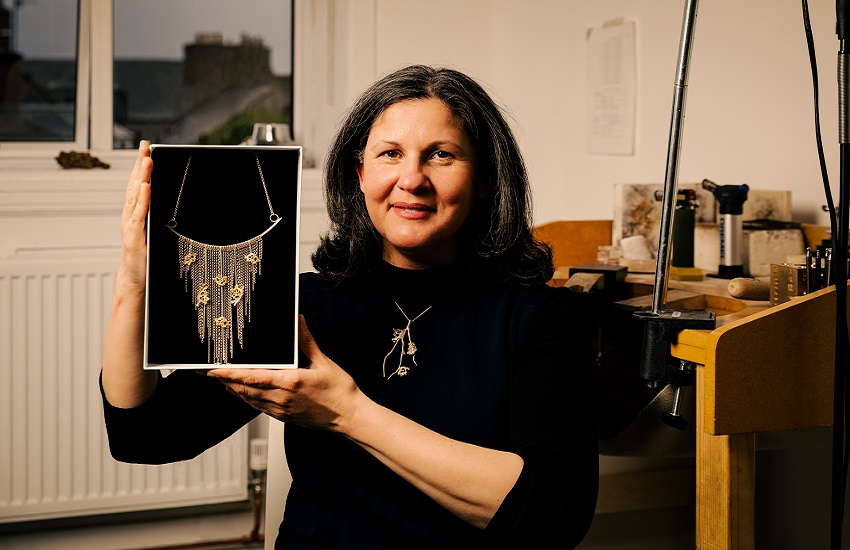 Image: Perth based jeweller, Roberta Pederzoli / Photography by Lydia Smith
Scottish Surfer's Sustainable Jewellery Pieces Selected for Graduate Showcase
A young Edinburgh designer has come up with an innovative idea in sustainable jewellery design, creating a collection made from seaweed sourced from Scottish beaches.

Glasgow School of Art graduate Iona Turner, who is also a surf instructor, is one of 10 talented silversmiths and jewellers from across Scotland whose work has been selected by the Scottish Goldsmiths Trust and Lyon & Turnbull for the online Elements 2021 Graduate Showcase exhibition.

Iona's pieces include necklaces, brooches and earrings fashioned from the "bladders" of storm-cast knotted-wrack seaweed, which dries in many shapes and colours depending on the time of year it is collected and where the seaweed has been sourced from.

Iona explains: "I like to go foraging for seaweed as a food source to dry and eat. I'm also interested in the idea of using materials in my design work that are sustainable and renewable, so I decided to experiment a bit. The seaweed preserves well, has a wonderful texture and is very strong when it's dried. I found it beautiful and very distinctive. I only use what's washed up so nothing is killed, and I collect it myself so there's no long supply chain."
Iona works in a variety of materials including recycled brass, gold and silver and also crafts pieces from fallen branches collected in coastal woodland.

The 2021 Graduate Showcase is part of the annual Elements Festival, Scotland's biggest celebration of jewellery, gold and silver – and is online until the end of November.
Find out more about the Elements 2021 Graduate Showcase: elementsfestival.co.uk
Image: Iona Turner / Photography by the artist
Creative Edinburgh Celebrate the City's Creative Minds at Their 10th Annual Awards Ceremony
Since 2012, Creative Edinburgh has been celebrating the City's community at the annual Creative Edinburgh awards, highlighting the projects, people and places that flourish across Edinburgh and continually ensure its place on the cultural map.
With this year marking the 10th year of the awards, Creative Edinburgh continues to celebrate, amplify and unite those building a resilient creative ecosystem in Edinburgh.
The awards shortlist has now closed, with creatives spanning across nine exciting categories. The categories include awards for creativity, start-ups, social impact, commercial, student, collaboration and more. The nominees include a vibrant and diverse range of businesses and creative practitioners, from pottery studios to recycling initiatives and science based organisations.
All previous award winners and shortlisted nominees are listed in the Creative Edinburgh digital hall of fame, with the awards ceremony streamed online on the Fruitmarket Gallery on Thursday 18 November.
Find out more about the nominees and explore the Creative Edinburgh digital hall of fame: creative-edinburgh.com
Scottish Ceramicists Join Together to Create Brand New Collaborative Ceramics Studio in Edinburgh
Ceramic artists Natalie J Wood and Hazel Frost have come together to create Studio.Frostwood, a collaborative ceramic studio based in Edinburgh. With a Crowdfunder created to help bring their vision to life, Natalie and Hazel wanted to create a space to offer lessons in ceramics, beginners lessons and specialised workshops in hand building, throwing and slip casting.
Co-creator Hazel Frost said "We share a foundational belief of improving accessibility to ceramics. We also want to offer casual lessons that build on the holistic and therapeutic qualities of creating art, with unstructured classes that will allow people to explore their own creativity with the guidance of mine and Natalie's shared knowledge."
In 2015 Natalie started her practice in a shared studio in Edinburgh. Quickly growing her business, she needed a bigger space and joined Wasps Artist Studios in 2017 starting in the smallest space. Now an amazing opportunity has arisen for her to take on a much larger space within the Wasps Artist Studios.
Hazel graduated from her Ceramic Design course in 2013 and has moved around different studios since then. At times working from her shed in Northumberland, taking pots on 2 hour-long round trips to be fired in another sympathetic potter's kiln, making work hasn't always been the most straightforward of missions. After moving to Edinburgh in 2018 she struggled to find a space to call her own, it wasn't until partnering up with Natalie this year that this became possible.
By joining up together to create their brand new pottery studio, Natalie and Hazel want to create a space that can help them improve their own practices. "A larger space for us means more opportunities to teach, to take on bigger commissions and store larger sculptural work. In the future, we look to offer memberships through sharing equipment and even offering residency opportunities to other artists."
As of Saturday 6 November 2021, Natalie and Hazel's Crowdfunder successfully raised £2305 from 53 supporters, receiving the necessary funds they require to take the first steps in making their new studio a success.
Learn more about Studio.Frostwood's mission for the future: www.crowdfunder.co.uk
Image: Studio Frostwood/ Photography by the artist
Artists Invited to Help Address Climate Change Through Visual Representations of Science
Devised to mark COP26, artists worldwide are being invited to submit their work for a unique climate-themed project which will use art to unpack scientific solutions to the climate crisis. "The Uncook Book" will bring together those within the scientific community who are championing climate solutions, with artists to illustrate their theories. In bringing together climate science and art, "The Uncook Book" will not only help explain climate solutions, it will also present them as both memorable and inspiring.
Purpose-driven branding agency, Given, is inviting artists from across the globe and working in all disciplines, to be part of a unique project designed to combat the rhetoric of negativity surrounding climate change. "The Uncook Book: How to Unbake the Planet" will use the artwork of selected artists to breakdown and communicate science's most powerful solutions to the climate emergency, making these scientific concepts accessible, mainstream and inspiring. Artists whose work is selected will not only have the chance to see their work published and be part of a unique change-making community, but they will also be using their creativity to bring uplifting and hopeful climate solutions to the wider world in an impactful way.
The book is a helping hand for anyone who is feeling overwhelmed by the scale of the issue, for those who want to make a change but don't know where to start, or for those who simply want to believe that change is possible.
Becks Williams, Creative Director at Given said; "The Uncook Book" is an exciting opportunity for any artist passionate about the planet and art's power to communicate and inspire. When it comes to the climate emergency, many of us are experiencing fatigue. This COP26 we wanted to launch a project that would help tackle any sense of hopelessness around the issue by raising awareness of the scientifically-backed solutions which will start to make a real impact."
Deadline for submissions is Fri 31 December, find out more: www.uncook-book.com
Image: The Uncook Book
---
Learn more about craft this month:
Watch
Read
---
Share your news with Craft Scotland. Email information or a press release along with good quality photography to hello@craftscotland.org.