The UK's craft sector is diverse and thriving. In this post Craft Scotland's Director, Fiona Logue shares her craft highlights from her recent trip to Belfast as part of the UK Craft Alliance.
The UK Craft Alliance is the grouping of Rosy Greenlees, Director of the Crafts Council, Alan Kane, Director of Craft Northern Ireland, Louise Wright from the Welsh Arts Council and Fiona Logue, Director of Craft Scotland. It meets twice a year to share and discuss matters of common concern and opportunities. The most recent meeting was on Thursday 29 to Friday 30 September hosted by Craft Northern Ireland. Louise Wright could not make this meeting but we were joined by Karen Hennessy, Chief Executive of Design and Crafts Council Ireland.
The business agenda covered funding, the potential impact of Brexit and how to pool training resources.
This was followed by a visit to the Space Craft Shop, run by The Craft and Design Collective an independent membership organisation with over 140 members. Their co-ordinator Jan Irwin reported that their new street front premises, while smaller and having no exhibition space has seen footfall increase by 200% and sales increase by 40%.
We also popped into Studio Souk a new open plan design, incubation and retail space for Ireland's creative businesses which also houses a popular café.
The final visit of the day was to meet Racheal Dickson, Associate Head of School at Belfast School of Art, part of Ulster University. She gave us a tour of the impressive facilities and building. It is exceptionally well equipped for all forms of textile study – weaving, knitting, printing and embroidery. Contemporary Applied Arts covers silver smithing, jewellery and ceramics. It was fantastic to see this still being taught with such great facilities. The building had an amazing sense of space and light and has magnificent views of Belfast from the painting studios on the top floor.
Friday morning took us to Bangor to see Project 24, an initiative by Ards and North Down Borough Council and to meet Heather Parker, Arts Development Officer. It is a temporary art project on Bangor seafront. It has transformed a derelict space into a welcoming, vibrant and dynamic area in the heart of the town with 12 artist studios situated in 6 artist pods. These are customised shipping containers with a coloured exterior and bespoke interior. Artists and makers work, run workshops and sell their work from the pods and are given business development support. The project has brought new interest to this area while it waits for a large redevelopment project.
Keep up-to-date with all things craft in Northern Ireland on Twitter and Instagram.
UK Craft Alliance in Belfast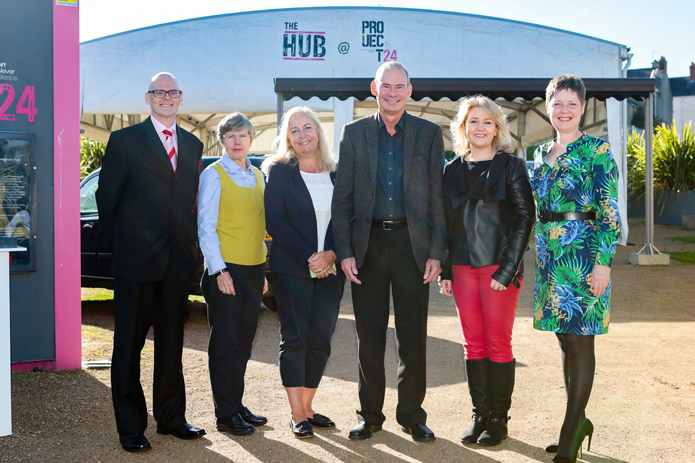 Transparent