The Scotland: Craft & Design pavilion returns 21 - 24 September at the London Design Fair. Following the success of last years showcase, the pavilion champions the innovative spirit, exceptional craftsmanship and world-class reputation of Scottish craft.
In the lead-up to Scotland: Craft & Design pavilion, we're continuing to catch-up with the featured makers to discover their design stories. Up next is textile designer Mariam Syed, who explores storytelling through woven textiles, translating the life and stories from the heart of her ancestral homeland Karachi into colourful, geometric designs.
Hi, Mariam! Tell us a little bit about yourself?
I am a woven textile designer based in Glasgow. I specialise in luxury 100% silk woven scarves and woolen rugs. My design practice encapsulates everything I am passionate about; weaving, vibrant colour, geometry and architecture. Fascinated with the visual culture of my hometown Karachi, a lot of my inspiration comes from the Truck Art of Pakistan.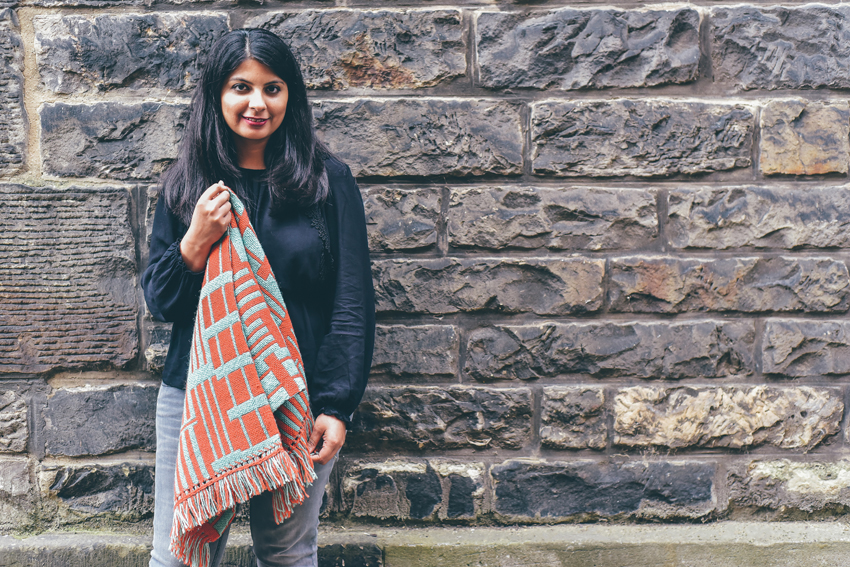 Image Credit: Ellie Morag
Has your education influenced your practice?
My degree in Textile Design from the Glasgow School of Art has influenced the way I prioritise my commitments and how I work to tight deadlines. I feel that it has helped me structure a systematic approach towards approaching a project and maintaining an easy flow for my creativity to flourish.
What is your favourite piece you are showing at the London Design Fair?
My favourite piece is my woollen rug called 'Saddar'.
What was the inspiration behind it?
'Saddar' has been inspired and named after the oldest part of Karachi called 'Saddar' (Saddar generally means the 'centre' of the town). Today Saddar retains much of its British Colonial architecture and the patterns of my woollen rug 'Saddar' are a representation of the hustle and bustle of the busy centre. The rug is infused with the vibrant colours of Truck Art to give it a unique look.
What makes it particularly special to you?
It is very special to me because it is my part of my degree show collection at the Glasgow School of Art. I love the colour combinations and the design pattern. It is was the first rug I wove with the double cloth construction and I am very proud of its complex pattern.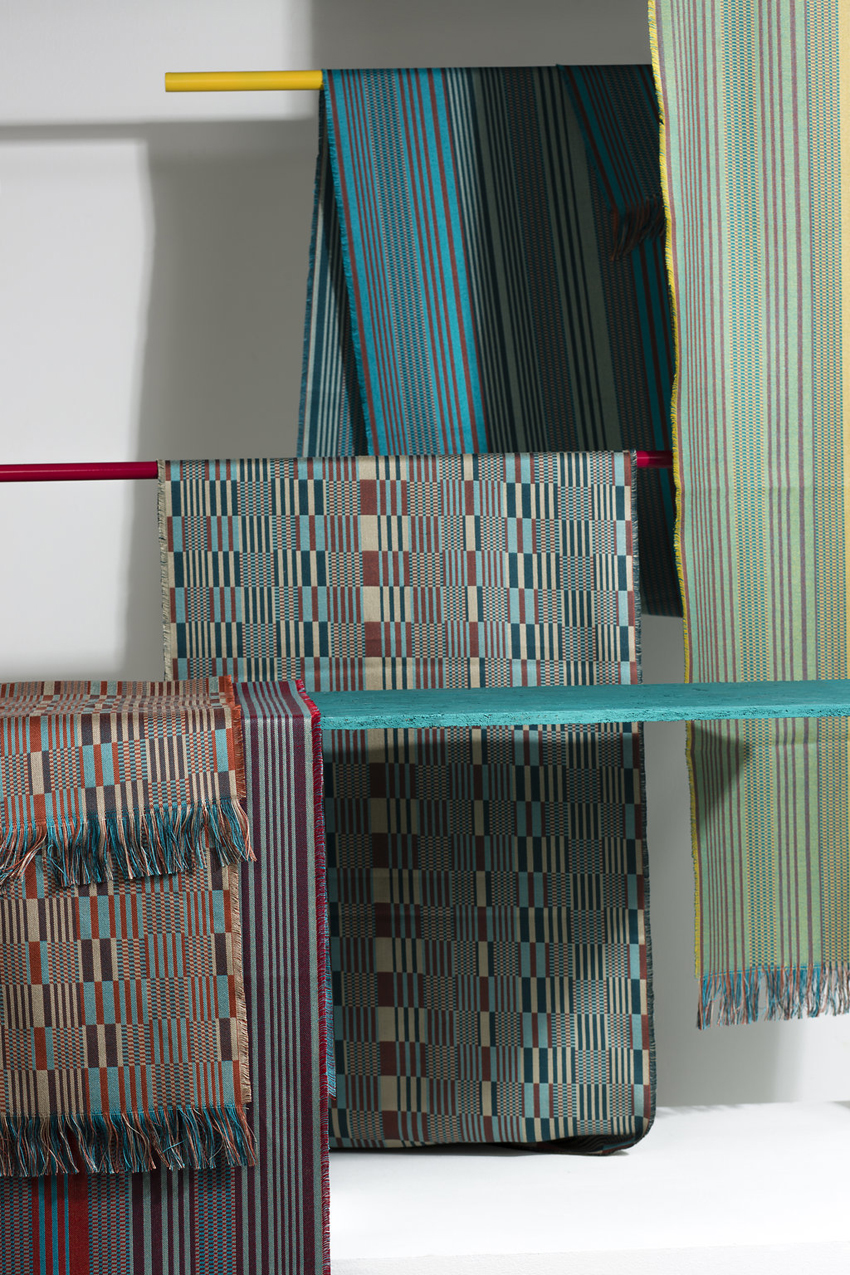 Image Credit: Susan Castillo
What inspires you to get into the studio?
I absolutely love weaving and that inspires me to get into the studio every day!
What challenges do you face in the design/making process?
As a student, I was used to exploring my ideas and trying out complicated weave structures. However, in the real world, I have come to realize that most of my designs cannot be produced in the weaving mills because of the industrial loom limitations. I recently had my scarves woven at a traditional mill in Bradford and was told by the operator that in his career of 43 years he has never seen such a complicated weaving draft and peg plan!
How do you see the interplay of design and craft in your work?
My design ideas are all designed by me in my studio but I develop them on the weaving loom. It is vital to have a strong design pattern but a lot of new designs emerge on the weaving loom as well. So my work is an amalgamation of design and craft!
What do you think is the Scottish creative identity?
Scotland's creative identity is defined by its strong sense of self and history. Scotland has a rich heritage of crafts and immensely talented designers today that are up for experimenting with new techniques. Therefore tradition and innovation walk side by side in the creative industry.
What motivated you to showcase at the London Design Fair?
London is a creative hub for the whole world. I was motivated to showcase at the London Design Fair because as an emerging designer I want to increase the visibility of my brand to the market, industry professionals and the press. I am also interested in getting feedback on my products from the visitors as well as meeting other designers and networking with potential buyers.
Is there any building/space you would love to see your work displayed/used?
I would love to see my work displayed at the Dovecot Studios in Edinburgh.
Are there any makers/designers you are excited to see at this year's London Design Fair? And why?
I am extremely excited to see the work of weavers Rowenna Mason and Majeda Clarke. They are extremely innovative weavers and it is a pleasure to see their new work exhibited at the London Design Fair. I am also looking forward to seeing the innovative furniture and lighting designs this year.
Image Credit: Susan Castillo
Visit Mariam Syed along with 16 other talented makers at the Scotland: Craft & Design pavilion at the London Design Fair.
Thursday 21 - Sunday 24 September
10am - 6pm
First Floor Hall T4-A
Old Truman Brewery
91 Brick Lane
London
E1 6QR
Book your tickets on the London Design Fair website.
[This interview has been lightly edited for clarity.]