It's not long now until the Scotland: Craft & Design pavilion launches at the London Design Fair, from Thursday 21 September to Sunday 24 September 2017.
In partnership with Emergents, we're building on the success of the first showcase in 2016 and presenting a selection of the best makers working in Scotland today. Our 17 exhibiting makers work across a multitude of disciplines including ceramics, lighting, glass, mixed media, furniture and textiles, presenting a diverse range of contemporary, design-led craft.
In anticipation of the pavilion's opening in 2 weeks' time, we've been chatting to our featured makers to give you an insight into their design practice. Fiona Byrne-Sutton is an artist who works through the medium of ceramics and is presenting her ceramic collection, The Angel's Share, at this year's Scotland: Craft & Design pavilion.
Hi Fiona, tell us about what you do?
I make free standing ceramic assemblages which cross the divide between fine art and design. I use multiple processes – coloured press moulded clay which I mix myself, slip casting and plinths made from a very hard plaster. The plinths create the arena for the assemblages.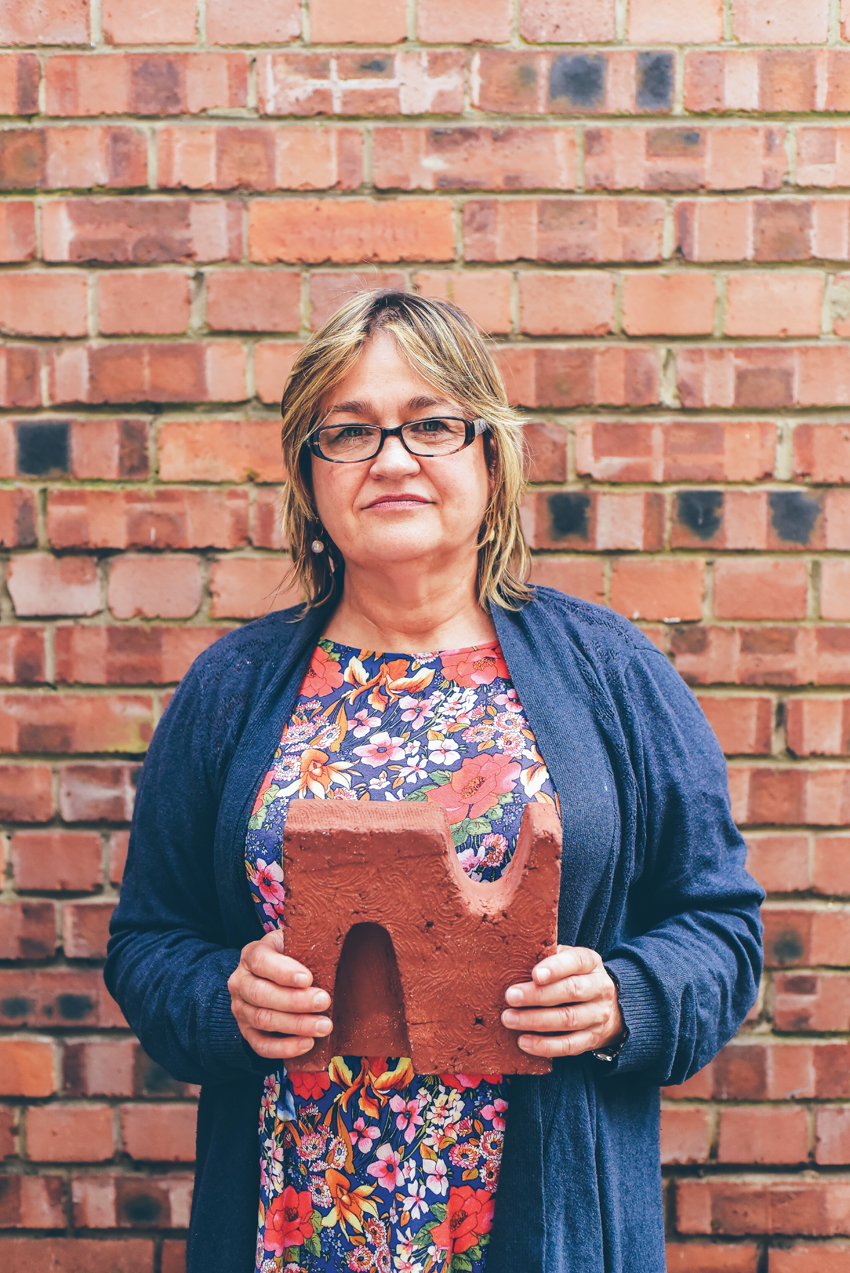 Image Credit: Ellie Morag
How has your education influenced your practice?
How do you define education? I have to go back to my childhood. I grew up in Geneva, Switzerland because my parents were mountaineers which may explain my predilection for mud. When I was 8 my parents, my brother and I toured Italy and Sicily in a Fiat 500 for a month. We had lots of adventures (including 6 punctured tyres) because my Dad lost his wallet with all the holiday cash at the start – this was before the internet and cash dispensers in the wall. We camped out on road sides, on beaches with pumice rolling in on the waves, and at the foot of Mount Etna and also visited the Vatican and other sites. The country made such an impression I returned to Florence, Italy, to live when I finished school. I was young, art was my thing and Giotto di Bondone, (d.1337), Piero della Francesca, (d.1492), Fra Angelico and Duccio di Buoninsegna (d.1319) really packed a punch. Without these sojourns, I wouldn't be making the work I am today.
I studied fine art at Goldsmiths School of Art under Michael Craig Martin, working with unfired clay and straw which I felted into a fabric. I still felt coloured clay today, pressing and meshing with fist and finger. My practice engages with modernism's formalist legacy through the deconstruction of narrative into discrete components; visible process (press moulded clay, mono printing, collagraphy), the repetition of minimalist rectangles and colour, repetition also being integral to ceramic design. Ceramics is very technical and there are so many ways – each with their own heritage - of working with clay. I wouldn't have this richness of vocabulary if I hadn't studied ceramics, as a mature student, at Glasgow School of Art and Cardiff School of Art & Design.
Do you have a favourite piece that you are showing at the London Design Fair?
I can't really say I have a favourite. I've called my latest collection of work The Angel's Share which is an industry term for the portion of whisky lost in evaporation in the cask barrel. Here, however, the phrase is a metaphor for the poetics of the temporal soul. The assemblages' composition, colour and rhythm are informed by early Italian Renaissance painting. The actual assemblage named The Angel's Share is complex and joyous. In contrast, my assemblage, Hut (Joachim Dreaming), is singular and intimate. They both speak to me. The work is contemporary, yet if you know Duccio di Buoninsegna's (d.1319), Maesta painting cycle commissioned by Siena Cathedral and Giotto's Giotto di Bondone's (d.1337), Scrovegni Chapel frescoes, (1303 - 1305) in Padua, it is all in my work. People don't know it but both artists inform the way we see today; their legacy is still unfolding. Yves Klein developed his International Klein Blue after seeing Giotto's frescoes. Rothko was similarly affected.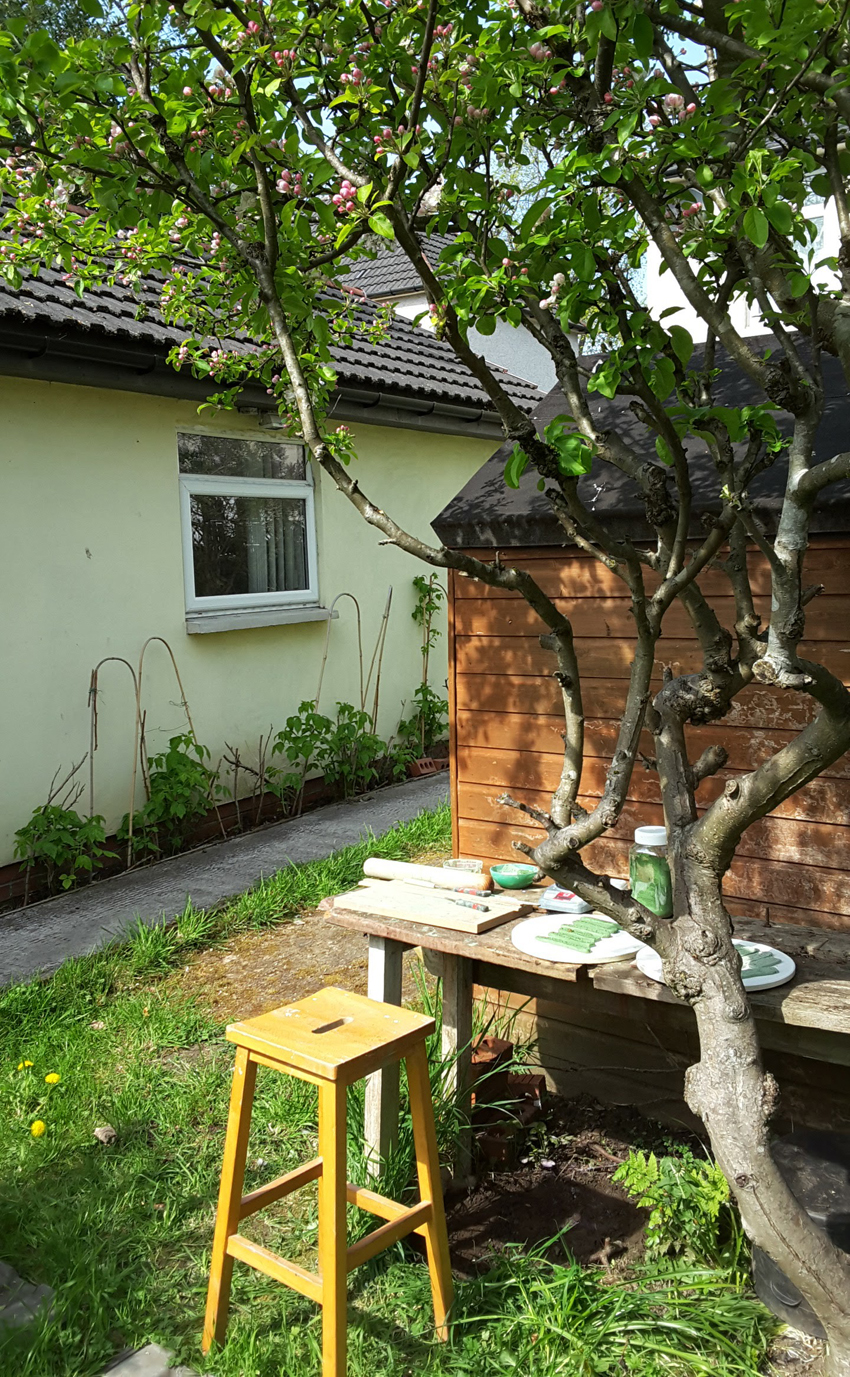 What inspires you to get into the studio?
There is a lot of forward planning in ceramics. Clay's material properties change as it dries, certain tasks can only be done at particular stages in the cycle. Does the kiln need covering, is the kiln cool enough to open, is the clay hard enough for work to come out of a mould; letting coloured slip sit overnight ready for the next day's work… All these activities get me into the studio. Thinking I'll just nip in is fatal. It never happens. I always emerge many hours later, very thirsty and very ready for a drink.
What challenges do you face in the design/making process?
My biggest challenge in the studio is health and safety as I reconstitute clay with additions and mix in the colouring oxides. Clay dust causes silicosis and the oxides can be toxic. I wear an industrial level particle filter mask and different grades of gloves for particular tasks because I really don't want chrome or another oxide under my fingernails when mixing or press moulding clay. I clean as I go. The process is physically onerous.
How do you see the interplay of design and craft in your work?
I don't make functional work so I'm not working with a strict brief. My work isn't designed in that sense. I arrive at form and composition through a process of open ended experimentation and assemblage. My work references design – be it architecture – the squares are buildings, or the slip cast interior of a duchess tea cup or embossed wall paper. These elements are components in the work's poetics. The craft is in the making which is also an aspect of the poetics…I dislike hierarchies. My mixing of genres - art, design, craft - is deliberate; it is a way of questioning how we ascribe value. Why should art have higher cultural status than crafted artefacts?
What do I think is the Scottish creative identity?
The notion of a Scottish creative identity invites pastiche. Scotland is culturally and ethnically diverse so it follows that the Scottish creative identity is fluid and various and we see that in the music, the writing, art, craft, design…There are competing discourses and creative practices. That makes for lively dialogue. In a small country we all matter.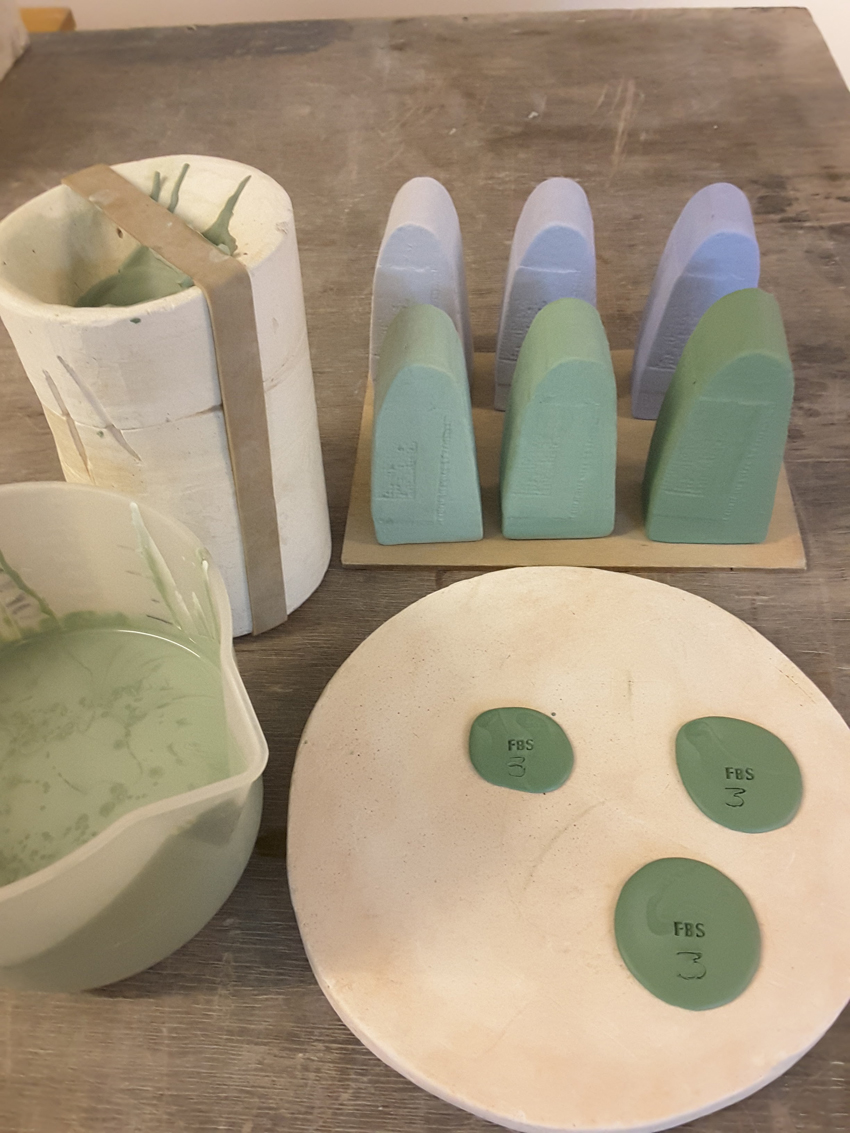 What does this type of platform bring you as a Scottish based maker?
This type of platform is an opportunity to meet a design savvy audience and work to commission. The London market is a great way of meeting colleagues in interior design and architecture and also fellow practitioners from other parts of the UK and abroad. I enjoy talking with the public and meeting new customers. Each person brings something to the work. Made in Scotland, The Angel's Share frame of reference looks outward across Europe, it is a distillation of our common cultural heritage and also of my particular journey. The London Design Fair is similarly outward looking.
Is there any space you would love to see your work being displayed?
The new V&A building in Dundee. Very specifically, since we are talking fun, I would like my work to be displayed next to a fabulous glazed and painted terracotta sculpture brought up specially from the V&A in London. It is The Lamentation over the Dead Christ (About 1510 -15) from the workshop of Andrea della Robbia. Museum no. 409-1889. I am particularly interested in the back of the sculpture, you can see the visible process, finger marks, pressed clay and the cavities make it a completely different piece. The front is just the skin. Like my work, this sculpture is multi- faceted. The real subject is not immediately apparent.
Are there any makers/designers you are excited to see at this year's London Design Fair?
I love the qualities of hand printed wall papers so I looked forward to visiting Miss Print. Interesting lighting is always hard to come by so I will certainly be dropping in on Shane Holland Design Workshop. Crea-Re Studio make light shades too. And I love Kate Ridley Murphy's rings. And of course fellow ceramicists. Too many to list but I always look.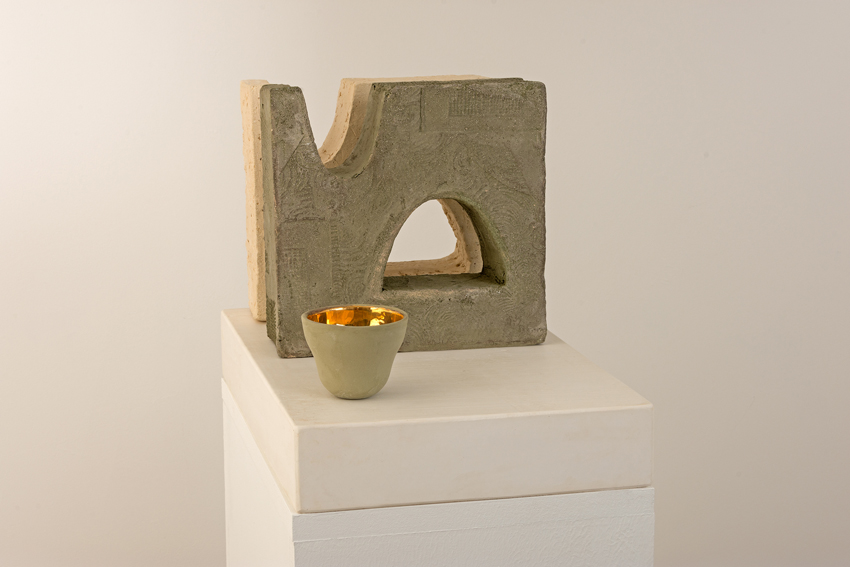 Image Credit: Michael Wolchover​
Visit Fiona Byrne-Sutton along with 16 other talented makers at the Scotland: Craft & Design pavilion at the London Design Fair.
Thursday 21 September - Sunday 24 September
10am - 6pm
First Floor Hall T4-A
Old Truman Brewery
91 Brick Lane
London
E1 6QR
Book your tickets on the London Design Fair website.
[This interview has been lightly edited and condensed for clarity.]