COMPASS: Emerging Maker Programme 2019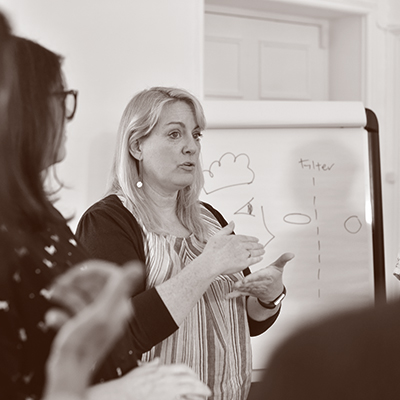 Residential

COMPASS: True North Residential 2019
Wednesday 30 - Thursday 31 October 2019
Held over two days in October, the cohort came back together at the True North Residential. Held at Hospitalfield in Arbroath, the group shared their learnings from the past months and created their new roadmaps for the future of their practice. This residential was specifically designed to allow the makers the time and space to reaffirm their guiding values.
Photography by Ellie Morag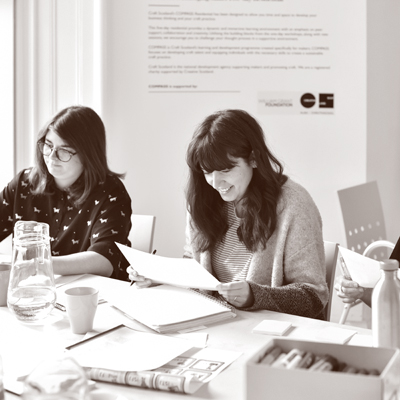 Residential

COMPASS: Residential 2019
Monday 20 - Friday 24 May 2019
Craft Scotland's COMPASS: Residential, held at Hospitalfield in Arbroath, was designed to allow makers the time and space to develop their business thinking and their craft practice.
This five-day residential provided a dynamic and immersive learning environment with an emphasis on peer support, collaboration and creativity. Utilising the building blocks from the one-day workshops, along with new sessions, Craft Scotland encouraged the makers to challenge their thought process in a supportive environment.
Workshops were led by Elaine Furnivall with guest speakers Dave Jarrold (Trainer & Coach, Lasting Impact) and Veronique AA Lapeyre (Marketing Manager, Craft Scotland).
The COMPASS: Residential Dinner held on Wednesday 22 May brought together resident makers and creative professionals for a celebratory dinner to launch this programme.
Photography by Ellie Morag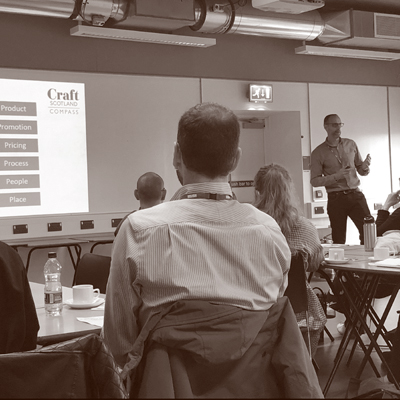 One-day workshop

Maximise Your Routes to Market Workshop
Tuesday 30 April 2019
Ewen Fleming from Johnston Carmichael and Kirsty Thomas from Tom Pigeon spoke about the power of effective selling at this COMPASS one-day workshop.
Participants were introduced to processes and scripts that increase confidence for non-sales professionals and craft business owners.
Photography by Craft Scotland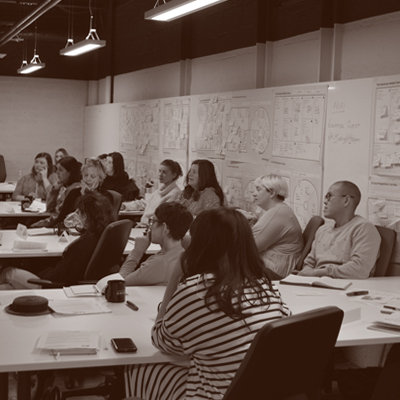 One-day workshop

Finance & Funding Workshop
Wednesday 3 April 2019
We know that the financial and legal responsibilities of running a business can be daunting, accounting experts Mandy Bagot and Alasdair McGill guided participants through the financial fundamentals needed to run a prosperous craft business; how to record and manage costs, cash flow and profitability.
Photography by Craft Scotland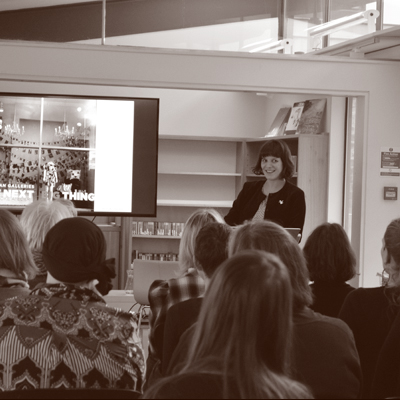 One-day workshop

Marketing & PR Workshop
Thursday 14 March 2019
Designer/maker Marion Parola of Bespoke Atelier and experienced communications professionals Denise Strohsahl and Owen O'Leary spoke about the benefits of branding, marketing and press for makers.
Photography by Craft Scotland
Previous Project
Next Project